Beyond the cliché of the older person, Hindi films have given us roles of senior citizens playing full-fledged characters, writes Deepa Gahlot
In Hindi movies, seniors are seen mainly as attached to families, and seldom as individuals by themselves, so they tend to be stuck in the rut of parents suffering the neglect of their selfish kids. Men still have it better, because audiences are willing to watch older male stars—Amitabh Bachchan still has no dearth of roles— but women mostly get to play the nasty or downtrodden mother-in-law. Lalita Pawar, Shashikala and Bindu in the later years of their careers specialised in playing these characters. 
 So, here's a list of ten films, in which an elderly character has a lead part (not growing old as part of the plot, there are plenty of those) and has more to do than weep with misery.
Mere Apne (1971): In Gulzar's debut as director, and one of Meena Kumari's last roles before she passed away, the actress labelled tragedy queen, plays an old woman, who faces the death of her husband and betrayal by family, to move into a slum and become Nani Ma to a bunch of restless boys and violent young men (Vinod Khanna, Shatrughan Sinha, Danny Denzongpa early in their careers)
Victoria No.203 (1972): In this riotous action-comedy, Ashok Kumar and Pran play two lovable old rogues, Raja and Rana, just released from prison, promising to go straight, but fall right into a madcap hunt for stolen diamonds singing. The funny duo then decide to help the daughter (Saira Banu) of a man framed by the villain for a murder he did not commit. The film is fast-paced fun, with the two senior actors having the time of their lives, singing, dancing, clowning and fighting.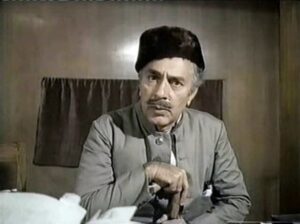 Garm Hava (1974): Balraj Sahni played many dignified senior parts, none as great as Salim Mirza, in MS Sathyu's powerful film set during the Partition, in which gentle senior tries to keep his family and his business together, as violence and communal strife engulfs the nation. As members of his family migrate to Pakistan cut off ties with him, he decides to stay back and struggle to reclaim his life.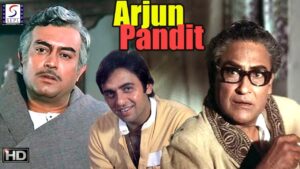 Arjun Pandit (1976): Sanjeev Kumar played older parts when he was still in his romantic hero phase, and was such a good actor, that he ended up playing father to his contemporaries. In one his forgotten films, Arjun Pandit, directed by Hrishikesh Mukherjee, he played the eponymous role of a man who reforms from a ruffian to a scholar under the influence of the kindly Dr Shukla (Ashok Kumar).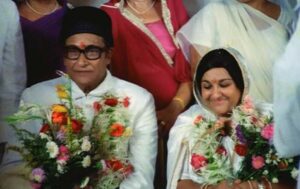 Khatta Meetha (1978): In this charming Basu Chatterjee film set against a Parsi backdrop, Ashok Kumar is a widower who cannot manage his household of three sons, Pearl Padamsee is a widow who is strapped for cash to raise her four children. Well-meaning friends advise the two of them to marry, which first causes clashes between the two sets of offspring, and later the coming together to stand up to a bully who tries to evict them from their home.
Shaukeen (1981): Today, it seems horribly sexist, but Basu Chatterjee's film about three old men looking for a no-strings fling at least acknowledged the sexual needs of seniors. Ashok Kumar, Utpal Dutt and AK Hangal decide to go to Goa, and try to get laid. They all hit on a singer (Rati Agnihotri), who happens to be the girlfriend of their driver (Mithun Chakraborty). They make complete fools of themselves and come to the realisation that their carousing days are over. (Abhishek Sharma remade this film in 2014 as The Shaukeens, and turned it into a vulgar farce.)
Vidhaata (1982): In Subhash Ghai's film, Dilip Kumar plays an engine-driver, who becomes a killer and gangster when his son is murdered by the villain (Amrish Puri). His power as a Mafia don is shaken when his grandson (Sanjay Dutt) falls in love with a poor girl (Padmini Kolhapure) and stands up against him for her sake. 
Saaransh (1984): Anupam Kher was in his late twenties when he played BV Pradhan, a father grieving over the death of their son in Mahesh Bhatt's film. He and his wife Parvati (Rohini Hattangady) are shattered by the senseless murder of their son in a mugging in America, but he finds purpose in his life in protecting his paying guest (Soni Razdan), from the don-politician father (Nilu Phule) of her boyfriend. The Pradhans are dragged through hell by the villainous Chitre, but his own tragedy gives Pradhan courage, and finally, the ability to go on living despite everything they have suffered.
Amrit (1986): Rajesh Khanna had played an angry old man in Mohan Kumar's Avtaar (1983), who refuses to put up with ill treatment by his sons, and along with his wife (Shabana Azmi) leaves home to start a garage and also a home for other elders in a similar predicament, but in the same director's Amrit, the issue of loneliness and lack of family support for elders was dealt with. He is sympathetic towards an elderly neighbour (Smita Patil), but their friendship is frowned upon by their families, so the two decide to leave their selfish kids and live by themselves—a different kind of happily ever after.
102 Not Out (2018): This film is quite recent, but a rare film in which a character is 102 and wants to break the record for the longest living person. In Umesh Shukla's film, Amitabh Bachchan played the spry old man, who teaches his stodgy old son (Rishi Kapoor) how to stop worrying and enjoy life. Bachchan is one of the few senior actors who has roles written for him and has played the old man in many forms—cheerful, vengeful, evil, eccentric and powerful.