Cinema would be nothing without women – but older women's roles get short shrift, writes Deepa Gahlot
Like the rest of society, Hindi cinema too marginalises senior and older women. In the recently released Terminator Dark Fate, 63-year old Linda Hamilton kicks butt, while in Hindi cinema, if a woman that age exists at all, she usually hovers somewhere in the background, most probably in the kitchen making gajar halwa for the beloved grandson. Tushar Hiranandani's recent Saand Ki Aankh is a rare exception, in which women over sixty are at the front and centre of the narrative. In a scene, a journalist asks their age, which they surmise must be 60, but like many illiterate rural women, they are not sure. "So you are also hiding your real age?" sneers the young man. To which, one of the shooter grannies says that a woman's age should be calculated by how much of it she lived for herself.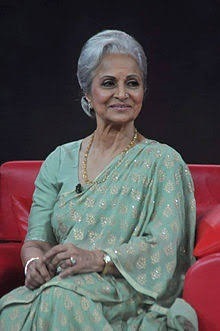 Our films have created such a distorted picture of age when it comes to women, that if one does a mental calculation most of the screen moms, with grey hair and painted-on wrinkle,s are actually middle-aged. The most famous Ma of Bollywood, the "Mere paas Maa hai," mother of Deewar (1975), must be around 45-48 years old. (Women in villages get married and have kids early. If she had kids at eighteen and the older son is say, 25-28, do the math.) But we think of her as old, because in Bollywood, any woman over 35 is over the hill and usually gets to play mother to actors who were her on-screen heroes not so long ago.
There is an occasional old woman on screen, but in films like Avtaar (1983) Saaransh (1984), Amrit (1986) or Baghban (2003), she is secondary to the male protagonist. Amitabh Bachchan and Sanjeev Kumar before him, did roles in which a man over sixty was the protagonist. But films in which a woman that age was the lead? Hardly any!
Mother India (1957) always comes to mind first, but the part in which Nargis actually played an aged matriarch is very short. Shamila Tagore in Aradhana (1969) or Suchitra Sen in Aandhi (1975), were given old-age get-ups, but going by their graphs in these films, again they were not over 60.
It is also interesting to note that male stars like Sanjay Dutt, Sunny Deol, Anil Kapoor, Jackie Shroff have crossed 60, but are still playing lead roles, while actresses that age or younger have either retired or are playing mother to heroes older than them or marginally younger. Even Saand Ki Aankh chose to cast young female stars and age them with prosthetic make-up and grey wigs, instead of picking from a whole roster of talented older actresses.
Here's a small list of films in which a senior woman—that is a woman over 60– got a significant role, not the usual weeping, hand-wringing mother or granny. Women's magazines tell us that 60 is the new 40, but Bollywood has not yet received that memo.
Mere Apne (1971):
Gulzar's directorial debut, a remake of Bengali film Apanjan, starred Meena Kumari as an old widow, Anandi Devi. She is brought from her village to the city by relatives, who actually want an unpaid maid. When she leaves their house, she is given shelter in a slum by a child beggar. She becomes a kind of mother figure to a bunch of boys in the locality—that included Vinod Khanna, Shatrughan Sinha, and Danny Denzongpa early in their careers. Two gangs of violent young men are taught a lesson in peace by the old woman.
36 Chowringhee Lane (1981):
Jennifer Kendal chose to stay away from films, but Aparna Sen persuaded her to act in her debut directorial, in English, produced by Shashi Kapoor. The role of Violet Stoneham seemed to have been written for her, and she played with grace and empathy the role of a lonely Anglo-Indian schoolteacher in Kolkata, who is befriended by a former student and her boyfriend (Debasree Roy-Dhritiman Chatterjee) for their own purpose and then cruelly discarded when they do not need her anymore. An outstanding film that gave Jennifer Kendal a role to be remembered by.
Namkeen (1982):
Gulzar, again, makes a film about a feisty old woman, Jugni, played by Waheeda Rehman, who used to be a folk dancer and now lives in poverty in a remote village, where she has raised three daughters (played by Sharmila Tagore, Shabana Azmi and Kiran Vairale). Jugni never depended on a man's support but the constant fending off wolves has made her tetchy. She fiercely protects her daughters, but when a truck driver (Sanjeev Kumar) rents a room in her dilapidated house, she hopes at one least of the young women will marry him and escape her fate.
Swayam (1991):
In one of Mahesh Bhatt's less-known films, Waheeda Rehman plays an elderly woman, Aparajita Chitre, who decides to stand on her own feet after the death of her husband. In spite of having led a sheltered life, she does not want to depend on her two daughters, who are having marital problems of their own.
Mammo (1994):
In Shyam Benegal's film, Farida Jalal played the eponymous character, who comes from Pakistan to live with her sister Fayyuzi (Surekha Sikri) in Mumbai, after being widowed and evicted from her home by relatives. Fayyuzi is raising her orphaned grandson Riyaz (Amit Phalke), and Mammo becomes another loving grandmother figure to the boy. But she has come on a temporary visa and eventually the extension is denied and she is forced to board the train back to Pakistan. With heartfelt and award-winning performances by the two senior actresses, the film made a case for compassion over man-made rules that separate families.