March is celebrated as Women's Month, so here's a look at one of the finest female bonding films made in Bollywood. By Deepa Gahlot
Mrityudand (1997)
"Pati ho, parmeshwar ban ne ki koshish mat karo" (You are a husband, don't try to be God). With that one line uttered with contempt, a woman shows her husband his place. In the feudal culture of Bihar where the concept of women's rights is alien, Ketki dares to demand change.
Prakash Jha grew up in Bihar and understood the caste and gender structure, the politics, the corruption and the unbridled machismo. It is a strongly patriarchal culture, yet the protagonist of Mrityudand (1997) is a woman, Ketki, played by Madhuri Dixit.
The film begins with the brutal murder of a young widow and her mother, accused of witchcraft, but in reality it's a plot to grab their land. There is a farcical investigation, at which the killers are not identified. The next few scenes establish the main players in the complex drama that plays out. The head of the landowning family, Subhash Singh (Pyare Mohan Sahay) is old and ineffectual; the local politician (Harish Patel) is in cahoots with a corrupt contractor Tirpat Singh (Mohan Joshi); Abhay Singh (Mohan Agashe), the older son of the landlord, has an eye on the powerful position of the village monastery and Rambaran Mahto (Om Puri), a low caste man who controls his community and hence, the labour force. For old time's sake is also helped Subhash Singh with discreet loans.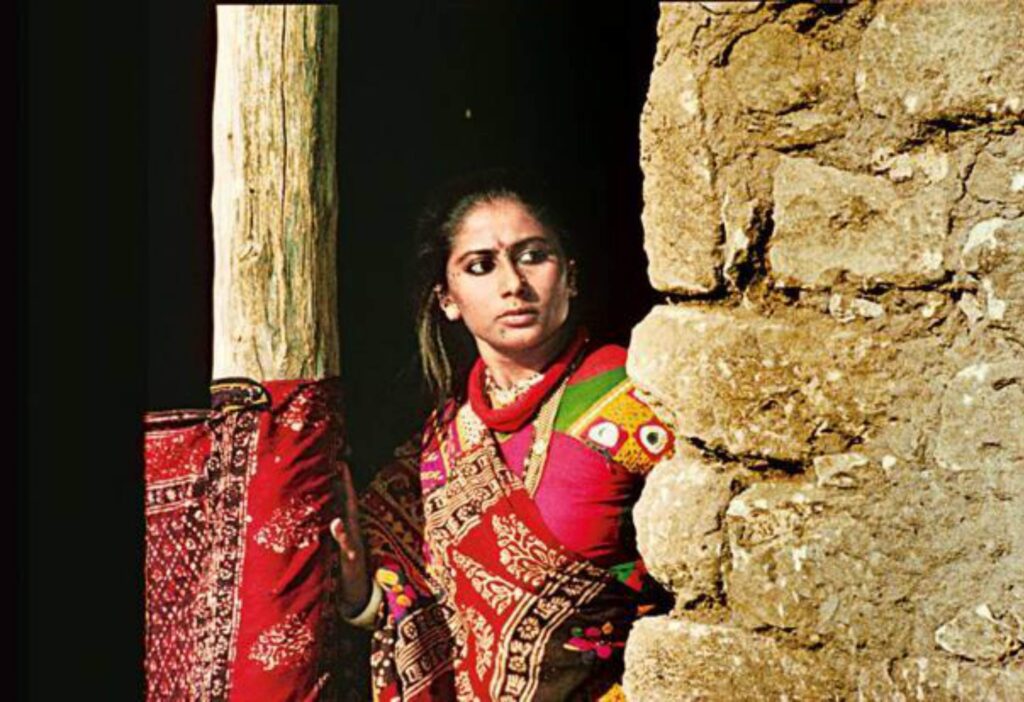 Seething cauldron
Into this seething cauldron of amorality, comes in Ketki, an educated young woman, married to Vinay (Ayub Khan), the youngest son of the landowning family on the slide. In spite of financial problems, Vinay and Ketki are happy for a while, then Abhay Singh plots the murder of the head of the monastery and annexes the position himself, abandoning his childless wife Chandravati (Shabana Azmi). He is an evil man, who lets his submissive wife be blamed for barrenness, though he is the impotent one. She takes to her bed with shock and gives the keys of the household to a reluctant Ketki.
Tirpat gets Vinay into debt, and under his influence, the sweet-natured Vinay becomes just like the rest of the men, coming home drunk, mistreating Ketki. She is not one to suffer silently, and the loving relationship starts cracking up.
Chandravati's condition worsens and Ketki takes her to a nearby town for treatment, with Rambaran escorting them. Nobody has ever cared for her the way Rambaran does. Chandravati gets into a relationship with Rambaran and is ecstatic to find herself pregnant, proof that she was never barren.
On receiving a letter of apology from her husband, Ketki returns home, and, with a loan from Rambaran, helps her husband get out of the clutches of Tirpat. Even the manipulative villain has to concede, "Your wife has beauty and brains."
Caste atrocities
Ketki also takes on Tirpat over the exploitation of a lower caste woman Kanti (Shilpa Shirodkar) and insults him in front of the entire village. When he sees his power base eroding, Tirpat is like a snake whose tail has been stepped on. Just when Ketki discovers her own pregnancy, Tirpat has Vinay blown up with a bomb, not expecting a lone widow to remain standing against him. His attempt to rape Ketki fails, but he and Abhay Singh unite against the women when Chandravati's pregnancy is discovered.
They all march towards Ketki's home, with the idea of killing her and Chandravati. But Tirpat's wife (Abha Dhulia) warns them and when the group of armed men arrive, they are met with an army of women. Tirpat's wife, who had been driven almost mad by his atrocities, now looks him in the eye and lands the first blow. Ketki then picks up Tirpat's gun, strides out after him as he runs and shoots him. A voiceover says that she will bring up her child never to inflict injustice on the weak.
Although violence is not the solution to anything, Prakash Jha builds up a multi-layered and gripping story, in which a woman resorting to killing her tormentor and the scourge of the entire village is justified.
Jha made other films on social issues, but Mrityudand was the only one that examined a male-dominated feudal society from a woman's perspective. Years later, he cast Priyanka Chopra as a cop in Jai Gangaajal, set in the same milieu, but it was not as effective in its portrayal of women.
Bollywood's Feminist Forays
Dor (2006)
Nagesh Kukunoor's remake of the Malayalam film Perumazhakkalam (2004) is about a city woman (Gul Panang), who has to get a pardon from the widow (Ayesha Takia) of the man her husband has been accused of killing in the Gulf. Widowhood is a curse in a patriarchal Rajasthani society and mercy is expected of one whose life has lost all joy. The friendship between the two has the tender empathy that such suffering can bring to the hearts of women who have seen a glimpse of hell on earth.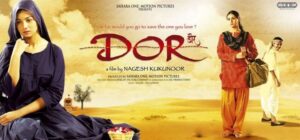 Fire (1996)
Deepa Mehta's controversial film starring Shabana Azmi and Nandita Das is about two women in loveless marriages to two brothers living in a crowded Delhi colony. When they decide to offer support and sexual pleasure to each other, the foundations of an oppressive family system that expects submissiveness from wives are shaken.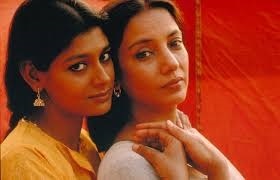 Zakhmee Aurat (1988)
This B-grade Dimple Kapadia starrer, directed by Avtar Bhogal, had a group of vigilante women who go around castrating rapists. In its own coarse way, it spoke up for justice for women in a society that punishes victims of rape instead of the perpetrators.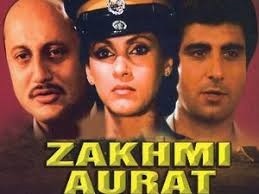 Mujhe Insaaf Chahiye (1983)
In this almost forgotten film by T. Rama Rao, Rati Agnihotri played a woman who is wooed and seduced by a man (Mithun Chakraborty), who dumps her when she gets pregnant. Instead of quietly hiding her "shame", she joins hands with a fiery lawyer, played by Rekha, to drag the man to court.  She believes, that if society considers unwed motherhood a sin, then why does the man not share the blame?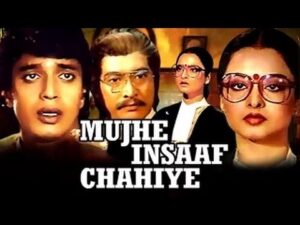 Mirch Masala (1987)
In Ketan Mehta's film, when a village woman (Smita Patil) turns down the advances of the police chief and takes shelter in a spice factory, where women work, they all band together to protect her, when the men of the village are prepared to throw her to the vengeful wolf.