Iced coffees are cooling, energising and delicious. There are thousands of unique ways that you can whip up an iced coffee, using a host of ingredients from coconut, spices, ice- creams and even lemonade. 
Coffee has evolved by leaps and bounds in India giving coffee connoisseurs have good reason to cheer. Even though most of these recipes call for brewed coffee (as opposed to instant coffee from coffee powder) – if you are relatively new to the world of coffees, you can begin by experimenting – and there's no safer bet than an iced coffee.
I've also included an array of iced coffees – to suit all palates. You can find some which are iced black coffees, one with lemonade and lemon, and acknowledging all the vegans – one with coconut milk.  I've even included a recipe with coffee and tea mixed together – for that adventurous streak in you!
Below, we share 7 amazingly delicious coffees from around the world that you can try at home. 
As with any recipe – I encourage you to be creative and use variations that may appeal to you – whatever you choose, have fun and enjoy the drinks!
Here are some ingredients that you could stock up on if you wish to try out some of the recipes: a good smooth Arabica / Robusta blended coffee beans or powder of your choice, a good instant coffee powder, dark chocolate, milk chocolate, caramel, almond and vanilla extract, cinnamon powder, wafer biscuit swirls, coconut cream and milk, ice- cream/ s of your choice (I find chocolate, salted caramel, vanilla and mocha work well).
1. Eiskaffee (Germany) and Wiener Eiskaffee ( Austria)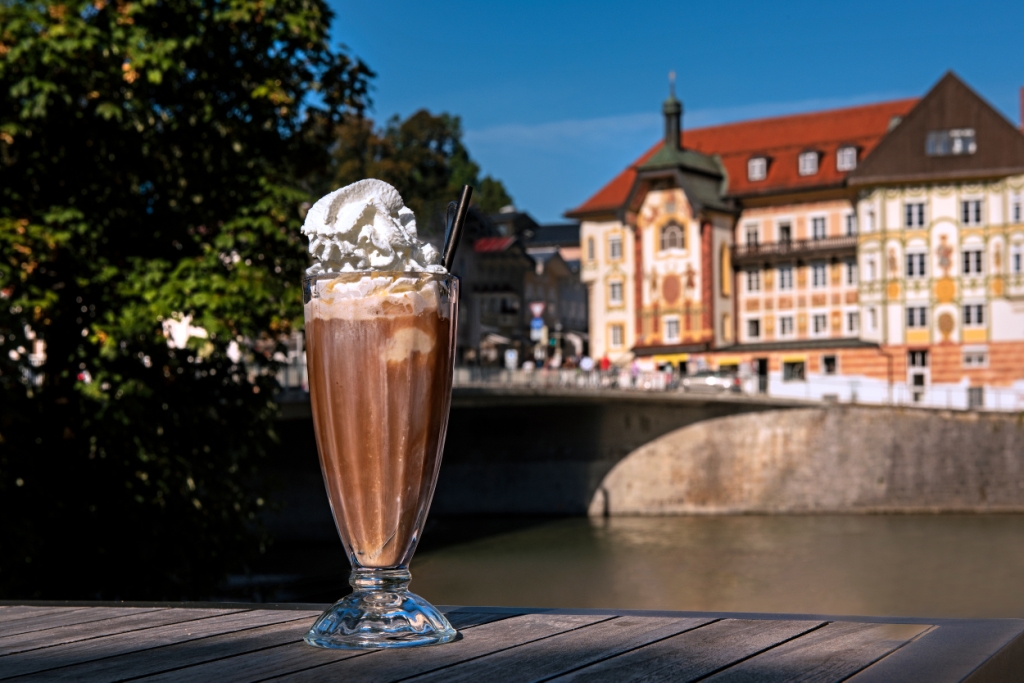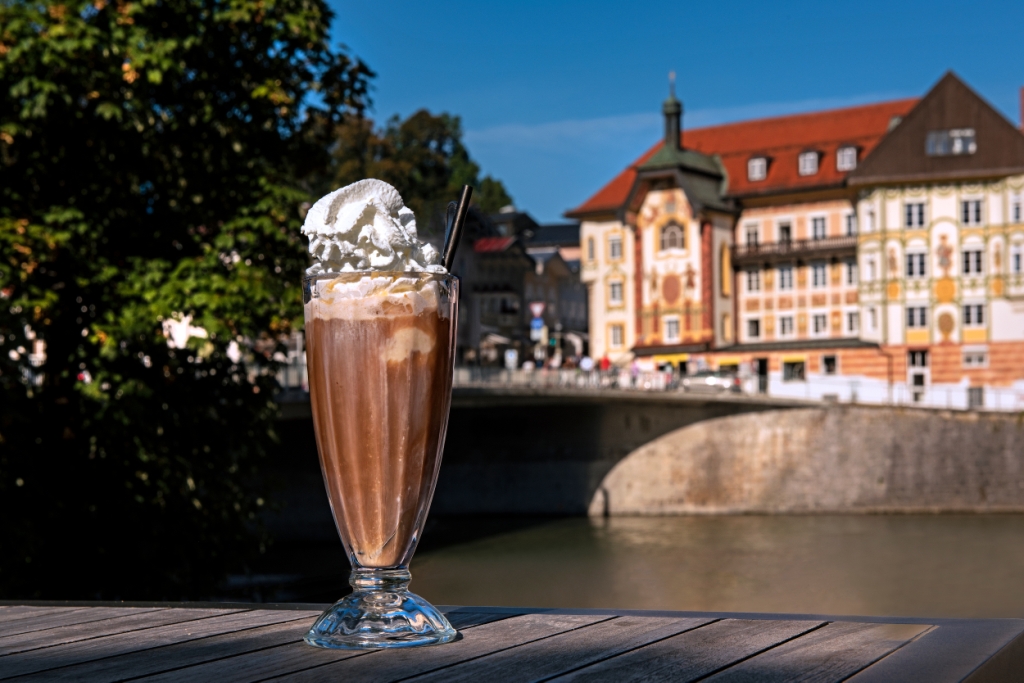 "Eiskaffee" a german speciality: Cold coffee with ice cream and whipping cream served in a glass
Eiskaffee is the German word for iced coffee, but this delectable concoction is far more than just coffee and ice.
Eiskaffee is Germany's answer to Italy's famed affogato. This coffee is also popular in Germany's neighbour Austria where it is called "Wiener Eiskaffee", translating to Viennese Iced Coffee. Infact Vienna does at least 20 different varieties of unique ice-coffees – all worth a try.
The predominant flavours are nearly always coffee and vanilla, but the additions to this half-beverage half-dessert can render it truly decadent.
Since you're making your own, don't miss the opportunity to go all out — chocolate shavings, chocolate syrup and whipped cream are all popular.
Sticking a German wafer cookie in the top provides welcome textural contrast and pushes this "drink" fully into snack territory.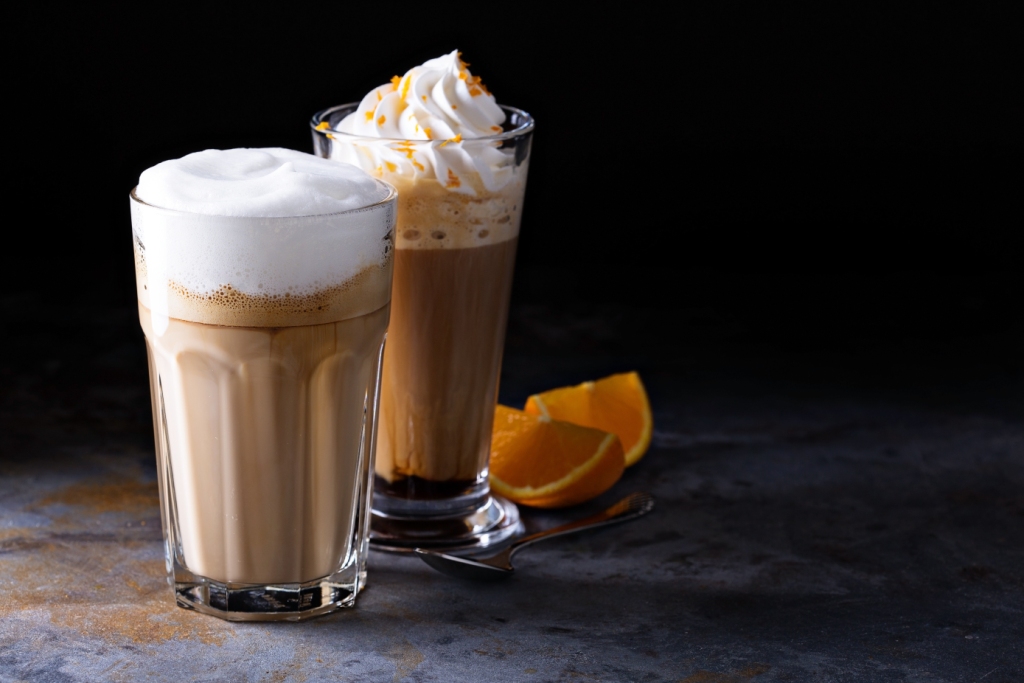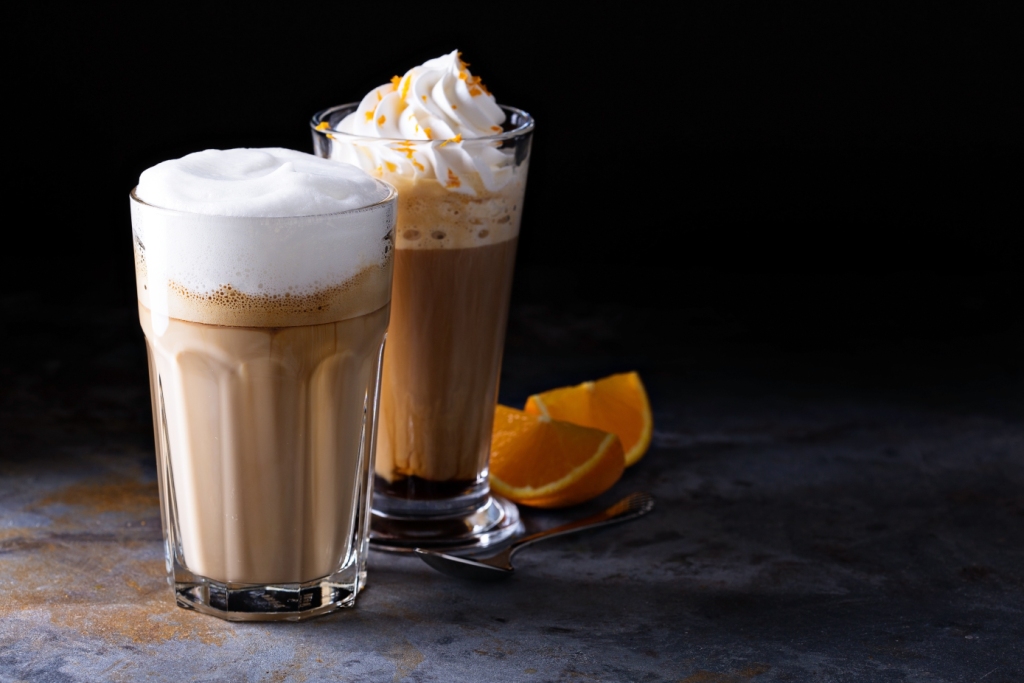 What You Need:
1 scoop premium vanilla ice cream
1 cup strong brewed coffee, chilled
½ cup whipped cream, sweetened to taste
1 tsp grated chocolate shavings and/or chocolate syrup
1 German wafer cookie/ or any wafer biscuit of your choice
How To Make It:
Add the scoop of ice cream to a tall, chilled glass.

Pour over the cooled coffee until the glass is ¾ full.

Cover the drink with a plentiful mound of whipped cream.

Drizzle on the chocolate syrup and/or sprinkle on the chocolate shavings.

Prop the wafer cookie into the whipped cream and serve.
2. Granita di caffè – Italy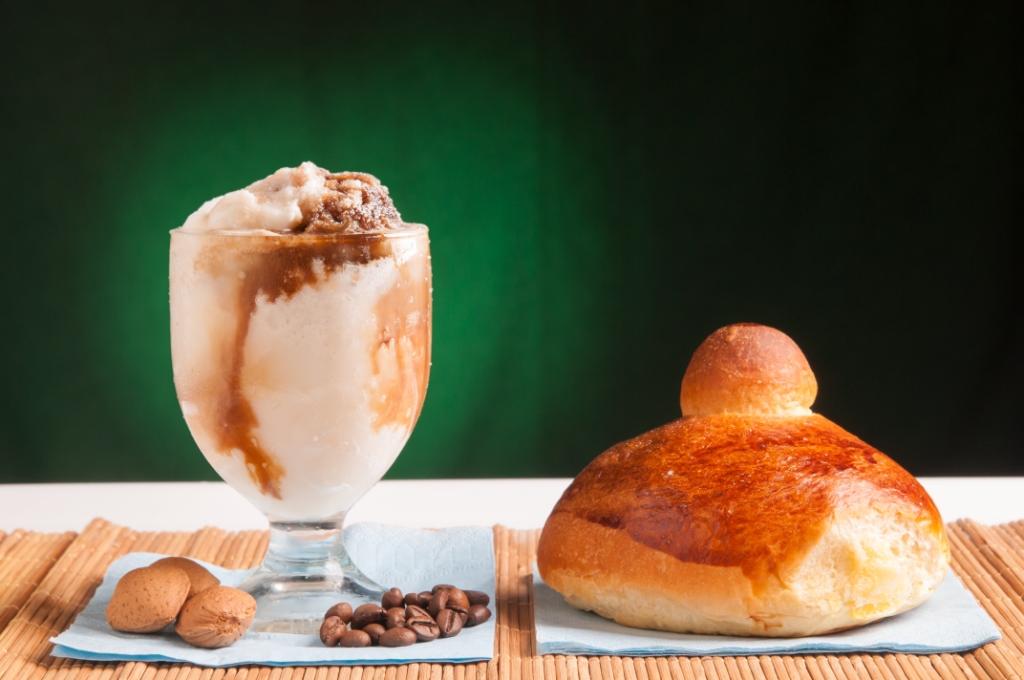 Almond and coffee sicilian granita with a typical warm brioche
Granita is a popular semi-frozen Italian dessert, made from sugar, water and different flavourings of which coffee is a popular option.
While similar to a sorbet or frozen ice, granita has a coarser texture, it can now be found across Italy, but it is most popular in its region of origin, Sicily.
In Sicily, on a hot summer morning, it is commonly served for breakfast, accompanied by brioche and topped with whipped cream.
As a light dessert accompanied by a thin biscotti and topped with chocolate shavings, you can get creative and drizzle a tad of Tia Maria!
Granita is a bit of a labour of love to make at home, but well worth the effort. 
Tip: Access to an ice cream maker vastly simplifies the process.
What You Need:
1 ¼ cup cold water
1 ¼ cup espresso
⅔ cup caster sugar
Sweetened whipped cream, to top, optional
Ice cream maker*
How To Make It:
Dissolve the sugar into the warm espresso and let it cool.
Add the cold water, and let the mixture chill in the fridge for at least 2 hours.
Pour the chilled mixture into an ice cream maker and churn for 30 minutes or until a coarse sorbet-like texture is achieved.
Divide the mixture between four glasses and top each with a dollop of whipped cream; if having for breakfast, accompanied by a brioche bun.  
*If you have an ice-cream maker, tip mixture into chilled freezer bowl and churn for 30 minutes.
If you don't have an ice-cream maker, pour into a shallow, freezer-proof container and place flat in freezer.  After 2 hours, the mixture will have started to freeze, particularly at the container's sides. Remove the granita from the freezer, stir it with a fork and scrape down the ice that will have formed at the edges. Repeat this procedure every hour until the granita is no longer liquid and has turned to a firm, icy slush (about 3-4 hours).
3. Ca Phe Sua Da (Vietnam)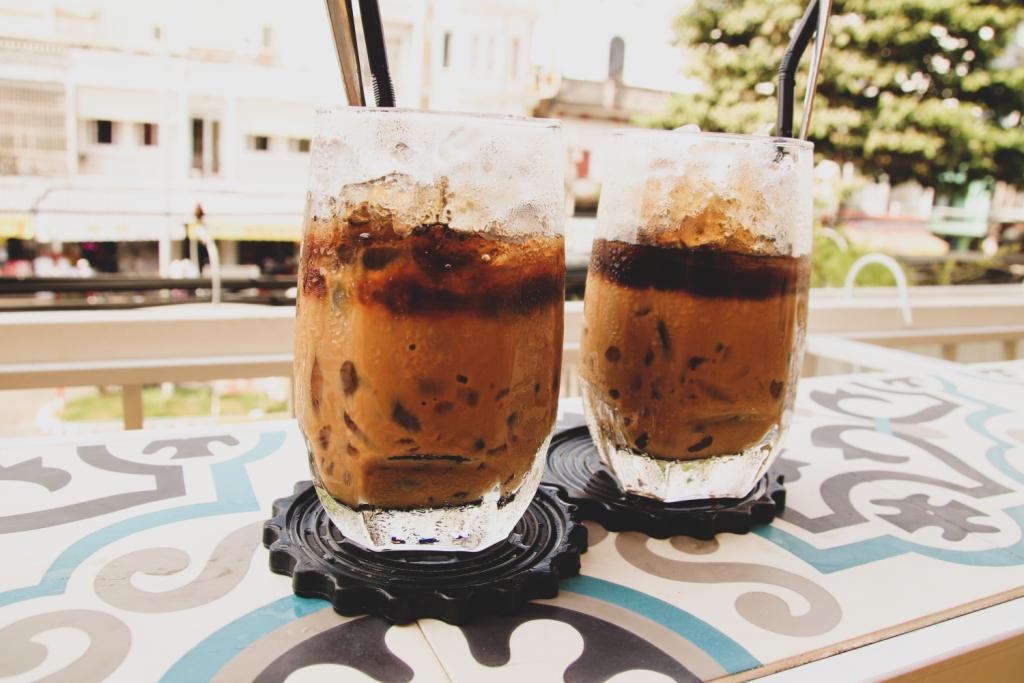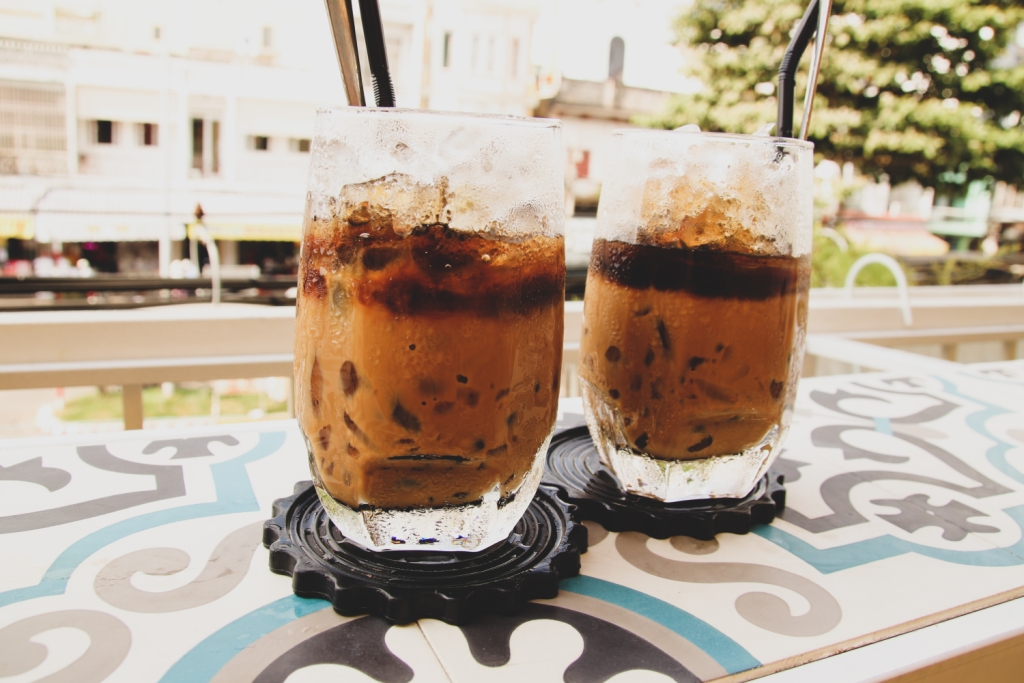 Coffee in Vietnam is a treat and a ritual at the same time.
Ca Phe Sua Da is Vietnamese iced coffee with milk and it is perhaps Vietnam's most well-known coffee drink.
The chilled combination of bitter concentrated Vietnam robusta coffee, creamy and sweet condensed milk and ice cubes is an undeniably well-balanced and refreshing beverage.
Ca Phe Sua Da is so popular, it can now be found around the world, but it's hard to beat enjoying the real thing on the streets of Hanoi.
To make the best version at home, try to use Vietnamese coffee beans and source an authentic Vietnamese brewer, a metal filtration system called a phin. But don't stress if Amazon can't deliver it, just use the coffee and brewing equipment you have at home.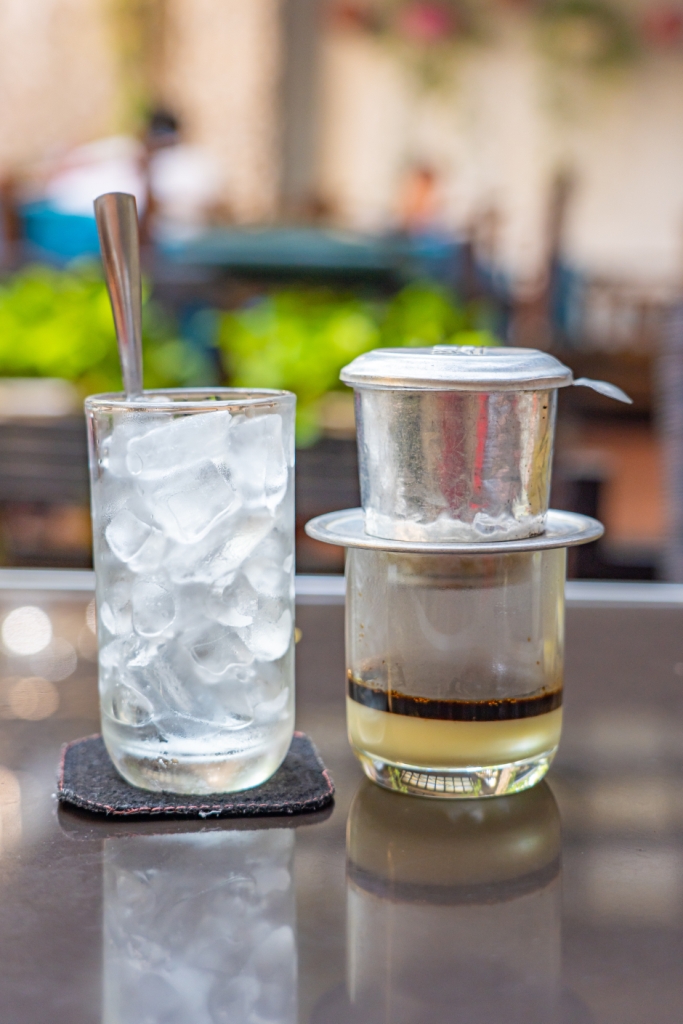 What You Need:
1 heaped tbsp ground coffee, Trung Nguyen brand is authentic, but you can use what you have at home as well. 
1 tbsp sweetened condensed milk, or to taste
300 mL boiling water
A phin brewer (optional) – any coffee brewer will do as well
A kettle, or pot for boiling water
A ceramic cup
A chilled glass filled with ice
How To Make It:
Put the sweetened condensed milk into the ceramic mug. The coffee will be brewed directly into it.
Now brew the coffee. Put the grounds into the phin (coffee brewer), if using the phin, add enough boiling water to wet the grounds. After 30 seconds, add enough water to fill the phin and let it drip through for 3 to 5 minutes, or brew the coffee as per your personalized brewer.
Mix the coffee and condensed milk thoroughly in the mug, this will also help it to cool.
Pour the mixture over the ice cubes in the chilled glass and enjoy.
4 – Kaffelemonad (Sweden)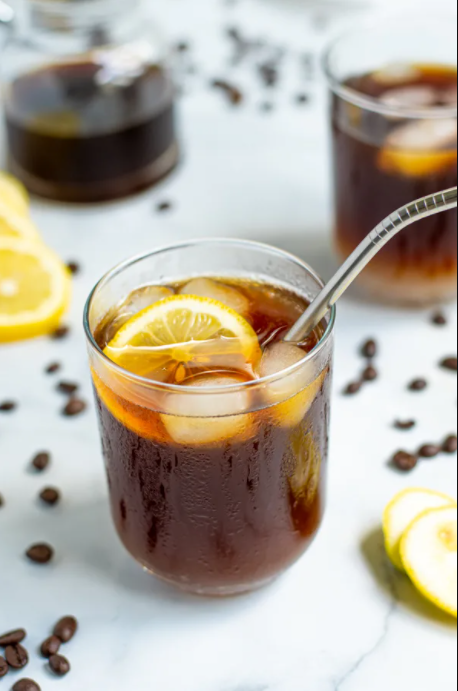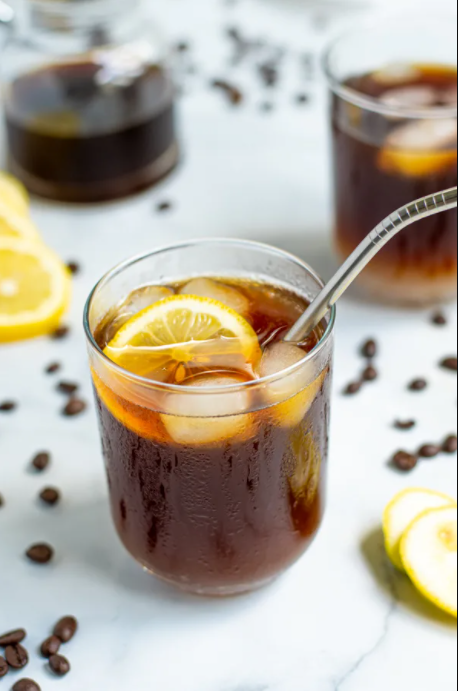 In Sweden, coffee is mixed with lemonade for the ultimate summer refresher.
Though it sounds strange, the addition of lemon to coffee is relatively common as it's thought to bring out the inherent sweetness in the beans.
Kaffelemonad which translates directly to "coffee lemonade", is traditionally just a mixture of espresso or chilled black coffee, ice, and lemonade, but it takes well to a number of additions.
Tonic water is popular with those looking for a little more fizz in their drink, or almond milk is a common addition if you like your coffee creamy.
Remember that real dairy will curdle when mixed with lemon juice! So we recommend having this drink without milk.
If you want to get creative with other additions, consider flavouring your simple syrup with ginger for a spicy kick, or with a fresh herb like rosemary.
You could just buy commercial lemonade and mix it with coffee but a better bet is to just use freshly squeezed lemon juice and a simple syrup.
What You Need:
¾ cup strong brewed coffee, chilled
½ cup freshly squeezed lemon juice
¼ cup sugar syrup 
½ cup tonic water (optional) 
Ice cubes
How To Make It:
This recipe couldn't be easier…
Divide the ice cubes between two chilled glasses.
Combine all the ingredients and mix well, pour the coffee lemonade over ice and enjoy.
5- Ais Kopi Cham (Malaysia)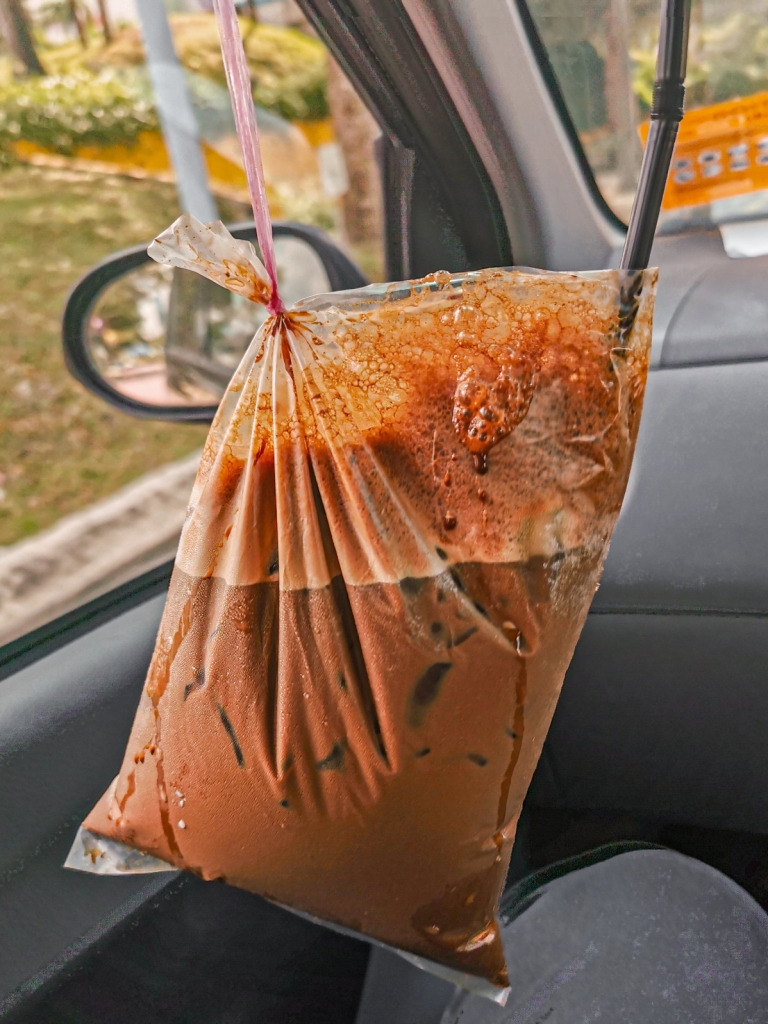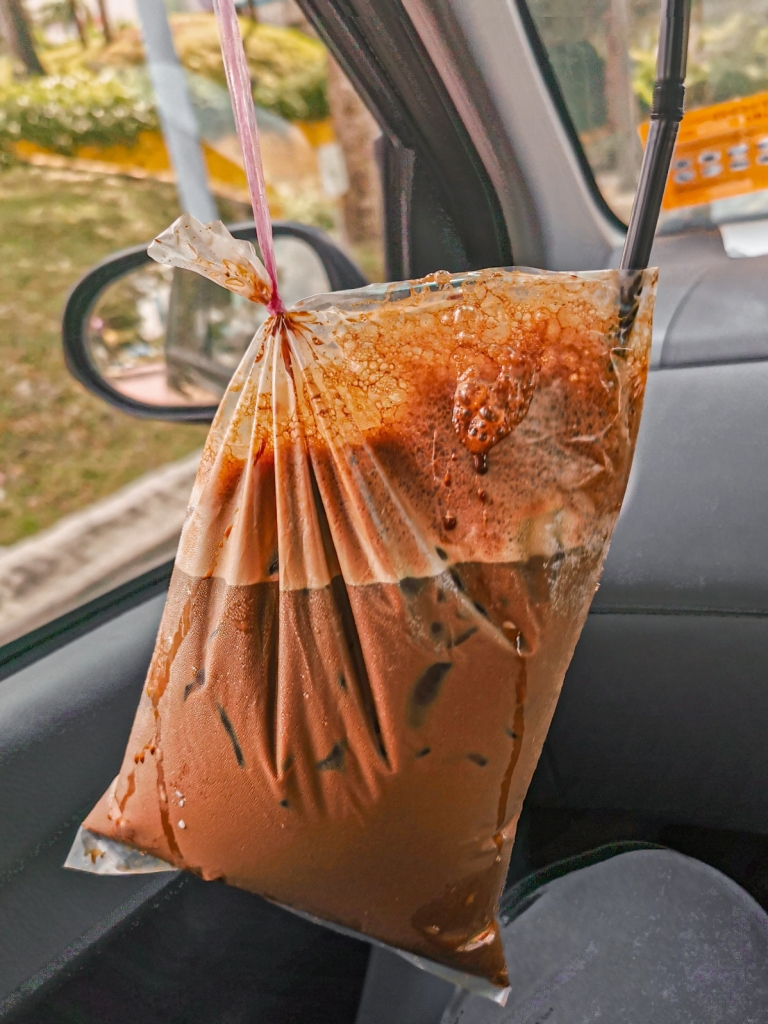 Ais Kopi Cham is a combination of coffee and milk tea served chilled over ice. "Cham" is the Hokkien word for "mix".
A similar beverage is popular in Hong Kong where it is known as Yuanyang.
The ratio between coffee and tea in the drink can vary, from 1:1 in many places to 3:7. You choose what you prefer.
The most popular teas to use are the highly caffeinated Assam and Ceylon which, when paired with coffee, make for a drink with a serious jolt.
What You Need:
1 cup strong brewed coffee
1 cup water
2 tbsp black tea leaves, preferably Assam or Ceylon
1 can of sweetened, condensed milk
Ice cubes
Small saucepan
Strainer
How To Make It:
First, you need to make the milk tea. Put the water and tea leaves in the saucepan and bring to a gentle boil. Lower the heat and simmer for three minutes.
Remove from the heat, add the sweetened condensed milk, and return to the heat to simmer for an additional three minutes.
Strain out the tea leaves.
Combine one cup of the milk tea with the cup of coffee and mix thoroughly. You can experiment with the tea to coffee ratio if you wish. Once combined, leave the mixture to chill.
Divide the ice cubes between two glasses and pour over the chilled mixture.
6 – Cold Coffee (India)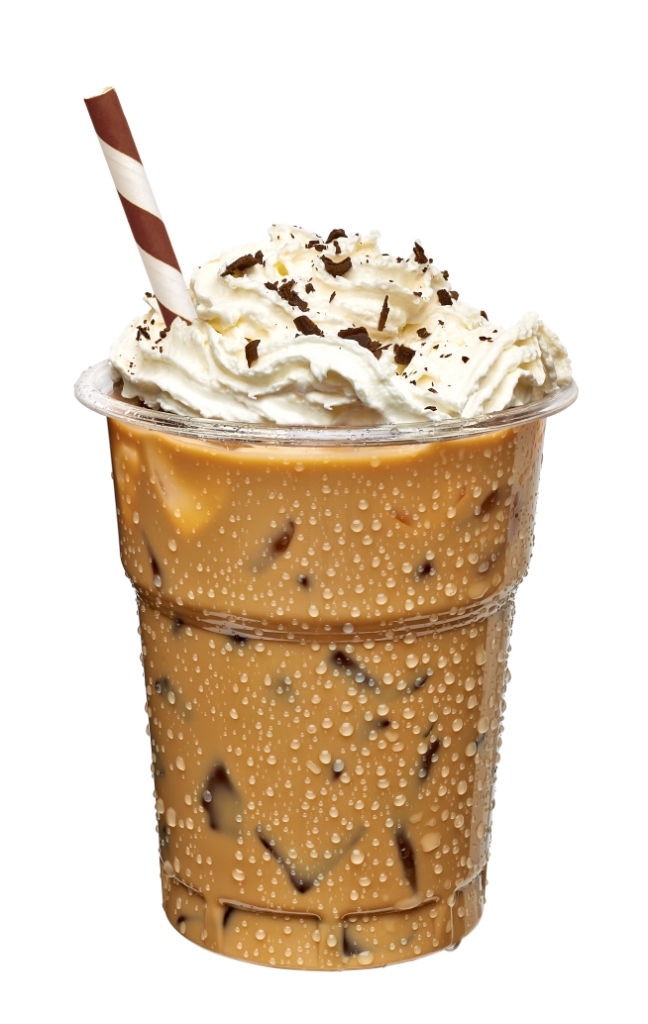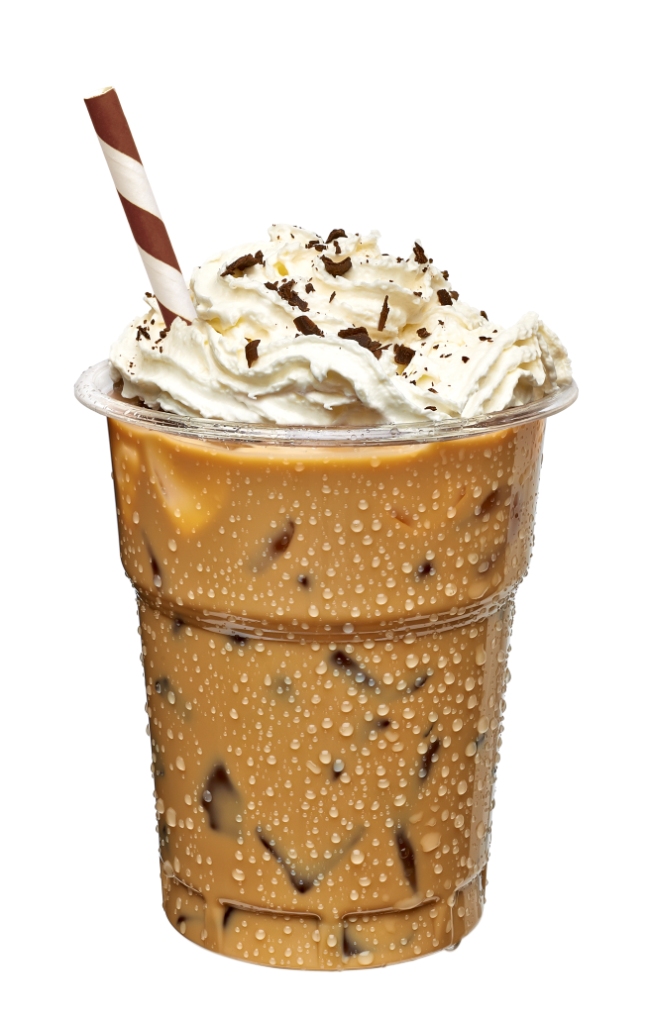 Recently in India coffee is gaining more of a foothold. Last year Dalgona coffee was the big trend, but traditionally Indian cold coffee is essentially coffee powder+ sugar+ cold milk in a blender and topped with loads of  ice-cream.
In India, iced coffee is known as cold coffee and it is a popular summer beverage to cool down our hot and steamy nation.
Cold coffee usually made with instant coffee powder, sugar, milk and is made in the blender for a frothy result 
Ice cream is a common addition, and it need not be the traditional vanilla; chocolate, chocolate chip, and mocha flavours are also popular.
Nowadays, people also sprinkle chocolate shavings, cinnamon powder on top of the cold coffee.
What You Need:
2 tbsp warm water
1 tbsp instant coffee powder
1 tbsp white sugar
1 ¾ cup cold milk
1 scoop ice cream
Blender or small mixer
How To Make It:
Put the water, coffee powder and sugar in the blender and pulse until the coffee and sugar are dissolved.
Add the milk and ice cream and blend for a minute or two until everything is well-combined and frothy.
Pour into a chilled glass. Top with whipped cream or chocolate sprinkles.
7 – Coconut Iced Coffee  — Universal, Vegan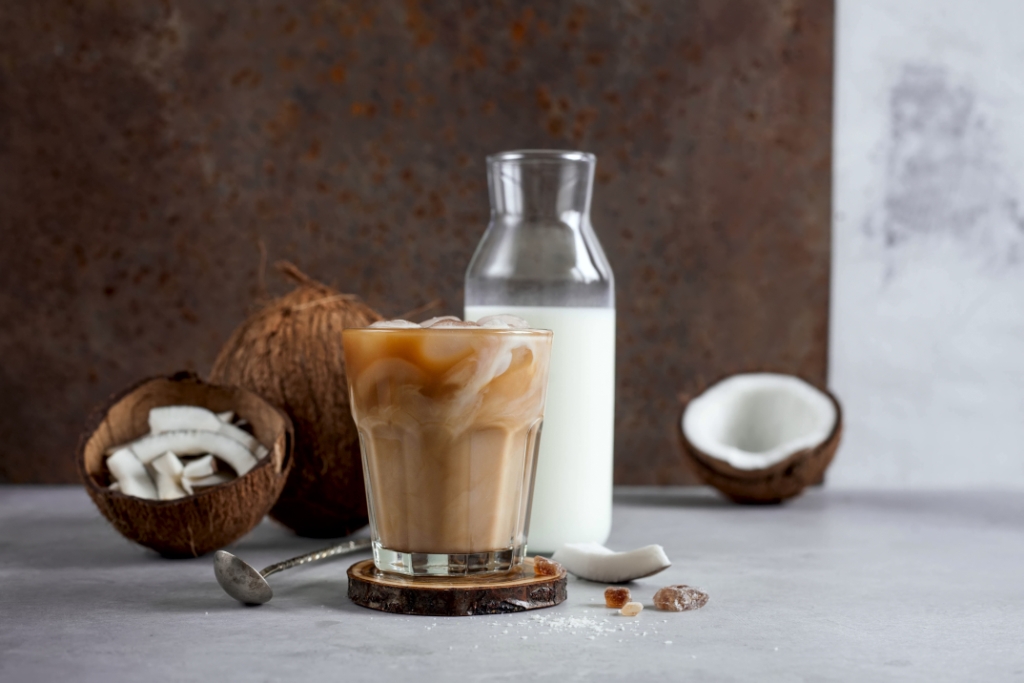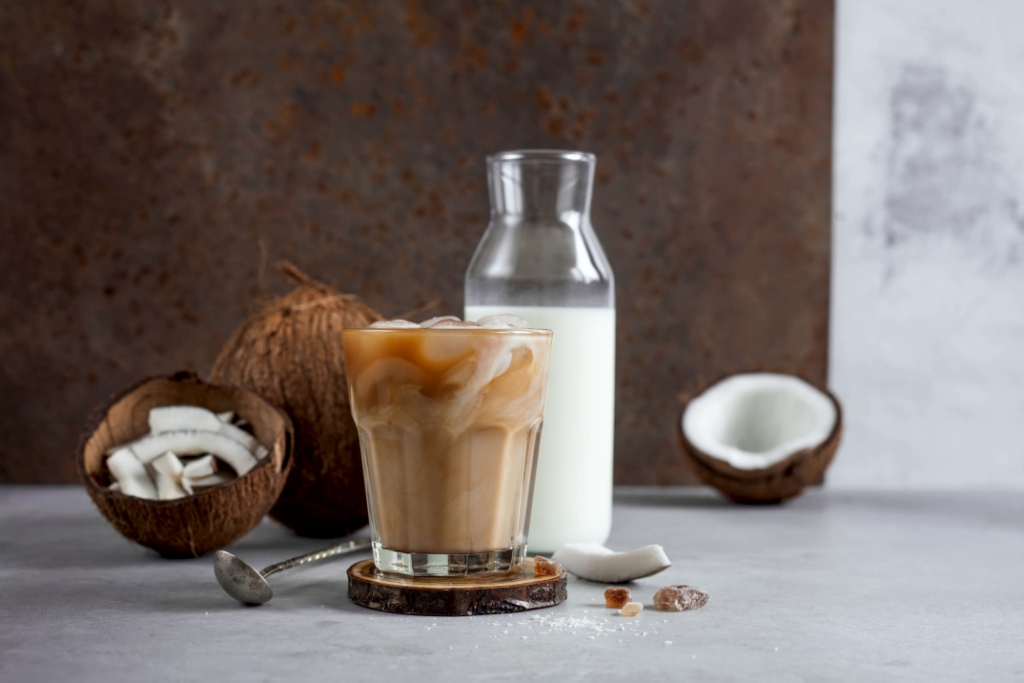 Are you a  vegan and looking for a culinary experience that will turn a boring, hot summer afternoon into a delicious adventure? Consider making a Coconut Iced Coffee! Even if you're not vegan I would rate this version of iced coffee as a "must – try".
This Coconut Milk Iced Coffee is so decadent even without a hint of dairy.
 The key is to make a thick and creamy sweetened condensed milk using coconut milk, which is much easier than you think. All you have to do is simmer the coconut milk until it's reduced, then add sweetener, almond extract, and cardamom to make it taste truly authentic. It's seriously the best combination of flavours.
Not only will you learn how to make some cool stuff at home (like coffee cubes, coconut whipped cream and coconut sweetened condensed milk), but you'll also end up with a tall, cool glass of amazing coffee.
What You Need:
One glass (150ml) strongly brewed coffee
3 ½ cups coconut sweetened (condensed milk)
Organic sugar
1/2 tsp vanilla extract, almond extract
A pinch of cardamom
Coffee cubes (pre – make your choice of black coffee – fill up an ice- tray and chill till it forms ice)
Coconut whipped cream
2 tbsp chocolate sauce (optional)
How to Make It
Combine the coconut milk and sugar in a pan over medium heat and bring it to boil. Once boiling, lower the health and simmer the mixture for around 30 minutes until the mixture has reduced about 1/2 and a lot of the water content has evaporated. It will also get slightly darker in colour as it reduces

Whisk the sweetened condensed coconut milk if it's separated

Combine the coconut milk, vanilla extract, coffee.  Stir until thoroughly mixed.

Pour the mix over the coffee cubes 

Add the mix to the glass top with coconut whipped cream or with chocolate or caramel syrup. 
We've just skimmed the surface of the innumerable varieties of iced coffees from all around the world.
One thing is for sure – Iced coffee has made its indelible stamp in culinary heaven – and if you have an iced coffee recipe to share with us, please write in at editor @ec2-3-108-134-250.ap-south-1.compute.amazonaws.com, we would love to carry it.