If you can't get to your local kirana store, and your online grocery has an "out of stock" label on your summer coolers, don't fret; use up some handy ingredients in your kitchen and whip yourself up a nice cooling summer refresher.
This article is for all those who maybe feeling stuck without mangoes for aamras and aam mastani or green mangoes for aam panna, or other summer sharbats that you enjoy from a sharbat bottle that you may not be able to get your hands on, because of the current restrictions.
There is probably plenty in your kitchen that you can use to whip up these age- old but refreshingly tasty drinks to cool you down on a hot summer afternoon.
1. Khus khus Milk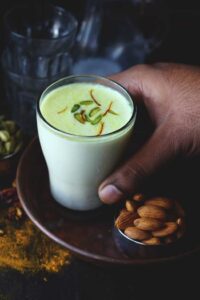 So Khus- khus is poppy seeds, which we are going to blend with coconut milk (you can use normal milk, if you wish); which is different from khus- the cool grass of vetiver, to which a distinctly (edible) green colour is added resulting in an equally cooling summer sharbat.

Poppy seeds juice is a traditional summer cooler, especially along the Konkan coast. Poppy juice is called as khus khuse udha in Konkani and gasagase juice in Kannada. 
Khus-khus milk cools you down and has some healthy ingredients like coconut which gives a richness and boost of taste to this drink, and cardamom gives an amazing flavour and aroma. Jaggery is used as the sweetener which makes this drink healthier.
Khus milk or Poppy juice tastes best when served chilled and it is absolute health in a cup. I have fond childhood memories of drinking loads of khus milk in my mum's house in Hubli. 
To make this poppy drink you'll need from your kitchen:
1/2 cup poppy seeds (khus khus)
1/2 grated coconut (always keep a box handy in your freezer, it really proves very useful)
3 cardamoms
1/2 cup of powdered jaggery
 Method:
Grind the poppy seeds with grated coconut, jaggery and cardamom into a smooth paste using a cup of water.

Transfer ground khus concentrate into a vessel and add a cup of water. Mix well. Add more water if required.

Serve chilled and enjoy. 

Strain the juice before serving or serve it as is. You don't want lose out on all the good fibre!

Adjust the amount of jaggery you add according to your palate.
Variation:
You can add a tablespoon of pre- soaked chia seeds to make it even cooler and healthier. Plus it tastes great!
Notes:
Refrigerate the juice to enjoy it for a day. Finish off the juice on the day of preparation itself as it could get spoilt due to coconut used.

For a very smooth juice without much residue in the end, grind this juice in a wet grinder. You could use a blender but you might be left out with a lot of coarse residue in the end. The juice then might require straining.
---
2. Kokum Beverages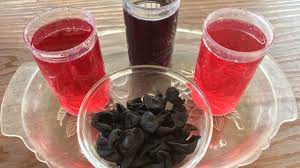 A stroll through most villages in Goa in summer is a pleasure to the senses, especially in the evenings. Overripe massive jackfruit still cling to the trees while their warm aroma wafts through a hot and sticky summer air. Smashed Kokum berries adorn the road in bright red hues, coupled with scattered kachha aam and ripe mangoes. Turns out everyone has their own fruit trees and that's why there's so much unpicked from the road lined trees. 
Kokum also known as Garcinia indica  yields dark red colored berries and is super high in vitamin C.
They are sour to taste and have a sweetish aroma. Kokum (dried), is used to add the right amount of sourness to curries, dals and veggie dishes in cuisines typical to Maharashtra Gujarat, Konkan coast and Kerala.
There are many ways to drink kokum. The most popular are the clear juice (either made sweet or spicy, with the pulp of fresh berries or dried kokum) and sol kadhi – dried kokum juice with coconut milk. 
Kokum Juice
To make Kokum juice you'll need from your kitchen:
200 gms Dry Kokum
4 cups water
200 gms sugar (optional)
1 tsp roasted jeera (cumin) powder
1 tsp cardamom powder
Black salt – to taste
Method: 
Soak kokum in warm water for 30 mins to an hour.

Mash it nicely and strain the water.

Add the leftover Kokum in a pan along with sugar, roasted cumin powder, cardamom powder, black salt and regular salt.

Cook on low heat for 6-8 minutes until sugar melts.

Add the Kokum water in the pan and bring the mixture to a boil.

Cook for another 5 minutes.

Remove the pan from heat and let the mixture cool.

Strain the mixture and store in a glass bottle in refrigerator.

To make the sherbet, pour 3 tbsp of kokum concentrate and top up with chilled water.

Add a few ice cubes if desired.

Serve chilled.
Sol Kadhi
Sol kadhi uses coconut along with kokum and the drink is either had with rice or consumed as a digestive beverage at the end of a meal.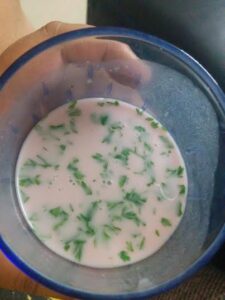 To make Sol Kadhi you'll need from your kitchen:
12 dried kokums
½ cup warm water – for soaking, 2 cups to be added later
1 to 1.5 cups thick coconut milk 
1 green chili and tablespoon chopped coriander leaves, for garnish
Salt to taste
Method:
Soak kokum pods in 1/2 cup warm water for 30 to 45 minutes.

Squeeze the pods to extract the juices, drain the pods and retain the warm water with the extract in it.

In a mortar and pestle, smash together the green chilli, cumin seeds, garlic cloves, coriander leaves and salt. Crush them roughly till they come together.

In a mixer-grinder, blend together the freshly grated coconut with enough water to make a smooth paste. Strain the paste through a muslin cloth to extract fresh coconut milk from it.

In a jug or bowl, add the extracted milk, kokum concentrate, crushed garlic and chilli spice paste and stir well to combine.

Taste it and adjust seasoning as required.

Garnish with mint leaves or chopped coriander, green chilli (if desired) and serve chilled.
---
3. Cold coffee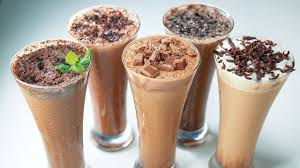 All of us have coffee powder lurking somewhere in our kitchen.  Among all beverages I feel cold coffee is the one with the most variants. We'll do some interesting ones from around the globe next time (as you will need to get the saaman in advance). 
For now, you can make your coffee powder coffee, or brewed coffee and chill it well.
Ice- cream – if you have ice-cream at home, heap a generous scoop into a tall glass, add your chilled coffee and some milk or whipped cream.
Garnish aplenty with dark or milk chocolate shavings.
Cinnamon powder, caramel syrup, and even amarula (a tasty South African liqueur) make for scrumptious additions to cold coffee.
However you choose to have your cold coffee, it's a delicious treat that cools you down and gives you instant energy. I vote this drink to accompany you, as you work from your laptop at home!
---
4. Iced tea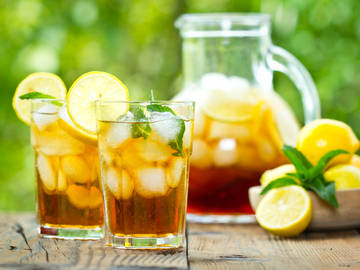 In India, the most popular iced tea in India is Nestea (peach). But if you have run out of it. Just brew your black tea and add lemon juice, mint leaves, lemon slices and some honey.

There are so many variation with iced tea the other 2 most popular variations in summer are:
Mango iced tea – black tea chilled with mango cubes in it. 

Orange iced tea – slices of peeled orange and a dash of fresh orange juice in chilled black tea. 
Have you tried ice cold green tea with apple juice or honey?  Just brew your green tea (you can chill it whilst you prepare the accompaniments) and add some chopped red or green apples or apple juice, deseeded cucumber pieces, fresh lemon juice, mint and honey. Enjoy the health benefits of green tea in a different and delicious way!
Bonus drinks from you kitchen – you need to have limbus and dahi in your fridge for these two drinks:
– Nimbu paani
Kala namak is a great add on for summer. Add some crushed mint and basil leaves to your nimbu paani for a nice twist.
– Buttermilk
So many versions. All so delicious! Just make sure you drink some every day as it's a great pro-biotic.
Tip: Use jaggery or stevia instead of white sugar if you need to cut down on sugar, as all these drinks can add to your blood sugar levels. 
There you go! There is a treasure trove of abundance in your kitchen — so don't get bogged down by the lock down; use the ingredients at home, to enjoy some cool, easy and rejuvenating beverages.
---
Also Read –