Did you know that history of cycling in India dates back to 1938 and that The Cycling Federation of India takes care of the sport?
Cycling previously unknown as a professional sport in India is gaining ground, though hugely popular as a common recreational sport and a good way to keep fit.
As our universe celebrates June 3, as World Bicycle Day, we acknowledge how this two wheeler has attained cult status in recent years in India. 
From a humble vehicle that is used by most of our vendors (paowalla, andawalla, paperwalla etc), the bicycle has transformed into a motorised high- speed mean machine. 
Urbanites have jumped out of their four walls onto their bikes, and headed all over town enjoying the exercise as well as liberation that cycling bestows on the cyclist.
Deepa Desa asks avid cyclist, and Seniors Today contributor, Prabhakar Mundkur, a few pointed questions on cycling in India.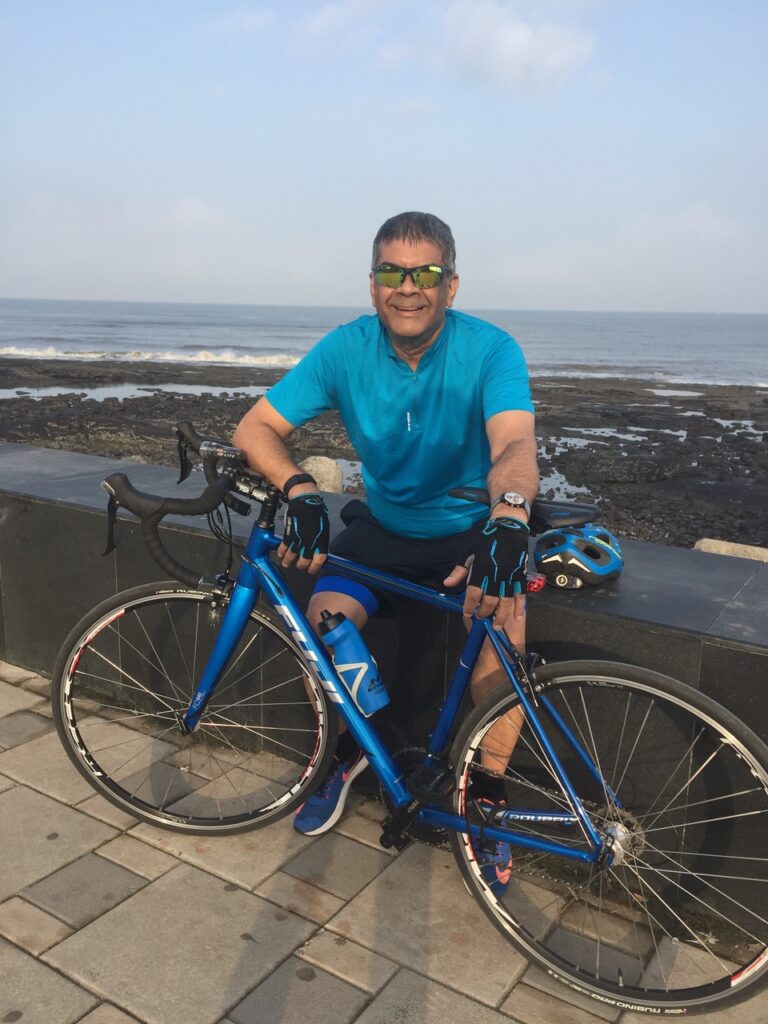 Why celebrate the bicycle?
Acknowledging the uniqueness, longevity and versatility of the bicycle, which has been in use for two centuries, and that it is a simple, affordable, reliable, clean and environmentally sustainable means of transportation is in itself a reason to cheer.
From an old machine that people used to transport themselves between villages, which still holds true in most of India today, we need to honour its powerful ability to connect people miles away from each other
Today it has become a popular sport. A sport that all ages can participate in and in a sense – a connector of generations.
Lastly, let's not underestimate the synergy between the bicycle and the user. It fosters creativity and social engagement and gives the cyclist an immediate awareness of the local environment and culture.
How do you see the correlation between cycles and seniors?
A considerable number of older people have taken to cycling.  I used to cycle when I was a teenager.  But I took up cycling once again in my late 50s. It's never too late to cycle. It's a great way for seniors to keep active and fit – provided your joints are able to handle the stress of pedaling. 
I recommend a short cycling trip for all seniors who are physically up to it. It's a fantastic way to absorb the sights and energies of the locale in which you are cycling. A trip into nature – forests, parks, and gardens can be very rewarding to the senses and a fulfilling activity for seniors.
How friendly are our cities to cyclists?
Very unfriendly.  Almost as unfriendly as we are with dogs.  Try cycling into a 5 star hotel.  They will throw you out even if you are a celebrity.  Indian cities completely lack the infrastructure for cyclists.
For instance, the cycling lane that was created at Bandra Kurla more often than not has auto rickshaws and other obstacles in them so it can't be used a cycling lane.  Also motorists disregard cyclists so one has to be very careful. 
Cycling in India – Your thoughts?
Though cycling has really picked up in prominence during the lockdown, by its ability to lure people out of the four walls of their homes, into fresher, cleaner air than we are used to — cycling in India is precarious. 
We need better infrastructure and we need new road transport laws like Australia, Europe and the West have in place to deal with cyclists. Overseas, according to road transport rules you have to keep a 1.5 m distance between the vehicle and the cyclist. Whereas here in India, cars whizz at high speed barely a foot away from you.
Currently cyclists and pedestrians are considered impediments to other vehicles on the roads. We definitely need more respect.
The future of cycling in India?
We need more initiatives like organising bicycle events at the national and local levels; as a means of strengthening physical and mental health and well-being and additionally, developing a culture of cycling in our society.
We desperately require dedicated lanes (at least for some hours of the day) that allow cyclists to ride freely and safely.
With improved road safety policies and measures, we could see an integration into sustainable mobility and transport infrastructure planning and design. These strategies will directly and actively protect and promote cycling mobility. This may seem like a herculean task but it can be achieved. 
Really, there is nothing quite like the exhilaration of riding a bicycle. World Bicycle Day acknowledges this while honouring the durability and longevity of the bicycle. Providing a simple and sustainable means of transportation, bicycling is rejuvenating for our physical- and mental health, and good for the economy, and the environment. 
With more safety measures and laws protecting cyclists we hope to move into a future where the cycle and cyclist are given the respect that is long overdue in India.