Composer par excellence, Naushad was also a captivating poet. Narendra Kusnur looks back over the maestro's immense contribution to Hindi film music
Following the lockdown, many singers have been doing online performances from their homes. One of the versions heard frequently is Lata Mangeshkar's 'Mohe Panghat Pe' from the 1960 epic Mughal-e-Azam. Composed by Naushad and written by Shakeel Badayuni, it is one of the prime examples of the use of raag Gara. It is also one of the numerous examples of the command the famed music director had over Hindustani classical music.
In the 1952 film Baiju Bawra, for instance, Naushad had famously used raag Malkauns in Mohammed Rafi's 'Man Tadapat Hari Darshan Ko Aaj'. Eight years later, he and Rafi teamed up on the raag Hameer tune 'Madhuban Mein Radhika', from the Dilip Kumar film Kohinoor. Both these songs were written by Badayuni.
Naushad's contribution to Hindi film music has been immense. Chronologically, after Kundan Lal Saigal, he was the second Indian musical superstar. From the mid-1940s to the early 1960s, he produced a string of hits for the top banners. His films included Rattan, Anmol Ghadi, Deedaar, Baiju Bawra, Amar, Uran Khatola, Mother India, Mughal-e-Azam, Kohinoor, Ram Aur Shyam, Leader, Mere Mehboob and Ganga Jamna. Songs like 'Jab Dil Hi Toot Gaya' (Shahjehan), 'Suhani Raat' (Dulari) and 'Pyar Kiya To Darna Kya' (Mughal-e-Azam') have become iconic.
Despite his phenomenal success, Naushad's birth centenary on December 25 last year went largely unnoticed. In Mumbai, the only major show held was 'Mauseeqaar-e-Azam Naushad' curated by Ajay Madan at the Nehru Centre the following day.
May 5 marked 14 years since Naushad passed away. Even today, his songs are played by old-time listeners and sung in television talent hunt shows. Besides his use of classical raags and folk melodies, his style of orchestration inspired many later music directors. Apart from Indian music, he was adept at the western style of creating and arranging music too.
Meeting the maestro
Though I met Naushad casually at various concerts and TV channel parties, I had done an in-depth interview only once. This was for Mumbai's Mid-Day newspaper in 1997. We had a column where one known personality would talk at length of one major achievement, and for Naushad, we chose Baiju Bawra.
"Is there anything new I can tell you, something which has not been written about?" he asked over the telephone when I requested an appointment. When I told him the theme, he agreed, and a few days later, I went to his Ashiana Bungalow on Carter Road, Bandra.
We sat in one of the front rooms, and he talked about how Badayuni and he would sit hours over a song in that same room. "We would just think of the song's situation in the film and go on working till both of were in agreement," he recalled.
Directed by Vijay Bhatt, Baiju Bawra is about a young musician in Emperor Akbar's court who challenges Miyan Tansen to a musical duel. Naushad said that since the story was about musicians, it needed a strong classical base. Ustad Amir Khan sang prominently and Pandit D.V. Paluskar appeared in some songs. "Even for Rafi and Lata, I decided to do classical songs," he added.
Besides the famous Malkauns bhajan, the soundtrack used raag Bhairavi ('Tu Ganga Ki Mauj'), Maand ('Bachpan Ki Mohabbat'), Darbari ('O Duniya Ke Rakhwale'), Pilu ('Jhoole Mein Pawan') and a mix of Bhairav and Kalingda ('Mohe Bhool Gaye Saawariya'). "It was a risk to take established classical singers but it worked, and Amir Khan and Paluskar were very cooperative. Lata was already a star then, but this film proved to be a big boost for Rafi, who had two hits in 'Man Tadapat' and 'O Duniya Ke Rakhwale'," Naushad said.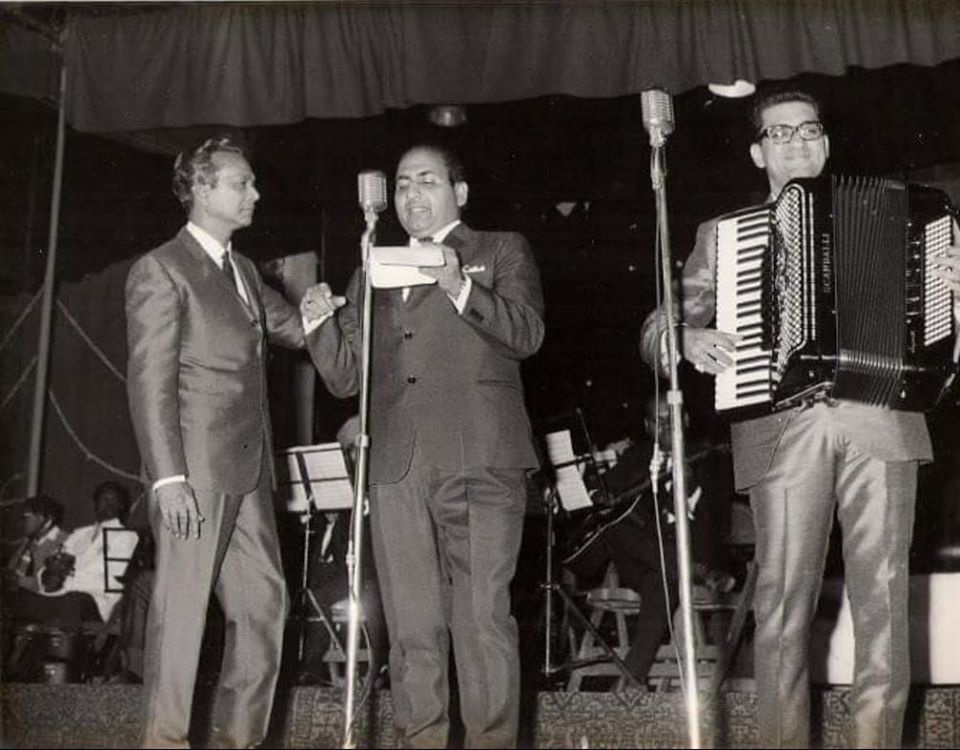 Before Baiju Bawra, Naushad and Badayuni had worked together in films like Mela, Deedaar and Aan. According to Naushad, they understood each other's style and gave each other space. "With the success of Baiju Bawra, filmmakers began looking at us as a team, and many insisted Rafi do the male songs too," the music director said.
Pursuing his dreams
The interview was conducted after Naushad himself served tea in fine crockery, displaying the typical hospitality of Lucknow, from where he had run away to pursue a career in music. After staying with an acquaintance in Colaba he moved to Dadar, where he slept on the footpath.
Keen on pursuing his dreams, Naushad assisted Ustad Jhande Khan and later the well-known music director Khemchand Prakash. As a music director, he made his debut with Prem Nagar in 1940, and one of his early achievements was composing Suraiya's debut 'Boot Main Karoon Polish Babu' in the 1942 film Nai Duniya. His first hit was the 1944 film Rattan, which had songs sung by Amirbai Karnataki, Zohrabai Ambalewali and Karan Dewan. Ever since, there was no looking back.
A few months after this interview, I had a chance to meet Naushad again, but this was along with a few other media persons at his residence. The occasion was the launch of the album Aathvan Sur, containing poetry written by him.
Set in a ghazal and nazm format, the Navras Records album featured singers Hariharan and Preeti Uttam. "I was into Urdu poetry since my early days in Lucknow. But with music direction taking up all my time, I couldn't pursue it beyond a point. Now that I'm free, I did manage to take some time off," he had said.
Poetry first
In his biography Naushadnama: The Life and Music Of Naushad, writer Raju Bharatan talked about the importance Naushad gave to poetry. He wrote, "For Naushad, the poetry always came first, the music after. The magic of his music lay in the fact that you never knew where the poetry merged with the music, where the music merged with the poetry. Shakeel's poetry and Naushad's music just intertwined."
Bharatan's book, released by Hay House Publishers, offered many interesting facets about Naushad's life. His rivalry with music director C. Ramchandra occupied much space, and there was mention of how he helped Mangeshkar with her diction.
On reports that he didn't work with Talat Mahmood after being upset the singer once smoked in front of him, Naushad had another story, saying working with Mahmood and Mukesh would limit him. "Rafi offered a wider spread," he would say. One section also talked of how he gave lesser importance to singer Shamshad Begum and more to Mangeshkar at the insistence of his wife Ahliya.
In each encounter, Naushad came across as a stylish, knowledgeable personality, greeting gatherings with his trademark line "Khawateen-o-hazraat". He represented an old-world charm, and the vast richness and variety of his musical repertoire gave him a unique place.
Essential Naushad

Though he had numerous hits, these 10 songs could well define Naushad's genius and versatility
1.  Awaaz De Kahan Hai (Anmol Ghadi, 1946) – Sung by Noor Jehan and Surendra, and written by Tanveer Naqvi, this was one of Naushad's earliest hits.
[embedyt] https://www.youtube.com/watch?v=ANptt7VMxXU[/embedyt]
2 Jab Dil Hi Toot Gaya – (Shahjehan, 1946) – The ultimate sad song, sung by superstar Kundan Lal Saigal and written by Majrooh Sultanpuri.
[embedyt] https://www.youtube.com/watch?v=nQQPV-DtY3s[/embedyt]
3 Suhani Raat Dhal Chuki (Dulari, 1949) – One of Mohammed Rafi's early hits, this song written by Shakeel Badayuni was a rage in its time.
[embedyt] https://www.youtube.com/watch?v=Rw_jNbSVDGk[/embedyt]
4 Man Tadapat (Baiju Bawra, 1952) – Baiju Bawra had numerous hit songs but 'Man Tadapat' was remembered for Rafi's soulful singing and the use of raag Malkauns.
[embedyt] https://www.youtube.com/watch?v=tz7C0MEaMfQ[/embedyt]
5 Insaaf Ka Mandir Hai (Amar, 1954) – Another beauty by Rafi, the Naushad- Badayuni magic is seen on the lines "Insaaf ka mandir hai yeh, bhagwan ka ghar hai".
[embedyt] https://www.youtube.com/watch?v=GaWc8QkZ4QQ[/embedyt]
6 Duniya Mein Agar Aaye Ho (Mother India, 1957) – A song with an important and timeless message, this was sung by the Mangeshkar sisters Lata, Meena and Usha.
[embedyt] https://www.youtube.com/watch?v=RjYhUk6M0iM[/embedyt]
7 Pyar Kiya To Darna Kya (Mughal-a-Azam, 1960) – One of the greatest love songs ever, this was sung by Lata Mangeshkar and picturised on the gorgeous Madhubala.
[embedyt] https://www.youtube.com/watch?v=zovgZ2Lzkq8[/embedyt]
8 Madhuban Mein Radhika (Kohinoor, 1960) – Best known its use of raag Hameer, this was sung by Rafi and picturised on Dilip Kumar. The sitar was played by Ustad Abdul Halim Jagger Khan.
[embedyt] https://www.youtube.com/watch?v=8NzSyyOX0yo[/embedyt]
9 Mere Mehboob Tujhe (Mere Mehboob, 1963) – Picturised on Rajendra Kumar and Sadhana, this Rafi song was a huge hit and was played regularly on the radio.
[embedyt] https://www.youtube.com/watch?v=kJ3DwFWhQuE[/embedyt]
10 Aaj Ki Raat (Ram Aur Shyam, 1967) – Picturised on Dilip Kumar and Waheeda Rahman, this Rafi song makes remarkable use of the piano.