Besides outstanding cinematic values, Indian art films gave us some of the best music too, writes Narendra Kusnur
FOLLOWING music director Vanraj Bhatia's death on May 7, the Indian Performing Right Society (IPRS) organised a Zoom tribute on its Facebook page. Filmmaker Shyam Benegal, who worked extensively with him, talked of the role Bhatia played in the Hindi parallel cinema movement of the 1970s and 1980s.
Parallel cinema, also called new wave or art cinema, used music differently from commercial films. Songs weren't just inserted between scenes, and there definitely was no dancing around trees or at wedding extravaganzas. While some films barely had songs, others had them in the background or if they were part of the script. Even the style was different, as classical and folk elements were used in strong doses.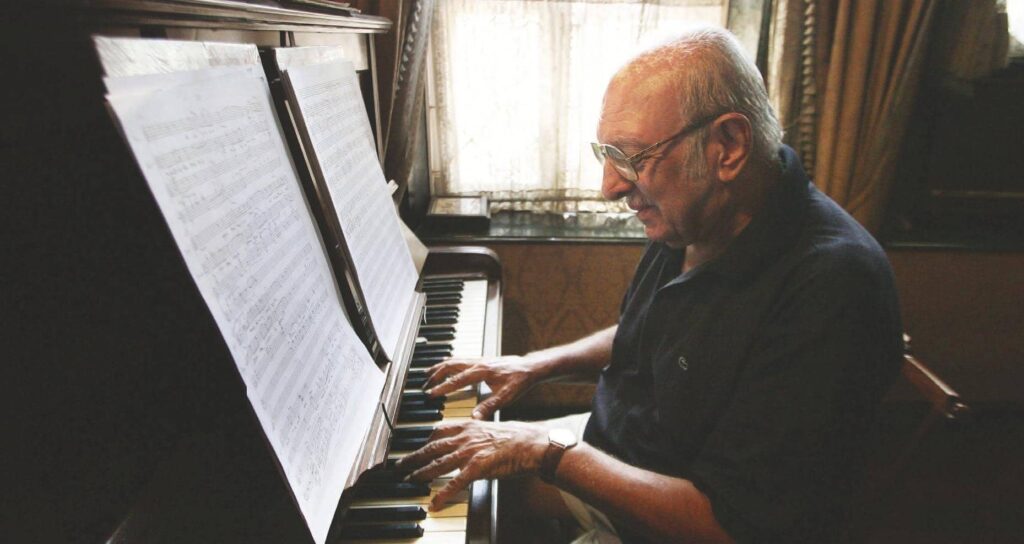 Bhatia was the best known and most prolific composer in parallel films. He worked with Benegal on Ankur, Nishant, Manthan, Bhumika, Junoon, Kalyug, Mandi, Antarnaad, Suraj Ka Satvan Ghoda, Mammo and Sardari Begum, among other films. He also composed music for Aparna Sen's 36 Chowringhee Lane, Kundan Shah's Jaane Bhi Do Yaaron, Prakash Jha's Hip Hip Hurray, Saeed Mirza's Mohan Joshi Haazir Ho! And Govind Nihalani's telefilm Tamas.
The Benegal-Bhatia team began work in the 1974 film Ankur, which was the first cinematic release of Shabana Azmi and Anant Nag. But before that, other filmmakers and music directors had ventured into Hindi parallel cinema. Regional cinema had its own set of geniuses. Many of them had been inspired by filmmakers like Satyajit Ray, V Shantaram, Mrinal Sen and Ritwik Ghatak.
Early instances
The year 1969 saw two releases that were later described as early instances of parallel cinema. There was Mrinal Sen's Bhuvan Shome, which had music by Vijay Raghav Rao. The way the composer matched percussion instruments to a train's movement was considered to be an innovative approach to background music. The other film, Mani Kaul's Uski Roti, had music by Ratan Lal, who laid emphasis on the santoor.
Slowly, songs started coming in. Kumar Shahani's 1972 movie Maya Darpan made perfect use of Vani Jairam's voice in the song 'Aaja Ri Nindiya'. The music was composed by Bhaskar Chandavarkar, who later became an important part of the parallel cinema movement, composing for Saeed Mirza's Arvind Desai Ki Ajeeb Dastaan and Albert Pinto Ko Gussa Kyon Aata Hai, and Vijaya Mehta's Rao Saheb, besides films in other languages.
The evocative Sufi qawwali Maula Salim Chisti
Besides Ankur, 1974 also saw the release of MS Sathyu's Garm Hava, for which sarod maestro Ustad Bahadur Khan provided the music, and Kaifi Azmi wrote the lyrics. In contrast to the filmi qawwali, the film also had the authentic Sufi qawwali 'Maula Salim Chisti', sung by Aziz Ahmed Warsi and Party.
By the mid-1970s, filmmakers with a bagful of ideas and an alternative approach had begun showing growing interest in Hindi parallel cinema. The subjects and treatment were distinct, and therefore the music was also looked at differently. In an interview to this writer some 25 years ago, Vijay Raghav Rao had said, "I used the same principles that I followed in documentary films. The music had to go with the subject, and used subtly without competing with the screenplay."
In the Zoom tribute, Benegal said, "When Bhatia approached me for Ankur, and later worked with me in Nishant, I thought he had chosen the wrong person, because these films didn't contain songs. But my next film Manthan had a song that would become an anthem for Amul."
Mero Gaam Katha Parey, which became synonymous with the cooperative milk producers' movement
Sung by Preeti Sagar, 'Mero Gaam Katha Parey' was one of the few super-hit songs in parallel cinema, despite its unique language. It was written by Preeti's sister Neeti. In an earlier interview to this writer, Bhatia had said, "Many people asked me what language it was in as it had different dialects of Hindi and Gujarati. I would say it was studio language. People from Gujarat, Madhya Pradesh and Uttar Pradesh, all identified with it."
Benegal's Bhumika had the hit 'Tumhare Bin Jee Na Lage', composed by Bhatia, written by Vasant Dev and sung by Preeti Sagar, with Smita Patil on screen. Reminisced Bhatia, "I used Preeti's voice again in the Kalyug song 'What's Your Problem?' Some people felt I chose her because her song 'My Heart Is Beating' from Julie became a hit, but the fact is I never liked that song. The truth was that I preferred simple songs. That was the good thing about Preeti. She sang straight, without any frills."
By this time, it became clear that songs could be used increasingly in parallel cinema – 'What's Your Problem?' in fact had a disco flavour. This was contrary to the earlier notion that only background scores suited this genre. Other music directors began contributing, in some cases promoting unconventional singers. In Govind Nihalani's 1980 film Aakrosh, music director Ajit Verman used the voices of Madhuri Purandare and Vandana Khandekar. His later work included Nihalani's Ardh Satya and Mahesh Bhatt's Saaransh and telefilm Janam.
 Smita Patil lit up the screen performing to Tumhare Bin Jee Na Lage in Bhumika
Music director Kanu Roy used the voice of Sulakshana Pandit in Sai Paranjpye's Sparsh. Uttam Singh, known as an arranger, provided music for Ashok Ahuja's Aadharshila. Another music director active in parallel cinema was Rajat Dholakia, who composed music Ketan Mehta's Holi and Mirch Masala, Kamal Swaroop's Om-Dar Ba-Dar and Sudhir Mishra's Dharavi. The biggest surprise came from Nihalani, who got in legendary classical vocalist Kishori Amonkar to compose and sing for his 1990 film Drishti.
No mass impact
Top-rung music directors stayed away from parallel cinema for two main reasons. One, songs from such films never created the mass impact that the big grossers did. Secondly, since they worked on limited budgets, they couldn't afford the fees demanded by the big names. Still, there was a set of quality-conscious music directors who chose films simply because the storylines gave them a chance to hone in on their musical creativity.
Jaidev's music in Muzaffar Ali's Gaman and Jagjit Singh's songs in Mahesh Bhatt's Arth did well commercially. Khayyam brought in different sounds, using mujra songs written by Shahryaar in Muzaffar Ali's Umrao Jaan, which added a new dimension to Asha Bhosle's repertoire, and ghazals in Sagar Sarhadi's Bazaar, where he used Lata Mangeshkar, Talat Aziz, Jagjit Kaur, Pamela Chopra and Bhupinder Singh. In the cassette era, all these soundtracks did good business.
Seene Mein Jalan from Gaman, practically an anthem for urban angst
Though Benegal continued to make some wonderful films in the 1990s and early 2000s, parallel cinema as one knew it slowly began to fade away. Even when the fad lasted, very few cinema-goers would pay attention to the music. Slowly, that kind of alternative film music also ceased to exist, and composers like Bhaskar Chandavarkar, Ajit Verman and Rajat Dholakia settled down in other areas of music, or focused on regional movies.
Through his association with Benegal, Bhatia continued to provide music in such films, and his work in Suraj Ka Satvan Ghoda and Sardari Begum was much appreciated. In the latter, he used the voices of Arati Anklikar-Tikekar, Shobha Joshi, Asha Bhosle and Poorva Joshi. With lyrics by Javed Akhtar, the film had a mujra, hori, ghazal and semi-classical numbers.
Clearly, Bhatia was at the forefront of the musical side of parallel cinema. For those who followed the scenario, this genre provided a good musical diversion. Though the soundtracks did not have the mass success of commercial films, some of them attracted a cult following, specially if they had catchy numbers. Even today, the songs of Bhumika, Arth, Bazaar and Sardari Begum have their followers.