You don't need oodles of space or fancy equipment to nurture lovely flowers or luscious veggies, writes Sheila Jain.
I will be 70 soon, but I don't feel it because my hobbies keep me going. Among other hobbies, gardening is my passion. I work for four hours regularly in my small garden.
Gardening is meditation to me. It is my joy time, gratitude time. I forget myself when I am surrounded by plants. I talk to them, bathe them, feed them and even dress them by shaping or putting a knot or stitch to make it straight.
If you have a hobby in your old age your mind will be alert. You will keep planning to do so much in the garden that you will not age suddenly.
What do you need?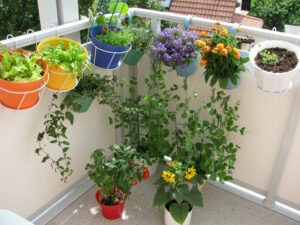 You don't need a garden to do gardening. In a flat you have balconies, where you can grow multiple hanging baskets and pots. You don't even have to buy baskets, you must be having old plastic colanders. Put coconut fibre all around or a fine mesh that you get from potato vendors.
If you don't want to buy soil, you can even make your own compost in a covered bucket or earthen ghada. Fill this container with kitchen waste but not cooked food, all raw vegetable and fruit peels, eggshells, tea leaves, even dry flowers from a bouquet can be put. Cover with a layer of soil, cover the lid and keep aside.  In 2-3 months, compost will be ready.
What about plants?
There is no urgent need to buy plants, as it is not always possible for you to go to a nursery. In fact, your kitchen is your seed house. You can grow mint, methi, haldi, karela, tomato, red, yellow and green peppers, coriander, ginger, onion, potato and green chilli easily.
You can dry and use as seeds, the puja flowers that you get. Grow these in baskets or pots. You can be very creative.
The benefits
Every time you achieve something you will feel so happy, and in return you will be grateful so keep thanking God for all these creations. When you are in contact with Mother Earth you will get energy from there.
For gardening, reuse and utilise things that are lying as waste.
Always grow vegetables of one type in 2-3 pots so that you get some yield.
When I get 5-6 bhindi from my garden, I am on top of this world and enjoy every bite of it.
Gardening is so much fun
I keep looking for overripe vegetables and take out the seeds, wash and dry them, and then plant them.
Potatoes get "eyes", that is new shoots are coming out. Plant it in the soil; if the potato is big cut into two pieces and put in the soil.
When you cut an onion, cut the root side a bit thick, place it on soil and water. Tulsi (holy basil) can also easily be grown.
You can use soaked chana, rajma, dry mutter, peanuts, and tamarind seeds as well as china orange seeds.
Don't use any chemical pesticide or fertilizer; compost is the best.
For pesticides, in an empty 1-litre Colin bottle add 1 tsp white vinegar and juice of a half lemon. Mix and spray on plants.
If there are no fruit or flowers, then add 1 tsp soda bicarb in one-liter water and spray.
When plants are growing fine and healthy, it feels as if your children are healthy and happy.
I share my plants with my friends and also get plants from them.
My family
I have created a family of plants. I am a mother and granny to so many plants and my friends who give me plants are also Nani and aunts. When we talk of those plants we say Nani is coming today, look nice to receive them. The plants respond to my talking to them.
One day I scolded a plant saying, "You don't behave well even after so much caring and love; I will throw you out of my family." You won't believe that next week it flowered and since then it is my pet plant.
All this keeps me so happy and calm.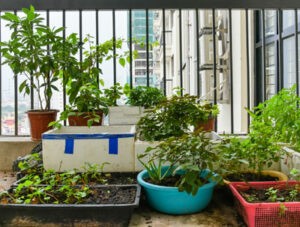 In the morning I see small colorful birds sitting on my plants, and I thank God for getting me interested in gardening.
I don't get to eat any fruits that grow in my garden, but I feel happy that I am growing anar, guava, custard apple, peach, etc for them. Squirrels, parrots and other birds come and eat them and I enjoy watching them. I feel as if grandma has served a special lunch for her grandchildren. The thought never comes that I am not eating the fruits I have grown.
Multi-colored butterflies come and sit on the flowers, and I bless them saying take as much as you can take. I have a purple flowering plant, and when it flowers tiny yellow butterflies in the hundreds sit on the flowers and the plant looks as if purple and yellow flowers are blooming.
Ladybugs walk around freely.
These days our children don't get to see and enjoy nature. When my grand-children visit me I keep the pots ready and give them seeds from the kitchen to sow them in pots. They water them regularly, and watch them sprout, then getting leaves and then slowly growing.
They enjoy, and I enjoy watching them and listening to their conversation with the plants. It's an overwhelming feeling.
In short, I can only say that gardening is fun and very satisfying. Enjoy gardening!