The current corona crisis has really taken its toll on us. But never despair.

Resolve to k

eep up a warrior spirit and a positive attitude—we suggest a few things that can help you get through your day, with joy, peace and hope. 

1. Wake up with a positive affirmation
As you wake up, power your mind to a positive mind set. (The mind is a trickster, it will lure you to remind yourself to be sad, to worry, to overthink-  don't entertain this unwanted monster).
Using positive affirmations is like thinking positive thoughts—but out aloud. With affirmations, mantras, chants or a small prayer, navigating our current world can seem much less daunting. 
Affirmations are short, powerful and simple positive statements that can help you overcome self-sabotaging and negative thoughts. Find one (or a few) affirmation that truly resonates with you. 
The energy of your affirmation should "envelope" your being and set you in a positive mind frame so that you're good to go through your day.
Positive changes can be made when affirmations are believed in and repeated often. Mantras, chants, prayers, affirmations are repetitive in order to receive the energy from the universe and for your mind to awaken to the present moment.
Example of a few positive affirmations:
I am accepting this moment as it is – with joy and peace in my heart

I surrender my worries to God. It is in him I put my trust

I am healthy. I am happy. I am blessed

We are all in this together

I am loved

I

trust in my ability to get through tough times

I have survived tough times before and I will survive now

I choose to feel peace and calm with my aloneness
You can keep repeating or changing your affirmation through the day. Notice how refreshed and calm you mind feels.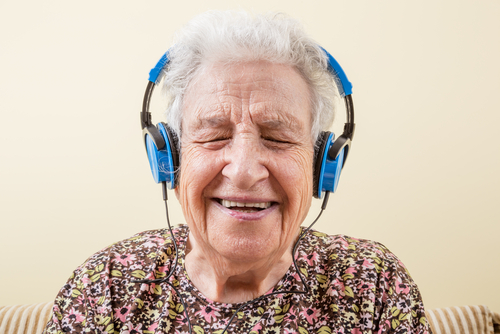 2. One step at a time
The whole day can look exhausting when you first wake up. You may have some tedious work to attend to, run errands, deal with clients, and a whole lot of chores to finish or perhaps nothing to look forward to.
Don't overthink, or think too much about the future. It will cause you great anxiety. Just focus on your present moment and the task at hand.
If you have nothing to do, find something to potter around with at home— water your plants, talk to them, sing out aloud to some of your favourite songs, do something that used to make you happy as a child ( an old hobby), it helps you pass time—one step at a time.
3. Good health of mind and body – Self care
Your well- being is the most important thing. Focusing on what is right for your physical and mental health can encourage you to care for yourself. 
Sometimes it can be difficult to remember self-care if you are not around those who normally do it for you. But don't let that stop you. Expectations most often lead to disappointment. Make an effort to do good things for yourself. 
Don't hold back on your emotions. When you allow yourself to completely feel your emotions, it helps you heal, and makes you feel lighter in spirit.
As a senior, it's also easy to forget to eat properly or take time to comfort yourself. Regardless of your age, nourish your body, drink plenty of water, and you will have sustained energy to get through your day.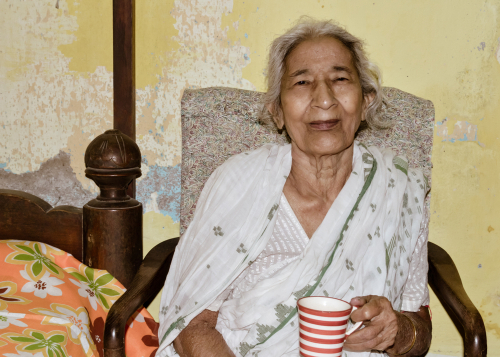 4. Make up a "me- time" ritual
This could be a tea- time ritual, a foot soak ritual, a yoga or meditation practice, a chat with your favourite person, a new card game- anything that makes you feel good. 
 Mark a set time for it so that every day you can look forward to your "chosen ritual".
Often, it's this carved out "Me-Time" that helps your day stay happy.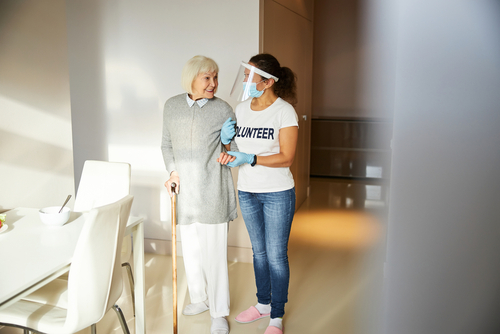 5. Keep active
Sitting around and moping or feeling down is not on the cards. It just makes you feel worse. Shake it off! If you can't go down due to current restrictions, walk for 20- 30 minutes at home. Listen to your favourite music, chant an affirmation, listen to some funny videos or jokes, and enjoy your walk.
Everything is the way it's supposed to be. Regardless if you are happy or annoyed, the spot you are in every moment of the day, is the spot you're supposed to be in. Because of a chain of actions and results, the world has made it possible that you are right where you belong for the moment.
 What you do next, is your choice. 
So choose acceptance of each moment of each day – this renewed awareness will help you change your perspective, it will bestow you with wisdom, temperance and grace, knowing that everything is transient, and this too shall pass.