At the outset, let me clarify that we are looking at the pure essential oils of sweet and holy basil and their use in Aromatherapy and Ayurveda. It does not include using the herbs as a tea, juice, supplement or other varied methods of using Basil.
Sweet Basil Essential oil
Sweet Basil Essential Oil is derived from the leaves of the Ocimum basilicum botanical, better known as the Basil herb. This plant receives its name from the Latin word basilius as well as the Greek word basilikón phutón, which mean "royal plant," hence Basil is also known as the Queen of Herbs or l'herbe royale, meaning "royal herb" in French.
It may also be referred to as Saint Joseph's Wort, Great Basil, European Basil, French Basil, Common Basil, or Sweet Basil.
Sweet basil * Ocimum basilicum) hails from the Lamiaceae plant family. Basil Essential Oil smells warm, sweet, herbaceous and somewhat licorice-like.
Chemical Constituents of Sweet Basil:
Linalool, Fenchol, Eugenol, Methyl Chavicol, Beta-Caryophyllene.
The chemical composition of Basil Essential Oil can vary greatly between varieties, batches and suppliers. Ideally, we look for Basil Essential Oil that has a significant percentage of Linalool. Basil Oils that are higher in Linalool tend to have a more appealing aroma. Additionally, Linalool is said to act as an insect repellent.
Sweet Basil Essential Oil Uses:
The essential oil of sweet basil has common aromatherapy uses for:
Bronchitis
Colds
Coughs
Exhaustion
Flatulence
Flu
Gout
Insect Bites
Insect Repellent
Muscle Aches
Rheumatism
Sinusitis
Therapeutic Benefits of Sweet Basil Essential Oil:
In aromatherapy, Sweet Basil Essential Oil is reputed to stimulate, clarify, calm, fortify, energize and uplift the mind.
It is also said to repel insects, eliminate odor-causing bacteria, soothe headaches, and relieve respiratory as well as digestive discomforts.
When used on the scalp and hair, Sweet Basil Essential Oil cleanses, refreshes, hydrates, softens, and strengthens the strands.
When used medicinally, Sweet Basil Essential Oil is reputed to ease minor skin irritations, cramps, joint pain, muscular aches, spasms, gout, flatulence, and exhaustion.
It is also said to enhance immune function, protect against infection, reduce water retention, and stabilize irregular menstruation.
Holy Basil Essential Oil or Tulsi Essential Oil: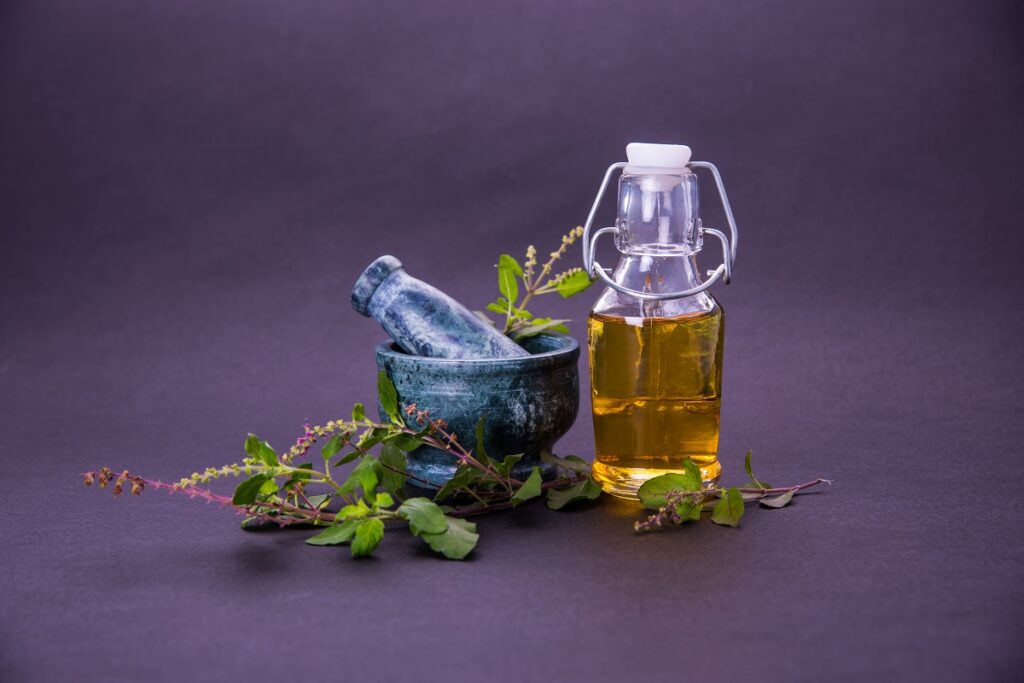 Holy basil has its origins in India and is extensively used in Ayurvedic medicine as an "adaptogen" (the concept of an "adaptogen," or herb is one that helps with the adaptation to stress and the promotion of homeostasis), to counter life's stresses. It is considered a sacred plant by the Hindus and is often planted around Hindu shrines and courtyards outside homes.
Ayurveda with its focus on healthy lifestyle practices and regular consumption of adaptogenic herbs considers tulsi an incomparable herb to any other.  Within Ayurveda, tulsi is known as "The Incomparable One," "Mother Medicine of Nature" and "The Queen of Herbs," and is revered as an "elixir of life" that is without equal for both its medicinal and spiritual properties.
There is mounting evidence that tulsi can address physical, chemical, metabolic and psychological stress through a unique combination of pharmacological actions.
Holy Basil, (Ocimum sanctum) also belongs to the Lamiaceae plant family.  Tulsi leaves, flower/ buds are steam distilled for aromatic, medicinal and spiritual purposes.
Chemical constituents of Tulsi:
Eugenol, 1,8-Cineole,Estragole, B-Bisabolene,(Z)-a-Bisabolene
Aromatically, Holy Basil Essential Oil resembles a cross between traditional basil and clove oils. It constitutes 85% Eugenol, a chemical constituent that gives Clove Oil its characteristic aroma.
Tulsi, Holy Basil Essential Oil is strong, warm and spicy in aroma, compared to sweet basil
Some uses of Tulsi:
Muscular Spasms
Respiratory Conditions
Cramps
Menstrual Issues
Headache
Mental and Physical Fatigue
Cold and flu
Diabetes
Ringworm
In addition to these health-promoting properties, tulsi is recommended as a treatment for a range of conditions including anxiety, cough, asthma, diarrhea, fever, dysentery, arthritis, eye diseases, indigestion, hiccups, vomiting, gastric, cardiac and genito – urinary disorders, back pain, skin diseases, insect, snake and scorpion bites and malaria.
Therapeutic uses:
Both sweet and holy basil help calm the mind, and are used in conjunction with other oils for the treatment of stress and anxiety.  However, Tulsi is perhaps one of the best examples of Ayurveda's holistic lifestyle approach to health.
Tulsi tastes hot and bitter and is said to penetrate the deep tissues, dry tissue secretions and normalize kapha and vata.
Daily consumption of tulsi is said to prevent disease, promote general health, well-being and longevity and assist in dealing with the stresses of daily life.
Tulsi is also credited with giving luster to the complexion, sweetness to the voice and fostering beauty, intelligence, stamina and a calm emotional and mental disposition.
Safety Information in the use of essential oils:
The oils are best when formulated by a professional as they could have some side effects. Do not take any oils internally and do not apply undiluted essential oils, absolutes, or other concentrated essences onto the skin without advanced essential oil knowledge or consultation from a qualified aromatherapy/ Ayurveda practitioner.
If you are pregnant, epileptic, have liver damage, have cancer, or have any other medical problem, use oils only under the proper guidance of a qualified aromatherapy/ Ayurveda practitioner.
Use extreme caution when using oils with children.
Consult a qualified aromatherapy/ Ayurveda practitioner before using oils with children, the elderly, or if you have medical issues or are taking medications.
Sources:

Valerie Ann Worwood- The Complete Book of Essential Oils and Aromatherapy