Distil Amitabh Bachchan's expansive oeuvre into a Top 20? Deepa Gahlot gives it a shot
As Amitabh Bachchan enters his 80th year, he is still going strong – the only actor of his age who has lead roles written for him.
Starting his career in 1969 with KA Abbas's Saat Hindustani, he proved himself to be a fine actor; still it took a while for him to reach that milestone film Zanjeer (1973), from where his journey as a superstar took off. When he was on a roll, even his bad films were hits, but the top directors of the time also found that he was an intelligent, malleable and very disciplined actor, who came to be known for his punctuality and professionalism. Plus that crisp dialogue delivery in a baritone voice and his widely imitated hairstyle.
It is difficult to pick just 20 films from his oeuvre of over 200 – 10 of the big hits, and 10 offbeat films. Not surprisingly, the first lot are from his early years – in many written by Salim-Javed, he was named Vijay – and most of the second lot from his post-sabbatical return to character roles, but still as the lead.
Bombay To Goa (1972):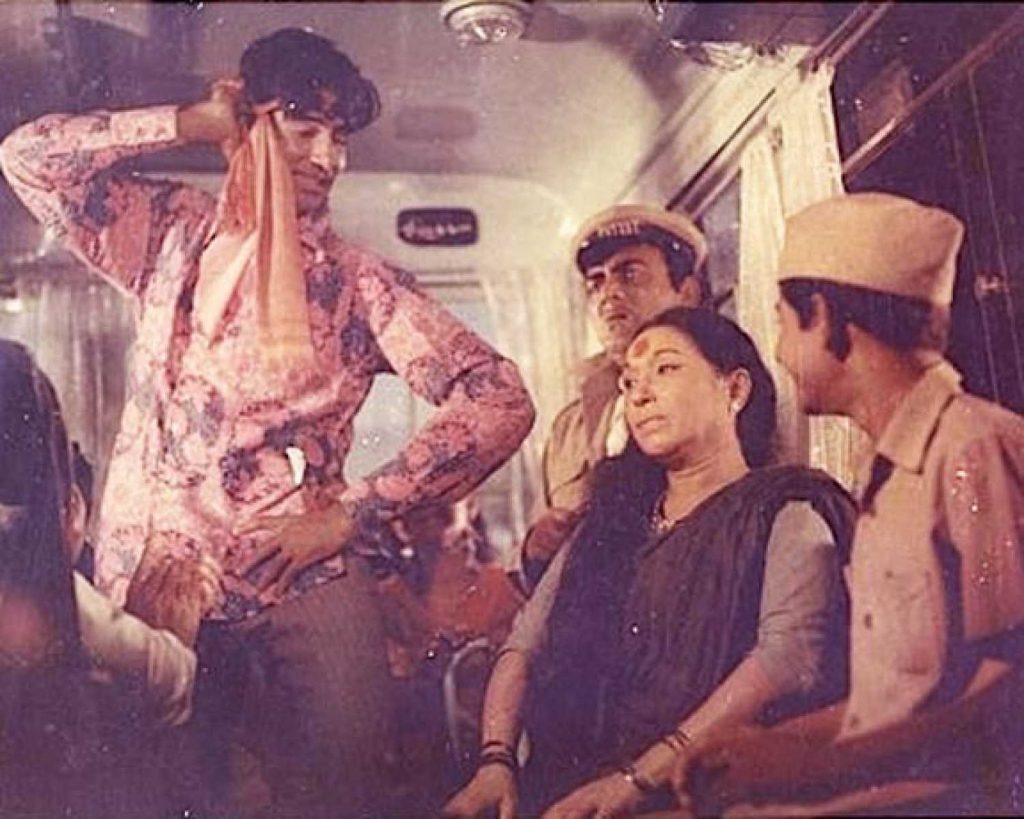 When he was stuck with serious, intense roles, producer NC Sippy and director S Ramanthan cast him in a light-hearted romantic comedy-cum-road movie, in which he took a bus journey from Bombay to Goa, with a bunch of colourful and eccentric co-passengers, in the pursuit of lady love (Aruna Irani), who does not know that the rowdy fellow in the bus is there to protect her from murderous villains.
Zanjeer (1973):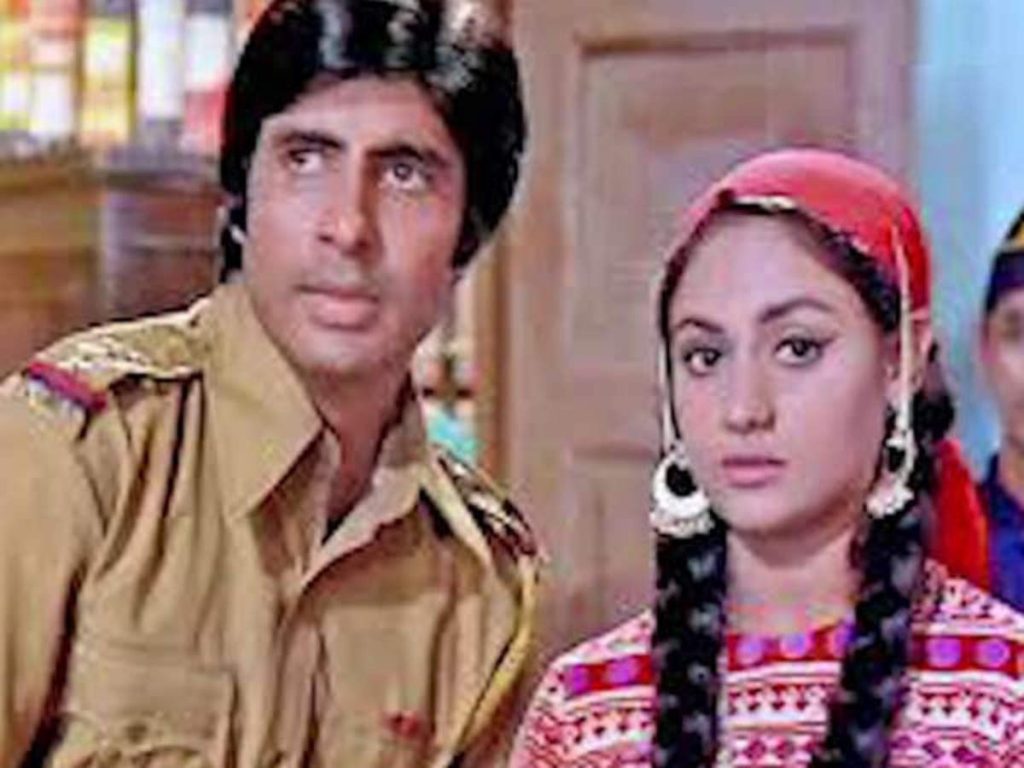 Prakash Mehra cast the lanky actor in the film scripted by rising stars of writers Salim-Javed, when his first choices Dev Anand and Raaj Kumar turned him down. The film, in which he played an upright cop on the hunt for his parents' killer, gave him his Angry Young Man label. The film co-starred Jaya Bhadhuri (later to be his wife), Pran and Ajit in roles that were landmarks in their careers.
Deewaar (1975):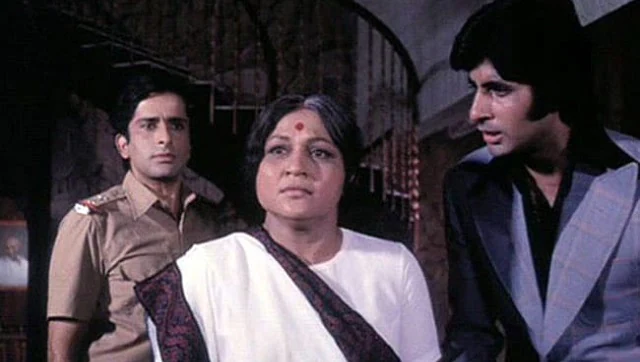 Salim-Javed again, this time paired with director Yash Chopra, had Amitabh Bachchan playing a man forced into a life of crime, who becomes a notorious underworld figure and is pitted against his brother (Shashi Kapoor), an honest police officer raised right by their mother (Nirupa Roy). Their confrontation is marked by one of the most iconic lines in Hindi cinema, "Mere paas maa hai" and that much-imitated scene in a temple, with Bachchan's "Aaj khush to bahut hoge tum" harangue with God.
Sholay (1975):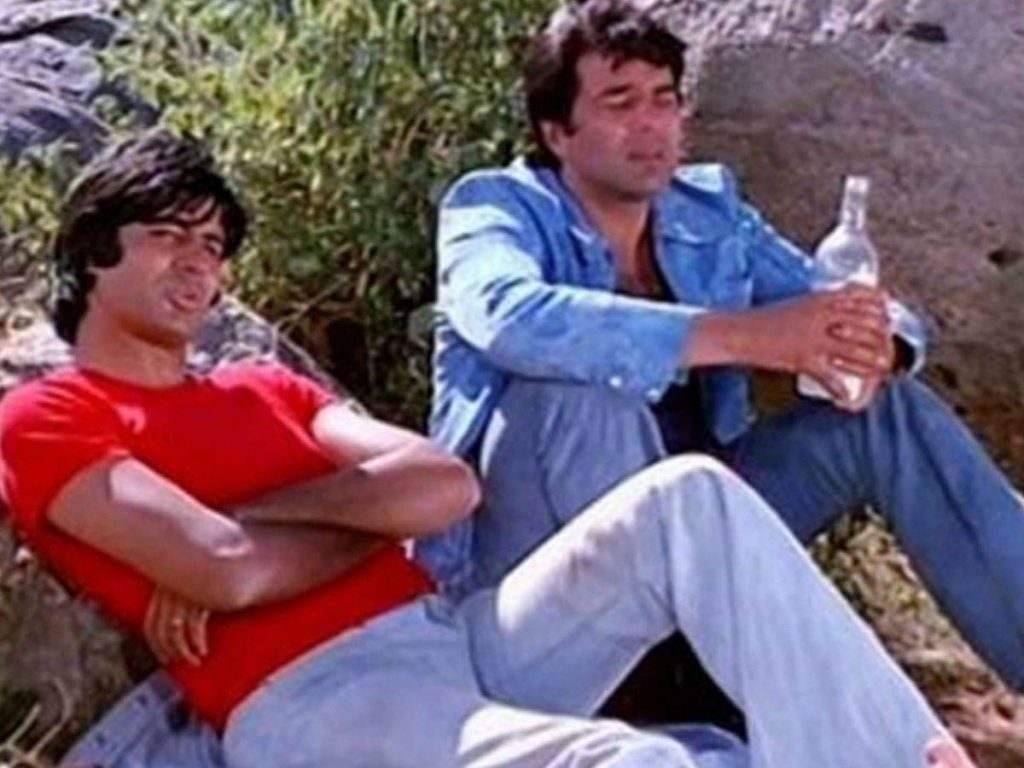 Ramesh Sippy's film, written by Salim-Javed, studded with memorable characters and quotable lines, had Bachchan play the quiet half of the two-member team (with Dharmendra) of petty conmen, recruited by the Thakur (Sanjeev Kumar) of Ramgarh to find the sadistic bandit Gabbar Singh (Amjad Khan). Jai was the quietly sarcastic, harmonica-playing, intensely romantic foil to the loud, genial Veeru.
Chupke Chupke (1975):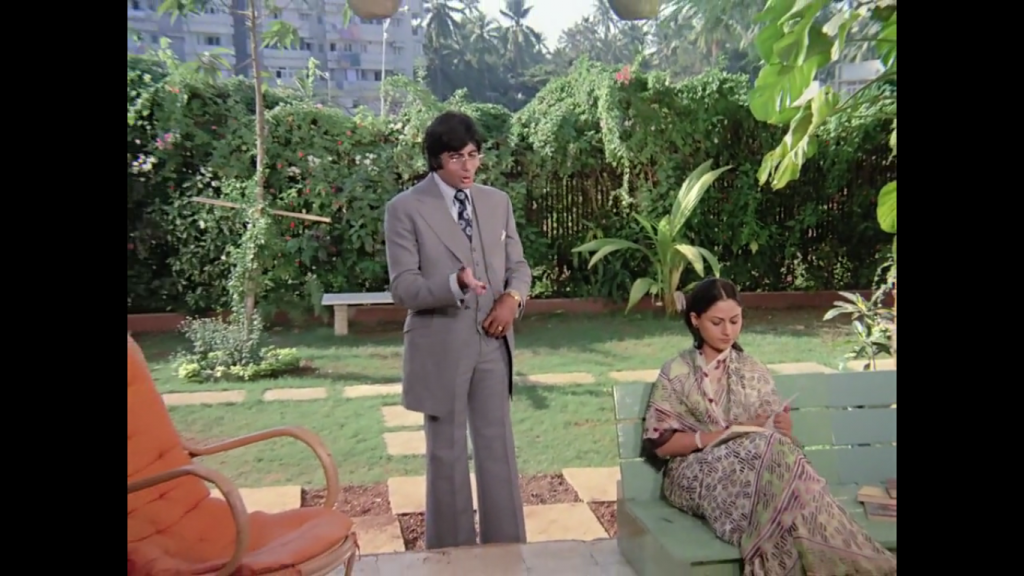 Hrishikesh Mukherjee's quirky comedy gave Amitabh Bachchan a break from his 'angry' roles. He played an English professor, who is forced to impersonate his friend, botany professor Parimal Tripathi (Dharmendra), to play a prank on his wife's (Sharmila Tagore) apparently infallible brother-in-law (Om Prakash). Complications arise when he falls in love with Parimal's sister-in-law (Jaya Bachchan), while his friend masquerades as a chauffeur. Dialogue writer Gulzar had fun at the expense of Hindi language purists.
Amar Akbar Anthony (1977):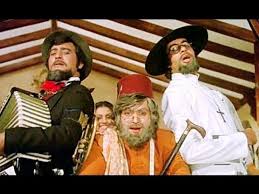 In Manmohan Desai's lost-and-found drama, Bachchan played the boisterous Anthony Gonsavles to Vinod Khanna's Amar and Rishi Kapoor's Akbar. He spoke Bambaiya Hindi and in one of his most unforgettable scenes, jumped out of a giant Easter egg, wearing tails, a top hat and monocle, and sang gibberish about haemoglobin in the atmosphere. The angry young man was starting to cool down.
Trishul (1978):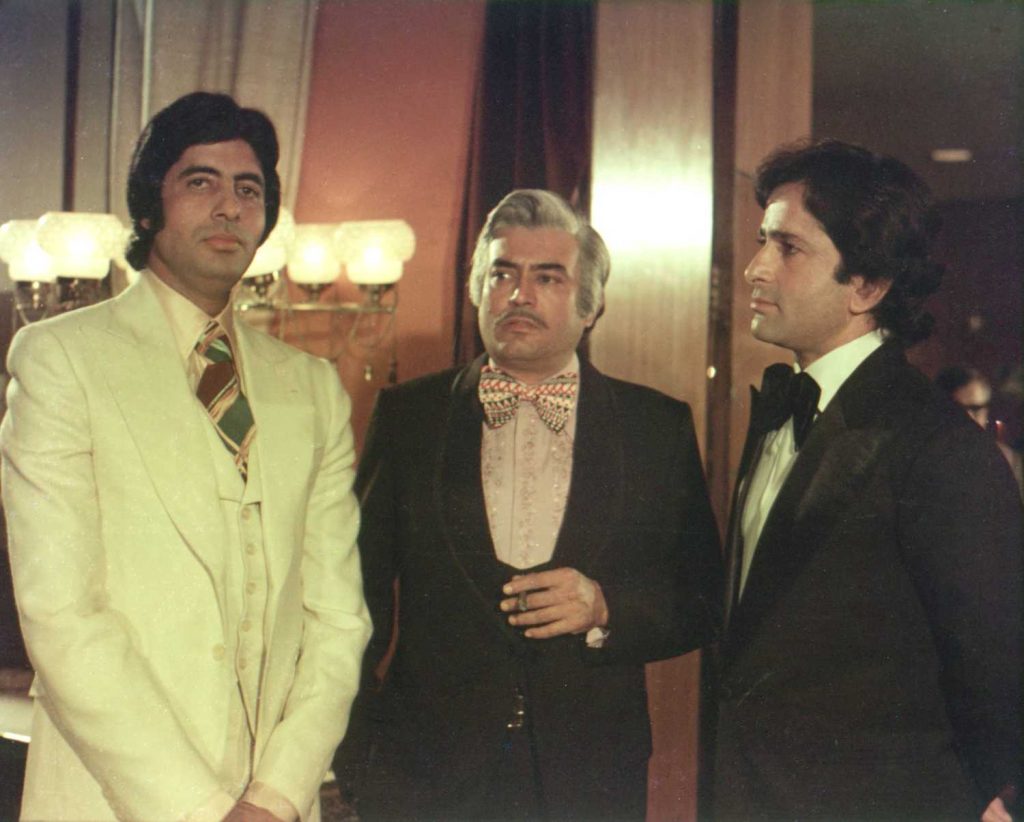 Yash Chopra and Salim-Javed teamed up again to give Bachchan the role of a vengeful man out to destroy his father, (Sanjeev Kumar) who deserted his mother (Waheeda Rehman) when she was pregnant, and married a wealthy heiress. On her deathbed she makes him promise to take revenge. The illegitimate son goes after his father's business and family, vowing to make him pay for all the suffering he inflicted on his mother.
Don (1978):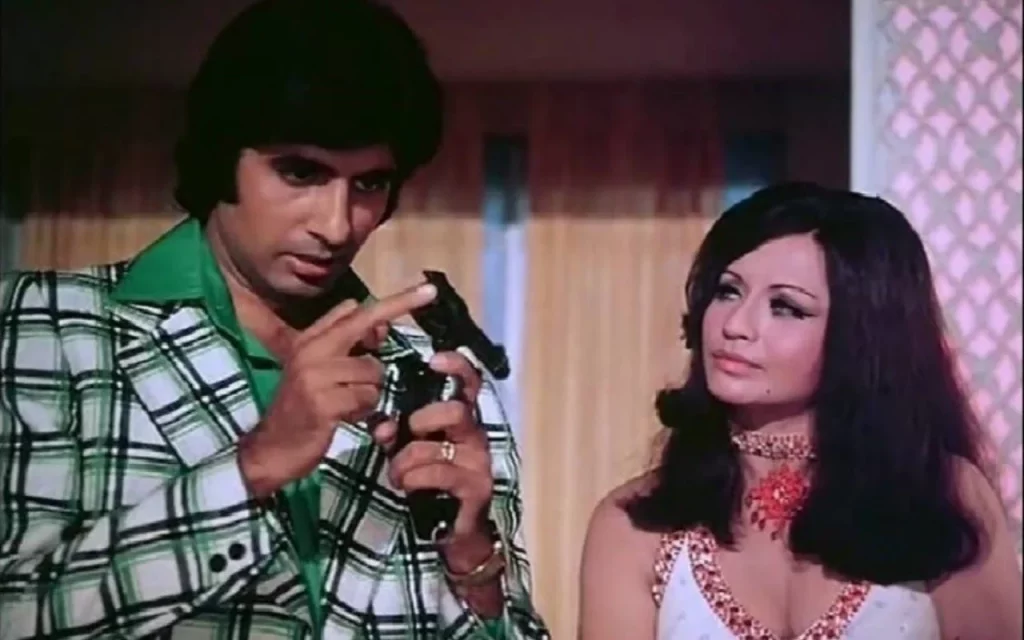 Written by Salim-Javed and directed by Chandra Barot, the thriller which had the popular Khaike paan banaraswala number has Bachchan play the lookalike of an underworld don, who is sent to infiltrate his gang. When the police officer who planned the mission and is the only one who knows about it is killed, the simple Chhora ganga kinarewala has to save himself from the gangster and prove his innocence to the police. As entertaining as it was nonsensical, the film showed that a star at the top of his game can turn anything to gold.
Coolie (1983):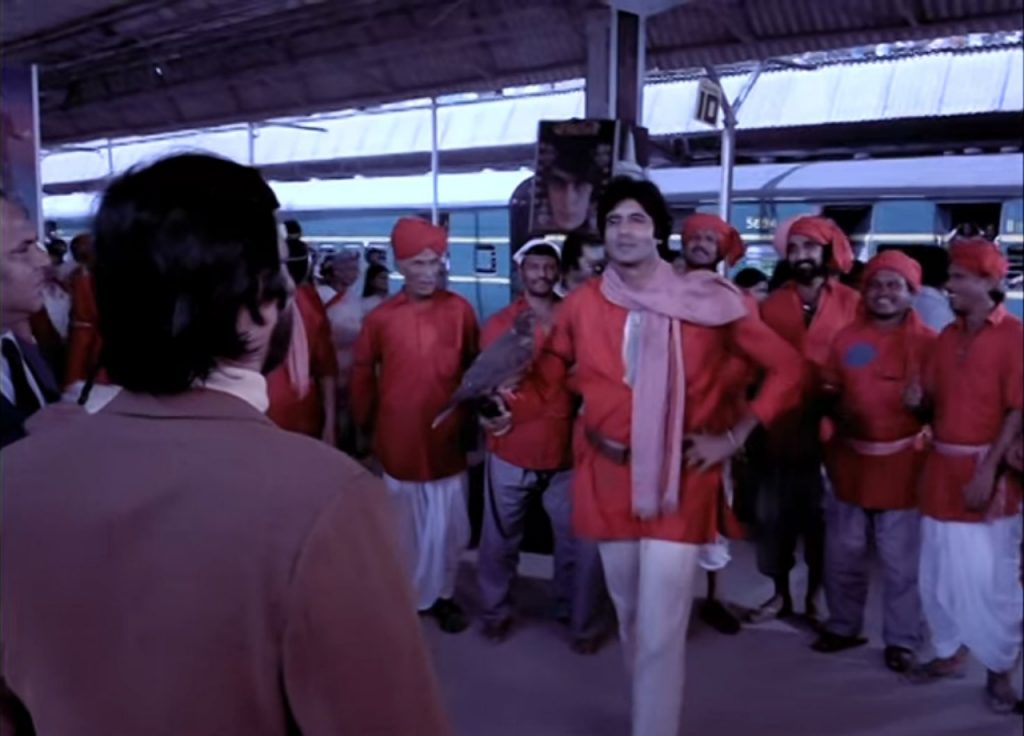 Manmohan Desai's film, in which Bachchan played Iqbal, a coolie with the badge number 786, is remembered as the film that almost got him killed in a freak on-set accident. His legions of fans, stunned by the incident, prayed for his recovery. The film was completed, and released to blockbuster success. Not one of Bachchan's best, but one of a handful of mainstream Bollywood films in which the main characters were Muslim and it was not a clichéd social drama.
Shakti (1982):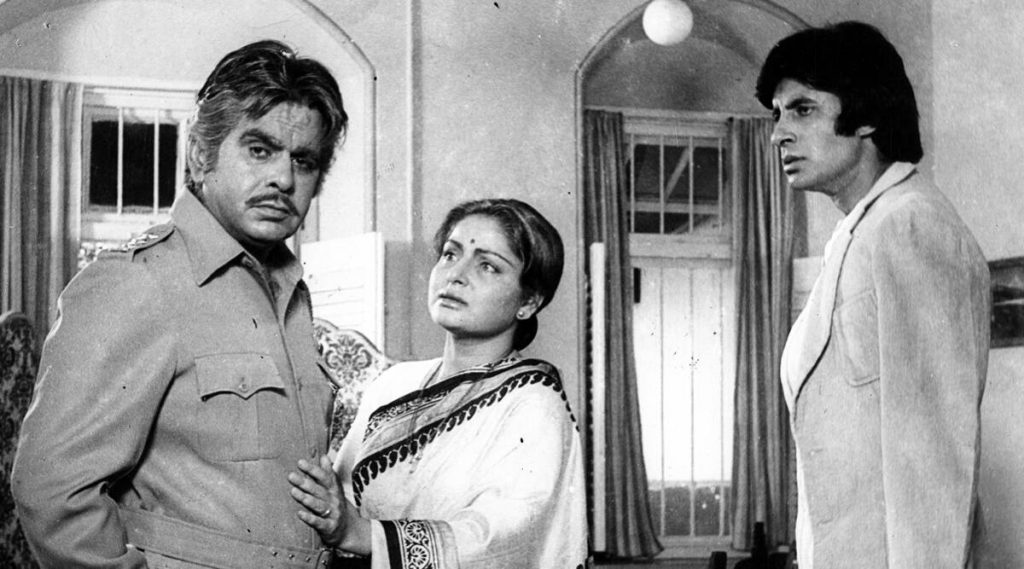 It would have been difficult for any filmmaker to beat his own success record after a film like Sholay, but Ramesh Sippy paired up with Salim-Javed again for a powerful drama in which an upstanding police officer (Dilip Kumar) is up against his embittered son, who grew up believing his father had left him to die. He throws in his lot with the gangster who saved him, and hates his father. Rakhee, his love interest in many films, played his mother, thus effectively ending her career as a romantic lead.
Roles with a difference
When it was no longer imperative to prove his worth at the box-office, Amitabh Bachchan could pick roles that seemed interesting or different to him. As a result, age did not stop his quest for continuing relevance and for filmmakers who knew they could not compete in the commercial race, could still hope to work with a superstar. It was like the early years of his career, when he weighed potential success against a challenging role and chose the latter.
Anand (1971):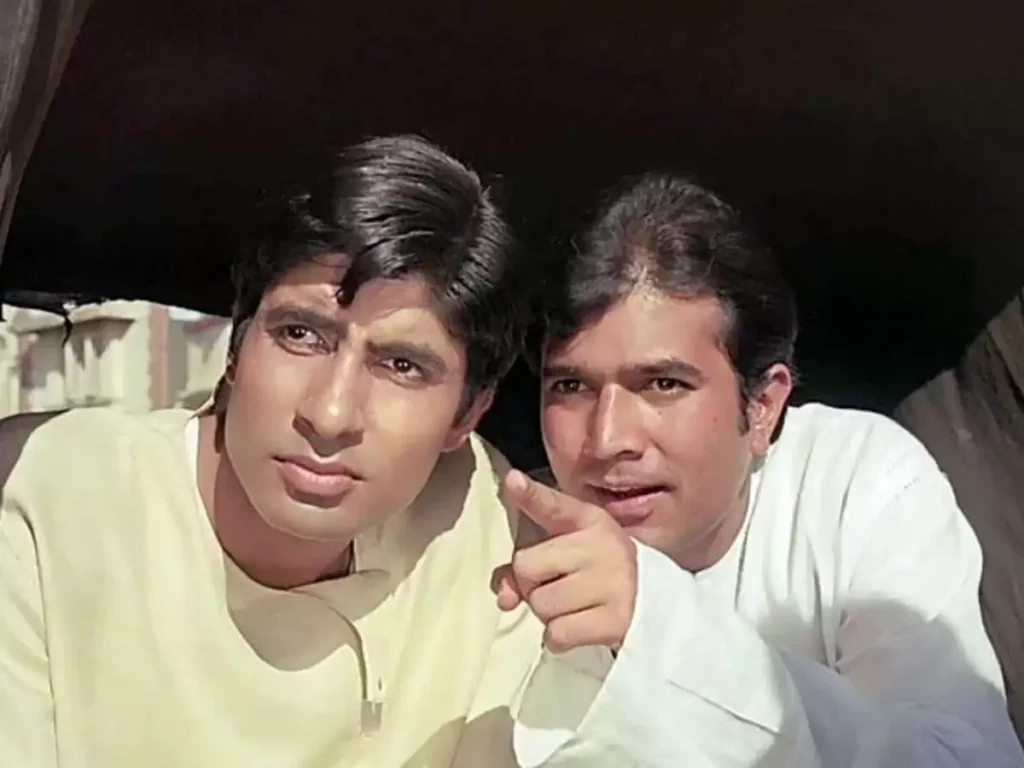 This Hrishikesh Mukherjee gem was before he became the Angry Young Man. In the sweetly melancholy film he was the solemn Babumoshai to Rajesh Khanna's exuberant patient, Anand, dying of a terminal illness. This film and the director's 1973 Namak Haram in which he starred again with Rajesh Khanna, was like a symbolic passing of the baton from one superstar to the next. It was clear that this tall, brooding actor was destined for greatness.
Parwana (1971):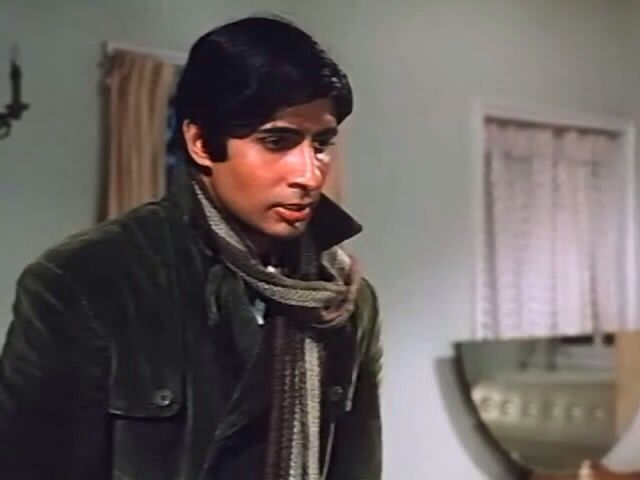 An almost-forgotten film by Jyoti Swaroop was a slow-burn thriller about an artist who is unable to bear rejection from the woman (Yogeeta Bali) he loves, and plots an elaborate scheme to murder her uncle and frame her boyfriend for it. Bachchan played the heartbroken lover and cold-hearted killer with a flair admirable in an actor confident that a negative role would not affect his career.
Abhimaan (1973):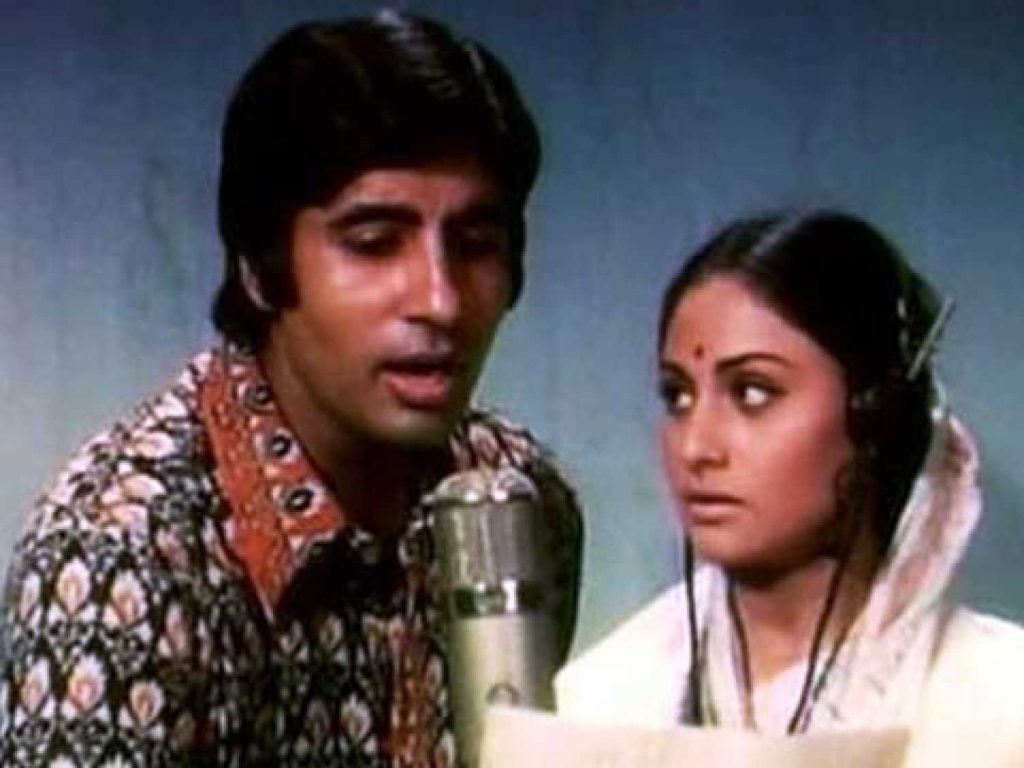 Hrishikesh Mukherjee, who gave Bachchan some of his best non-violent roles, cast him as a flamboyant singer who starts to get jealous when his wife's (Jaya Bachchan) career eclipses his own. He has always aimed at fame and popularity, while her singing has a purity that comes from treating music as art. When they started working together, Jaya Bhaduri was an established star and he, a newbie; the fanzines wrote that the story was a reflection of their reality, which the director always denied. Still it took courage to do a role like this, of a man so insecure that he can resort to emotional cruelty.
Saudagar (1973):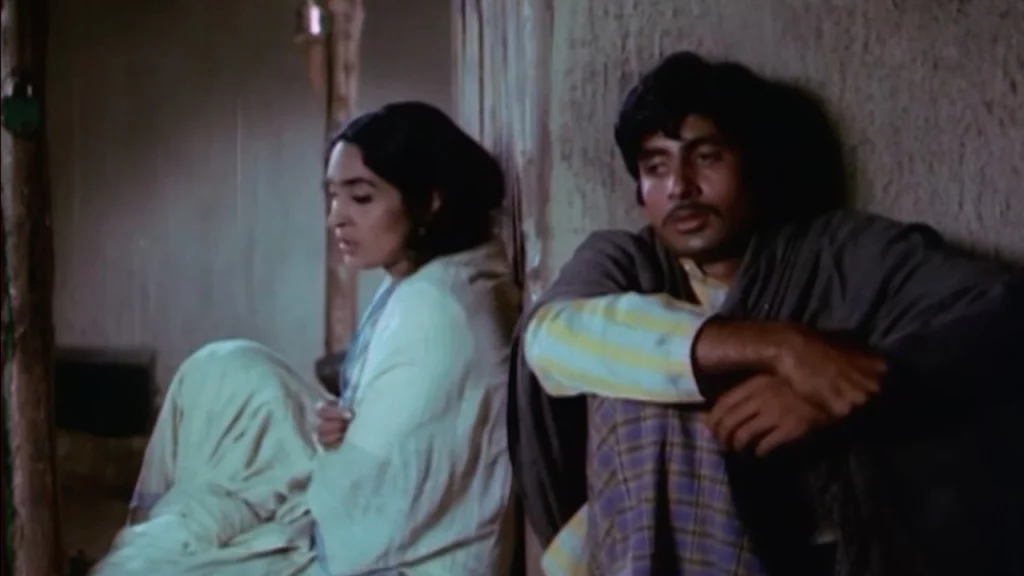 Sudhendu Roy directed this unusual love triangle in which Bachchan played Moti, a selfish man, who marries the older and hardworking jaggery-maker Mahzabeen (Nutan), to collect a big enough bride price to marry the young and sexy Phoolbanu (Padma Khanna). Not many actors looking for a foothold in mainstream cinema would play such a contemptible character, but he balanced the scales to convey Moti's vulnerability, thus displaying a formidable talent.
Dev (2004):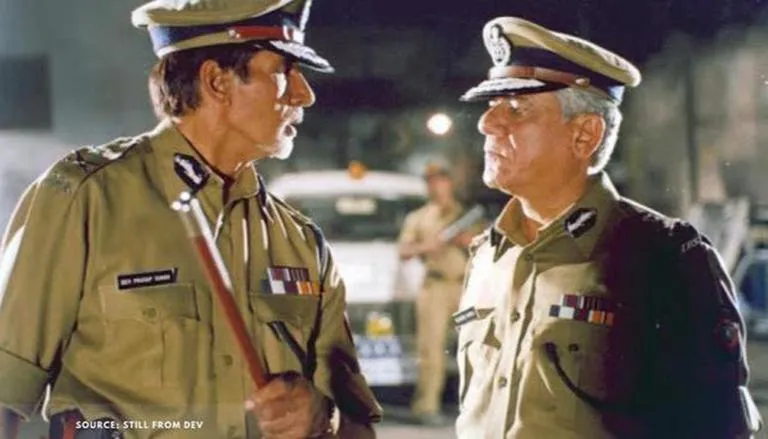 In Govind Nihalani's film that looks like it is right out of the headlines today, Bachchan played the eponymous character of a senior police officer, who is faced with rampant communalism, divisive politicians and prejudices within the force, including that of his close friend and fellow officer Tej (Om Puri). Fardeen Khan and Kareena Kapoor play young lovers caught in the crossfire of hate and destruction.
Black (2005):
In Sanjay Leela Bhansali's film, Bachchan played a washed-out old alcoholic whose life gets a purpose when he is called upon to teach a blind-deaf-mute girl how to communicate. Ayesha Kapoor and Rani Mukerji played the student, Michelle, at different ages, who blossoms under the patience and care given to her by the teacher. Years later, when she is able to assimilate into society, he battles dementia.
The Last Lear (2007):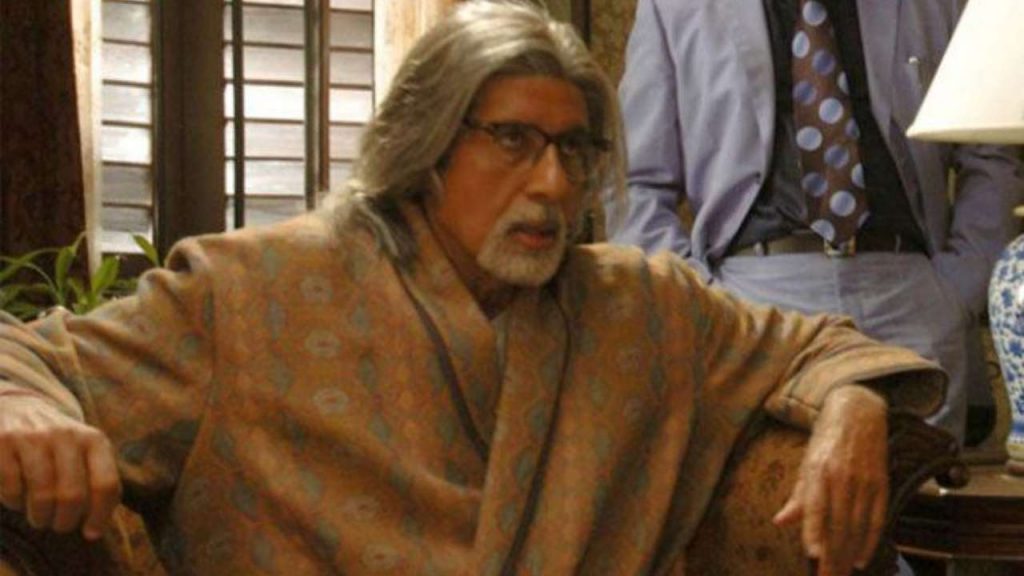 In a career marked by a wide variety of roles, in this English language film by a Bengali auteur, Bachchan (who started his acting career on the stage) got to play a Shakespearean actor, Harry Mishra, and put that rich, deep voice to good use. A filmmaker (Arjun Rampal) manages to befriend the eccentric old actor, and get him to trust him enough to do the first film of his career. The experience, which delights and exasperates Harry in equal measure, ends in disaster.
Paa (2009):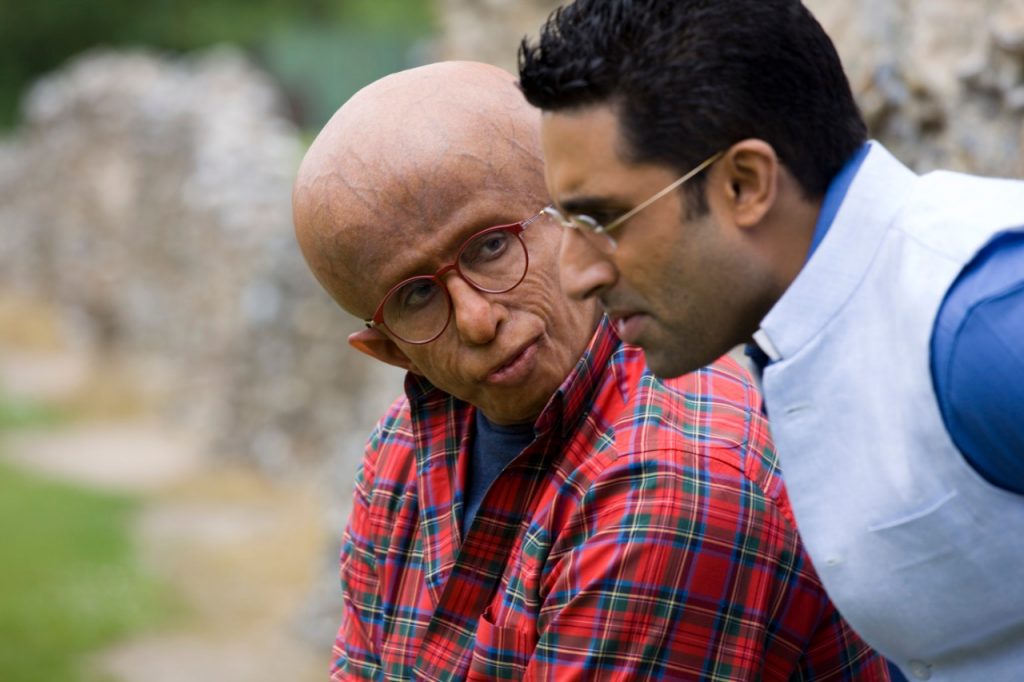 R Balki's unusual film had Bachchan play a child afflicted by a rare genetic disease that causes abnormal ageing. In an inspired piece of casting, Abhishek Bachchan and Vidya Balan played his parents. Bachchan worked on his voice, mannerisms, body language and interactions with other kids so well that it was hard to imagine that this was a bass-voiced superstar in his sixties.
Piku (2015):
In Shoojit Sircar's dramedy, Bachchan played a 70-year-old hypochondriac obsessed with his bowel movements. As if this is not annoying enough for his daughter, he gleefully announces to a potential suitor that she is not a virgin, hoping to nip the match in the bud, because he does not want her to get married. He is shamelessly self-centred and manipulative, but also oddly endearing, because the actor portrayed him with a wicked glee.
Pink (2016):
Giving a glimpse of the angry man of the past in this Aniruddha Roy Chowdhury film, Bachchan plays a reclusive lawyer, Deepak Sehgal, who comes out of retirement to take the case of three young women in the neighbourhood, in trouble for accusing a powerfully connected man of attempted rape. In court, as could be expected, the prosecuting lawyer Prashant (Piyush Mishra) tries to prove that they are girls of easy virtue; Sehgal, of course, decimates his arguments and makes a strong statement for the right of women to say no, regardless of their past, their choice of clothes, or the place of encounter.