Deepa Gahlot casts an eye on Bollywood love over the years
Unlike Western movies, romance is part of the Bollywood movie package. Even the angry young
man and vigilante antihero have a love interest. But obviously some movies stand out above others
for their concentration on romance, and this is not counting the classic love stories. So, here's a list
of 20 movie romances — some personal favourites, some box-office hits. Also, we count just one
film per director, or the list would be dominated by a few.
1) Karma (1933): The film that has gone down in movie history as the one with the longest liplock
ever. The film, directed by John Hunt and produced by Himanshu Rai, who also starred with Devika
Rani, was a bilingual that did better in its international English version. The love story was between a
princess, who falls in love with the prince of a neighbouring kingdom, whose father disapproves of
her due to her modern ideas of ruling.
2) Devdas (1955): Bimal Roy's film based on a Saratcandra Chattopadhyay story (turned into film
several times in multiple languages) is about the eponymous hero (Dilip Kumar), who, on losing Paro
(Suchitra Sen), the love of his life due to his own cowardice, drowns his sorrow in drink, and
somehow earns the devotion of a naucth girl Chandramukhi (Vyjayanthimala).
3) Kashmir Ki Kali (1964): This Shakti Samanta film starring Shammi Kapoor and Sharmila Tagore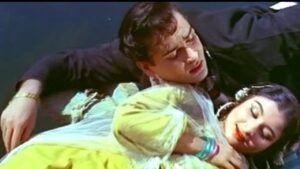 represents a whole lot of fluffy romances set in Kashmir; this was a love story between a spoilt rich
brat and a flower girl in Kashmir, with family complications and old enmities thrown in.
4) Guide: (1965): Vijay Anand's masterpiece was about a tourist guide (Dev Anand) who falls in love
with a dancer (Waheeda Rehman) straining at the leash of an oppressive marriage; he helps her
escape and build a career, but a misunderstanding breaks them apart.
5) Andaz (1971 ) Ramesh Sippy's film was a bold-for-its-time love story between a widower (Shammi
Kapoor) and an unwed mother (Hema Malini), brought together by their children.
6) Reshma Aur Shera (1971): Sunil Dutt directed and starred in this violent love story between
Shera and Reshma who belong to enemy tribes, and when they are discovered there is a chain of
death and devastation.
7) Pakeezah (1972): Kamal Amrohi's film, long in the making, became a superhit because of Meena
Kumari's tragic death a few days after its release. The film with its wonderful music is a love story
between a nawab and a courtesan that is thwarted by social conventions, but her daughter (Meena
Kumari in a double role) attracts a forest ranger, Salim (Raaj Kumar), who was given the
unforgettable line "Aapke paaon dekhe, bahut haseen hain. Inhein zameen par mat utariyega…
maile ho jaayenge (I saw your feet – they are very beautiful. Please don't step on the ground, as they will get dirty).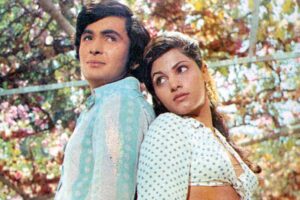 8) Bobby (1973): Raj Kapoor made many romantic movies, but the love story between rich boy (Rishi
Kapoor) and poor daughter of a fisherman (Dimple Kapadia) had all the innocence and heartache of
young love.
9) Chitchor (1976) : In Basu Chatterjee's charming and simple film, in which a young woman (Zarina
Wahab) falls in love with a man (Amol Palekar), who she mistakenly believes is the match chosen for
her; then the real bloke (Vijayendra Ghatge) arrives, and she is caught in a dilemma.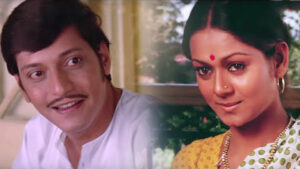 10) Ek Duuje Ke Liye (1981): In K Balachander's superhit, Kamal Haasan as a South Indian boy
and Rati Agnihotri as a North Indian girl face the full force of parental opposition to their romance.
Their deaths in the end, reportedly triggered off a chain of me-too suicides.
11) Qayamat Se Qayamat Tak (1988): Mansoor Khan reworked Romeo And Juliet into a young
love story set in Rajasthan with two warring Thakur clans coming in the way of the love between Raj
(Aamir Khan) and Rashmi (Juhi Chawla).
12) Maine Pyar Kiya (1989): Sooraj Kumar Barjatya makes his directorial debut, giving Salman
Khan his first major role opposite Bhagyashree, in a love story that strove to defy class barriers,
when rich guy Prem has to prove his love for Suman by earning money by the sweat of his labour
and proving himself worthy of her.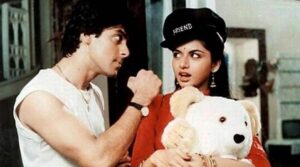 13) Ashiqui (1990): Mahesh Bhatt cast newcomers Rahul Roy and Anu Agarwal in a complicated
romance between an unhappy young man and an orphaned girl, the music (Nadeem Shrawan) of
which remains its highlight.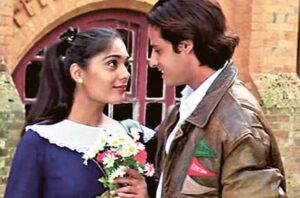 14) Dilwale Dulhania Le Jayenge (1995): Voted as one of the most popular films of all time,
Aditya Chopra's debut had strictly brought up Simran (Kajol) and her earnest suitor Raj (Shah Rukh
Khan) melt the hard heart of her father (Amrish Puri).
15) Kuch Kuch Hota Hai (1998): Karan Johar's debut as director had an unusual love triangle, in
which a dead woman (Rani Mukerji) reunites old friends (Shah Rukh Khan-Kajol) through letters she
left for her daughter, aware that she had been instrumental in breaking the heart of her
collegemate.
16) Kaho Naa Pyar Hai (2000): Hrithik Roshan made a grand debut in his father Rakesh
Roshan's film, playing a double role as the man Sonia (Ameesha Patel) loves; when he is murdered
she meets his lookalike, who not just mends her shattered heart, but helps bring the killers to
justice.
17) Veer Zaara (2004) Yash Chopra is known as the king of romance, and has made several love
stories, but this one which was one of the last he directed, was a heart-tugging tragedy about an
Indian pilot (Shah Rukh Khan), who falls for a Pakistani woman (Preity Zinta) and spends a lifetime in
a prison across the border on false charges, till a lawyer (Rani Mukerji) gets him to tell his story and
helps free him.
18) Jab We Met (2007): Imtiaz Ali has specialised in love stories, but he got the formula right
with this film in which the chatterbox Geet (Kareena Kapoor) brings the depressed Aditya (Shahid
Kapoor) out of his shell, and when she is broken by the betrayal of her boyfriend, he brings sunshine
back into her life.
19) The Lunchbox: (2013): Ritesh Batra's moving film was a romance between a lonely
housewife and a solitary office worker, conducted via notes in his lunchbox that got exchanged
by mistake.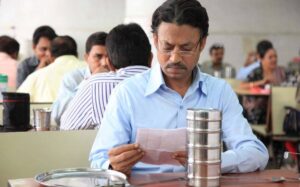 20) Goliyon Ki Raasleela…Ram-Leela (2013): Sanjay Leela Bhansali favours extravagant
romances, this film starring Deepika Padukone and Ranveer Singh is a retelling of Romeo and Juliet,
set in Gujarat amidst the violence between two tribes.