The nightingale gets set for some more recording sessions as she turns 90 today (September 28)
Fondly addressed as Didi, Bharat Ratna Lata Mangeshkar isn't going to rest easy as she celebrates her birthday today.
Born into a family of artistes on 28 September 1929,  Mangeshkar began acting in Marathi musical plays at her father, Deenath Mangeshkar Theatre Company.
Didi's original name was Hema and was renamed Lata based on a character 'Latika' from her father's play Bhaaw Bandhan. At the age of 13, after the demise of her father in 1942 young Lata shouldered the financial responsibilities of her family. Lataji moved to Mumbai in 1945.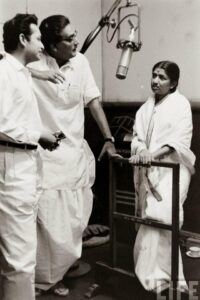 Lataji had a rocky start as her voice was considered too thin and sharp. Hence she would often imitate Noor Jahan to satisfy music directors. She was then mentored by music director Ghulam Haider and under his guidance, she got her first recognition in 1948. The song 'Ayega Anewala' from the film Mahal in 1949 became a hit and her career took off from there. She began to work with all major music directors and playback singers of the time. In 1958 she won her first Filmfare Award as a playback singer for 'Aaja Re Pardeshi' from the film Madhumati.
We had the privilege to interview her in our first issue where she has shared about her life, work, passion and her relations with the contemporaries where we were introduced to a different side of Lata Didi. To read more  Click Here
To Wish Lata Didi on her birthday, leave a comment below. 
(Image Source – Pinterest )