When one thinks of cabaret songs in Hindi films, one talks of Helen. Instantly, hits like 'Aa Jaane Ja' from Intaqam, 'Piya Tu Ab To Aaja' from Caravan and 'Mehbooba Mehbooba' from Sholay come to mind. Besides the tunes, even the dances are remembered today.
The cabaret was one of the types of songs involving dance, sex appeal and raunchiness. In Hindi films, one has also seen many classic mujras over the years, featuring Indian styles. By the late 1980s, the trend of 'Item numbers' had become popular, and women appeared in rabble-rousing songs which didn't necessarily have to do with the storyline.
While these songs involved skilled dancing and elaborate sets, there were other songs which relied on oomph and sexuality. Examples are 'Mohe Ang Lag Ja Balma' filmed on Padmini in Mera Naam Joker, and 'Kaate Nahin Katate', picturised on Sridevi in Mr India. Some duets involved steamy moments.
The list of songs featuring such dances and songs is pretty long, and while some actresses specialised in such numbers, others did one-off tracks which became extremely popular. Here, we shall take a look of these different categories of 'oomph songs', citing some popular examples. 
Cabaret songs
In the late 1960s, Helen ruled the cabaret world. Born Helen Ann Richardson in Burma, she came to Mumbai with her mother and siblings at a tender age. She picked up her skills in both Kathak and western dance, and her talent was noticed by the famous dance diva Cuckoo, who later mentored her.
Cuckoo was herself known for some amazing dances in the films Anokhi Ada, Awara and Aan. She and Helen danced together in the Yahudi song 'Bechain Dil Khoyi Si Nazar' and the mujra 'Hum Tumhare Hain' in Chalti Ka Naam Gaadi. In fact, Helen did some interesting dance duets in the 1950s, one of them being 'Aji Chale Aao' with Minoo Mumtaz in Halaku.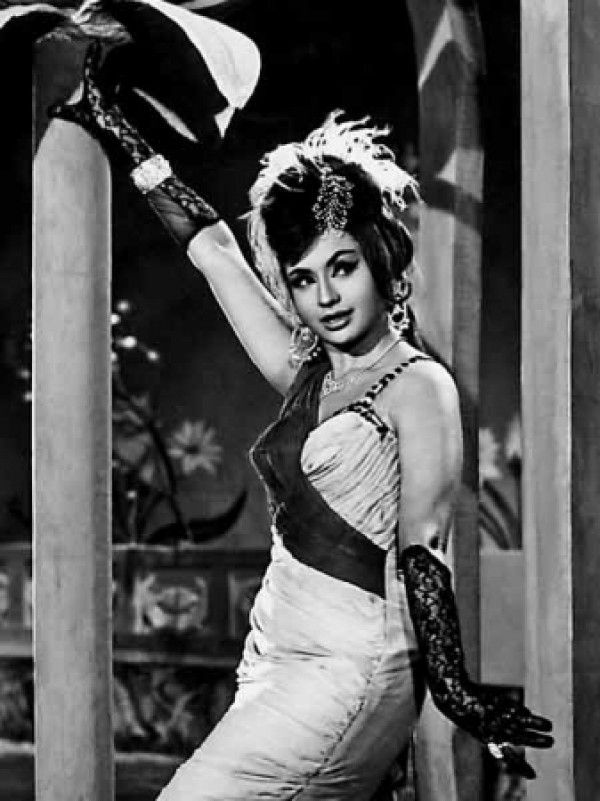 In 1958, Helen has a huge hit with 'Mera Naam Chin Choo', sung by Geeta Dutt in Howrah Bridge. A string of hits followed and her appearance with Shammi Kapoor in 'O Hasina Zufonwali' (Teesri Manzil, 1966) was a rage. Asha Bhosle sang for her, and the two of them combined on many songs. Interestingly, Lata Mangeshkar sang 'Aa Jaane Jaa' in the 1969 film Intaqam. Though it wasn't a cabaret, the folk dance-based 'O Mungada Mungada', sung by Usha Mangeshkar in Inkaar, was a huge success for Helen in 1977.
After Helen's success, others joined the cabaret race. Syria-born Faryal did dances in Jewel Thief, Man Ki Ankhen and Nafrat. Padma Khanna danced to 'Husn Ke Lakhon Rang' (Johnny Mera Naam) and 'Saanwala Rang Hai Mera' (Rampur Ka Lakshman). Bindu had 'Mera Naam Shabnam' in Kati Patang, 'Dil Jalon Ka' in Zanjeer and 'Yeh Hawas Kya Hai' in Hawas, all sung by Asha Bhosle. Aruna Irani did 'Dilbar Dil Se Pyare' in Caravan, 'Yeh Mera Jadoo' in Fakira and 'Thoda Resham Lagta Hai' in Jyoti.
Other well-known dancers in this area were Jayshree T and Meena T, known for both Indian and western styles, and Prema Narayan. In the early 1980s, Kalpana Iyer had great dances in 'Hari Om Hari' (Pyaara Dushman), 'Koi Yahaan Nache Nache' (Disco Dancer) and 'Ramba Ho' (Armaan). All were sung by Usha Uthup.
While the above names specialised in cabaret and western dances, some leading heroines like Zeenat Aman, Mumtaz and Parveen Babi also had such songs. Zeenat, for instance, had 'Rakssa Mera Naam' in The Great Gambler and 'Laila O Laila' and 'Aap Jaisa Koi' in Qurbani. Parveen had 'Jawani Janeman' in Namak Halal. It's a long list.
Mujras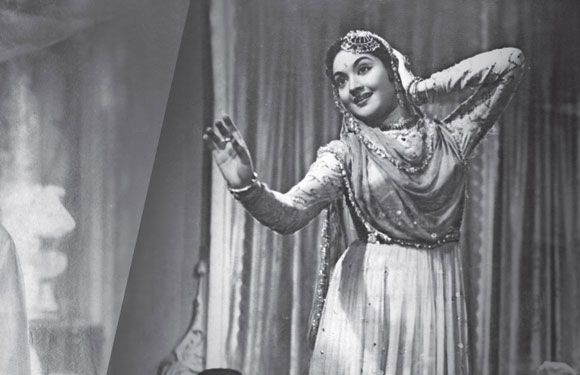 The mujra dance form is commonly performed by courtesans, and is staged in kothas or mansions. It blends the Kathak style of dancing with Hindustani light classical music forms. Rather than gaudy attire and vulgar gyrations, the dancers rely on nimble dancing, understanding of rhythm and a variety of subtle 'adayein' or mannerisms.
Two films immediately come to mind. One is Kamal Amrohi's Pakeezah (1972), where Meena Kumari danced to 'Chalte Chalte Yunhi Koi' and 'Inhi Logon Ne', sung by Lata and composed by Ghulam Mohammed, the latter being inspired by a folk melody. The other movie is Muzaffar Ali's Umrao Jaan (1982), where Rekha appeared in Asha Bhosle's 'Dil Cheez Kya Hai', 'Yeh Kya Jagah Hai Doston' and 'Justuju Jiski Thi', among other songs composed by Khayyam. The music director also provided the tune to 'Jalta Hai Badan' in Razia Sultan.
Individually, many mujra songs have become successful. Who can forget Minoo Mumtaz in the Sahib Bibi Aur Ghulam number 'Saaqiya Aaj Mujhe', Rekha dancing to 'Salaam-e-Ishq' in Muqaddar Ka Sikandar or Hema Malini's performance in 'Sharafat Chhod Di Maine' in Sharafat? Sanjay Leela Bhansali's 2002 film Devdas had some wonderful mujras performed by Madhuri Dixit in 'Kahe Chhede' and 'Maar Dala', sung by Kavita Krishnamurthy. Asha sang some fantastic mujra-based songs for Shyam Benegal films Mandi ('Zabaanen Badalti Hain') and Sardari Begum ('Chaahe Maar Dalo Raja'). Both were composed by Vanraj Bhatia, with Ashok Patki assisting on the latter.
Like in cabaret songs, Asha sang the bulk of hits in mujra tunes too.
Item numbers
This form was basically an extension of cabarets. But while many cabaret songs were woven into the script, item songs were just put randomly to add masala to the film and its soundtrack.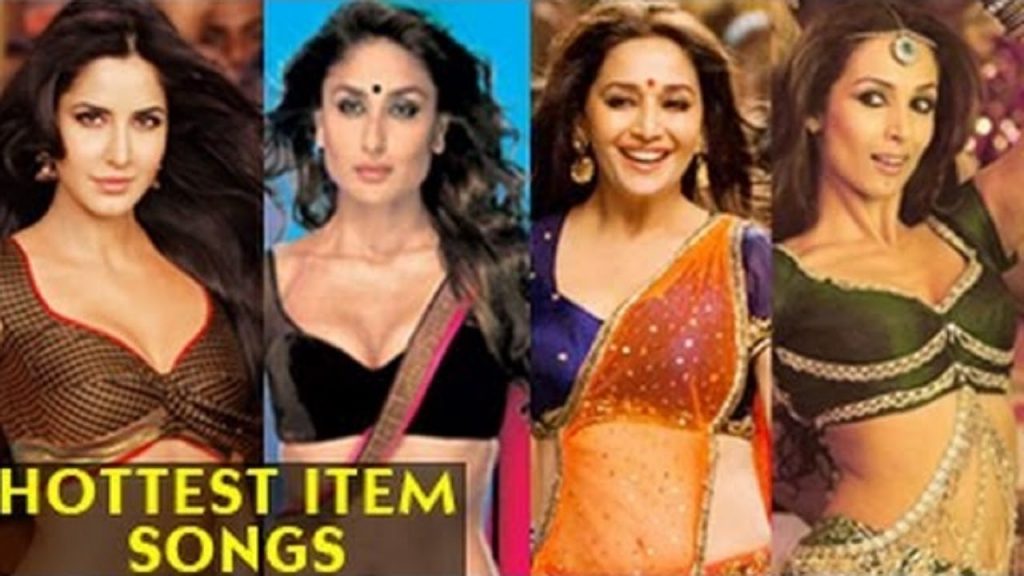 The term was heard first in the late 1980s and early 1990s, to describe songs like 'Ek Do Teen' (Tezaab), 'Oye Oye' (Tridev), 'Tamma Tamma' (Thaanedar), 'Choli Ke Peeche Kya Hai' (Khalnayak) and 'Tu Cheez Badi Hai Mast Mast' (Mohra). Essentially, these were catchy numbers aimed at the masses, and often the lyrics lacked depth. They all became super-hits.
Initially, they were filmed on the main actresses, but slowly others started doing item songs. An excellent dancer, Malaika Arora appeared in 'Chaiyya Chaiyya' (Dil Se), 'Munni Badnaam Hui' (Dabangg) and 'Anarkali Disco Chali' (Housefull 2). 
Of course, main stars like Katrina Kaif ('Sheila Ki Jawani' in Tees Maar Khan), Bipasha Basu ('Beedi Jalaile' in Omkara), Kareena Kapoor ('Fevicol Se' in Dabangg 2) and Aishwarya Rai ('Kajra Re' in Bunty Aur Babli) continued to do such songs along with 'item specialists' like Gauhar Khan and Rakhi Sawant.
All three dance song types required great choreography and elaborate sets. Among the choreographers, Saroj Khan and P.L. Raj were trendsetters, with Saroj having many hits with Madhuri Dixit, Sridevi and Aishwarya Rai. The late 1990s saw a rise in the number of celebrity choreographers. That period also saw many old hits being remixed, and a new crop of dancers who appeared in music videos.
Sensuous hits
Filmmakers have often used sensuous situations in songs. Raj Kapoor directed the songs 'Mohe Ang Lag Ja', featuring Padmini in Mera Naam Joker, 'Bhor Bhayee Panghat Pe' with Zeenat in Satyam Shivam Sundaram and 'Aaja Re' with Mandakini in Ram Teri Ganga Maili. Ramesh Sippy's Saagar had 'Jaane Do Na', with Dimple Kapadia's famous red saree. And of course, there were Sridevi in 'Kaate Nahin Katate' (Mr India) and Madhuri in 'Dhak Dhak' (Beta).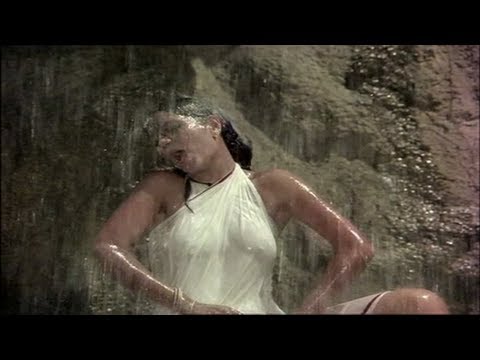 Some songs featuring the lead pair have had such overtones. The Aradhana song 'Roop Tera Mastana' had Rajesh Khanna and Sharmila Tagore, and 'Kya Ghazab Karte Ho' (Love Story) starred Kumar Gaurav and Vijeta Pandit. In Davayan, intimate moments were filmed on Vinod Khanna and Madhuri in 'Aaj Phir Tum Se'. The Astitva song 'Chal Chal Mere Sang Chal' with Tabu and Mohnish Behl, had its own oomph, and in Murder, Mallika Sherawat and Emraan Hashmi had steamy shots in 'Bheege Hont Tere'. So did John Abraham and Bipasha Basu in the Jism song 'Jaadu Hai Nasha Hai'. Examples abound.
The songs mentioned above are only representative of each style, and there are obviously many more tunes. Barring some of the item numbers, most songs are remembered for their melody and picturisation. Even today, people play 'Mehbooba Mehbooba', 'Chalte Chalte', 'Chaiyya Chaiyya' or 'Dhak Dhak'. They are definitely worth making a song and dance for.