Tabassum, once Indian television's most celebrated personality, an actor in many Hindi films and now a YouTuber, passed away today (November 19). Seniors Today spoke with her for the April 15, 2022 issue. Here is the interview-based article by senior film journalist Suguna Sundaram.
One of the high points of entertainment in the seventies and eighties (in the last millennium), was the pioneering television chat show, Phool Khile Hain Gulshan Gulshan,conceivedand hosted by the sparkling, witty, baby-faced actressTabassum.
Tabassum wears the title of 'Original Queen of the Small Screen" with unparalleled élan.Her popular show Phool Khile Hain Gulshan Gulshan (PKHGG), the first of its kind, had a run of well overtwo decades, way back when DoordarshanKendra was the only national television channel, which itself was inaugurated in October 1972. PKHGG was one of DD's first shows, beginning in 1972 and lasting right until 1993. Slotted on a Friday evening, the weekly show sawthe vibrant Tabassum interviewing film and television stars, in her inimitable style. Coquettish, cajoling, convincing and full of joiedevivre, which she unfailingly infused in both, her guests and her viewers, Tabassum brought the stars and their 'larger than life' stories right into our living rooms. Friday evenings were most eagerly awaited. It was ChhayaGeeton Wednesday evenings, and PKHGG on Fridays.
Tabassum was born Kiran Bala Sachdevin pre-independent India, in Bombay, in the year 1944. She began her acting career as a toddler in 1947, going by the name of Baby Tabassum, which, she delightfully gurgles, she gets called by some old-timers even today, at age 78. She recalls a meeting with the late Dilip Kumar (Yusuf Chacha to Tabassum) some years ago, where Saira Banu, his wife, had brought him to a public function, but his memory was already failing him. When Tabassum greeted him, he smiled but looked bewildered as to her identity. Till Saira Banu reminded him gently, 'Yeh aapki Baby Tabassum hai', at which the fog cleared and he beamed and embraced her saying:'Pehle kyonnahin kaha, Baby Tabassum!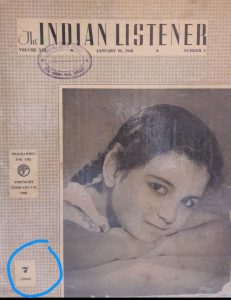 Tabassum's early childhood also morphedher into the first ever Radio Jockey in the country, where she did shows on Akashwani. As a child artiste, Baby Tabassum did numerous films and played younger versions of leading actresses like Meena Kumari, Nargis and the like. One of the memorable songs picturised on her was Bachpanke din Bhulanadena (sung by Lata Mangeshkar and Shamshad Begum). Indeed, it is because she has retained the child in her always, that she remains youthful in thought, action and voice even today. "Before we begin talking," chirped Tabassum in sheer joy, "I have to tell you that I have recently become a great-grandmother to a beautiful baby girl we have named Meher, because she really is a gift from God." Meher is her only son Hoshang's granddaughter, born in February 2022, to his daughter Khushi. "Can you imagine," she crowed melodiously, "I am the only great- grandmother in the industry who is still working!"
Tabassum married Vijay Govil, a gentleman who chose to himself avoid the limelight as his young bride orbited her way through the celebrity galaxy with her brilliance.To date, he remains an enigma, but as Tabassum makes it a point to impress, "My staunchest and strongest support. Unkebinatohkuchnahin ho paata," she insists, coyly referring to him as 'Hoshangke papa'.
Tabassum continued to act in films as an adult, but Phool Khile Hain was a chapter of an entirely new book in her life, and it would lead to a host of other professional roles for her. Entirely conceived, created and conceptualised by herself, Tabassum pioneered the way for the Celebrity Talk show concept in India, and there is still a record to be broken with the popularity and longevity of the show. (Koffee with Karan will not be spoken of or considered inthe same magnitude as PKHGG).It remains unmatched on these two counts, especially in an era long before electronic media or the digital space had opened up. "Main khud har show likhtithi aur plan kartithi. We were not so forward technologically those days. But it was the age of relationships like we don't have or nurture today. Har cheez relationships ke dam par hotatha, na ki aajkejaisejahansirf paise boltahai. Aajkal it's 'Paisa pheko, tamasha dekho' only. Un dinon, land line phones ka time tha. I used to pick up the phone and call people and bas, the show began from there and kept growing." As the eminent MajroohSultanpuri wrote, 'Main akela hi chala tha janib-e-manzil magar, log saath aate gaye aur karwaan banta gaya.'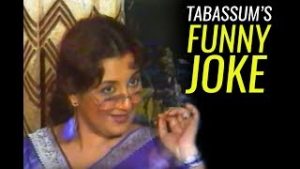 Tabassum was much sought after for hosting and compering live shows. She inherited her mother's writing skills (her mother was an author) and amongst other things, her sense of language and humour resulted in many joke books. 'Tabassum Ke Chutkule' became the go-to Bible for generations of comic artistes in the later years. "Sadly, people use my chutkulas unashamedly without ever thinking to give me credit. It used to bother me initially. But, as a senior in the industry once told me, 'They are only stealing the joy and laughter that you bring to so many lives, and passing it on.' That day I stopped feeling bad that I was not cited as the creator of my chutkulas."
Tabassum was the editor of Grihalaxmi, the Hindi magazine for women, for many years. She also wrote film scripts, and attempted production and direction. As she proudly shares, "I am very happy to be the one to bring Johnny Lever into Hindi films. He is an invaluable artiste." Johnny Lever first faced the camera as a comedian in Tabassum's debut directorial and production, Tum Par Hum Qurbaan, where her son Hoshangwas the hero of the film.
With her vast experience, her phenomenal sense of humour, her understanding of humour as a genre, and her skills as a poetess and writer, she was an asset as a judge on stand-up comedy shows in the new millennium when satellite TV and multiple channels transformed the entertainment market.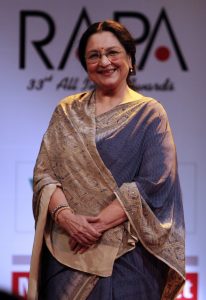 Considering her career spans seven-and-a-half decades and counting, Tabassum is justified when she states without rancour or bitterness, "I don't think I have been given my due by the industry professionally. Yes, I will admit I have earned a lot of love and goodwill from people across the world for my work. And that Phool KhileHain gave me an identity that still holds me in good stead. But I have not been acknowledged or credited by the film industry."That does not deter her from soldiering on. Her thirst for knowledge keeps her continually honing and acquiring new skills, even in today's technologically advanced space, keeping her abreast of times. She has moved from kaagaz and kalam and microphones, into the digital space in a fluid segue. She is on every social media platform, from Facebook,Twitter and Instagram and she is an avid YouTuber. The latest on her creative menu is the launch of her own channel on YouTube, titled Tabassum Talkies – a miniature version,or areprise of PKHGG. Tabassum Talkies airs short interviews of one-time celebrities, talks about their life and times, shares rare unseen pictures from their personal collections, and sometimes unknown facts and anecdotes about them, along with clips from their noteworthy or popular films. This entire journey is contained in an 8-to-9-minute format, peppered with Tabassum's sher-o-shayaris and jokes as well.
In fact, even currently, her show AbhiTohMain JawaanHoonis aired on the international television circuit, (TV Asia across the USA and Canada).Needless to say, the show is based on the best years of Hindi Cinema – the Golden era – the world and times that Tabassum knows best. Though Tabassum may not have received her due from the industry, she has won every possible award to be won for her hosting, compering, writing, poetry, jokes and so forth. Most recently, during the pandemic, she was honoured by the Federation of Indian Physicians Association in the United States of America,as 'Best Television Presenter of The Millennium'. If laughter is the best medicine, then Tabassum is the best physician administering that medicine. She proudly claims to be the first ever TV artiste to complete over 50 years on television, and to celebrate a Golden Jubilee on TV. Across mediums, be it radio, TV, films, literature, books, Tabassum's contribution to the entertainment world through her journey of seven decades has been nothing short of remarkable."The only thing I have never attempted is singing. In fact, I'm not even a bathroom singer," she confesses laughingly.
She reigned/ reigns as the undisputed Queen of the Small Screen for decades with her infectious charm and grace. Long live the Queen!