Brig Ajit Apte (Retd) writes about Ramesh Vohra, a crusader for Indian soldiers in France and Europe
On July 8, 2021, that is 78 years later, Gen Manoj Naravane (nephew of Major General Anant Naravane), Chief of Army Staff Indian Army, visited Italy and made a trip to the historic town of Cassino, 80 km south of Luco Ne Marsi. Cassino had witnessed some of the bloodiest battles of the Italian campaign in 1943.
It was then when some of the officers and soldiers of the then British Indian Army were POWs (prisoners of war) and had escaped German captivity. Two locals who sheltered the POWs at great risk to their lives were Giuseppe Ivale and his wife Maria. Capt Anant Naravane (later he retired as Maj Gen in the Artillery) was among those prisoners. I had known Gen Anant Naravane and have read his autobiography A Soldier's Life in War and Peace. He was captured in the battle of Bir Hachiem (in North Africa) and transported to a POW camp in Italy and then on to Germany. I have some of the original Prisoner of War logs of Gen Anant Naravane with me now. My father and Gen Anant Naravane had served together in the Royal Indian Artillery during the Second World War though in different theatres of the war, and subsequently after independence in the Indian Army. During my second series of Battlefield tours of Europe, I had driven past Cassino near Rome, and was well aware of the indomitable resoluteness of the Indian troops who had braved it then.
On July 11, 2017, I had reached Paris for my second 'Battlefield Tour of Europe', after a successful tour in England. I had taken the London St Pancras Station for Paris by the Euro Star Express that reached Gare du Nord railway station Paris the same afternoon. I stayed at Hotel Le Malown and then planned to do a walking tour in the evening around Paris. I did that and then had a very nice evening supper at a cafe with good French wine and made my plans for the next day to visit the Orne canal and the Pegasus Bridge which I did. It was a wonderful visit where I saw the entire battle locations of World War II.
I didn't know anyone in Paris except that I had spoken with Mr Shashi Dharmadhikari, an Indian settled in Paris since 1975. Shashi also suggested that we meet at the Defence Attache's (DA) office since he knew him well. I agreed and thus reached the Indian Embassy in Paris where we met the DA and Shashi heard my story of having visited the Normandy Beaches and the battle locations of the 'Allied Invasion of D-Day 6th June 1944', including my visit the previous day to Benouville now the Pegasus Bridge. They introduced me to the Ambassador of India to France and he welcomed us for another round of coffee and an interesting interactive session where he spoke to me about my battlefield tours in Europe. They were fascinated by my interest in this particular area. The DA mentioned a Mr Ramesh Vohra, but I didn't know him and was curious to know about him. Shashi said that he would organise that. We then took leave from the Indian Embassy and Shashi insisted that I have wine and lunch with him, at two different places. While enjoying good French wine at one of the French pubs, Shashi called a person and spoke with him. It was Ramesh Vohra, and he introduced me to him on the phone and then handed over his handset to me for speaking with Ramesh. It was a great pleasure speaking with Ramesh because we happened to have similar interests.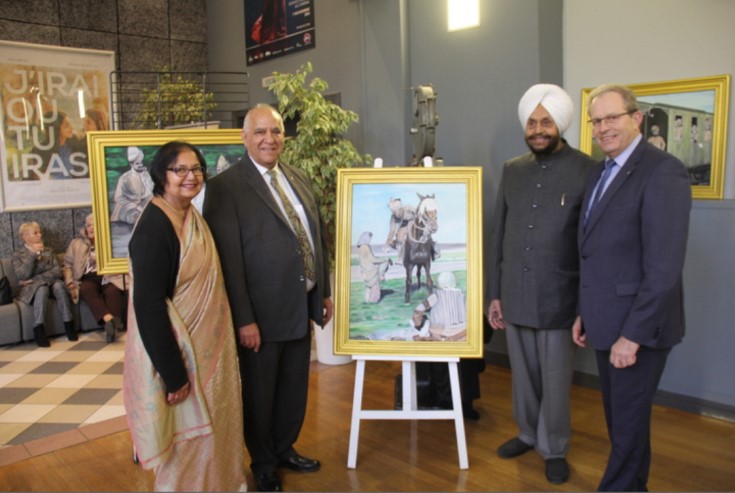 Ramesh was at Longueval Somme near Paris and invited me to join him in his tours to Péronne City, Albert city to see the Historic World War 1 and World War 2 Museums including Neuve-Chapelle, a War Memorial in honour of the Indian Army that had fought in the First World War in Europe. Neuve –Chapelle is a commune in the Pas-de-Calais department in the Hauts-de-France region and is the site of the Great War or the First World War fought from 1914 to 1918. Perhaps he was preparing for the Indian Prime Minister's subsequent visit there. Ramesh volunteered to be my 'Friend, Philosopher and Guide' to the battle areas and the War Memorials /places of interest in north of France guide. We had a long chat; I stored his phone contact on my phone. Perhaps he was preparing for the Indian Prime Minister's subsequent visit there. Ramesh volunteered to be my 'Friend, Philosopher and Guide' to the battle areas and the War Memorials /places of interest in north of France guide. We had a long chat; I stored his phone contact on my phone. Neuve-Chapelle (West Flemish: Nieuwkappel) is a commune in the Pas-de-Calais department in the Hauts-de-France region. It was the site of a First World War battle in 1915. I had other plans, and just couldn't change my schedule, hence told him that I would be deprived of the pleasure of meeting him this time, since I was leaving for Amsterdam the next day and was busy with my Paris Walking Tour that evening as per my schedule. Ramesh gave his overall plan and mentioned about the various places in France, Belgium, and Holland that he was concerned with. Shashi took me for lunch to a restaurant that was owned by a Pakistani from Karachi. The hospitality and warmth of the owner was excellent. Their family had migrated from India to Karachi in Pakistan during Partition in 1947, and the owner served the choicest of Biryani and Mughlai dishes again with complimentary white wine, which Shashi and I enjoyed. While I enjoyed the lunch and wine, I received another phone call from Ramesh Vohra on my phone and it was a test call, but he insisted that I change my programme and meet him at Cergy Pontoise a few kms outside Paris, where he said he would meet me and then conduct me around. I however could not change the itinerary since all tickets had been purchased. Therefore, much as I would have liked to meet Ramesh that was not feasible. I had already travelled extensively in Britain and Europe earlier; I was familiar with what Ramesh mentioned to me but had never visited these places. I have now been in contact with him on phone and on WhatsApp, with visuals that I feel I have known Ramesh for a very long time.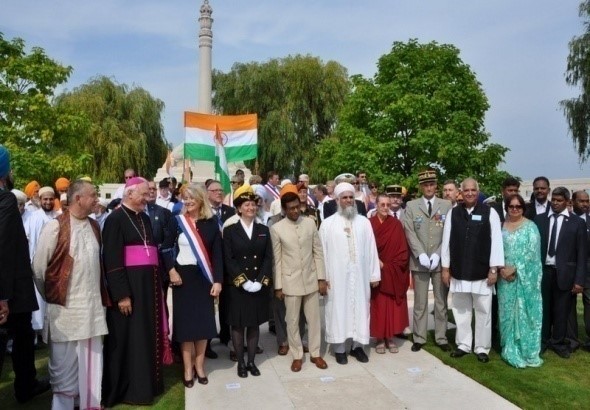 Ramesh Vohra was born in Shimla on December 2, 1949, his family having emigrated from Pakistan after the partition of India in 1947. In 1948, a government job was offered to his father at Shimla. Then in 1951 his father was posted to the newly planned city of Chandigarh (done by a French architect). During his schooling he was fond of social work. At the age of 13, he started donating blood and he was honoured by the Governor of Punjab for his multiple donations. He was honoured by the President of India Dr Sarvapalli Radhakrishnan as the best Scout of the state of Punjab India.
After Higher Secondary, Ramesh joined the Industrial Training Institute at Chandigarh to learn refrigeration and air conditioning and same time through evening classes passed Bachelor of Arts 1st year and continued studying in 2nd year. Before completing his BA 2nd year, he joined the Military Engineering Service (MES) as a refrigeration technician at Chandigarh Airforce Station and thus was there at the Air Force station during the 1971 Bangladesh Liberation War.
In April 1972, he was lucky enough to immigrate legally to France (thanks to a friend who arranged an admission for him). At that time the Indian Government allowed outgoing Indians very little foreign currency in dollars. He took a flight and reached Paris without knowing a word of French and he was lodged by the same friend in a city called Versailles. A few days later, he was offered a job of electrician; the proprietor was owner of a complex of restaurants, petrol stations, and a bar, and was building a discotheque. Financially, he was happy but out of touch with India and the Indian community, the customs, food, and friendship. He created a small group of Indians with whom he used to meet on Sundays. He then took many decisions which changed his life for the better and he learnt French which was essential, and he soon moved into Paris. He merged with the ecosystem of France and Paris.
In April 1973 he got a full-time job in a company at Conflans Ste. Honorine near Paris, and joined the company with better emoluments. He then ventured into getting movies from London to Paris for screening film shows for the Indian community. This gathered momentum and he built a good bridge between the Indian community and the French. He got married in 1976 and his wife Meena joined him in Paris. His lifestyle changed, and he left the factory job and became an Instructor in refrigeration and air conditioning. Ramesh subsequently ventured into the bakery and confectionary line then into Indian gastronomy restaurants, and subsequently switched into textile import and export business.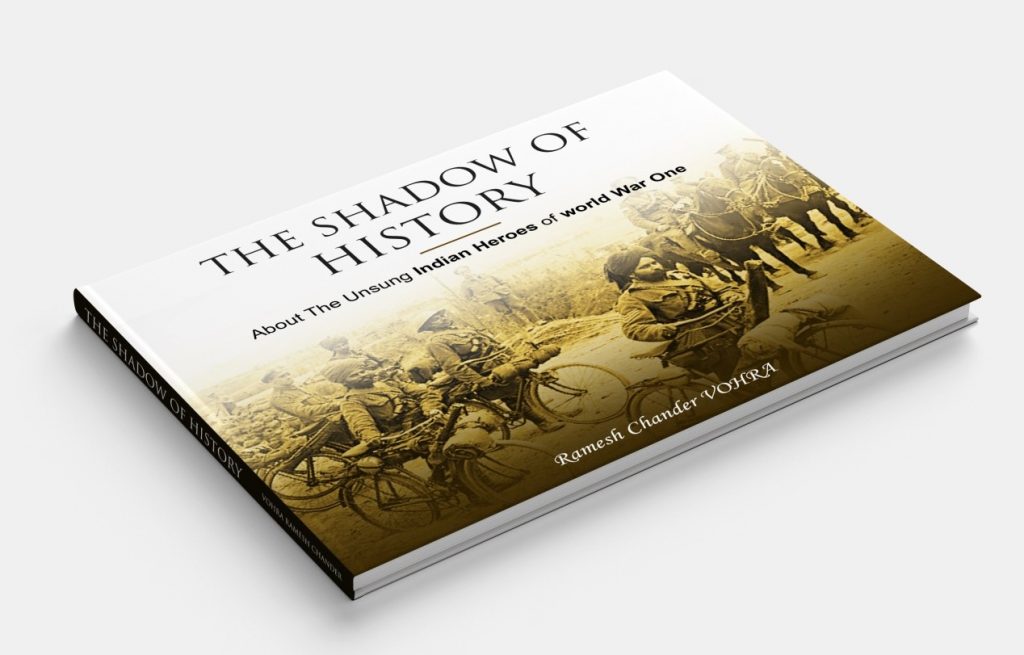 While marketing Indian textiles in Belgium, Germany, and Italy and in the north of France, he came to know the existence of an Indian Memorial Neuve-Chapelle at Richebourg City which was built in 1927 in honour of Indian soldiers and the monument was named on the village named Neuve-Chapelle where about 4560 Indian soldiers sacrificed their lives during WW1. This memorial was inaugurated in 1927 by Marshal Foch, and another one at Ypres in Belgium. He entered into business in West Africa. He personally met H E Abdoulaye Wade President of Senegal and had a lengthy conversation with him about the sacrifices of the forgotten Senegalese soldiers of World War 1. He then visited the Ivory Coast, Congo RDC where the City and Churches of Yangambi, Kisangani titled him as 'Son of Yangambi'. He also then visited Mali, Maroc, Mauritania and many other countries; Japan, Vietnam, Cambodia, Malaysia, Myanmar to study and collect information about both the world wars, but always keeping in mind his country India and embellish the relations between India and France.
The British also wanted to honour the Indian soldiers for their sacrifices. Thus they erected an exceptionally large monument in Richebourg (a city near Neuve Chapelle) in 1927. The memorial, commemorating how about 4,600 Indian soldiers were killed in action there, is called 'Neuve Chapelle'. In his endeavour to promote the recognition to the Indian soldiers Ramesh was informed by the Mayor of Richebourg, "Ramesh you are not alone in this, but my municipality and I am with you." This gave him lots of encouragement.
In Ramesh's words, he says "My wife and I thought of organising a huge Shanti Prayer after 100 years. To organise this, we faced difficulties and problems to get together all Indian religious communities. At last, we were able to convince Hindu, Muslim, Sikh, Christian, Buddhists to come together and hold an interfaith Shanti prayer, under one roof, on the same stage and same time. We travelled about 23,000 km to the 58 Town Halls and convince the mayors and municipalities, convince our ambassador, our community. Listening to our request, they were surprised to know; why you, it's our duty, it's the duty of the British or the duty of the Government of India."
One hundred years later, on August 30, 2015, the IFSC Association, of which Ramesh is the President, organised an interfaith religious ceremony in their honour in the town of Richebourg in the presence of the Mayor of Richebourg and other regional and international personalities. On the same day, a commemorating stone of this praying day was inaugurated at the Neuve Chapelle monument. Since then, the Association has continued its efforts to honour our unsung heroes. They
began to erect four memorials in the north of France at Richebourg (62136), Laventie (62136), Longueval (80250) and Merville (59660) and are planning to erect 54 additional memorials in the cities where our heroes are buried. This will be done in due course. Keeping the idea of honouring the forgotten Indian soldiers and to honour them historically he has produced a book 'Unsung Indian Heroes of World War 1'. He has chosen 30 clichés and turned them into a canvas. He has also published a Coffee Table Book –'The Shadow of History' on photographs of the paintings with their details. These paintings are ready for the exhibition 'Vernissage'-inauguration at Cergy Pontoise near Paris on 6th November 2021.
In Ramesh's own words to reinforce he says "Since my arrival in France in 1972, I have always invested myself as the social and cultural ambassador of the country where I was born, India". For several decades, he has worked for the promotion of Indian culture in France. While travelling a lot through that country and Europe he discovered the culture of military remembrance. Some decades ago he had realised the existence and importance of these Indian heroes who had fought in France and many had given their lives during the First World War. He was thus ignited with a desire to cherish their memories and sacrifices, for the good of all Indians, who now live in different countries of the world, and, for those millions of westerners who can live in peace thanks to their sacrifices.
Moreover, at the end of the Great War, the grateful French population had noted the enormous sacrifice of these Indian soldiers to defend the values of Equality, Fraternity, and Liberty so dear to their democracy. Ramesh and his wife have thus become the 'Ambassadors of India and have done yeoman service to the nation despite, having become citizens of France. Ramesh has volunteered to assist all Tourists and guide them appropriately as required. He has also planned to study the Indian forces' participation in the Second World War in the European Theatre with special reference to France and Italy and have some work done in this regard also. In India, Maharashtra State has contributed to the war effort in Europe and other Theatres of war across the globe during the Great War or the First World War and also in the Second World War.
Brig Mohan Nikam from the Indian Army, a fourth-generation officer (whose father Lt Col RD Nikam of the 1st Battalion Maratha Light Infantry, had fought in the Second World War) is from Apshinge village. His grandfather (103 rd Battalion Maratha Light Infantry) got injured with a direct bullet smashing onto his forehead in the battle of 'Kut al Amara' in Turkey during the First World War and he was saved by a young British Officer from his own battalion. Some 46 soldiers from this village itself went to the Great War 1914-18; the First World War. One soldier there made the supreme sacrifice in the First World War, while 15 others made the supreme sacrifice in the North West Frontier Province (NWFP) and other parts of India during their service period from 1880 to 1920. In India, Brig Nikam is spearheading this collaboration with Mr Ramesh Vohra, Founder and President 'Interfaith Shaheedi Commemoration Association' (IFSC) to get his village duly honoured.
France has suggested collaboration between Apshinge village and Richebourg Town in France the city where 4,658 brave soldiers gave their lives in a single night and their names are written on the walls of Neuve Chappelle Memorial. He says, "I am sure there would be some unsung soldiers from Apshinge village who have been laid to rest in France and never returned to their motherland in India." The Mayor of Richebourg is willing to collaborate on the twin city concept with Apshinge Village and Richebourg, France. There is a plan for an exchange programme early next year (2022) to present a memorial on behalf of his organisation to the village of patriots' Apshinge.
The Trophy/Memorabilia is being presented by Ramesh Vohra and the Mayor of Richebourg jointly to honour the soldiers of Apshinge village who fought in both the world wars. This will be an excellent initiative in education, hospitality and military tourism with the heritage and culture between the two countries. Ramesh Vohra from France, Brig Mohan Nikam and Mrs Manjiri Khandekar from Pune India will now pave the way for this initiative, of course with the support of the Mayor of Richebourg France.