A trip to the coldest part of the globe ended in a heartwarming experience. By Urvi Piramal
Just five hundred miles below the Arctic, even the air is rarefied. I take deep breaths to steady myself as I look around – not a house, not a bird, not a tree in sight. The air is shallow but my heart is full.
But I am getting ahead of myself. Let me start at the beginning…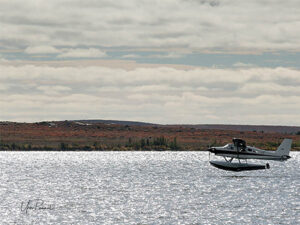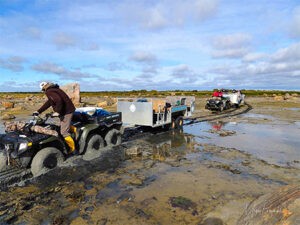 It had always been a dream of mine to see polar bears and the Northern Lights or Aurora Borealis. And when the opportunity presented itself, I jumped at the chance. We set off in September, journeying first to London, and then to Toronto. From Toronto, we took a roughly one-and-a-half-hour flight to Winnipeg, where we stayed the night. The next morning, we took a two-hour flight to isolated, icy Churchill.
Aside from its unofficial self-proclamation of being the polar bear capital of the world, it also houses a polar bear jail. Yes! You read that right. Because of the annual surge of polar bears Churchill experiences during their annual migration route north up Hudson Bay, there is actually a jail for polar bears for potential or actual 'offenders'. Here, the polar bears can be imprisoned by authorities if they seem dangerous for 'crimes' such as attacking and mauling until they are rehabilitated later in the safety of their natural environment.
Final stop after Churchill, on a total 30-hour journey from Mumbai, we clambered on a seaplane to Seal River Heritage Lodge. The plane landed in the middle of a water body where we were welcomed by the proprietors of the inn. Here, we loaded our luggage onto a heavy-duty, industrial-strength tractor, and began our ride to the final destination.
And this is where I begin my story. Wrapped in a coat that could withstand minus 20 degrees centigrade; feeling the freezing cold air around me; taking in the barren frigid terrain; taking in one deep breath after another.
A Hidden Gem  
Seal River Heritage Lodge, as its name suggests, reposes by the mouth of the Seal River and is home to bears, birds, and whales. The lodge is run by a local family and runs three safaris per year: a Canadian signature experience through July and August, an Arctic safari in September, and a polar bear safari in October and November.

The eco-friendly lodge, aptly reviewed on Tripadvisor as a "hidden gem" is more than 400 miles away from the nearest town. Supplies have to be perfectly ordered so that nothing runs out and that nothing is wasted. Groceries, essentials, medicines and other items are flown in once a week. As a vegetarian on the trip, I was just a tad anxious until I was told the lodge had a surplus of potatoes on which I could feast in the days to come.
But for all its seclusion, the lodge was very comfortable, with wooden beams and warm fires; and in my small room, I felt very cheerful and cozy.
Icy Adventure   
Bright and early, we rose the next morning, eager to leave the coziness of the lodge and rush headlong into our Arctic

experience. The frigid air hit us with a blast, and we huddled together as much as we could in a single file: a guard at the beginning and end flanking our procession. They each carried a rifle and some stones. During combats and to deter rivals, polar bears click their teeth, with the most resounding click winning out. The stones carried by our guides were to replicate this clicking sound in the event of encounters with unfriendly and feisty bears – and obviously to use the rifles as a very last resort.
The very first thing we saw was a sic squirrel, which lives in the ground, and was no doubt foraging for the long winter months ahead. Up next we saw what we had all been waiting for: a giant pug print of the polar bear.
                
Excitement flooded my veins and I felt my heart beat faster, from thrill, from fear, as we looked around in anticipation for the polar bear. We were soon rewarded: there he was – the 'resident' polar, whom we will call Hugo. A giant among the sparse terrain, white and cool, staring at us, his body languid, his eyes alert. After a

few cool seconds, and a final desultory sniff, he ambled off. I forgot to be scared and could only take in his big beauty and marvel how despite his size he could move so fluidly and gracefully.
Arctic Safari
On our second day, we strapped on water galoshes – thick waterproof rubber shoes – and piled into a zodiac, an inflatable boat, as we made our way into Hudson Bay , to spot the elusive beluga whale The air above the lake was even icier and as we drifted along, I took in the barren beauty of the shore, dotted with black spruce.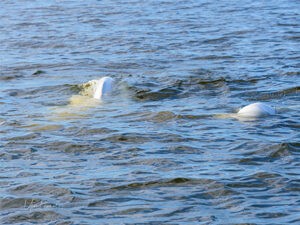 Especially on the water, the air was frozen and misty, but we were rewarded when our guides saw a school of belugas. About 13-feet long, small by whale standards, the whitish whale is aptly named beluga, derived from the Russian word belukha for white. Our guides then dropped a device into the water which detected underwater sonar and allowed us to eavesdrop on the whales as they "spoke" to each other.
As we mounted ashore, our adventures were not done. On our way back to the lodge we saw a scuffle between two polar bears: our fellow resident and an unwelcome intruder. Hugo threateningly warded off the interloper and we arrived, exhilarated but cold, at the end of the day.
Later that evening while we ate dinner – incidentally a meal that involved aloo bhaji, we noticed we had a wayside guest: Hugo had propped himself up on his hind legs and was peering into the dining room as if to hopefully invite himself over for dinner.
Sky Light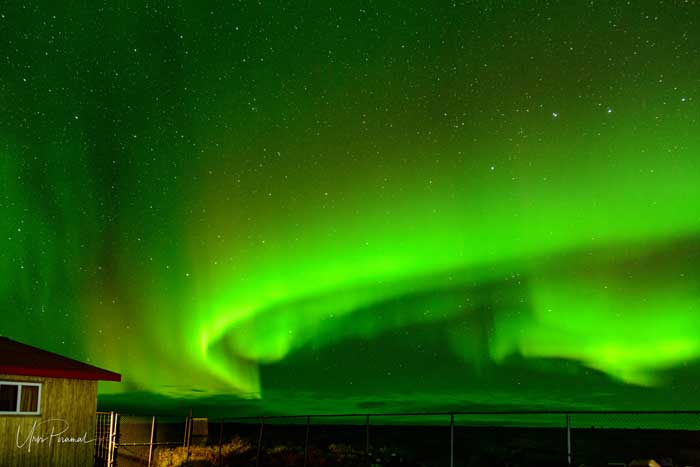 On that final night, I looked into the chilly sky, hoping to see the Aurora Borealis. I knew that the Northern Lights – caused when electrically charged particles released by the sun enter the earth's atmosphere and collide with nitrogen and oxygen – are earth's own natural and stupendous display of color. Yet, nothing could have prepared me for the flashes of brilliant colour – green, glowing neon, shafts of red – that lit up and danced across the northern sky as we stared on, awe-struck.
The next day, we traveled even further up north via seaplane to the Schmok Lake Caribou Camp, to catch the caribou migration. The camp, only reachable by air, was home to wolves, wolverines and arctic foxes. The entire terrain, in this last fall month, was covered with dwarf shrubs and arctic fauna in a riot of colors – yellows, mustards, rust orange, maroons, reds, pale and dark greens. Here I shared a room with a friend but was a bit disconcerted when I realized our room had no door. The owners of the camp kindly obliged us by providing a makeshift door: a shower curtain – to give us some privacy
.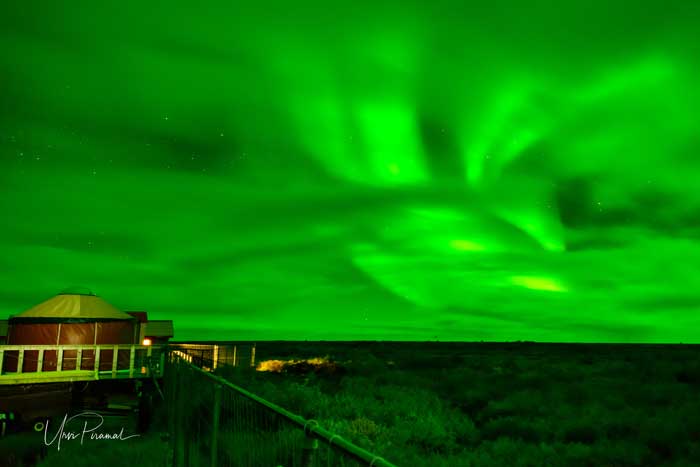 Around the camp, the area was spotted with inukshuks – mini stone markers that had historically been used to guide travelers and native Inuits. Unfortunately, while we missed the massive passage of the herd, we did manage to see a few caribou, with their lithe, muscular bodies and fierce antlers.
It has been a while since that trip.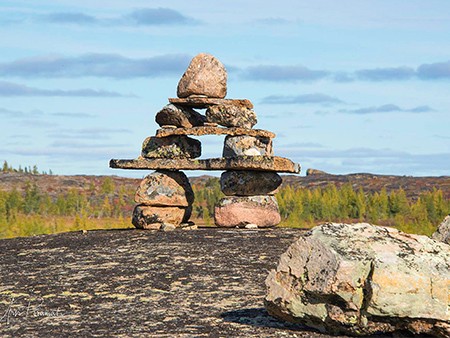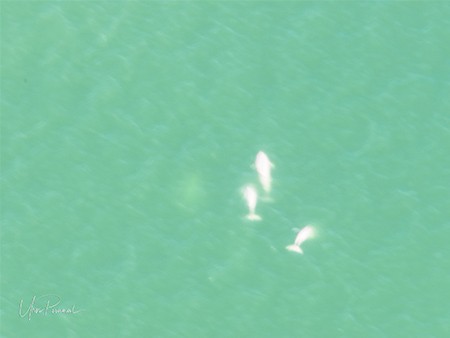 When I look back, I remember the bears the whales, the way we walked 8-10 kilometres per day, the way we picked berries and ate them. I remember how we gathered mushrooms, sorted and cooked the non-poisonous ones, and how good they tasted. Most of all, I remember my excitement at seeing that first polar bear, who will always affectionately be ingrained in my memory as Hugo; and how, when looking at that magnificent coloured sky, more fabulous than any painting I have ever seen, how full my heart had been.