"Gar firdaus bar-rue zamin ast, hami asto, hamin asto, hamin ast"
Mughal Emperor Jahangir is reported to have spoken about Kashmir, recalling the words of poet Amir Khusro. Jahangir is said to have visited the valley 8 times during his reign.
The Kashmir Valley lies between the Karakoram, Zanskar and the Pir Panjal Ranges. It was said to be a huge lake which got drained due to tectonic shifts, that explains why there are still so many lakes.
Having spent my childhood in Kashmir, I was really looking forward to visiting it one more time, especially after hearing that conditions have improved and lakhs of tourists have been visiting the valley in the last couple of years, be it to see the Tulip Garden, enjoy winter sports, do the Amarnath Yatra or just for a holiday. Tourism had suffered a major setback in Kashmir for over two decades and then the pandemic struck, giving a further blow. Fortunately now things are looking up in a big way.
There was a time when Kashmir was the destination for Bollywood movies in its Golden days with countless movies of Shammi Kapoor, Shashi Kapoor, Rajinder Kumar, Rajesh Khanna, Amitabh Bachchan and Rishi Kapoor to name just a few. Then there was a lull due to unsafe conditions as we all know. Film shootings have once again started with younger actors like Siddharth Malhotra, Kartik Aryan, Tapsee Pannu and Kaira. Most recently the Badshah of Bollywood, Shah Rukh Khan was also shooting there. So once again the valley is literally blooming with a lot of people, colour and activity.
Every effort is being made by the administration to provide a good experience to visitors and tourists. The natural beauty of Kashmir was always unmatched but infrastructure and facilities were lacking. Development has been taken up in a big way. Srinagar is even slated to soon become a Smart City and these days all the main roads are being redone for one of the G20 meetings which is to be held here sometime soon.
Since my last visit a few decades ago a lot has changed for the better. The countryside is changing…… among the fields, fancy big bungalows have been built, where there were smaller houses.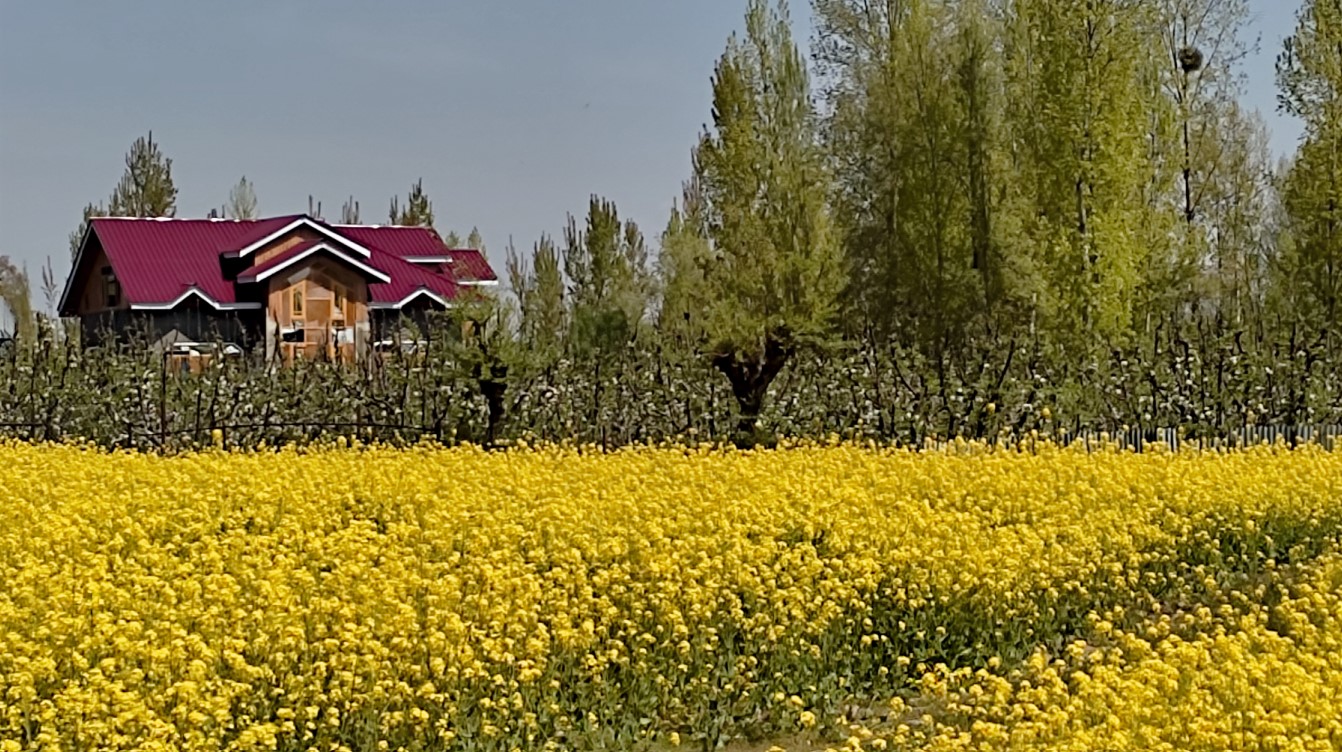 People seem more educated and aware, even the women. Girls are seen riding two wheelers, driving cars and going to the bank independently.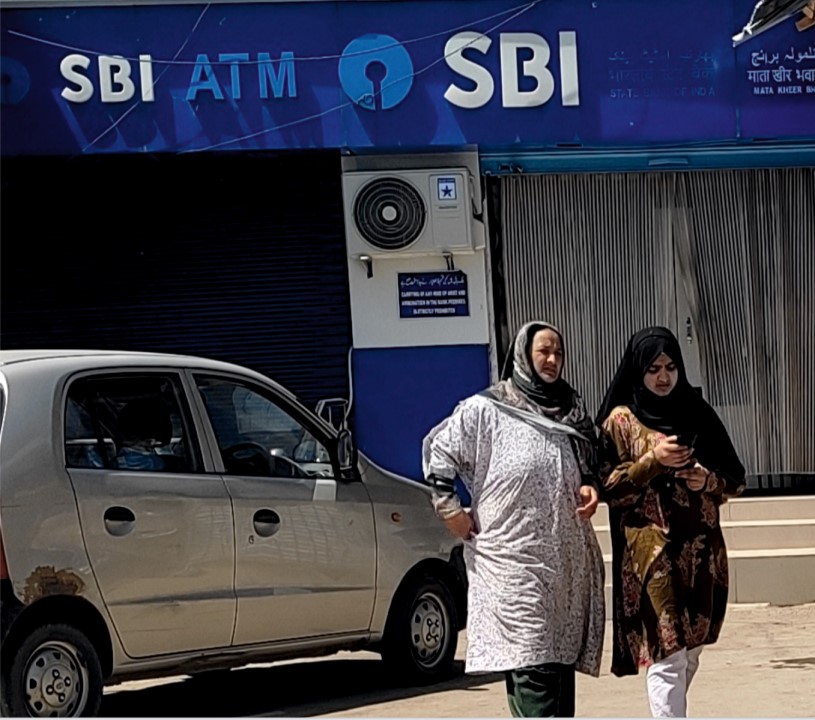 Shopping arcades and malls have come up where small shanties used to be.  Yes, there are no cinema halls, but hotels have come up everywhere catering to all categories of tourists. Taxis are available to add to the convenience. In earlier days tourists had to take the government buses to go to Gulmarg or Pahalgam in absence of their own conveyance. Plenty of houseboats are also available to suit different pockets. Spending at least one night on a houseboat is part of almost everyone's itinerary. Couple of decades ago staying on a houseboat was a luxury few could afford and it was limited to few rich and famous or to foreigners. Today all the houseboats are well furnished with walnut wood furniture, Kashmiri carpets, typical curtains and bed covers made of hand embroidered patterns in crewel work, running hot water, bathtubs and flush toilets. On request, guests can order a delicious Kashmiri meal and enjoy it on the boat itself with soulful but modern Kashmiri music playing in the background.
A shikara ride on the Dal or Nageen Lake is a must. There are enough shikaras to cater to everyone. On the Dal Lake Boulevard alone, there are at least 20 shikhara stands and each one properly numbered and classified. Tourists and their baggage are transported to their houseboats in an organised manner, earlier it used to be quite a chaos. Another observation is that the locals providing most of the services are young and educated and have realised the importance of pampering tourists and visitors professionally and treating them with courtesy. Most young Kashmiris speak in English now; some attempt Gujarati and Marathi too, having picked up a few words from the visitors.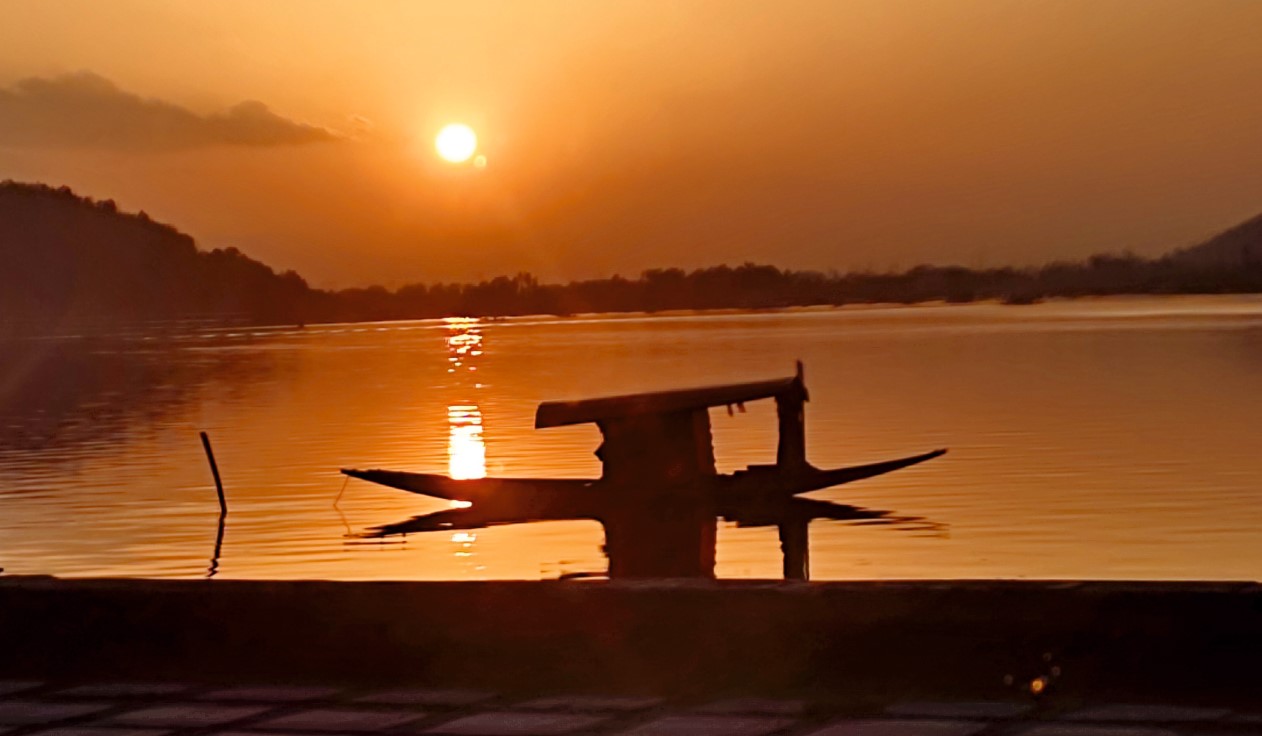 All roads leading to popular tourist destinations are very good and well maintained. In fact the villages along the route too have a modernized look now. A big boon is good toilet facilities everywhere whether the big shop owners have made it for use by their customers or they are the pay-and-use ones.(In earlier times lack of toilets was a major problem tourists faced.) Driving through the countryside while enjoying nature's bounty is a memorable experience. In this season, white Apple blossoms and rich yellow mustard flowers greet us everywhere. The picturesque scenery forces you to stop time and again to click photographs.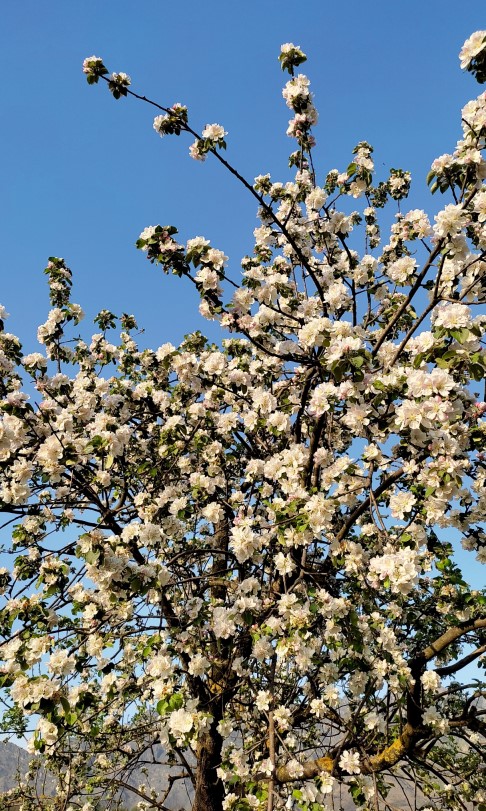 The major places for visiting are Pahalgam, Sonmarg, Gulmarg etc these are destinations everyone goes to but the biggest attraction during April-May is in Srinagar itself. Asia's largest Tulip garden. The Indira Gandhi Memorial Tulip Garden is attracting hordes of people. This year an estimated four lakh people were expected to visit during one month! The garden was set up in 2007 in roughly eighty acres of a slope at the foothill of the majestic Zabarwan range overlooking the scenic Dal Lake. The garden boasts of over seventy varieties of tulips in various colours brought from Holland and Amsterdam. It's a magnificent sight to behold. Rows and rows of neatly planted tulips are breathtaking.  What we had seen in movies like Silsila, it is a great feeling to see it personally in our own country and we are standing among this riot of colours –  it's almost surreal.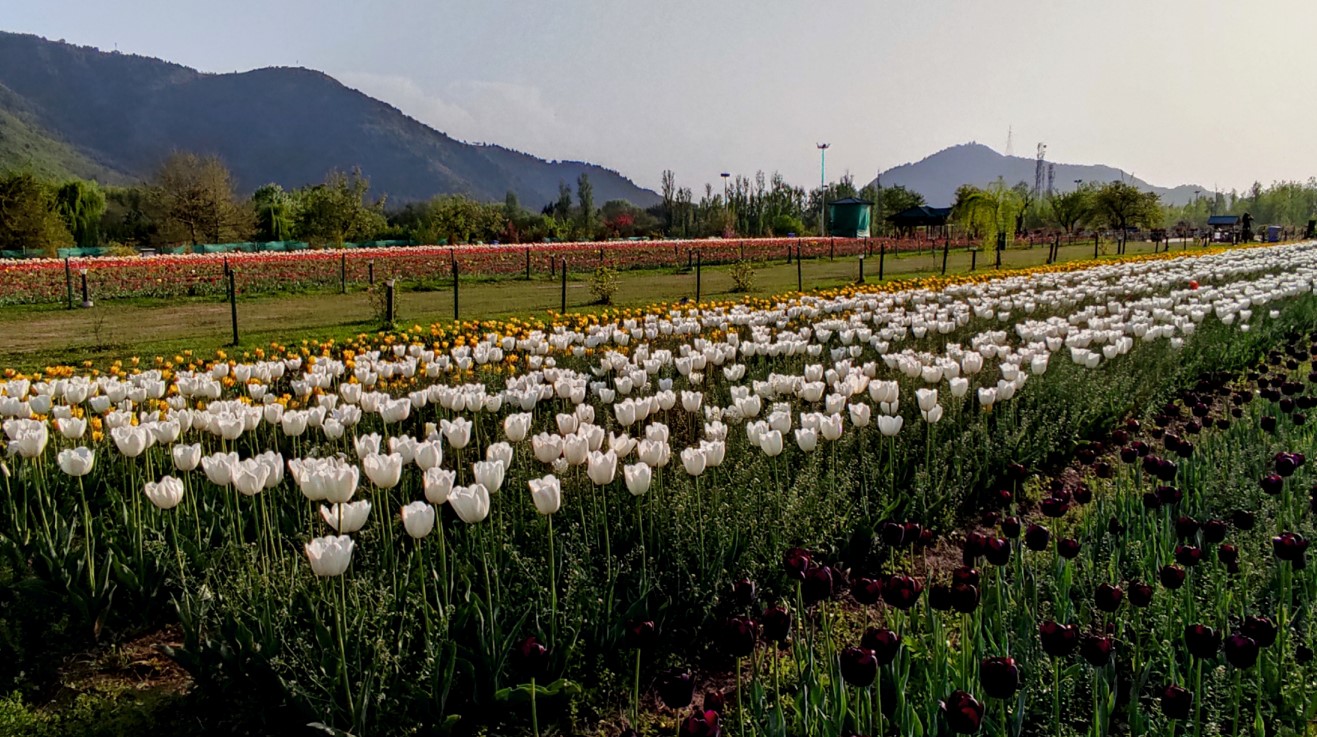 All these flowers do not claim any particular fragrance, however there is an intoxicating floral aroma touching your senses with every whiff of cool mountain breeze. Each colour of the tulips is so attractive that one can easily go crazy going from bed to bed to take a closer look. The colours range from pure white to whites with streaks and stripes of pink and yellow, to every shade possible that you can think of from yellow to orange to pink, red, crimson to purple to what can be called black. The best part is that wheel chairs with attendants are available for a nominal cost and the attendant will oblige by stopping to take photographs of you as and when you want.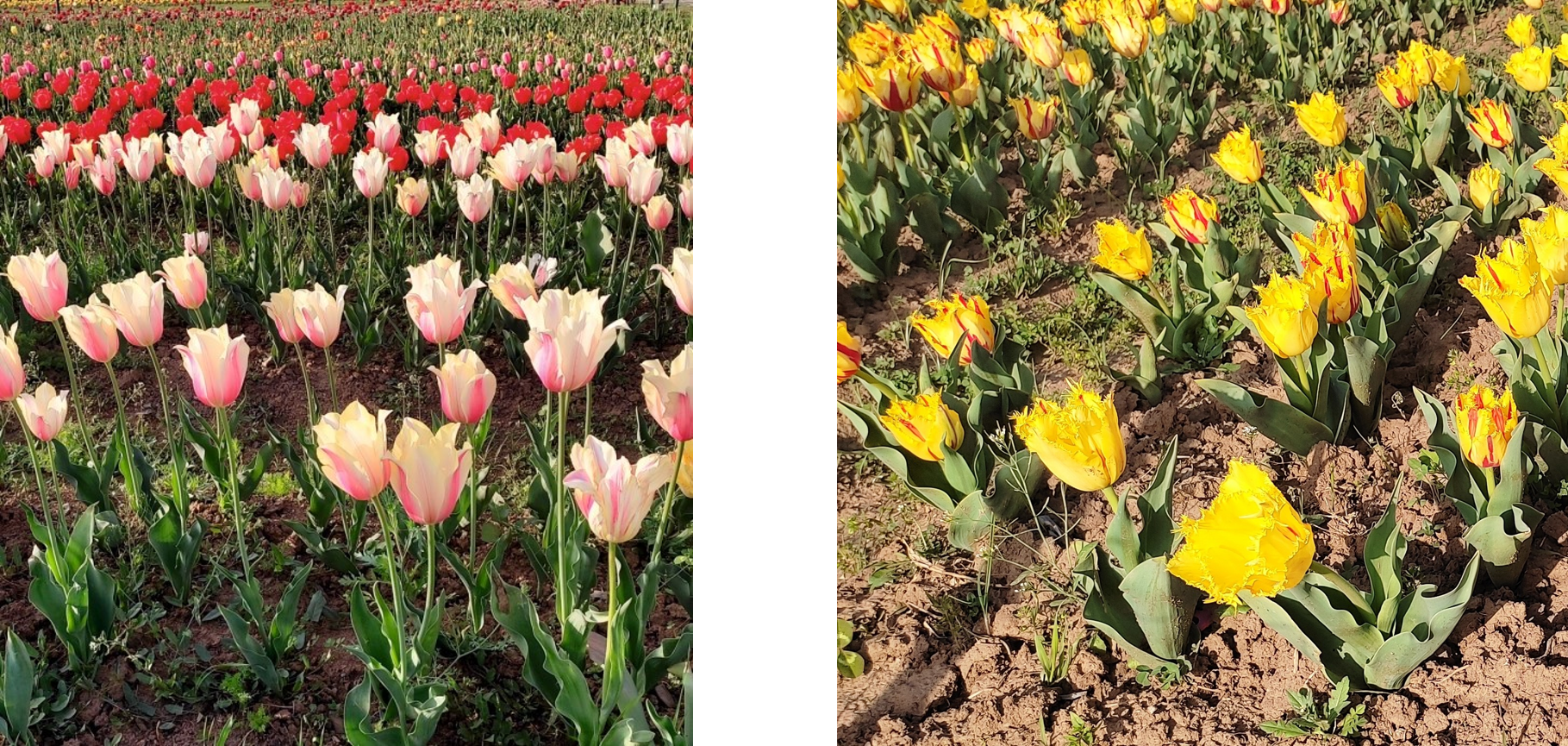 Much has been written about the Mughal Gardens of Kashmir and we all have memories from Bollywood movies which were shot here especially in the 1960s. Mughal Emperors Shahjahan and Aurangzeb used Srinagar as their summer capital and built many beautiful terraced gardens accompanied with pavilion-like structures, which added to the beauty and grandeur.  With water channels and tanks with fountains, colourful fragrant flowers and the mighty Chinars trees, these Gardens make for a beautiful experience. There is an interesting sound and light program at the Shalimar Bagh recreating a romantic Mughal era. This show is conducted between May and October. Shalimar and Nishat Bagh are the famous ones, while Chashme Shahi and Pari Mahal in Srinagar as well as Achchabal and others have Mughal lineage as well. Elsewhere too nice gardens have been developed. Manasbal, Aaharbal, Pahalgam, Betab Valley are but a few to name. A visit can be planned to all these places depending on the time you have on hand.
Pahalgam meaning pahla gaon (first village) on the way to the holy Cave of Amarnath has its own beauty and charm with the gushing waters of river Lidder which is formed by melting glaciers. It has big round boulders and the water makes a roaring sound as it hits these rocks. Interestingly in Pahalgam, the entire market consists of just one straight road about 1 km long flanked by small eateries and shops where you can buy just about any handicraft item of Kashmir.  Bargaining helps as every other shop is selling similar objects and competition is stiff. Suggestion is, if you like a thing, buy it at a price that suits you, after all, the stuff is handmade. So it is unique and you won't find a duplicate. Tourists love to buy Kashmiri pherans and bags etc. and flout them there….. right away. You also have popular places where tourists can wear a Kashmiri costume and pose for photographs carrying with them a memory for a lifetime.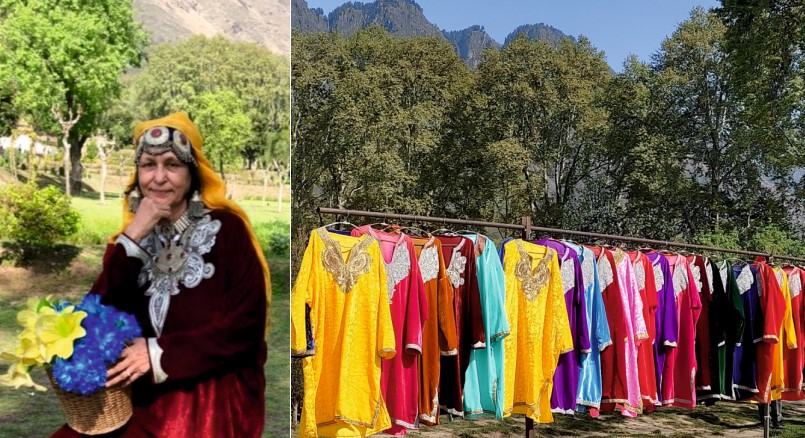 At the other end of the market is a small temple, a gurdwara and a mosque all one after the other. We went into the gurudwara where the Bhaiji offered to take our picture when we were struggling to take a group selfie. Places to visit beyond Pahalgam are, Aru Valley, Betaab Valley, Sheshnag and Chandanwadi, the last two are campsites enroute to Amarnath.
While driving through this magnificent valley, you will see the towns dotted with big and small mosques, which stand out due to their green painted tops, but many are not aware that prior to the Muslim conquests, Kashmir was a centre of Shaivism philosophy and the seat for Sanskrit learning and literature. So you come across many temples as well. Mostly dedicated to Lord Shiva, but there are others too. The most famous from architectural heritage point of view are the Martand Sun Temple and the Avantiswami Temple both are currently in ruins and have not been reconstructed or renovated although they are protected under ASI.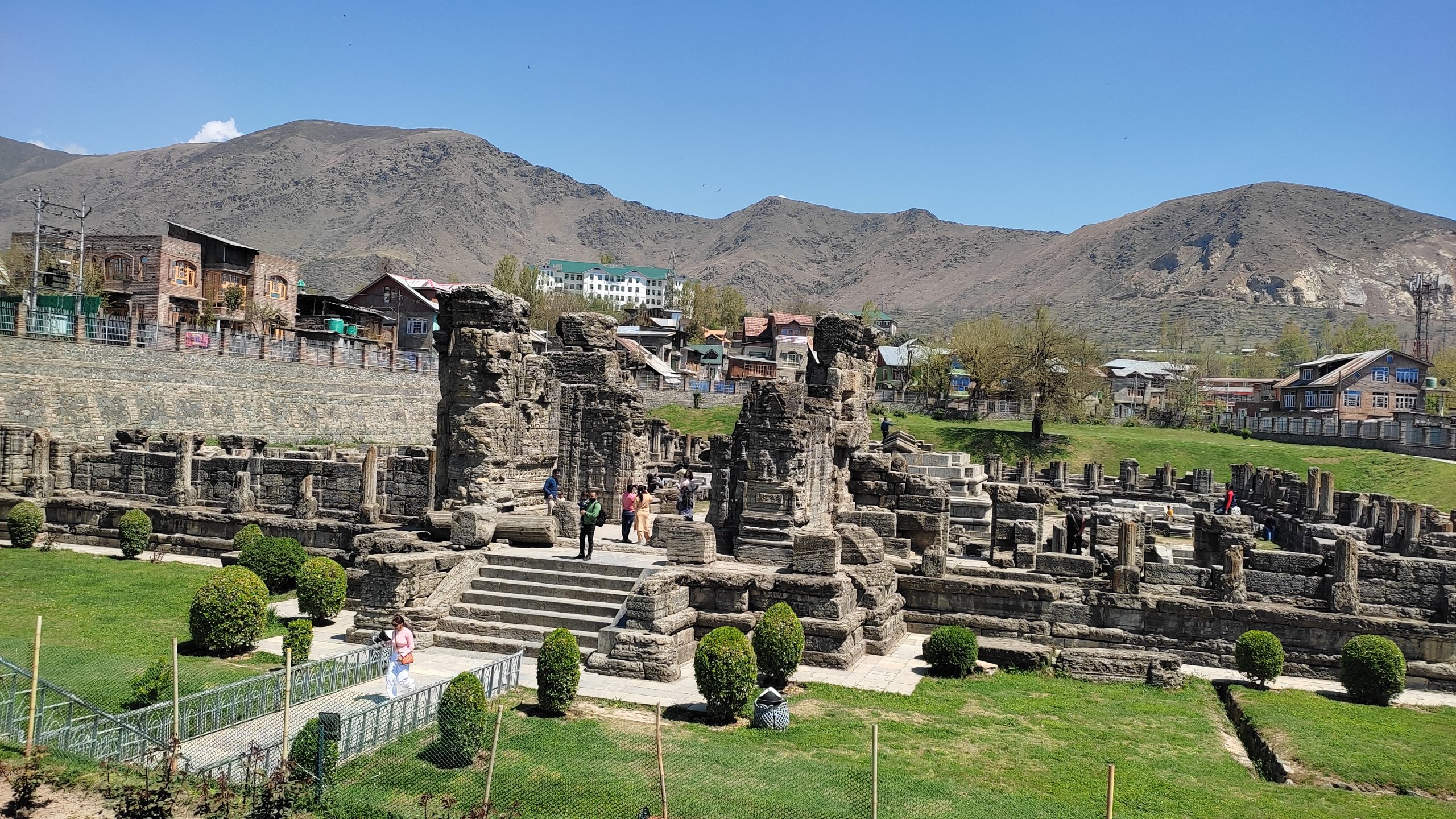 The Martand Sun Temple is one of the four main Sun Temples in the country. It was built in the 8th Century by Lalitaditya Muktapida of the Karkota Dynasty. The Avantiswami Temple also lies only a few kilometres away. Dedicated to Lord Vishnu it was built between 855-883 AD, during the reign of king Avantiraman of the Utpala Dynasty. Although patronized by different kings, both temple complexes housed many shrines with the main structure in the middle, built on a raised platform and adorned by graceful figural sculptures. These were destroyed by Sikander Shah Miri in the 15th century. The ruins and the remains were further damaged due to several earthquakes.
Another small temple attributed to king Avantiraman was recently found near the Manasabal Lake. This is unique as it is half submerged in water within a small tank, which has a spring within.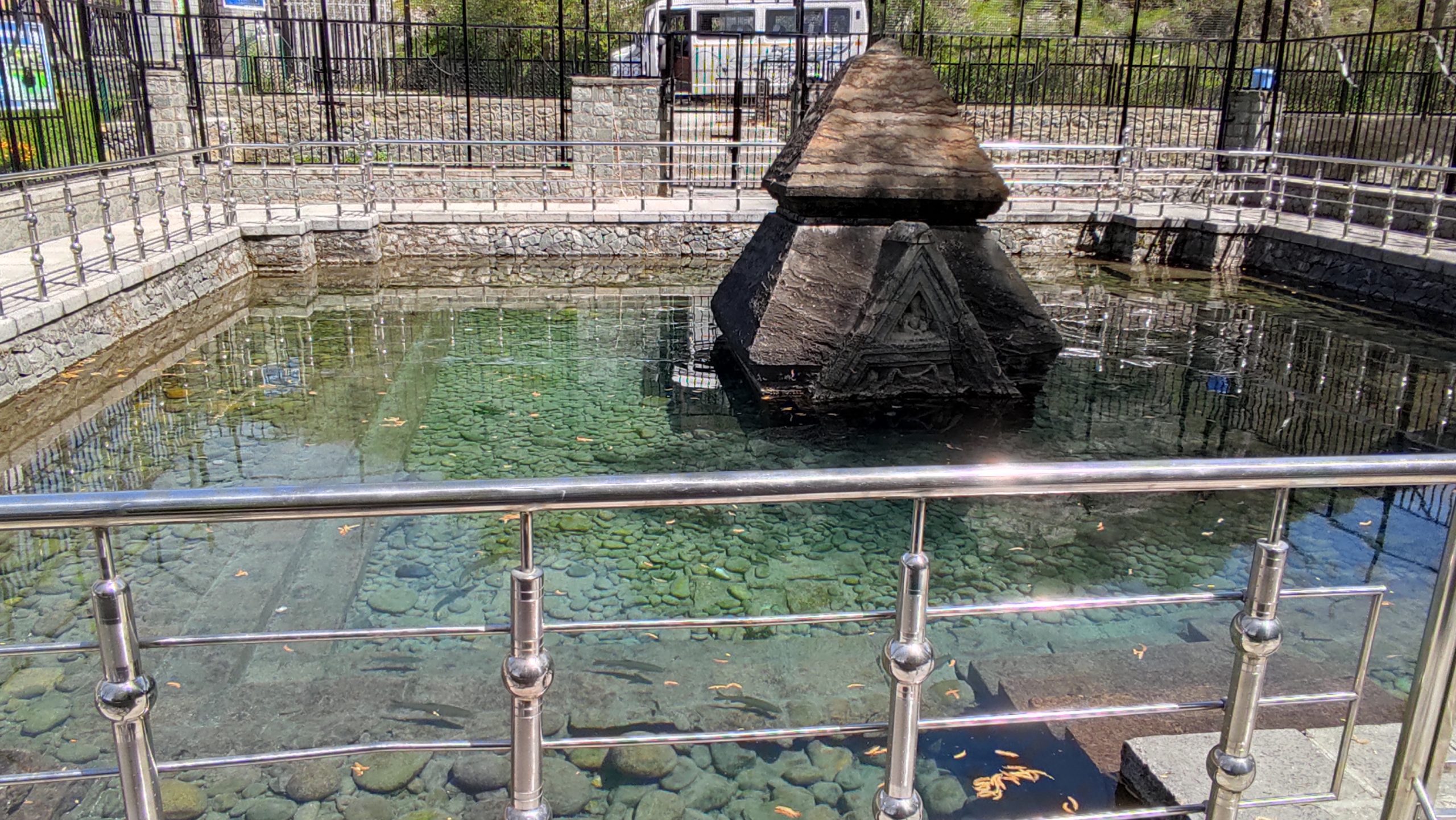 Other famous temples which people visit and pray at are Shankaracharya, Mattan Martand and Mata Kheer Bhawani temple. Shankaracharya temple is said to be the oldest of all. It is dedicated to Lord Shiva, situated on top of a hill in the city of Srinagar and attributed to king Gopaladitya around 371 BCE. It is believed that this temple was visited by Adi Shancracharya in the 8th century, hence its present name.
Mattan Martand Temple is dedicated to Martand Rishi son of Rishi Kashyap (from whom Kashmir derives its name) Martand is another name for Sun God so some people call it the birthplace of the Sun God. The temple complex has two three small temples with different deities, but the main stands inside a tank which has lots of fish in it. These fish are considered sacred. By feeding the fish, they say, one is absolved of all the sins! So it's a popular destination. Traditionally this temple was home to the Pandits who kept the family records of generations (as per one's gotra) of people….. Our ancestors who had earlier visited the temple, much like in Varanasi or Kashi.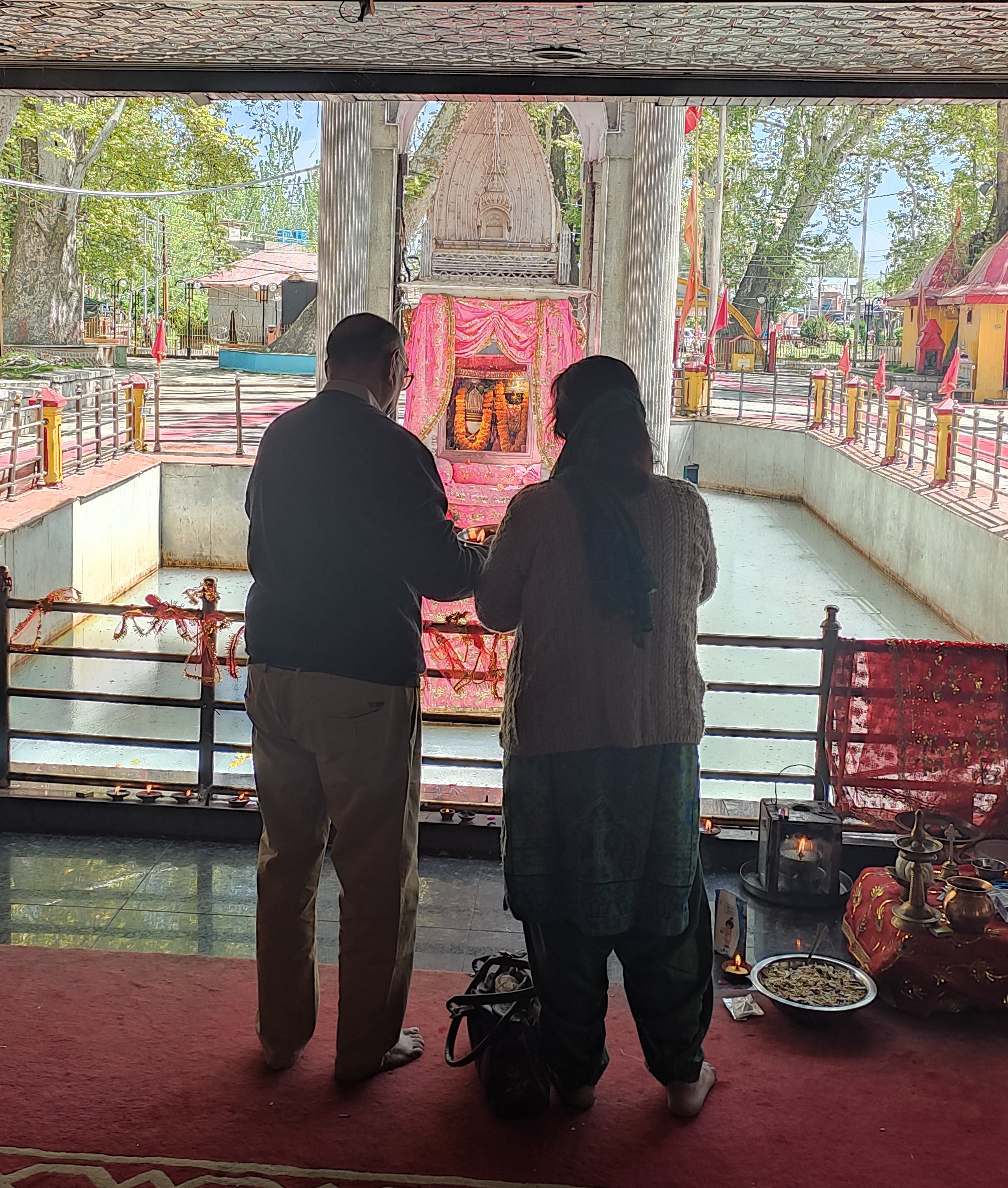 The Mata Kheer Bhawani temple is one of the most revered places for the Kashmiri Pandits….but not much is known about its history. The present complex was built by the Dogra ruler Maharaja Pratap Singh around 1912. As the name suggests it is dedicated to Goddess Durga (Bhawani) and the water in the small tank surrounding it usually remains a milky white, because Kheer (a preparation of milk and rice is offered to the deity.)  It is believed that in times of danger, war, and calamities the colour of the water turns red as a sign of danger.
Among the most popular destinations is Gulmarg which is totally different from Pahalgam except that both are flanked by snow covered mountains. Gulmarg is a small valley of grassy meadows. It is like a bowl, which has one circular road all around and no vehicles are allowed on the green grassland.  One side has a street with eateries and shops which also sell/rent woollen clothes, windcheaters, jackets, raincoats and gumboots. The climate in Gulmarg can change at the drop of a hat, after a nice sunny morning it can suddenly rain and get pretty cold. The circular road is dotted with hotels suitable for every pocket.
While Gulmarg is a famous destination for skiing and winter sports when the whole valley is white with snow, summer has its own charm. The meadows will have patches of colourful wild flowers. In the middle, prominently lies a beautiful 18-hole golf course, made popular by the British since 1920 and a small Shiva temple. There is also an old church nearby. Gulmarg boasts of having the Indian Institute of Skiing and Mountaineering.
Gondola ride up to Khilanmarg provides for some fantastic views of the valley Pines and snow covered mountains. Phase 1 of the Gondola takes you to a point which has a wide open area halfway up the mountain and the second phase takes you up to Apharwat which has even more snow everywhere as well as a beautiful high altitude lake. The best time to see this lake is during August and September. Lots of exciting snow activities can be enjoyed, like sledging, skiing and a ride on the snow scooters. Senior citizens can also participate in these sports with the help of local guides, provided you are in good health. Gulmarg is at a height of 2652 m and Apharwat is 3800 m above sea level.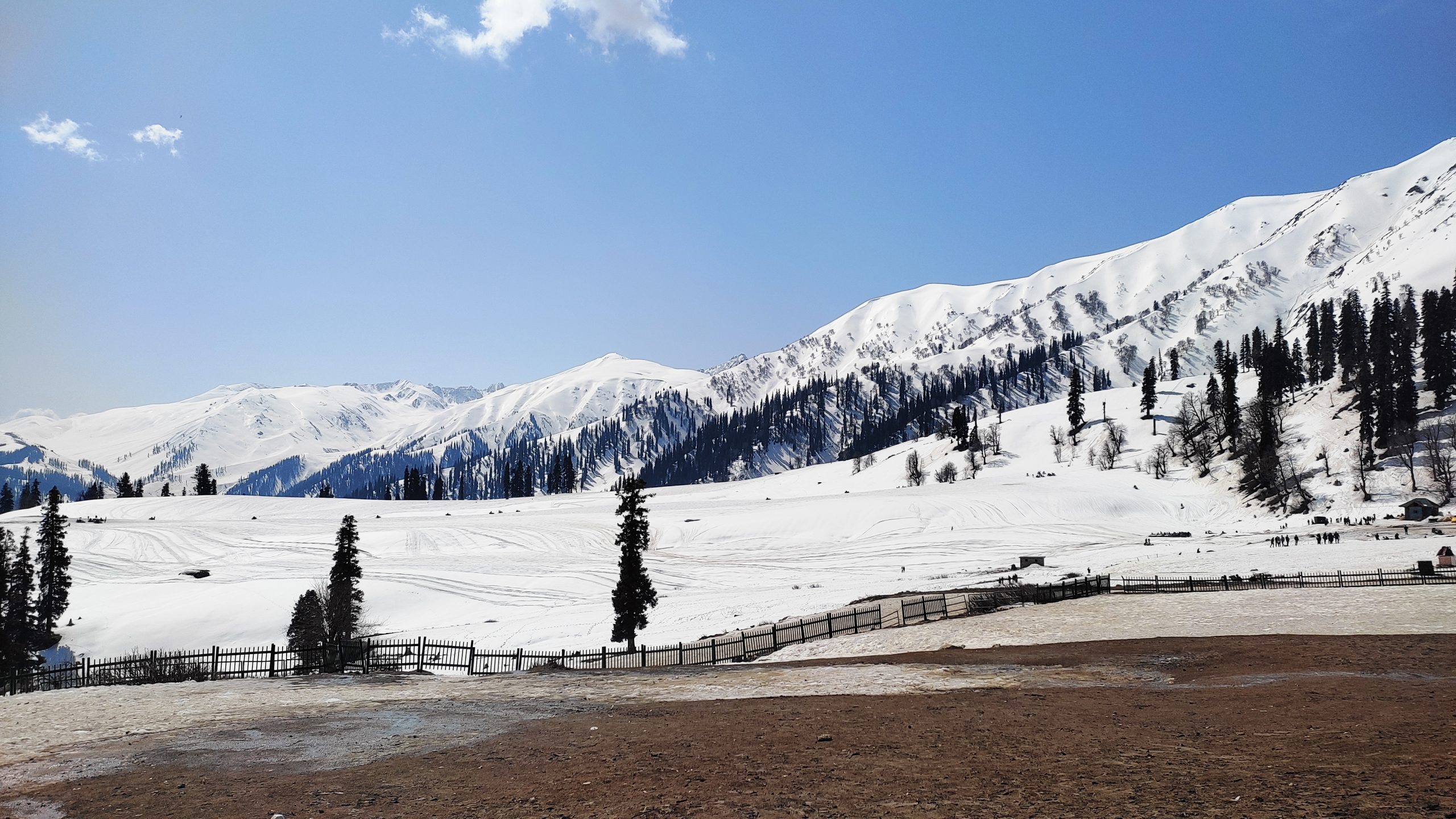 Sonamarg is another popular destination for a day trip. If you like to stay overnight there are a number of hotels. This picturesque place lies on the road to Kargil and Ladakh and also provides an alternate but the more difficult and arduous route to the Amarnath Cave via Baltal.  The Kolhai Glacier is situated near Sonamarg.  After a small trek one can enjoy the snow of the glacier and the ice cold waters of the steam formed there with.
Yusmarg, known as the little valley of flowers, is a green meadow. After the snow melts in the summer it is full of wildflowers in different hues. It is a place ideally suited for a relaxed holiday away from the din of vehicles and towns.
People driving down from Jammu like to take a detour to Verinag. A small place with big significance as the river Jhelum starts from a spring in the tank here. A small arched construction around the tank resonates with Mughal architecture.
These are the common places most people like to visit. But for the nature lovers, bird watchers and wildlife enthusiasts there are places like The National Park at Dachigam where one can easily see the Hangul – the Kashmir stag, and if you are lucky you see the Musk deer, Himalayan Brown bear, Himalayan Black bear, even snow leopards have been spotted. You can also find many other animals and birds in different seasons. Besides Dachigam, there is also the Hirpora Wildlife Sanctuary with similar animals. Anchar Lake is a much loved destination for bird watchers and photographers. Hokersar Wetlands are an important staging ground for medium and long distance migratory shorebirds, geese, cranes, ducks and other species that breed in Siberia and Central Asia. Duksum is known for Trout fishing. There is much to see and savour, so let Kashmir be your next holiday destination.
TIPS FOR SENIOR TRAVELLERS:
 Carry adequate inners, woollens, caps, mufflers, leg warmers, jackets and socks. Room heaters and bed warmers are provided in most hotels for extreme cold weather.
A windcheater/ rain coat can be useful anytime in the mountains.
Hats, caps and shades/goggles are a must – the glare in the sun can be unbearable at times. The sun feels really hot and can tan you easily. Do carry sunscreen with you.
At least two pairs of comfortable walking shoes. Sandals are not a good idea even in the summers.
Gum boots are available on rent in snowbound tourist spots like Gulmarg, Khilanmarg, Sonamarg
A folding walking stick Is advisable even if you don't need one regularly, it can be helpful while climbing steps and slopes especially in the Mughal gardens and elsewhere. It provides additional support and a lot of confidence.
ATVs, ponies, wheel chairs, sledges are available at most places on extra payment for tourists/visitors. Sometimes even if you can walk, you'll want to rent one just for the fun of it and the convenience!
No prepaid mobile connections will work in the valley. Ensure you have at least one post-paid one in your group. Wi-Fi connectivity is available in most hotels and houseboats.
Finally – Remember to carry all your prescribed and general medicines. Your particular ones may not be available easily. Please carry as required.