Malti Gaekwad visits the Statue of Unity in Gujarat, and comes away impressed
One has been hearing about the Statue of Unity since a couple of years now, but how much do we really know about it. It is said to be a world class tourist attraction, but is it really? Thought of taking a family trip and checking it out personally and to say the least, we are highly impressed.
It was built as a tribute to Sardar Vallabhbhai Patel, the Iron Man, who was the first Home Minister and the first Deputy PM of Independent India. He is known for his leadership in uniting 562 princely states of our country to form the Union of India.
To help Gujarat overcome its water woes, it was the dream of Sardar Patel to build a dam over the Narmada River as its water was being wasted by flowing into the sea while parts of Gujarat remained parched. The foundation stone of the dam was laid by Prime Minister Jawaharlal Nehru in 1961. In recent years the height of the dam was increased after obtaining environmental clearances from competent authorities and the dam was re-dedicated to the nation on the 143rd. birth anniversary of Sardar Patel.
On completing 10 years as CM of Gujarat, Narendra Modi had announced the building of the statue as a tribute to Sardar Patel. The place chosen is an island in the Narmada River which flows between the Satpuda and Vindhyachal ranges. The location is about 100 kms. from the city of Vadodara in a tribal area called Kevadiya. 
Making of the statue
We were told that many artists and architects were invited to give their design ideas and suggestions and finally a statue made by veteran 90-year-old sculptor Ram V Suthar was selected for this mega project. First he made a 3-ft-tall statue of a standing Vallabhbhai Patel in his signature style wearing a dhoti, kurta, jacket, sandals and shawl. Then it was remade in 18ft. This statue was then sent to various places where Sardar Patel had been and kept there for public viewing while people were asked to give their suggestions and opinions. Meanwhile design engineers worked on 3,000 selected photographs of Sardar Patel and 3D wire frames were created on computers at various locations. This then led to the construction of a 30-ft-tall sculpture made in bronze which became the basis for the main installation (this is now kept in Gandhinagar, Gujarat).
The artist's son says in an interview, "The expression, posture and pose justify the dignity, confidence, iron will as well as kindness his personality exudes – looks as if he is ready to walk. This Design or stance was used to give it a wider and more stable base which is built to withstand winds up to 180 kms per hour and earthquakes measuring 6.5 on the Richter scale, which are at a depth of 10 kms and within a radius of 12 kms of the statue. This has been ensured by the use of two 250 tonne tuned mass dampers for maximum stability."
Work was going on at various fronts; living in Baroda, we had been hearing so much about it. In 2013 a campaign was started to collect iron scrap from farmers all over India as a donation for the sculpture and 134 metric tonnes was brought to the project site. Of this, 109 metric tonnes was used in the foundation of the massive structure.
The planning of the project took 15 months and the actual construction took about 46 months and was finished before schedule. The construction contract was awarded to L&T and they had around 5000 people working on site while 1000 engineers worked on structural details at company's different offices. In an interview, Mukesh Raval, Project Director (L&T) said, "It was really difficult co-ordinating everything especially since most of the time there was no 3G or 4G connectivity on the location."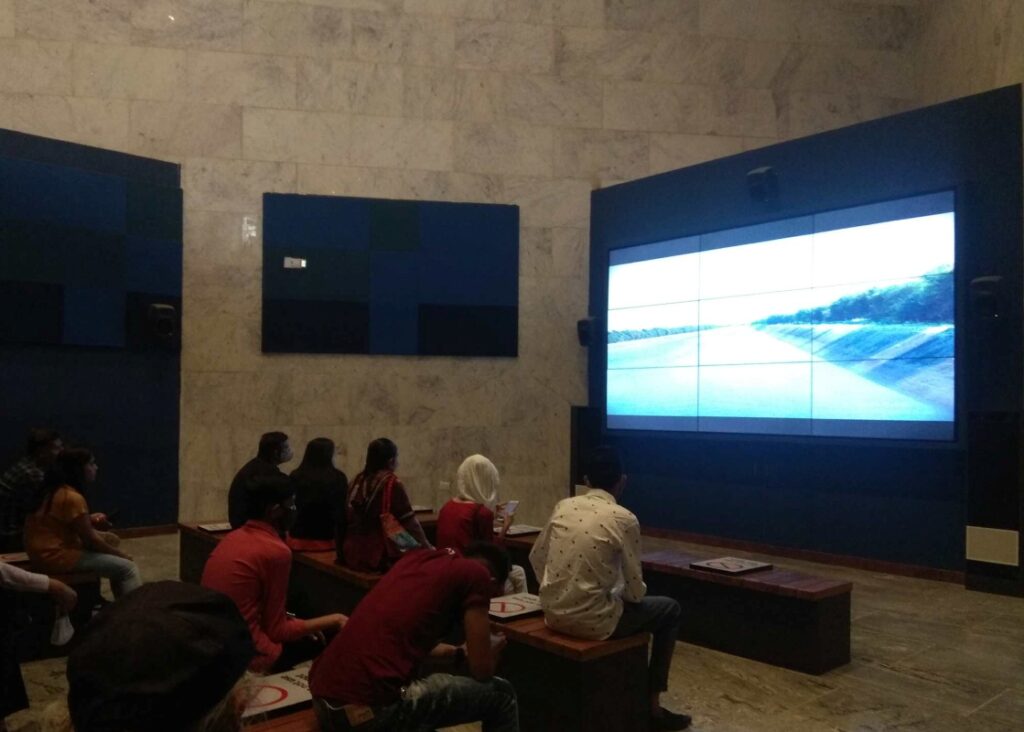 As we drove towards the site, the excitement grew tremendously at the first hazy view of the silhouette from some 5 kilometres away… after all, we were going to see a modern wonder of the world built in our backyard, if we could put it that way. The first view was breath-taking in its magnitude. The main base structure has been made of 210,000 cubic metres of cement concrete and houses an Exhibition Hall, Convention Centre, Museum, and Theatre.  The statue has been constructed of 85% Copper and 5% each of Zinc, Lead and Tin; 18500 metric tonnes of reinforcement steel, 6000 metric tonnes of infrastructure steel and 17,000 metric tonnes of bronze cladding. The outer cladding is made up of 6,500 bronze plates/tiles which were outsourced from a foundry in China after the 3D moulding and casting. (China alone has the expertise and professionalism in working on such large-scale projects.) Each plate is number tagged on the inside for easy remake in case of any damage or breakage. 
The total height of the structure is an awe inspiring 240 metres (790 ft.) with a base of 58 metres (190 ft.) and the statue itself measures 182 metres (597 ft.) [This height of 182 was decided because the Gujarat Legislative Assembly has 182 seats.] The funding came from various sources including donations from Public Sector Companies under their CSR activities. Made at a total cost of Rs. 3000 crore which includes the bridge  connecting the memorial to the mainland as well as the maintenance of the facility for 15 years. 
The main features
Connected well by rail and road from Ahmedabad, Surat and Vadodara, ten to fifteen thousand people visit SOU every day on an average, but a record of sorts was created when almost 40,000 people visited SOU on one Christmas weekend. But I must say, despite so many visitors everything is well managed, no queues, no crowding and no litter anywhere.
From the base there are lifts to carry visitors up to a viewing gallery which is made in the chest area, roughly at the height of the 44th. floor of a building. The lift takes you up or down in flat 38 seconds. A smooth ride and wonderful experience!
This statue is currently the tallest in the world…… double the height of The Statue Of Liberty in New York which is only 93 meters tall and looks dwarfed in comparison. Here, just the head alone is about 24 meters high. You can go and stand near the sandal wearing feet of the mighty statue and get an idea of its enormous scale. 
Other attractions
JUNGLE SAFARI : Animals and birds have been brought from various places. They include marmosets, green iguanas, lemurs, capuchin monkeys, squirrel monkeys, ostriches, scarlet macaws, green winged macaws, golden pheasants and lady Amherst pheasants among others like giraffes and black panthers. About Rs.3 crores was spent by State government to procure this exotic collection. 
CACTUS GARDEN There are over 6 lakh plants of 450 species in about 25 acres of open land and inside a huge dome having an area of more than 800 square meters. This is a major attraction since it is a unique botanical garden exhibiting desert like ecosystem.
HERBAL PARK Arogya Van is spread out on 17 acres exhibiting a wide range of medicinal plants. The 12 postures of Surya Namaskar in human size welcomed us, focusing on the importance of yoga for a healthy life. Aushadh Manav is a huge 3D layout of a human body where specific plants therapeutic for a particular organ are planted. This looks very impressive and has been drawing lot of curious visitors. 
GLO GARDEN Vishva Van meaning global forest has herbs, shrubs and trees native to all seven continents showing unity in bio-diversity and symbolizing the life-sustaining portion of forests in the context of all life forms on our planet. The vegetation and plants are arranged to resemble a natural forest of a particular area.
VALLEY OF FLOWERS Called Bharat Van, it is is spread over 24 acres and has more than 300 types of flowers, trees, herbs and creepers. It was started with 48,000 plants and now has over 22,00,000 of them.
CHILDREN'S NUTRITION PARK is inspired by the PM. It provides high-quality entertainment and vital knowledge to children on healthy eating habits and nutritional values. The theme is Sahi Poshan Desh Roshan and conveys the message through fascinating state-of-the-art technology.
DINO TRAIL Some excavations in Narmada valley area had discovered that a species of dinosaurs lived in this area 145 million years ago. A replica of the said species with a distinct horn is placed here in the form of a huge sculpture 75 feet long and 25 feet tall, the estimated actual size of the creature. There are other attractive exhibits about the evolution of the planet and the ancient flora and fauna.
EKTA NURSERY is a unique concept where millions of saplings are kept 'ready to sell' so that every visitor can carry back with them a symbol of unity and this has become a very popular take away.
SOUND AND LIGHT laser show portrays the history and life of Sardar Vallabhbhai Patel with an excellent narration of his contribution towards India's Independence. This can be seen every evening at 7.30 except Mondays. 
There are various other attractions including a boat ride, eco-tourism, visit to the dam, Butterfly Park , Ekta Mall, Food Court, Tent City and many other things are still coming up. Frankly, we could not see everything in one visit, it is like a huge feast and you can only partake some of it in one go.
There are proper and ample arrangements for parking of buses and cars. Excellent facilities have been made for drinking water, sanitisation, cleanliness and hygiene, clean washrooms and security which is very commendable. Special facilities are there for senior citizens, and wheelchairs with attendants are also available if required. Most areas have a barrier-free approach like any other modern tourist places in countries like Singapore, Dubai etc. All the staff are very well trained and polite. One thing worth noting is that there are no irritating hawkers, beggars or any unauthorised persons causing nuisance or damage to visitors, their vehicles or the environment. 
The best time to visit is between October and February, though it is open all days 8am – 6pm on all days except Mondays.