It goes without saying that Satyajit Ray features on every film buff's palate. Deepa Gahlot selects 10 of his works to put on your list
Satyajit Ray is the only Indian filmmaker whose name features on every list of great international directors, and a couple of his films make it to every 'best of' compilation. Now that access to movies in all languages is easy and inexpensive, his films are a must watch. Ray was a complete filmmaker in the sense that he scripted, composed music, wrote lyrics for many of his films—the storyboards of his films are works of art.
He directed 29 feature films, five documentaries and two shorts; if that seems like a daunting task, at least try to catch these 10, and then go on from there. This list of ten could be debatable, but it's a personal choice. 
Pather Panchali (1955):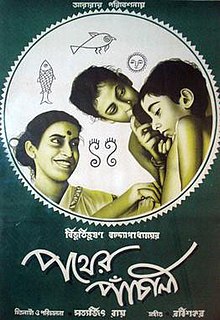 Inspired by the Italian Neo Realism and the New Wave cinema making a mark the world over, Ray made a simple and stunningly lyrical film about a poor rural family in Bengal, seen through the eyes of a little boy Apu (Subir Banerjee), and forming the first of what came to be known as the Apu Trilogy. Based on a Bibhutibhushan Bandopadhyay novel that Ray (till then a visualiser in an ad agency and designer for a publishing company), found deeply moving, the film had mostly non-professional actors and was shot on real locations. Due to funding problems, the film took almost three years to make, and was completed with a loan from the West Bengal Government. When it was finally released in 1955, it became a landmark in Indian and world cinema. It was also criticised for romanticising poverty and tarnishing India's image abroad, but that was mere nitpicking. The film did portray the little joys as well as soul-crushing suffering of the family of an impoverished priest, and at the end, following the death of the daughter Durga (Uma Dasgupta), Apu and his parents pack their pitiful belongings and move to Benaras. This film had music by Ravi Shankar and started Ray's continuing collaboration with his cinematographer Subrata Mitra, editor Dulal Dutta and art director Bansi Chandragupta.
Aparajito (1956):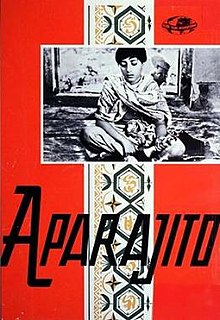 In the second part of the trilogy, Apu (played by Pinaki Sen Gupta and Smaran Ghosal at different ages is shown growing up, first in Benaras, where the family moved, and later, after the father's death, to Kolkata to study. The focus of this part is the bond between Apu and his mother Sarbajaya (Karuna Banerjee), who feels abandoned when he leaves for Kolkata. Apu's visits to the village becomeless frequent and he is not even present when his mother dies. He returns to the city to continue his life alone.
Apur Sansar (1959):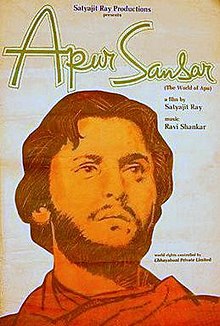 In the last part of the trilogy, Apu is now a grown man, played by Soumitra Chatterjee, with whom Ray formed a lasting working relationship that included 14 films over three decades. It also introduced a young Sharmila Tagore as Apu's wife, Aparna. Emotionally blackmailed into marrying her, when her wedding to another man is unexpectedly called off, she becomes a loving companion for the confused and unhappy Apu. He is left bereft when she dies in childbirth, and blames the son for her death. Apu becomes a reclusive wanderer, leaving the child with Aparna's parents. Eventually, he has to accept his responsibilities and returns to Kolkata with his son to restart his life.
Jalsaghar (1958)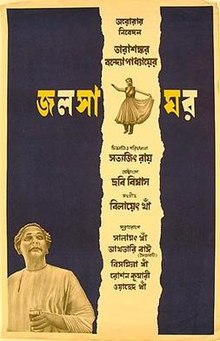 This film was made before the last film of the Apu Trilogy, and is counted as one of Ray's best. Based on a short story by Tarashankar Bandopadhyay and starring the legendary Chhabi Biwas, it was a gentle yet trenchant look at the end of the decadent feudal age in Bengal. A zamindar, Biswambhar Roy (Biswas) is caught up in his own world of music and drama, in his grand concert room, as the system of entitlement and prestige, built over generations crumbles around him. The zamindari system is abolished by the government, the lands are hit by floods, and his power threatened by an ambitious and wealthy parvenu. But Roy is willing to lose everything to retain the decaying glory of his family. Ustad Vilayat Khan composed the classical-based music for the film. Dance and music greats, like Ustad Waheed Khan, Roshan Kumar, Begum Akhtar appeared on screen. 
Devi (1960):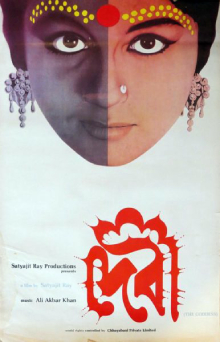 Set in 19th century rural Bengal, this film, based on a story by Provatkumar Mukhopadhyay, is a powerful critique of superstition and regressive religious beliefs. Soumitra Chatteejee and Sharmila Tagore played a young couple—Umaprasad and Dayamoyee — living in a joint family. The patriarch Kalikinkar Choudhury (Chhabi Biswas) is a devotee of Goddess Kali.
Dayamoyee stays back in the village to look after the family, when her husband goes to Kolkata to work in a college. Kalikinkar has a dream, after which he is convinced that his daughter-in-law is an incarnation of Kali. He starts worshipping her and the villagers are convinced of her divinity too when she supposedly saves the life of a child. Umaprasad is summoned by a letter from his rational sister-in-law, and is appalled to see what is going on. He tries to persuade his wife to leave with him for Kolkata, but by this time she is also somewhat convinced of her powers. Imbibing the superstitious beliefs of her father-in-law and the other villagers, she chooses the life of isolation and increasingly loses her grip on reality. It is a prelude to a terrible tragedy. 
Charulata (1964):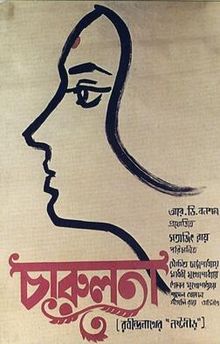 Arguably Ray's best film, certainly the most visually striking and often imitated, Charulata, based on a Rabindranath Tagore story, revolves around Charulata (Madhabi Mukherjee), wife of Bhupati (Sailen Mukherjee), who edits and publishes a political newspaper. The intellectual and politically aware Bhupati has no time for his lonely wife. He does try to alleviate her boredom by inviting her brother and his wife to live with them, but they fail to provide the companionship Charulata craves. Then, Amal (Soumitra Chatterjee), Bhupati's younger cousin, arrives in the midst of a storm. He is not just closer in age to Charulata, but also shares her interest in literature and poetry. Bhupati encourages the friendship because it makes Charulata happy, but she falls in love with Amal. In those times, there could be no outlet for her emotions and the love has to remain unrequited. Bhupati is conned by Charulata's brother and just when he is recovering from this shock, he discovers his wife weeping over Amal, who left suddenly out of guilt, leaving a letter for her. Bhupati is shattered, but the film ends on an open note that could mean either a possible fresh start to the marriage, or an inability to reconnect. Ray captured the turmoil outside the home in those pre-Independence days, as well as the delicacy of suppressed desire.
Goopy Gyne Baghe Byne (1968):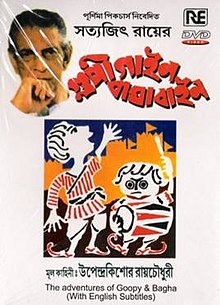 For a change, Ray made a light comedy-musical for children, based on his grandfather Upendrakishore Ray's story. The lead characters in this madcap adventure are Gopinath Gyne aka Goopy (Tapen Chatterjee) and Bagha Byne (Rabi Ghosh), both exiled from their villages, one for singing out of tune and the other for playing the drum badly. They team up and win three boons from Bhooter Raja, the only condition being that they can only benefit if they are together. They land up in the kingdom of Shundi where they are appointed court musicians, go through several ups and downs, manage to avert a battle, unite warring brothers, defeat baddies and win the hands of princesses. The film disappointed a few critics, but was a smash hit at the box-office. Ray made a sequel, Hirak Rajar Deshe in 1980, and his son Sandip Ray directed Goopy Bagha Phire Elo (19920, written by his father.
Aranyer Din Ratri (1969):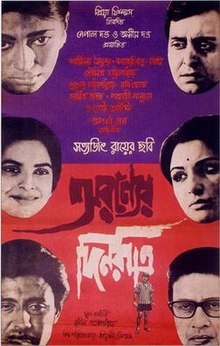 This film, with its star cast, including Ray favourites – Soumitra Chatterjee, Sharmila Tagore, Rabi Ghosh, Aparna Sen– was based on a story by Sunil Gangopadhyay, and is about a group of four friends, who go for an outing to a forest to drink, make merry and leave their worries behind. The people they meet, the conversations they have, the love they find and lose before they finally go back to civilization is the gist of this complex and fascinating look at the lifestyles of callow urban men. Simi Garewal made an appearance as a tribal woman, a role quite a variance with the sophisticated image she cultivated later. Ray made several observations about social mores of the time, the hypocrisy of the so-called modern male, and the quiet dignity of the women. 
Sonar Kella (1974):
In this crime thriller, Ray's creation, the popular fictional detective, Prodosh Chandra Mitter, better known as Feluda, makes an appearance, played by who else but Soumitra Chatterjee. A young boy, Mukul, claims to have memories of his past life that include a golden fortress. Dr. Hemanga Hajra (Sailen Mukherjee), a parapsychologist, takes the boy to Rajasthan, the possible location of his visions. Two criminals, Burman and Bose, plan to kidnap Mukul and fail in their first attempt. The boy's father requests Feluda to protect Mukul. Feluda goes to Rajasthan along with his sidekick Topshe (Siddhartha Chatterjee) and is joined by thriller writer, Jatayu (Santosh Dutta). Burman and Bose manage to kidnap Mukul and push Dr. Hajra off a cliff. Feluda has to expose the frauds and save the boy, which takes him on a wild pursuit over picturesque desert landscapes. Ray made another Feluda film, Joi Baba Felunath in 1979, though the character has appeared in several other films and serials, and played by other actors, including Shashi Kapoor and Sabyasachi Chakrabarty to name just two stars.
Shatranj Ke Khilari (1977):
One of the two non-Bengali films that Ray made—the other being Sadgati—this sumptuous-looking film is based on a short story by Munshi Premchand. Sanjeev Kumar and Saeed Jaffrey played the chess players of the title, whose absorption in their game is so complete that they are oblivious to the turbulence around them. The British, led by General Outram (Richard Attenborough), are waiting to annexe Awadh, ruled by the artistic and indolent Nawab Wajid Ali Shah (Amjad Khan), but the two noblemen neglect their wives (Shabana Azmi, Farida Jalal), ignore the takeover of the kingdom by the East India Company and run off to a small village to continue the game. Premchand satirised the cowardice and apathy of India's aristocracy, that led to a small bunch of Britishers ruling the country for decades. Amitabh Bachchan's voice was used for the narration; incidentally Jaya Bachchan nee Bhaduri made her acting debut with a supporting role in Ray's film Mahanagar (1963).