Narendra Kusnur traces the late singer's early days leading up to her unforgettable performances across genres, which exhibited her extraordinary genius
With superhits like 'Yeh Zindagi Usiki Hai' and 'Mohabbat' Aisi Dhadkan Hai', the 1953 movie Anarkali was yet another landmark in Lata Mangeshkar's early career. The truth is that she may not have got the film at all. Initially, Vasant Prakash was hired to compose the music, and he had assigned Geeta Dutt to sing all songs. Following some differences with the producers, music director C. Ramchandra was brought in his place, and he insisted only Mangeshkar would sing his compositions. The rest, undoubtedly, is history.
She was already a successful playback singer at that time, with hit songs in Barsaat, Mahal, Naujawan, Tarana, Anand Math and Baiju Bawra. But after Barsaat, this was another total Mangeshkar show, as she had seven solo songs, besides the brilliant duet 'Jaag Dard-e-Ishq Jaag' with Hemant Kumar. Looking back at her career, incidents like these add to her legendary status.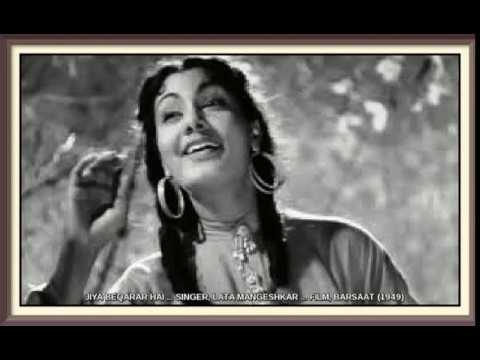 Mangeshkar, who passed away at Mumbai's Breach Candy Hospital on February 6, leaves behind a treasure trove of memories and anecdotes, besides thousands of songs her fans will continue to admire. Following the news of her demise, fans paid tribute across the world, sharing tales of the first time they heard her, and talking of her live shows they attended. Rare gems were forwarded all over Facebook and WhatsApp.
Much has been written about Mangeshkar over the past few days, but it would be in order to recount her early days. She was born on September 28, 1929, in Indore, Madhya Pradesh, to singer-actor Deenanath Mangeshkar and Shevanti (later Shudhamati). In fact, Lata's birth name was Hema, though her father changed it after the character Latika in one of his stage plays.
As a young girl, she took to performing early, acting in Marathi plays from the age of five, besides learning singing. Her father passed away in 1942, when she was 13. Though actor Master Vinayak looked after the family, Mangeshkar herself took care of her siblings Meena, Asha, Usha and Hridaynath, while simultaneously acting and singing. She sang the song 'NaachuYaGade' in the Marathi film KitiHasaal in 1942, and then 'Natali Chaitrachi Navalai' in Pehli Mangalagaur. Her first Hindi song was 'Mata Ek Saboot Ki Duniya Badal De Tu' in the 1943 Marathi film Gajaabhau.
When the family moved to Bombay, she took classical lessons from Ustad Aman Ali Khan of the Bhendi Bazaar gharana. In films, her early music directors included Vasant Desai and Ghulam Haider. She initially followed Noorjehan's style but slowly developed her own. Yet, she faced some criticism, with Sashadhar Mukherjee, producer of the 1948 film Shaheed, dismissing her voice as too thin. Others felt she had a Marathi twang in her accent, making Mangeshkar take Urdu lessons from a teacher named Shafi.
The year 1949 changed her fortunes. In Barsaat, composed by Shankar-Jaikishen, she sang seven solo songs for Nargis and Nimmi, besides two duets with Mukesh. 'Aayega Aanewala' composed by Khemchand Prakash in Mahal, became one of her biggest hits.
The 1950s and 1960s belonged to Mangeshkar, though she faced competition first from Suraiya, Geeta Dutt and Shamshad Begum, and later from her sister Asha Bhosle, besides Suman Kalyanpur. There were also accusations of her monopolising the scene, but those in her favour said she was a favourite among the top music directors, with the exception of O.P. Nayyar, who never worked with her and preferred Dutt and Bhosle.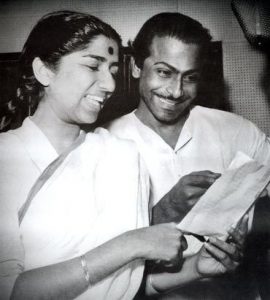 Some of Mangeshkar's most iconic songs were composed by Naushad, Shankar-Jaikishen, S.D. Burman, Madan Mohan, Salil Chowdhury and Hemant Kumar, with Laxmikant-Pyarelal, R.D. Burman and Kalyanji-Anandji taking over from the 1960s onwards. Despite her sheer melody, the advantage of her voice is that it suited almost every heroine. Many memorable solo songs were filmed on the best actresses of the time – examples being 'Tera Jaana' on Nutan in Anari, 'Aaja Re Pardesi' on Vyjayanthimala in Madhumati, 'O Sajna' on Sadhna in Parakh, 'Rasik Balma' on Nargis in Chori Chori, 'Aapki Nazaron Ne Samjha' on Mala Sinha in Anpadh, 'Jhoom Jhoom Dhalti Raat' on Waheeda Rehman in Kohraa, 'Rahein Na Rahein Hum' on Suchitra Sen in Mamta, 'Suno Sajna' on Asha Parekh in Aaye Din Bahaar Ke 'Raina Beeti Jaaye'  on Sharmila Tagore in Amar Prem, 'Mausam Hai Aashiqana' on Meena Kumari in Pakeezah, 'Naya  Zamana  Aayega' on Hema Malini in Naya Zamana and 'Nadiya Kinare' on Jaya Bhaduri in Abhimaan… the list goes on.
Though S D Burman gave Mangeshkar some of her biggest hits, they had differences during the making of the 1958 film Sitaaron Se Aage, and did not work together for four years. She and Mohammed Rafi also disagreed over the issue of royalty payments, but patched up later. In the 1970s, there were allegations that she didn't allow other singers like Vani Jairam, Sulakshana Pandit, Runa Laila and even sister Asha Bhosle to rise. Bhosle has however denied these theories, and in fact credited her Didi for playing a huge role in her own growth.
While Mangeshkar's forte has been her film songs, she did memorable work outside of films too. In 1963, her rendition of Kavi Pradeep's 'Aye Mere Watan Ke Logon', composed by C. Ramchandra, paid tribute to Indian soldiers killed in the 1962 war against China. The song moved the entire nation, even making Prime Minister Jawaharlal Nehru shed a tear.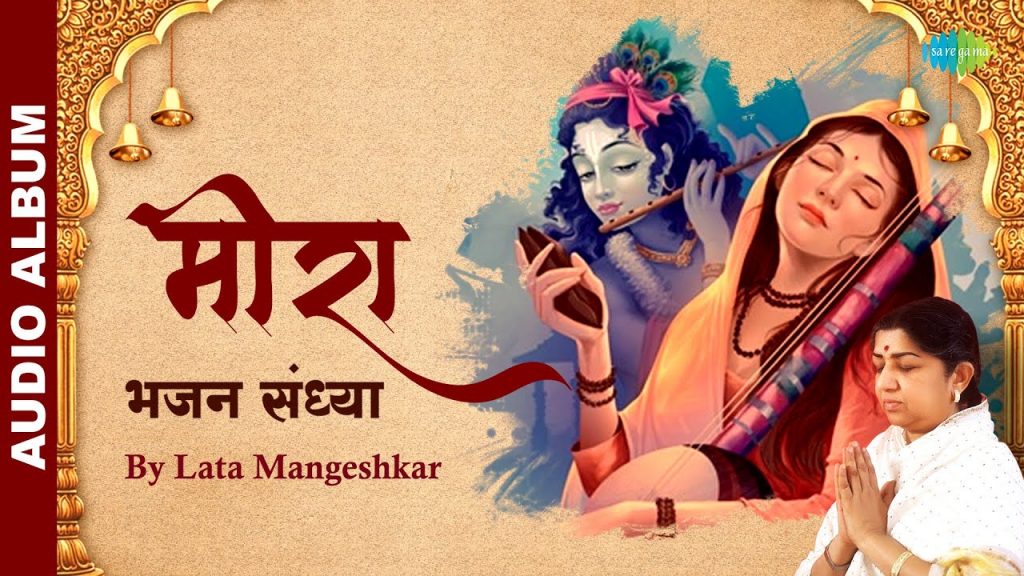 Her recording of Meerabai bhajans, including songs like 'Thane Kanee Kanee Sunawa', 'Saanwra Mhari Preet Nibhajonji', 'Chala Vahi Des', 'Saanvra Rang Rachi' and 'Naina Lobhi Re', have been hugely popular. She has also recorded the poetry of Kabir, Tulsidas and Surdas, besides Marathi abhang poets like Sant Tukaram and Sant Namdev. Her rendition of invocations to Lord Ganesh and other Indian deities are played at festivals and poojas. She even recorded some outstanding ghazals, and her 1991 album Sajda with Jagjit Singh was a landmark. She had numerous regional language songs mainly in Marathi and Bengali.
In the 1980s and 1990s, Mangeshkar cut down her film work though she sang for films made by Yash Chopra (Silsila, Chandni, Darr, Dilwale Dulhania Le Jaayenge, Dil To Pagal Hai) and Sooraj Barjatya (Maine Pyar Kiya, Hum Aapke Hain Koun).Films like Razia Sultan, Masoom, Rudaali, Lekin and Dil Se also gave her huge hits.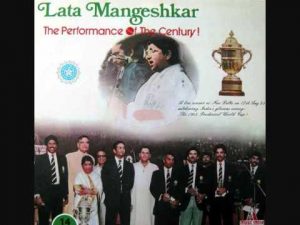 Besides music, the singer also was written about her passion for cricket. Recently, actress Sharmila Tagore announced that Mangeshkar had helped raise Rs 20 lakh for the 1983 Indian cricket team which won the World Cup.Her involvement with the Deenanath Mangeshkar Hospital and Mai Mangeshkar Hospital in Pune has been hailed. However, she courted controversy two decades ago for opposing the Pedder Road flyover which passed by her residence Prabhu Kunj. She and Bhosle even threatened to leave Mumbai if the flyover was built. Eventually, the state government cancelled its plan.
Lata's songs, of course, continued to be heard repeatedly, with people collecting them first on cassette, then on CD and later on playlists compiled online. At old film concerts, younger singers sing many Lata songs. To mark her 90th birthday in 2019, a 12-hour show was held at the Ravindra Natya Mandir, Mumbai. Though Mangeshkar didn't attend, Hridaynath conducted a segment of her Marathi songs, after which young singers paid tribute by singing her Hindi film hits.
Following her demise, Saregama India (HMV) which released numerous songs with her over the decades, has put out many compilations on online streaming platforms, including recordings in Marathi, Bengali, Bhojpuri and Gujarati. Though the live music scene is yet to pick up due to the pandemic, tribute shows are being planned. The songs will continue to be played for years, as Lata Mangeshkar's voice lives on in the hearts of millions.