From being practically written off to wielding the whip hand in the state's leadership tussle, the Maharashtra strongman beats all the odds. Can one decode the enigma? Sujata Anandan gives it a shot
Sharad Pawar defies both age and illness.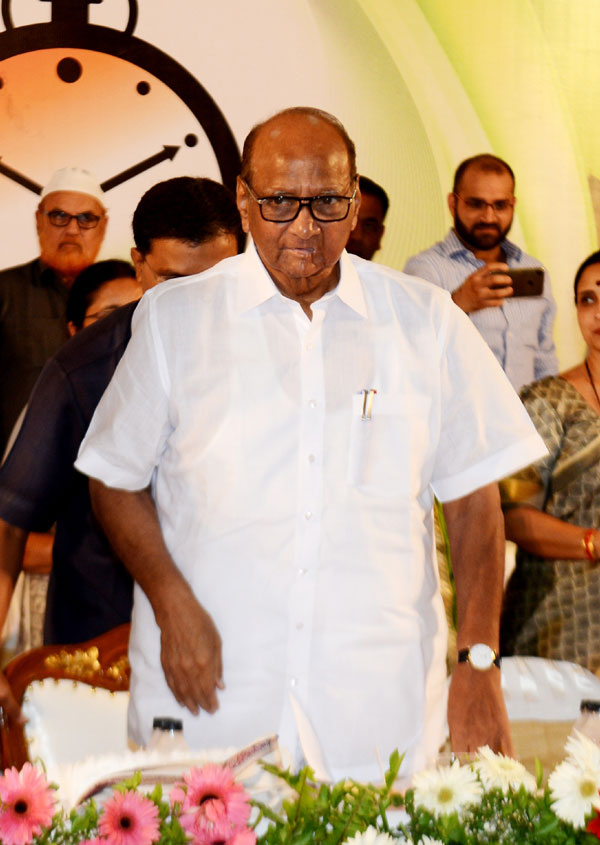 Soon after he was diagnosed with oral cancer more than a decade ago, while he was campaigning in 2004, still under medical treatment, he had himself discharged early from hospital so he could hit the campaign trail.
When I caught up with him in Latur, he told me, pointing a finger at his neck and then at his feet, "From here to here, I am ok. Just fine."
Then he swung his finger from his chin to the top of his head. "But from here to here, sometimes I am in terrible pain."
Yet he would not give up campaigning. He travelled with a doctor in tow who monitored his blood pressure, administered medicines to him from time to time and allowed him on stage with the strict admonition that he could speak for only 20 minutes at a stretch.
Pawar was used to addressing six to eight campaign meetings a day. These were cut down to four at the most. But at every meeting he defied the doctor's orders. Invariably, Pawar would exceed his doctor's warning and caution even as the frustrated medic would frantically signal to Pawar from the front of the dais, point to his wristwatch and hold up his fingers in a countdown to the last minute permitted to Pawar to continue with his speech.
"I have to make my points to the people," he told me when I asked him about why he was pushing the medical limits. "They have been waiting patiently for hours to hear me. I cannot let them down."
Raining surprises
Since then his oral cancer has been contained but he brought the same spirit of defiance to his age when during the October assembly elections this year, he campaigned in Satara in pouring rain, soaked to the skin even while leaders of other political parties either canceled their meetings due to the downpour or had waterproof shamianas erected for themselves.
In 2004, through the pain of his illness, Pawar had forged a fresh alliance with the Congress after splitting from the party in 1999. There was a BJP government ruling at the Centre and neither the Congress nor the NCP expected to win the election. Sonia Gandhi, then the freshly-minted Congress president, was a shy novice and no one had any expectations of her. But Pawar took to the campaign trail like a whirlwind, hoping to turn the farmers' vote towards their alliance and hoping the Congress would retain its traditional voter base among Dalits and minorities. No one was more surprised than the Congress and NCP cadres who sat stunned in jaw-dropping surprise before their television sets as they found their alliance sweep past the ruling coalition. They formed the government that year and stayed in power at the Centre for a decade.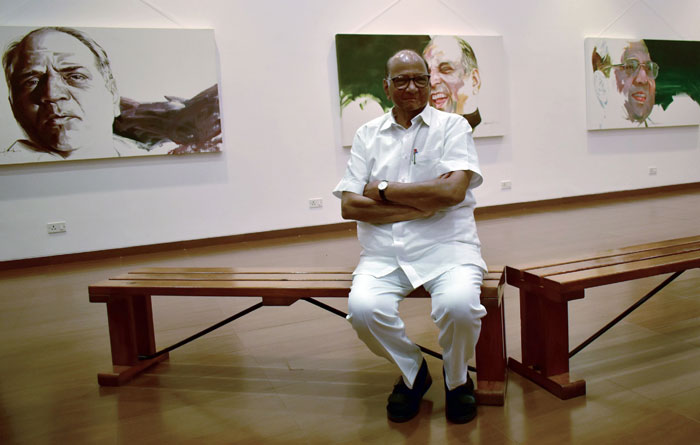 Primary target
The situation in 2019 was no different, though in 2004 the Congress-NCP were fighting from a position of hope and in 2019 they had almost given up in despair. Once again, the only man fighting desperately for both the parties was Sharad Pawar whose party, the Nationalist Congress Party, had virtually been decimated just ahead of the polls by the BJP which had engineered a series of defections of NCP stalwarts and sugar barons who formed the core base of the party. On the other hand, the Congress was like a headless chicken, in a leadership crisis with no one worth his or her name who could be expected to seize the reins and lead the party into the campaign. Sonia Gandhi, herself battling cancer and in semi-retirement, had had to take over as the interim party president after the resignation of her son Rahul Gandhi post the Lok Sabha debacle of the Congress. She was completely dependent on Pawar to help Congress save face by winning at least a handful of seats in the assembly.
It was as one-sided an election as any and the BJP knew it well. Their leaders left the Congress alone for most of the campaign but focussed on Pawar and targetted him relentlessly, knowing he was the last man standing. They had to bring him down one last time to capture Maharashtra, in the same manner, they have done Gujarat, Uttar Pradesh, and a few other states. Former chief minister Devendra Fadnavis, who was not even born when Pawar stepped into electoral politics more than a half-century ago (in 1967 when he first contested the assembly election from Baramati in Pune district) mocked him relentlessly for not just being old but also for having become irrelevant. "Pawar should know the era of his politics is over," Fadnavis said. "We could have taken more men from his party and emptied it completely. But we were already Houseful. They are still waiting to join us. Mee punha yein (I will return (as chief minister))," Fadnavis said in Nashik on the last day of the campaign, yards from where Pawar too was addressing one of his last campaign meetings for the season.
Robust repartee
While he did not take Fadnavis' bait then, Pawar did respond to both critics and friends underlining his age and clicking their tongues at how the "old man" was pushing himself to the extreme during the campaign, some in wonder and appreciation, the others in plain disapproval – the latter attributing motives of a hunger for power to him. "Why can't he just let go?" many of them asked. "What more does he want out of life and politics?"
Pawar, who steps into his 80th year on December 12 this year, shot back to those making repeated references to his age, "I am not 78 years old. I am 78 years young and don't think I cannot take on the best of them."
Indeed, he did. Not just Fadnavis but also Narendra Modi and Amit Shah who too had ridiculed Pawar for being, well, the last man standing in his party. "At the end of the day, there will be only two people left in the Congress and NCP," Shah had said. "Prithviraj Chavan and Sharad Pawar."
Indeed, they were. But Shah should have taken both rather more seriously, for it is Pawar and Chavan now who are jointly responsible for the stunning regime change in Maharashtra – Pawar leading the charge and Chavan taking on his own reluctant party leaders to force Sonia Gandhi to ally with the Shiv Sena or face complete annihilation at the end of five years in Maharashtra.
No secrets
So how does Sharad Pawar really do it? There is both his personal philosophy and political motivation entwined in his second coming at the age of 79. Much as he may have defied his doctors on the campaign trail, Pawar is of the firm belief that one must accept one's illness, seek the best medical help in time, follow the doctor's advice and, most importantly, not be in a state of denial about your affliction or try to hide it from the world. Younger men than him like former chief minister Vilasrao Deshmukh, who died in 2012 of liver cancer, and former deputy chief minister RR Patil who passed away in 2015 of tobacco-related oral cancer, kept their illnesses hidden from others for a very long time and shied away from acknowledging them publicly. Pawar believes they would have lived longer had they done otherwise. Being open about it brings you inputs and advice from others who may have gone through a similar crisis. It also draws more medical information – like the latest in technology or even experts beyond your immediate vicinity – your way.
However, Pawar being his own man might not realize that others might hide illnesses in the fear that they might be considered unfit for their jobs. But that is where Pawar's political capital with his grassroots supporters kicks into his advantage. He has only ever needed the goodwill of his supporters and their votes to keep going. His campaign in the pouring rain in Satara so impressed even his critics that the combined might of Modi, Shah and the 14th direct descendant of Chhatrapati Shivaji Maharaj, Udayanraje Bhosale, former NCP MP who had deserted the party for the BJP, were not enough to secure the latter a victory at the by-election to Satara. A similar response from across Maharashtra resulted in astounding numbers for both the Congress and the NCP, both of which had not expected more than 20-odd seats but got 44 and 54 respectively. That limited the BJP to 105 seats out of 288 whereas they had been expecting to cross the halfway mark all on their own.
Master of the game
The Shiv Sena's resistance to the BJP's determination to reduce their party to playing second fiddle brought Pawar an opportunity to get back in the game, and he seized it with both hands. The finesse, subtlety, and constitutionality with which he defeated his nephew Ajit Pawar's rebellion left the latter with no choice but to return to the NCP after allying with the BJP to become deputy chief minister for 72 hours. It is very likely that Pawar was behind Ajit's rebellion, outwitting the BJP very smoothly. For he knew Modi and Shah would otherwise never revoke President's rule in Maharashtra to facilitate a Shiv Sena-led government in the state. It is also likely that there is a real power struggle in the Pawar family and Ajit is chafing at the bit. Whatever the facts of the case, Pawar is once again in the driving seat in Maharashtra, even if Uddhav Thackeray is the chief minister. Nothing is likely to happen without his consent. He has got back a government, his party and his family. He has now also defied his doomsayers and emerged master of the game.
Never write off Sharad Pawar. He almost always defies the better judgment of all his peers, friends, critics and enemies, and comes up stronger than before. He is the master puppeteer playing even his own fate on the strings.