Rajiv Vijayakar uncovers Dharmendra's innate charm; both onscreen and off – with exclusive excerpts from a recent interview with the actor
A line in the famous song filmed on him, in the 1974 movie Dost, says it all: Chalna hi zindagi hai, chalti hi jaa rahi hai, gaadi bulaa rahi hai, seeti bajaa rahi hai. Life is about moving ahead, just like the train, with a happy whistle on the lips.
Dharmendra has much more to him than an awesome assembly of hits and golden jubilees among over 300 released films. He is the only hero to co-exist as a dependable star in the era of his son Sunny Deol, whom he launched ambitiously in Betaab (1983). Even from the mid-'90s, albeit from economic compulsions (like reportedly playing host to some 40 relatives at any given time, or building a state-of-the-art farm at Khandala, the hill-resort near Mumbai), he played the lead in B-grade films like Lohpurush, Sher Khan and Kalicharan.
His three "comeback" performances in 2007 were as straight from the heart as always and appreciated widely – Life In  A…Metro, Johnny Gaddaar and Apne. Apne completed his dream of working in a subject tailor-made for the three Deols – Sunny and younger son Bobby (whom he had launched equally ambitiously in Barsaat in 1995), and now, he will work with grandson Karan Deol as well, in Apne 2.
Check out also the many heroines he has had in common with Sunny – Dimple Kapadia, Sridevi, Jaya Prada, Amrita Singh, Poonam Dhillon and Farha. But the really remarkable part was that the original Jat serenaded some of them on celluloid actually after his son had done so!
And yet Garam Dharam (as he was known for his unique combination of brawn, sexuality, innocent charm and box-office allure) rose to these heights only after a tenacious struggle.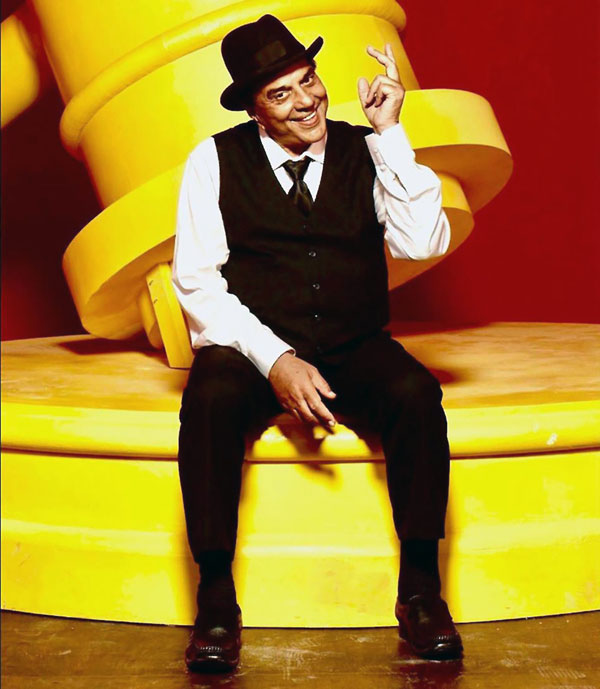 One memory that never fades is his long walk from distant Versova to Mumbai's suburban Andheri station and the subsequent 25 kilometer train-ride to downtown Charni Road for the premiere of his first film, Dil Bhi Tera Hum Bhi Tere (1960)—only to find no one recognized him at his own first film's premiere show at Central cinema!
The Adonis of Hindi cinema kept moving forward, however, doing mostly parallel roles in shows dominated by senior heroes (Kaajal, Ayee Milan Ki Bela, Bandini et al). During the making of Kaajal, he caught the attention of Meena Kumari. The grapevine linked them, and among the films that Meena signed with this rugged newcomer, Phool Aur Patthar earned him instant stardom as the toughie with the rippling muscles and a soft heart.
But even as he unwittingly catered to female fantasies, the actor's shy, gentlemanly warmth blended seamlessly in both his reel and real personae and thus stimulated maternal, paternal and even fraternal instincts in his audience!
Dharmendra joined Asha Parekh and Sharmila Tagore for many hits and then found his reel- and real-life dream girl in Hema Malini, marrying her in 1980. He remained faithfully wedded to first wife (and mother of his four children, including daughters Ajeeta and Vijayta), Prakash, whom he had married at 19 in hometown Punjab. In those days, he would work for an American drilling company even as he dreamt of stardom and walked miles to watch films, especially those of his idols Dev Anand, Raj Kapoor and Dilip Kumar.
With Hema Malini, Dharmendra did a record 27 films – with 11 consecutive hits from Sharafat (1970) to Charas (1976). Ten other films had either or both together in special appearances, and their off-screen relationship apart, they were so obviously tailored for each other that their chemistry on screen is as yet unmatched.
If there was anything wanting in all this spectacular saga of sustained and superlative success, it was the fact that Dharmendra's natural mode of acting did not garner him sufficient critical appreciation in the environs of Indian cinema, which equated theatrics, mannerisms and over-the-top melodrama with great acting.
Dharmendra did get a limited acknowledgement of his talent in films like Devar, Anupama, Satyakam or Dost and showed his inimitable flair for comedy (the most difficult facet of acting) in films as varied as Seeta Aur Geeta, Pratiggya, Chupke Chupke, Sholay and Ghazab. As he put it once, "All I got was Lifetime Achievement awards. But I will continue working! Films are my life!"
The industry that adored him as a person, needed him as a star, ironically never honoured him for what he always was and still remains – an actor par excellence.
Anurag Basu, Sriram Raghavan and now Karan Johar down, the cream of his filmmakers also included Bimal Roy, Raj Khosla, B.R. and Yash Chopra, Manmohan Desai, Prakash Mehra, Ramesh Sippy, Vijay and Chetan Anand, Satyen Bose, Nasir Husain and others. He had a special rapport with Pramod Chakravorty, Dulal Guha and mentor Arjun Hingorani, to whom, unlike many a mega-star, he remains emotionally attached and grateful in word and deed, a fact acknowledged with immense affection by the late filmmaker.
He was similarly never known to have any problems with a male co-star list that included almost major star in the country from Ashok Kumar to Salman Khan and Govinda (both of whom idolise him) and Neil Nitin Mukesh. Or with his formidable list of female co-stars led by Meena Kumari, Suchitra Sen and Jayalalitha to Sridevi and beyond.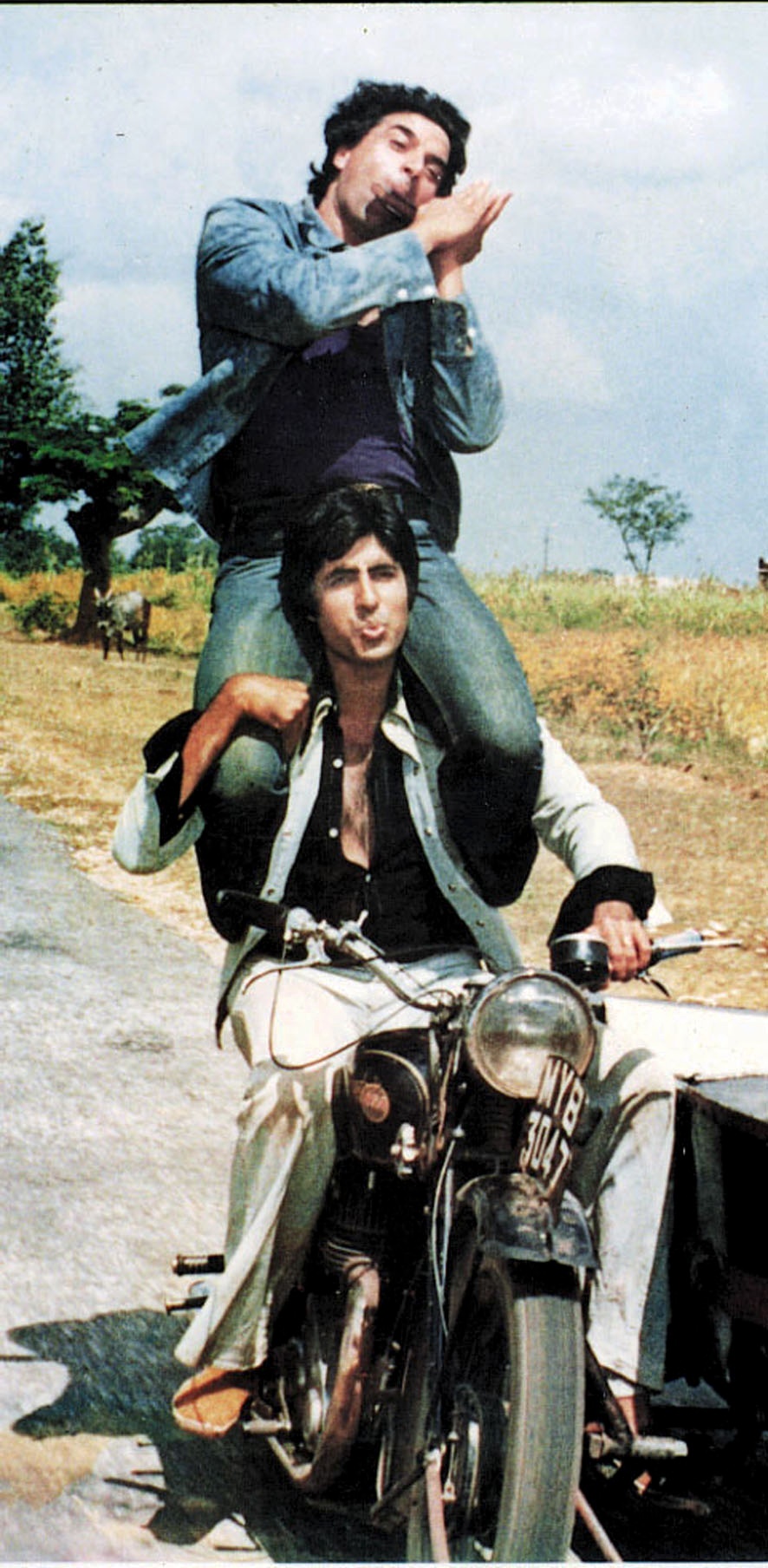 Here's a relaxed chat with the actor, who remains unchanged as a human being from the time he arrived from Punjab to take part in the Filmfare-United Producers' Talent Contest.
Excerpts from an interview:
Q: You have completed 61 years in cinema. What is the feeling like?
A: If one takes care of one's mind and body with good thoughts and keeps a clean heart, then it is nothing extraordinary. God teaches only good things, and if you follow that, he showers blessings. I was very lucky as my parents are responsible for what I became, and instilled values in me that I still follow.
Q: Asha Parekh told me a few years ago that Sahnewal and its simplicity never left you even after decades in showbiz, and that you are still the young boy who came to Mumbai from there.
A: Yeh sab mere mitti ki den hai (I am shaped by the soil of my village). I still believe in giving love. Even I cannot change my nature, and whatever my parents and my soil have taught me!
Q: You have just signed your first outside film in 15 years—Rocky Aur Rani Ki Prem Kahani. 
A: Yes, it's a beautiful role. But I cannot speak much about it.
Q: Yes, that is one of the ways the Hindi cinema ethos has changed in the last decade. But whatever you can share will be welcome, especially as there are two heroines opposite you—Jaya Bachchan and Shabana Azmi. Which also shows that even at this age, romance can never be separated from you!
A (Laughs): Yes, Karan Johar has written a very interesting role for me. I play a very lovable guy.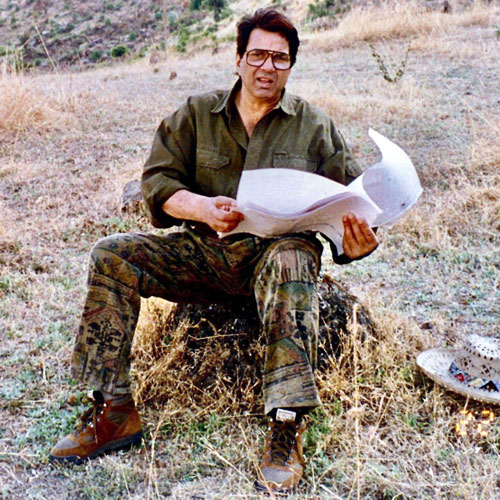 Q: Buzz is that Jaya Bachchan has a gray role in the film.
A: I wouldn't call it gray. She plays a practical woman named Dhanlaxmi.
Q: You are working for the first time with Ranveer Singh and Alia Bhatt, besides Karan Johar as director. How was it working with the younger lot?
A: From the beginning of my career, my behaviour with everyone from a spot-boy to the director has been the same. When you give love, you receive love too. Karan has been very affectionate and Alia Bhatt, I am told, said something lovely about me in an interview. As for Ranveer Singh, he is growing by the film into a very versatile artiste and is so respectful yet a lot of fun.
You see, they are all good human beings. Stardom is about luck, and if you are a good human being but zero as a star, people will still love you and want to work with you. The religion should be humility. But these three are good people as well as artistes.
Q: On the other hand, there are two heroines who have worked with you before, Jaya beginning with her debut film Guddi (1971) followed by Samadhi (1972), then also in Phagun (1973), Chupke Chupke (1975) and Sholay (1975,  and Shabana Azmi in Mardon Wali Baat (1988) besides Khatron Ke Khiladi (1977).
A: Jaya has been my fan always! With both Shabana and Jaya, though we may not meet every now and then, it is as if time has stopped in-between when we do. We took off in this film as if there was no gap of 33 years with Shabana and 45 years since I last worked with Jaya.
Q: You are also doing Apne 2, which was delayed thanks to the pandemic upsetting your foreign schedules. 
A: Well, they are also working on the script. Besides Sunny and Bobby, my grandson Karan Deol is also in the cast. We have trainers from abroad for him.
Q: It's a great phase for the Deols, where two generations are simultaneously going places: Sunny is also doing Gadar 2 and R. Balki's next, and Bobby is doing Animal, Abbas-Mustan's digital film Penthouse and the next part of his smash-hit on the web, Aashram. Even Esha is doing Ajay Devgn's debut on the web, Rudra: The Edge of Darkness.
A: You have seen how the industry works. There are waves that come and go. There are film stars who reach the sky, come down and disappear. In such a world, it is great that we all have lasted through ups and downs. I have written some lines on this:
Yahin kabhi koi kuch bhi nahin hota
Aur kabhi koi jaisa koi nahin hota
It's an old rule in the industry, in which sometimes anyone can become big for a while. As for me, for 61 years, I have been in love with the camera, and the camera too loves me!
Q: You recently posted a video on Twitter, lip-synching to your timeless hit "Chhalkaye jaam" from Mere Humdum Mere Dost. Though never considered a musical star, you had more hit songs than some of such actors.
A: You loved that, right? Yes, everyone did their best for me. I would credit Mohammed Rafi-saab the most. I always remember him. He used to go deep into my character in a film and in the bhavna (mood) of the song. If he sang "Main jat yamla pagla deewana" for me in my film Pratiggya, he also sang the exceptional Punjabi folk-based "Uth neend se Mirzya jaag jaa" for me in it.
But every singer sang lovely songs for me, whether it was Mukesh, Kishore Kumar, Hemant Kumar or others. Laxmikant-Pyarelal gave me the maximum hits, and I had a family relationship with them both, and I would love going to Laxmikant's house and opening a bottle at his bar! Every composer did his best for me. The same went for the lyricists. Anand Bakshi, who wrote the maximum songs of mine, actually addressed me as "King". The songs they all made keep echoing even today. Everyone loves them!
Q: How do you look back at life?
A: I look back with pleasure and happiness. My life has always been an open book, not a closed one! Every page, every line is there for all to read. Life can be separated into personal and professional, but I always say that it is a beautiful struggle that you have to battle until you live. God is with me, and I think that my neki (innate goodness) and karam (deeds) have helped me a lot.
Q: For someone not ranked among the best actors, you have done a mind-boggling variety of roles. How do you define acting?
A: When people would praise for "underplaying a role," I would smile to myself because I did not know what that meant! I would just get into my character, whether in Pratiggya, Bandini or any other film. I always say that I do not know what is acting, but for me it is always about reacting to a situation and a co-actor.
The Dharmendra Top Ten 
Anupama (1966)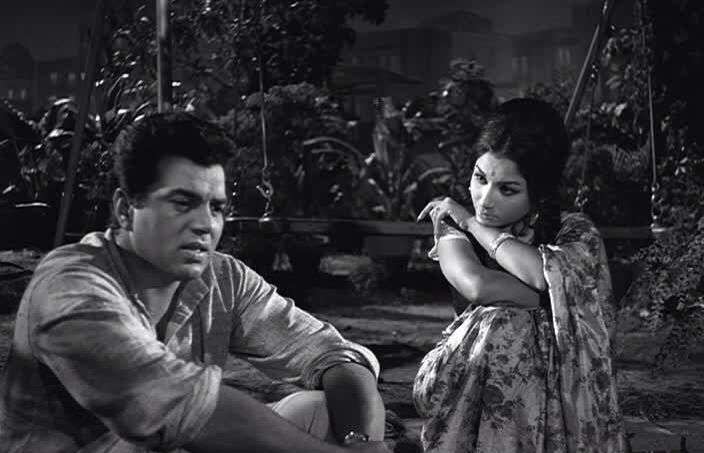 The film showed his acting prowess when the role was far from author-backed.  He was low-profile, gentle, yet impactful, as seen in the song 'Ya dil ki suno'.
2. Apne (2007)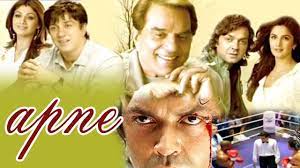 His mature underplaying of the father and lead protagonist in this sports film was easily the most accomplished male performance of both that year and among the best in his career.
3. Chupke Chupke (1975)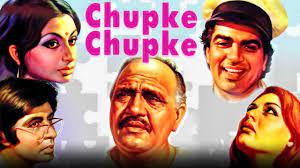 His performance was even considered superior to Uttam Kumar's in the film's Bengali original, and remains by leagues his best comic essay. 
4. Dharam-Veer (1977)
Machismo beyond the ordinary definition of the term was what we saw in this blockbuster. As someone said, 'Who else could have carried off a tough man in skirts?'
5. Ghazab (1982)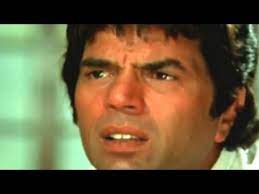 Among his most difficult (and double) roles, his humorous ghost (who was initially a backward twin) and the normal leading man were fantastic contrasts, especially as they had so many sequences 'together'.
6. Guddi (1971)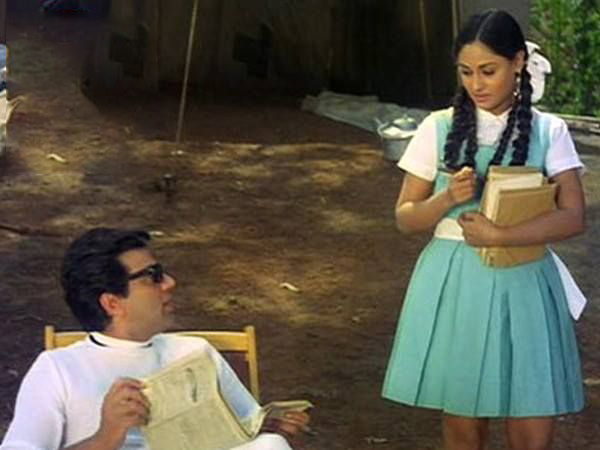 Dharmendra played himself, a star who disillusions a fan girl by showing her that film heroes were cardboard characters. The film was inspired by a real story—of a filmmaker's daughter who was actually Dharmendra's crazy fan!
7. Jeevan Mrityu (1970)
From a middle-class banker wronged by three villains who becomes an intense Sardar who avenges the injustice done to him, Dharmendra carried this brilliant super-hit on his broad shoulders.
8. Phool Aur Patthar (1966)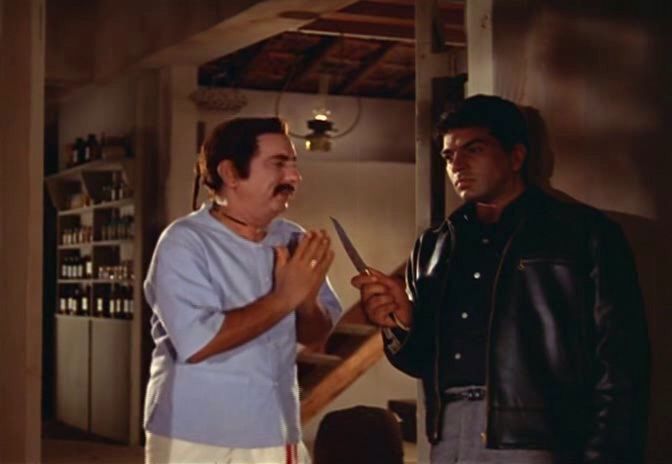 Dharmendra's true-blue breakthrough as a star despite hits and successes earlier: the virile young man who was chivalry personified to a frail young woman turned him instantly into Hindi cinema's first He-Man and sex symbol.
9. Satyakam (1970)
As an idealist to the core who suffers yet never gives up, Dharmendra put in one of his finest nuanced performances in a film that Hrishikesh Mukherjee always called his career-best.
10. Sholay (1975)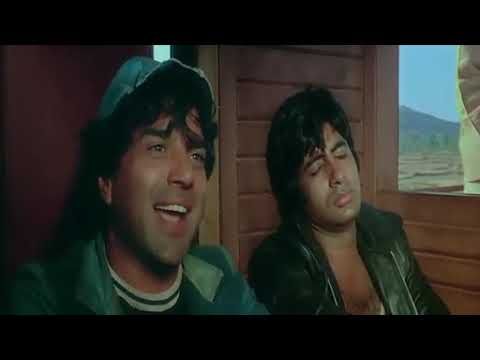 Comedy and action blended so well in this all-time hit, with a superb male bonding with Amitabh Bachchan and an unforgettable romantic chemistry with Hema Malini.