Reading Time: 6 minutes
Navya Ahluwalia, 64, a retired finance and legal professional from the corporate world, residing in midtown Mumbai, simple and spiritual in living and grace and generosity in giving, has been visiting the Siddhivinayak Temple and Akkalkot Swami Samarth Temple in Dadar regularly over the past few months fervently praying for divine help in recovering Rs. 44,501 that she had been defrauded out of. She and her husband, Vijay, have been managing their sunset lives with her barely-there pension income, while continuing to be munificent in their responses to appeals for help from all and sundry. Her two sons had long back moved out to lead their independent lives and Navya and Vijay had got used to the empty-home syndrome, living on their own in the comforts of their 3 decade old apartment.  Grey and wise they were, but as gullible and susceptible to thefts and cyber frauds as many are in today's tech enabled world with all its potentials and disasters.
It had so happened that Navya and Vijay were dining out with their family to celebrate their wedding anniversary a few months ago. Along the way, Navya had received a mail from a friend, SKM acronymically speaking, a well-known independent director, as she was, seeking some urgent help because he was not able to access his account. While Navya did see it as a surprise request from a well-heeled person, given her never-say-no keenness and attitude to help, at the spur of the moment, transferred Rs. 26,930 from her bank account with a highly regarded private bank, say HDFB, to the indicated account of the recipient named SM, mentioned by SKM, in another reputed private bank branch, say IIB, based in Delhi. She received an acknowledgement from SKM with profuse gratitude and a few minutes later received another mail from SKM seeking Rs. 17,571 to be transferred to the same account. In a continued verve of blindside, she transferred that amount too. Immediately after that, she realised that something was amiss and sent a WA message to her friend SKM to check the veracity, who confirmed her worst fears that it was not he and that she had been scammed. Apparently, his mail had been hacked into a year ago and his best efforts with the police could not help him with anything tangible.
A distraught Navya had reached out to her friend, a senior functionary at IIB, debriefed him with a request to have the fraudulent account blocked, who in turn promised to have it looked into through his banks' cyber fraud cell , while cautioning that fraudsters normally empty out the account immediately. She also lodged a complaint with her own bank, HDFB, who took down her complaint and assured to do what is possible. She also rang up 1930, a cyber-fraud cell set up by GoI, and after several attempts got through finally at noon and reported the details of the fraudulent transactions. The lady on the phone was exceptionally patient and took down all the details and simultaneously logged in the complaint on the portal. As she was speaking to her, Navya got a message on her mobile phone confirming the lodgement of her complaint. That was a super-efficient government system at its best and it was reassuring indeed to Navya.
Navya, as a practical person, had taken all the necessary post-fraud steps in an attempt to recover her hard earned money. At the same time, given her spiritual orientation, she had also kept her faith in the cosmos and made the rounds of the temples and prayed for divine intervention. Her belief was that she had led a straight and honest life and hence should not be subject to any fraudulent extractions from her savings. It had happened to her once in the past too and had lost significant monies to a con man, but she could not do much about it or recover it. But she was compensated for her loss through some windfall gains in the stock market. It vindicated her belief that what goes around comes around. She was quite sure that the con man too would get his just deserts someday soon for having cheated her.
Navya had to bear the brunt of the barbs of her two computer science techie sons for being so gullible and naïve and becoming a victim a second time around. She also got a lecture on the mad bad world out there and was chided for being so trusting when the modern world is anything but that. She had no response except to agree sheepishly that she would be careful in the future. Vijay was bewildered, but thankful that he stays miles away from tech and gizmos. It was all simple for him, knowing fully well that Navya is there to help him for app shopping or app rides or app banking or app whatever. Of course, Vijay was nevertheless a know-all and had a penchant for rubbing Navya the wrong way at the most inappropriate moments and getting her back up. A great armchair critic in Vijay, if ever there was one. C'est la vie!
Navya continued with her life as usual, rueing her gullibility and consequent loss, while maintaining a follow up with the banks and the cybercrime cell to recover her Rs. 44,501. It has been months now and she was losing her hopes. She continued to do her rounds of the temples driven by an abiding faith. More than the amount, she was annoyed by the fact that she had fallen prey to a fraud in spite of her corporate experience of decades and never having allowed a fraud or finagling in her own company by putting in place water tight control mechanisms.
Navya was quaffing her morning coffee one day when Vijay pointed out a newspaper report to her. It mentioned the name of one SKM and another SM having been raided by the Delhi police and discovering a stash of cash running into millions. The report talked about them being involved in cyber frauds over the last two years, having cheated several people. The government's cyber fraud cell team has been quietly investigating the cyber complaints behind the scenes and keeping a watch on several suspects. As she was reading a report, something rang a bell. The names were similar to the one in the spam mail that she had fallen victim to. Navya's face lit up with a smile and she immediately got in touch with the Delhi police to lodge her claim for Rs. 44,501 with all supporting documents. The Delhi police got in touch with her soon after in the next few days, having done their due diligence, and confirmed to her that her money will be transferred to her bank account that was available with the cyber fraud cell, once the court indicts the scamsters and clears the claims made by different victims.
Navya was delighted to hear this and was looking forward to the missive from the Delhi police and the bank's SMS alert for the credit of her Rs. 44,501. Her doorbell rang and she ran to it.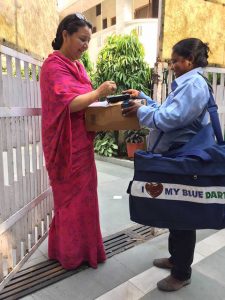 It was not the letter from the Delhi police that she was expecting, but a courier from Blue Dart carrying a sealed envelope from some unknown lawyer from her hometown of Mysuru. She opened the envelope to find a letter and a pay order in her name. The lawyer was the executrix of the will of her distant and octogenarian unmarried aunt, whom she had been sporadically in touch with and visiting. Her aunt had passed some months ago and her lawyer had diligently executed the will by taking stock of her estate and distributing it amongst the various heirs listed in the will. Navya was one of them. Her share of her aunt's estate was Rs. 4, 45,001 and the lawyer's envelope carried a banker's cheque for that amount.
Navya was flabbergasted and stunned. Not only was she getting back the money that she was defrauded out of, thanks to the efficiency of the police, she was also getting an unexpected legacy ten times over. A joyous  Navya, in line with her generous nature and a supportive Vijay, did not think twice before donating the legacy of Rs. 4,45,001 to a reputed charitable organisation looking after the destitute and the deserted. After all, Navya never wanted anything more than her need. She was just happy that she got back her hard earned Rs. 44,501. Frauds never pay, but faith always pays.