Raj Kapoor's debut production was an ode to passion and beauty, showcasing tropes that recurred in future films, writes Deepa Gahlot

.
Aag (1948)
December 14 marks the birth anniversary of Raj Kapoor, one of India's biggest stars and filmmakers. Born in 1924 to Prithviraj and Ramsarni Kapoor, he grew up surrounded by theatre, cinema and art. Today, there is a bitter debate over nepotism, but Raj Kapoor did not get stardom handed to him on a platter; he had to work his way up the studio floor. At the age of 24, he decided that just acting in the movies of other directors was not altogether satisfying, so he set up his RK Films banner, produced, directed and starred in Aag (1948).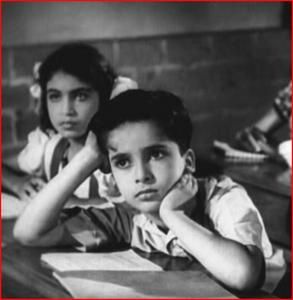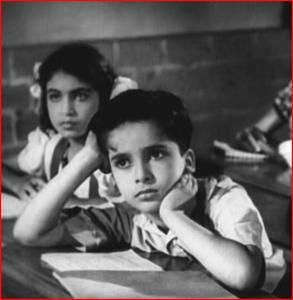 The partly autobiographical film (scripted by Inder Raj Anand) was tragic and grim, set in the world of theatre, that he was familiar with, since his father ran the legendary repertory Prithvi Theatres. It was a rumination on creativity, friendship, love, passion and beauty, with a few tropes that recur in his future films. Right at the start, he also displayed his understanding of music and flair for song picturisation. 
Aag opens with a bride screaming at the sight of her groom, who has a face disfigured by burns. The man then tells her his story and goes into flashback. Young Kewal (a very cute Shashi Kapoor playing Raj Kapoor as a child) is obsessed with his classmate Nirmala or Nimmi, and the theatre. His lawyer father (Kamal Kapoor) is not too encouraging of his dream of setting up a theatre company, and forces him to study law.
He is separated from Nimmi when her family moves away on the day when he was to premiere his school play starring her. In law college he meets another Nirmala (Kamini Kaushal), whom he calls Nimmi in memory of his childhood sweetheart. When he plans to stage a play with her, her family decides to get her married to a more suitable man.
He fails his exams and after a row with his father (Kamal Kapoor), leaves home to pursue his theatre dream. He meets Rajan (Premnath) a painter and patron of the arts, who owns a defunct theatre company. Rajan agrees to back the play with Kewal as writer and director. He discovers a nameless, homeless (the shadow of the Partition reaches popular cinema) woman (Nargis), whom he names Nimmi and casts as the lead in his play. Unfortunately both men fall in love with this Nimmi, who loves Kewal.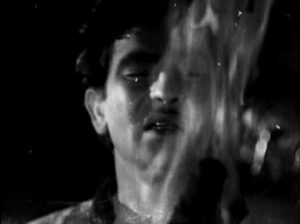 To repay his debt to Rajan he tries to persuade Nimmi to marry Rajan. He then burns his face with a flaming torch. The stage catches fire, theatre is burnt to the ground and Kewal is disfigured. Nimmi is repulsed by his face now and accepts Rajan's proposal. Kewal believes that only the real Nimmi would understand and accept him.
The story returns to the present, when it turns out that the bride (Nigar Sultana) is the original Nimmi. She accepts him for his inner beauty and they decide to start a theatre company together.
The debut-making director got good if not brilliant performances from his actors and the film had exquisite music composed by Ram Ganguly, with wonderful songs like Dekh Chand Ki Ore, Dil Toot Gaya, Kahe Koyal Shor Machaye Re, Zinda Hoon Is Tarah.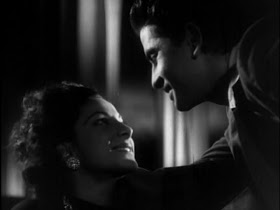 This film was tough to sell to distributors, and not a box-office success, but it was a test tube for Raj Kapoor to learn his craft on the job, and he was ready to please his audience with the RK-stamped films that followed. Even the flop Mera Naam Joker, that nearly wrecked him financially, is now praised for its artistic merit.
Seen today, Aag seems melodramatic and self-indulgent; still, it had all the hallmarks of a nascent artiste, who hit the popular entertainer stride with his next film, Barsaat (1949), the success of which allowed him to set up RK Studios (in the east Mumbai suburb of Chembur) and also gave him the frame that inspired the memorable RK logo.