Herbs are the tiny but a power–packed force behind every Indian meal. Not only are they teeming with health benefits, but they also have a myriad of uses at home. We explore Giloy (Guduchi)
The solutions to our current health crisis more likely to be found our homes and in relying on home food as most nutritious and healing. Herbs are the tiny but power – packed force behind every Indian meal. Not only are they teeming with health benefits, but they also have a myriad of uses at home.
Cultivating mini veggie and herb patches or a garden if your space permits it, have become the thing to do. If haven't plucked up the courage or given it a thought, the good news is that not only is growing a herbs garden relatively easy, additionally, they have proved to be a great support in your everyday requirements.
From cooking and eating to using them in a tisane (infusing the leaves in boiling water), or as an oil, these herbs are a true boon to have around the house.
Plants and herbs are an integral part of Ayurveda and Aromatherapy, Unani and other natural and alternative medicine treatments; and are used to treat many illnesses, diseases, weight management and pain relief and skin care.
Our fifth herb is Guduchi or Giloy: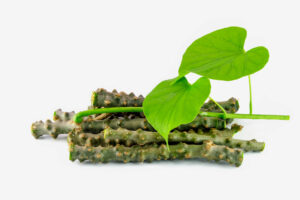 Guduchi, Giloy
Giloy or Guduchi – (Tinospora cordifolia), termed as the root of Ayurvedic immortality has been used for centuries in Ayurvedic medicine.  Ayurveda considers Guduchi (Giloy) to be one of the three Amrit plants.  (Amrit means nectar of Gods, such are the qualities of this climber plant that in Sanskrit it is named as "Amritavalli").
Guduchi is well- documented in Ayurvedic literature. Scientific studies also evaluate and confirm the insight beneficial properties of this medicinal herb like Immunomodulatory, Hepatoprotective, Cardioprotective, Antiinflammatory, Antioxidant, Analgesic effects – which confirm the ayurvedic view of Guduchi as a Rasayana (rejuvenator) and an immunity booster.
A Health Rejuvenator, this medicinal herb is a health rejuvenator which is also widely known for its effectivity in enhancing natural immunity to fight against a number of illnesses such as fever, jaundice, skin diseases, constipation and tuberculosis. Diabetes, Arthritis, Dengue, Chikungunya, Indigestion, increase platelet count.
Giloy is an excellent adaptogenic herb, which means that it helps in managing stress and anxiety by normalizing your physiological functions.
It has a calming effect on the body.
Due to its ability to cross the blood brain barrier, Guduchi has the power to enhance memory and cognitive functions.
Guduchi has the ability to detoxify your liver and help in proper functioning. It might also act as a remedy for fatty liver. One of the biggest benefits of Guduchi is that it can help stimulate the regeneration of liver tissue that has been damaged.
Giloy combats respiratory problems – chewing on Giloy roots can help asthma patients relieve breathing problems.
It also maintains healthy heart conditions
Guduchi is known to provide relief while dealing with inflammatory conditions such as gout and arthritis. Clinical evaluations have shown to significantly reduce pain in patients with rheumatoid arthritis.
Giloy works as a detoxifier and improves complexion and lustre of the skin. People suffering from skin ailments often apply the Guduchi plant oil on the affected areas. It is also popular as a skin lotion boosting skin complexion and enhancing the general health of the skin. It is very beneficial in reducing pigmentation and slowing down skin ageing.
Make a tisane – Take two to three leaves of Giloy, crush them, and add boiling water. Steep for 3- 4 minutes. Strain in a cup. Drink this once a day.
Giloy powder also will help boost immunity and memory power and improve skin tone.
Giloy can also be consumed as a juice or applied topically as a paste for skin problems.
How to Grow it
Giloy is quite simple and easy to grow at one's home. In fact, it's as eay as growing a Money plant. If you can't buy the seeds, then a fresh stem can be snipped (cut at an angle), from the mother plant of a healthy foliage. Any soil works well with Giloy as does putting them in water (like a money plant), and voilà you have a growing Giloy!
Giloy is versatile with weather conditions. Once the leaves fall off and the stems are semi-dry pale shade of green, they are ready to be harvested.
The stems are further dried and are used for a variety of medicinal purposes.
Please be sure to consult your doctor before embarking on any herb as a remedy. There are limitations to the way you can use natural therapies especially if on medication.
Next time, we will cover the benefits and uses of these 5 herbs' oils.  Till then, good luck with your garden of goodness!