Inspired by the Greek dip – Tzatziki, which is made simply with yogurt, drained cucumber, olive oil, fresh herbs (usually mint or dill), garlic, lemon juice and salt.
This recipe can be tweaked to suit your taste and requirements. Use it as a refreshing chilled salad dressing, dip or spread. Choose the herbs and veggies that are in your fridge or those that you like eating.
I love it as its versatile.  You can make it runny consistency for a dressing and thicker to use as a dip.
Ingredients
¼ bunch sweet basil
½ bunch coriander (you can substitute dill (sua) with coriander
A few mint leaves (to your taste)
1 cup Greek yogurt (use regular yogurt if you can't get Greek)
50 gms fresh cottage cheese or paneer * (mash coarsely with the back of a fork)
2 green (spring) onions (sliced)
½ carrot (very finely chopped) – optional
½ cucumber (very finely chopped) – optional
2 green chillies
2 jalapenos (seeded and diced)
Salt and Pepper- to taste
*If using as a dip you need this ingredient (paneer/ cottage cheese), as it lends a thicker dip-like consistency
Method
Place all ingredients in food processor or blender (except paneer/ cottage cheese), and process until desired texture is reached. Season with salt and pepper, to taste.
Or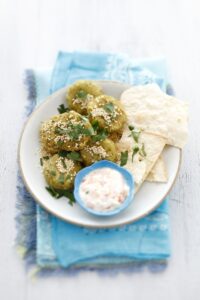 Finely chop all ingredients and mix well with Greek yogurt
It's a perfect accompaniment with wafers, French fries, kebabs, falafels and a variety of snacks.
You can also serve it on slated biscuits or toasty focaccia bread.
Now that you've got the gist of using your herbs, here's an easy recipe that you can whip up with your herb garden.