Mushrooms are a great source of Vitamin D
Vitamin D is an essential vitamin that boosts the immune system and plays vital roles in metabolism. It helps build and maintain strong bones by helping the body absorb calcium.
Vitamin D is obtained through sunlight hence it is also referred as the sunshine vitamin. Other sources are supplements and very few foods naturally containing Vitamin D. Mushroom is one such food item that naturally contains Vitamin D and can effectively increase it levels in the body.
Mushrooms are edible fungus that can provide several important nutrients.They are low in calories and are a great source of fiber and protein – excellent for plant based diet. They also provide many essential nutrients such as – Vitamin D, selenium, copper, potassium and Vitamin B. It can prevent and treat many diseases and boost overall health.
Types of Edible Mushrooms
Button Mushrooms
Chanterelle Mushrooms
Cremini Mushrooms
Shiitake Mushrooms
Oyster Mushrooms
Enoki
Portabello Mushrooms
Porcini Mushrooms
Morel Mushrooms
Clamshell Mushrooms
Hedgehog Mushrooms
Lobster Mushrooms
King Trumpet Mushrooms
Maitake Mushrooms
Trumpet Mushroom
In particular, white button mushrooms are one of the few non-animal sources of Vitamin D. When they are grown, whether indoor or outdoor, they are exposed to UV light which increases their concentration of Vitamin D.
Mushrooms are the only plant source of Vitamin D. It contains the provitamin ergosterol. Once mushrooms are exposed to UV light source this causes a chemical reaction that results in the mushrooms producing Vitamin D2. Vitamin D2 helps raise blood levels of Vitamin D. These vitamins are not destroyed by cooking and are easily absorbed by the body.
Always eat the stem of the mushroom to get the full dose and avoid throwing away vitamins. The stem can be removed then stored in the fridge for a few days.
Ifyou can't find Vitamin D mushrooms or they aren't available in the market you can make your own Vitamin D mushrooms.
Place them on a windowsill for just 1-2 hours and place them 'bottoms up' so that the underside of the caps is exposed. This is the area most sensitive to light.
Here is a recipe you must give it a try to boost Vitamin D levels.
Rich Mushroom Soup
Yields two servings
Ingredients
250 gms – Button mushrooms chopped (homemade Vitamin D mushrooms)
2 tbsp – Unsalted butter
One Indian bay leaf
1 medium sized onion finely chopped
2-3 garlic clove minced
1 tbsp of wheat flour
1 tsp of freshly grounded black pepper
1 cup of water/ vegetable stock/ mushroom stock/ chicken stock
1 cup of milk
5 tbsp of low fat cream
Salt to taste
Preparation
 Step 1 – Place a heavy sauce pan on a low medium flame and add butter. When the butter is melted add the bay leaf. Sauté till fragrant for about 2-3 seconds. (Make sure you don't burn the butter)
Step 2 – Add the finely chopped onion and minced garlic to it. Sauté till the onions become translucent.
Step 3 – To that add the chopped mushrooms. Mix them well until the mushrooms begin to release water. Continue till the water dries up. Then add the wheat flour and mix it.
Step 4 – Sauté on a low flame till the raw aroma of the flour goes away. Then add freshly grounded black pepper.
Step 5 – Add water/stock to the mixture. Stir and mix well.
Step 6 – Then add one cup of room temperature milk and add salt to taste.
Step 7 – On a low-medium flame let it mushroom soup simmer until it begins to froth and bubble. Stir it at intervals until the soup begins to thicken.
Step 8 – Now add the low fat cream to the soup and mix well.
Step 9 – Pour the soup in the serving bowl and garnish it with fresh herbs of your choice parley/coriander.
Step 10 – Enjoy the soup steaming hot.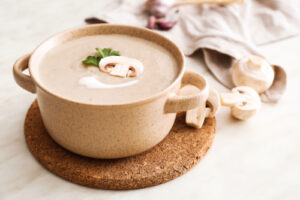 Mushrooms with Vitamin D are great news for everyone. This small change in your diet could have a big impact on your overall health.