Ustad Zakir Hussain, who turned 70 this month, is one of India's best-known classical and popular musicians, writes Narendra Kusnur
One can never forget the composure and determination on Ustad Zakir Hussain's face on February 3, 2000, a few hours after his father Ustad Allarakha had passed away. A sizeable crowd of musicians and well-wishers had gathered to pay their last respects at their residence, Simla House on Napean Sea Road in Mumbai, and the tabla wizard greeted each visitor personally.
One can always say that Hussain had been carrying forward his father's legacy for quite a while, along with his brothers Fazal Qureshi and Taufiq Qureshi. If anything, the legend's demise made the sons even more determined. The following year onwards, a day-long Barsi has been held annually to celebrate the maestro's life, with Hussain planning everything in minutest detail.
Hussain, who celebrated his 70th birthday on March 9, has been one of India's most popular musicians for five decades now. As a tabla maestro, not only is he respected hugely in Indian classical music circles, he has also attracted a huge following abroad with his work in fusion and world music. While his fans have admired his good looks and charm, those who have interacted with him praised his humility and sense of humour.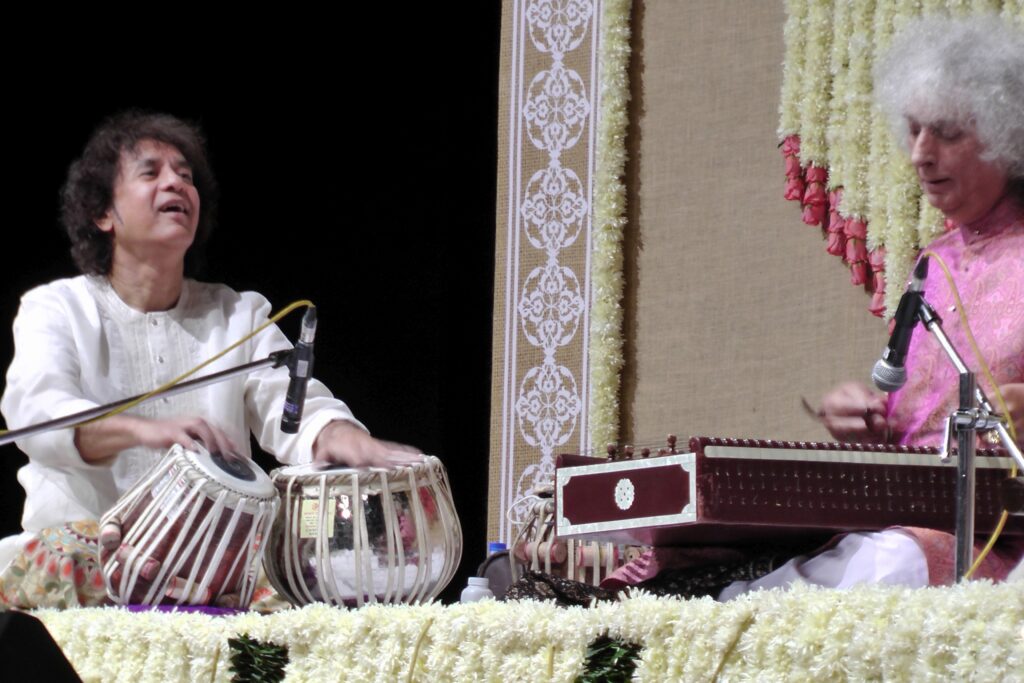 Appeal across genres
Two different types of audiences appreciated Hussain's music in the 1970s. One of them followed Indian classical music, and saw him accompany santoor maestro Pandit Shivkumar Sharma, flautist Pandit Hariprasad Chaurasia and sarod exponent Ustad Amjad Ali Khan. Having shifted from Mumbai to the US, he would visit India during the music season between October and February, and play back-to-back concerts across cities. This was something he continued till last year, before the Covid pandemic struck.
The other kind of fans were people who listened to jazz and jazz-rock fusion, and admired acts like Miles Davis, Weather Report and the Mahavishnu Orchestra, led by guitarist John McLaughlin. When Hussain teamed up with McLaughlin, violinist L Shankar and ghatam player Vikku Vinayakram on the Indo-jazz fusion group Shakti, these listeners naturally took a liking to their sound.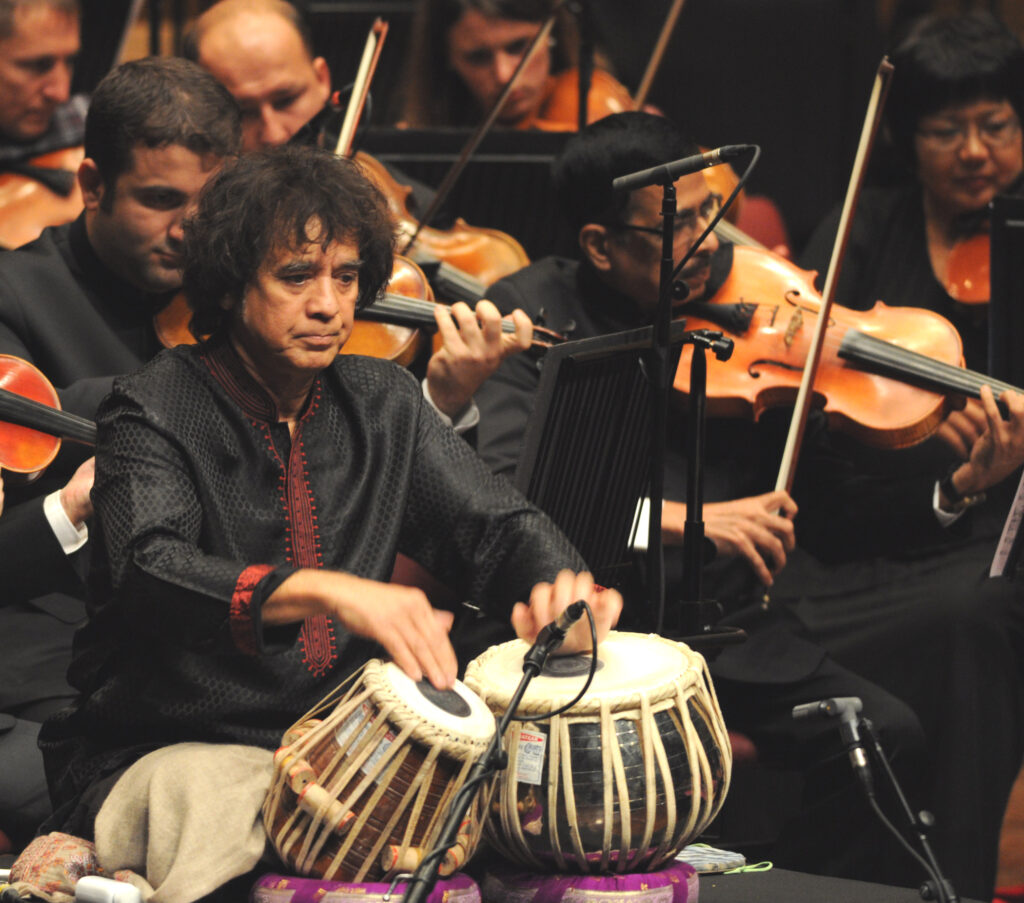 My personal exposure came from a bit of both areas. Staying in New Delhi, I would see him at classical concerts and solo recitals during season time in the early 1980s, though local hero Ustad Shafaat Ahmed Khan was an equal favourite. When Shakti played in 1984, I became an instant fan, and soon bought their LPs Shakti, A Handful of Beauty and Natural Elements. Even today, I can listen to Shakti tracks like 'Lotus Feet', 'Two Sisters', 'Face To Face' and 'Bridge Of Sighs' endlessly, just as much as I can hear him accompanying Chaurasia on raag Chandrakauns, Shivkumar Sharma on Kirwani or L Shankar on the Carnatic raag Aberi.
If my admiration of Hussain's music began with classical concerts and Shakti, it expanded to many other territories. There were numerous fusion albums to begin with, including Making Music with McLaughlin, Chaurasia and saxophonist Jan Garbarek, and percussionist Mickey Hart's album Planet Drum, with drummers from around the world. He provided music for films like Heat And Dust and Saaz, and became a household name with his Wah, Taj tea ads.
Having shifted to Mumbai in 1990, I would see Hussain accompany thumri great Shobha Gurtu or Kathak legend Pandit Birju Maharaj, besides playing lengthy solo concerts or leading a seven-member ensemble comprising percussionists from various parts of India. While accompanying sarod maestro Ustad Ali Akbar Khan at the Tata Theatre, Mumbai, his style was simple and straight.
Besides the sheer magic in his fingers and his magnetic stage persona, what has been impressive about Hussain is the ease with which he moves across genres. He has a very open mind, and that is something I discovered early on during my interactions with him as a journalist.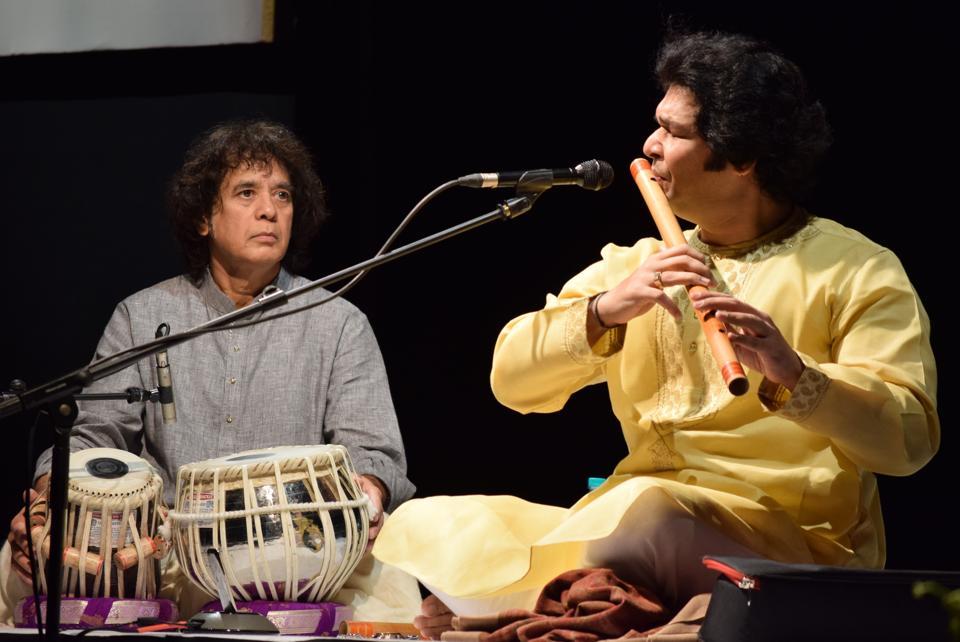 Wit and versatility
I first met Hussain in 1997, at a press conference held before ace jazz keyboardist Joe Zawinul's concert at Rang Bhavan in Mumbai. Zakir was to appear as a guest artiste, and though the focus was on Zawinul, some of us introduced ourselves on the side.
I was to write a concert review, and quickly realised that though they played some amazing music, they didn't announce the names of the pieces. During the interval, I tried to go to the green room by walking across the stage. "Mr Mid-Day," a voice called, addressing the newspaper I worked for. It was Hussain. He continued, "Don't walk across the stage but go that way. If you trip on those wires, they won't bother about you. But it will take them three hours to fix everything for the second half."
I was to encounter those kinds of witty remarks quite often, but he knew how to draw a balance between serious talk and quick humour. Even at shows, he could suddenly have the crowd in splits. Once, a dignitary walked in with his entourage during the middle of his performance. Hussain didn't stop, but adapted to play as though he was mimicking the VIP. The crowd enjoyed the fun, but the guest never got it.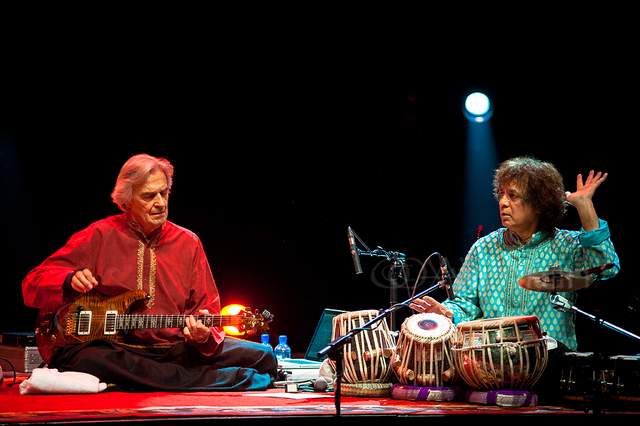 During interviews, Hussain would often tell anecdotes about Ustad Allarakha's interactions with sitar maestro Pandit Ravi Shankar and drummer Buddy Rich, or explain the salient features of the Punjab gharana which he represented. He would always praise tabla players from other schools, and talk of global percussion masters like Hart, Giovanni Hidalgo, Sikiru Adepoju, Leonard Eto, Billy Cobham and Vinnie Colauita.
Once, to surprise him, I asked him to name his five favourite musicians ever. He said since Ustad Allarakha would be on top anyway, he would like to name five others. Quickly, he replied, "Shivkumar Sharma, McLaughlin, Kishori Amonkar (vocalist), Charlie Parker (jazz great) and Madan Mohan (film composer).". Quickly, he smiled and said, "Call me again tomorrow, and I'll name Jimi Hendrix (rock guitarist) and four others."
From his answers, one can gauge how open Hussain is to different forms of music. That again is reflected in the kind of experiments he has conducted over the years. In 1999, he and producer Bill Laswell formed the group Tabla Beat Science to blend Indian percussion with Asian Underground and electronica, He and McLaughlin continued the Indo-fusion sound with Remember Shakti, along with vocalist Shankar Mahadevan, mandolin maestro U Srinivas and kanjira expert V Selvaganesh. The group was active till Srinivas's death in 2014.
Hussain's collaborations with jazz saxophonist Charles Lloyd, banjo player Bela Fleck and bassist Dave Holland have led to different sounds. A dream orchestral music project has been Peshkar, a tabla concerto he composed after being commissioned by the Symphony Orchestra of India, conducted by Zane Dalal. And with live concerts badly affected last year, the maestro took to giving online lessons on Instagram.
Needless to say, the desire to explore new territories has kept growing. At 70, Zakir boasts of a unique contribution to Indian music. And from his demeanour, it's obvious he has enjoyed every moment of it. Wah, Ustad!
Essential Zakir

1 Santoor Viraasat – with Shivkumar Sharma, Rahul Sharma

2 Raag Aberi – with L Shankar

3 Natural Elements – Shakti

4 Making Music – with Hariprasad Chaurasia, John McLaughlin, Jan Garbarek

5 Planet Drum – with Mickey Hart, others

6 Zakir Hussain & The Rhythm Experience

7 Music Of The Deserts

8 Tala Matrix – Table Beat Science

9 The Melody Of Rhythm – with Bela Fleck, Edgar Meyer

10 Good Hope – with Dave Holland, Chris Potter