Veteran journalist Sat Paul (Sati) Sahni was part of the inner circle of the Nehru family, and made the most of his access with countless exclusive photographs. Published here for the first time are some pictures of Jawahar Lal Nehru's visit to Kashmir. By Navneet Sahni
Here is the story of photo-journalist Sat Paul (Sati) Sahni's association with Jawaharlal Nehru during his many visits to Kashmir. Perhaps the largest collection of photos of Mr Nehru's visits to Kashmir with his family were taken by my father, most of which have still not been published. Due to the uncertain political climate in Kashmir in 1990, Sati Sahni had to leave Kashmir – never to return to live in his house. Having moved to Jammu in the autumn of 1989, the family had only a few woollen clothes to go through winters. Never in their wildest dreams did the family imagine that they would never return to live in the ancestral house.
Once it became clear that they may not be able to return to Srinagar to live, the consternation in my parents' minds was not how to get the valuable possessions but how to get my father's priceless photo collection and his cameras out of Kashmir. Without the knowledge of the children, my mother made a daring visit to Kashmir during the worst phase of Kashmiri militancy (April 1990) only to retrieve the most prized possessions of the family – the many cartons of photos (both black-and-white as well as colour slides) and his cameras, besides some very important books, papers and clothes. With just 24 hours in hand, she had to put together whatever she could.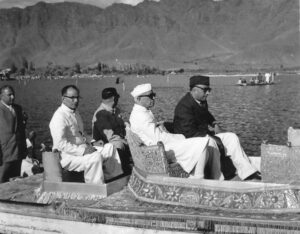 How do you choose what to pack and what not, from a house where the family had lived for the past 55 years? In order not to draw attention by switching on lights, she, along with a faithful old servant, worked feverishly through the night putting things in cardboard cartons, randomly. Overwhelmed by the situation she packed whatever she could and finally managed to pack whatever slides and negatives she could find (22 cartons of them!!), and his cameras. She packed some clothes, too, though for herself she took just some saris. Blouses and petticoats, she thought, could be made in Jammu too. She left early morning the next day in a specially organised Army truck – sitting next to the driver, and with our pet dog Priya on her lap. I am sure my father was, as were the rest of the family, will remain in gratitude for this, though at the time it was very stressful.
Some of the photographs that my mother retrieved from our house in Srinagar taken by my father, Sati (as he was called popularly), are now being published here. In fact he was still cataloguing and writing stories of each of the photos till his last, but unfortunately this enormous project never got completed.
My father was a rare journalist who was equally adept with the Rolleiflex camera as well as his old Hermes Baby typewriter. With an astute ear to the ground he was in the midst of the evolving, but explosive political situation in Kashmir from 1940 till the Kargil crisis in 1999. Having covered all major wars – the Pakistani invasion of 1947-48, the war with China in 1962, the Indo-Pak war in 1965, the Bangladesh liberation in 1971 and some part of the Kargil conflict – he clearly was well-entrenched in the establishment but never took any advantage of that.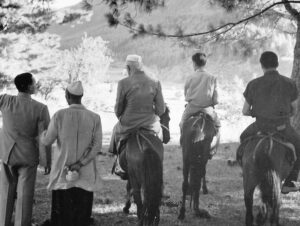 His association with Mr Nehru lasted around 18 years. He had access as well as permission to photograph at will. Over the years he became part of the inner circle of the Nehru household when they visited Kashmir and witnessed many interactions with dignitaries, politicians and many a statesman. He took countless photos with his reliable Rolleiflex. What was most sacred to my father was the tacit understanding he had with Mr Nehru and his office that no photograph would be published during the lifetime of Mr Nehru. In his own words for his last book – Nehru's Kashmir, he wrote the following:
"Jawaharlal Nehru, the first Prime Minister of India and a busy world statesman with a large number of international leaders as friends, should have been a difficult person to deal with and an even more difficult to photograph at a personal level. But my experience with him was entirely different. Perhaps I was lucky; perhaps I had more opportunities than others. I lived and worked in Kashmir while Jawaharlal was riding the crest of popularity as leader of Indian National Congress and later as Prime Minister of India. Partly because his ancestors belonged to Kashmir and partly because he avidly loved the outdoors and the Himalayas, he loved visiting Kashmir as frequently as possible. Although his first visit was in 1916 when he spent his honeymoon at Baltal on the Kashmir end of Zoji pass. His first major political visit was in May 1940. I was a student at the time.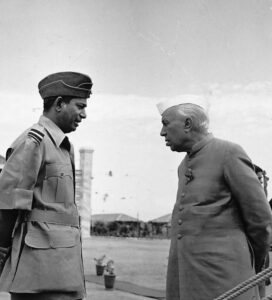 "I was fascinated by his charm, friendliness and popularity. In 1945 he visited Kashmir to participate in the annual session of the Jammu and Kashmir National Conference organised by Sheikh Mohammad Abdullah. Nehru was accompanied by Maulana Abul Kalam Azad—the then Congress President—and the 'Frontier Gandhi', Khan Abdul Ghaffar Khan. After the session, Panditji and Khan Badshah went on a trek up in the mountains nearby. I was lucky to get an opportunity to catch up with them one day.
"However, bigger opportunities came after he became the prime minister. I had become a journalist and was a war correspondent in Kashmir when Pakistan invaded in '47-48. I used the camera as the tool of my profession as much as the typewriter. During the fourteen-month invasion of Kashmir, Nehru paid many visits to Srinagar and the war front. Later, after the ceasefire of January 1 1949, he would visit for political reasons or for short holidays accompanied by his daughter, Indira Gandhi, and sometimes his grandsons Rajiv and Sanjay came along.
"For the next seventeen years, I became a familiar face in the Nehru household and was accepted as such by his entourage, personal physician and security officer. In those days, there was no need for the strict and all pervading security that exists today. Those were the days of charismatic and popular leaders. Once the VIP gave his nod, there was no difficulty in moving about—all you needed was a press identity card. Camera wielding journalists were few and far between. In a war zone,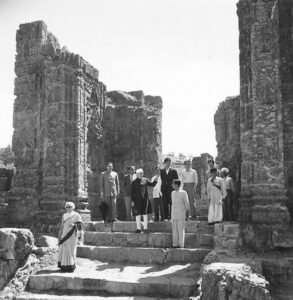 accreditation with the defence ministry was necessary—these were the basic requirements. What put me in this special category was Nehru's acceptance to having me around, as well as my closeness and good rapport with local leadership like Sheikh Abdullah and Bakshi Ghulam Mohammad. This was an important element. Another factor in my favour was my good relationship with Director, Intelligence Bureau (GOI) Gopi Krishan Handoo and Panditji's personal security officer Mr Mehta and physician. Additionally, I worked in a low-key manner, and also worked with well known news organisations like The Times of India, Times – London, Reuters, BBC, New York Times, and Time-Life.
"Above all was the confidence I was able to gain among them. I strictly followed directions given not to take a particular photograph. Unless it was purely a news photograph, I hesitated to take a photograph of Panditji without his affirmation. One day in March 1949 he was staying at Chashma Shahi guest house (now Raj Bhawan, Sringar) where he had brought Lady Edwina Mountbatten to show her Kashmir. On a bright day both of them came out on the balcony where Nehru pointed to her the Char Chinari at the Dal lake. Mr Handoo, DBI and I were in the lawn below. I had my camera ready to use. I looked up and waited to catch his eye. By signs I sought his nod to take a photograph of them together. As soon as he gave his nod, I took the photograph.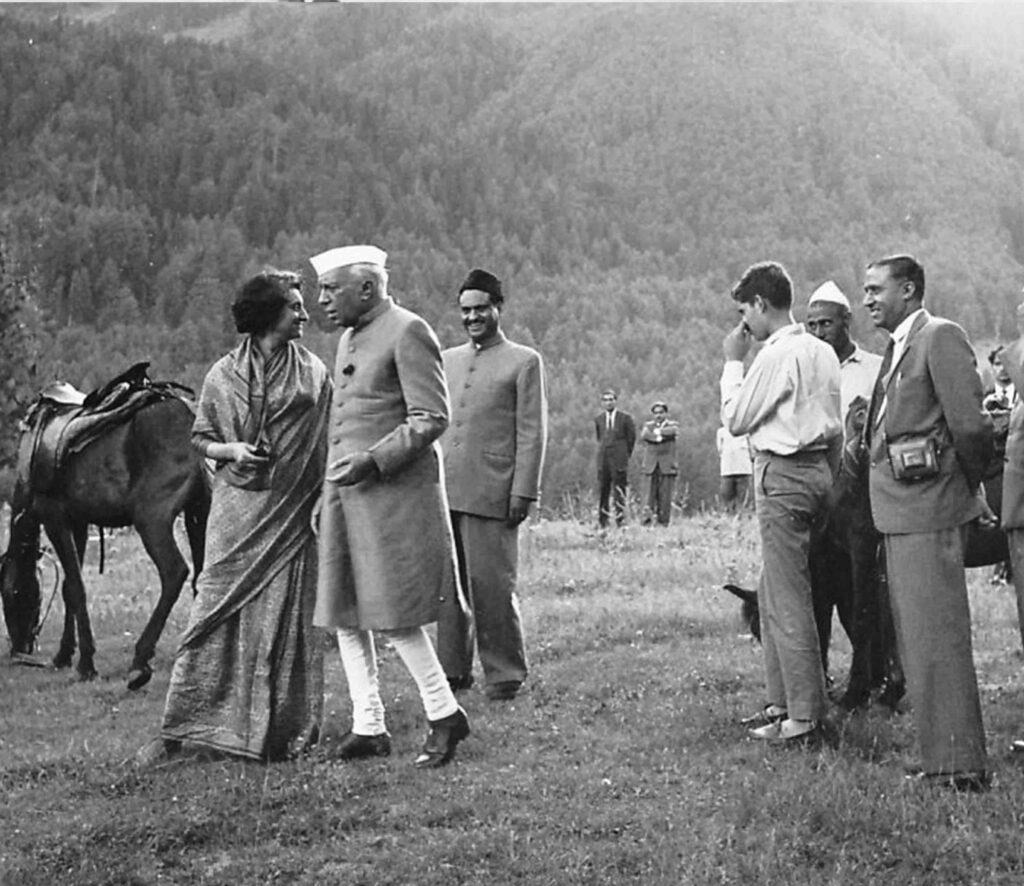 "It was a difficult and costly affair to trail him to photograph. There was a swimming incident which haunts me till date. In summer of 1952 while holidaying in Srinagar he decided to go for a swim in the Nagin lake. I got this information and reached the swimming boat in the centre of the lake. After swimming for over an hour he decided to do some surf boarding. I got permission to get into the motor boat which was to pull his board and made many big circles in the lake. At one point when I was photographing him he became unbalanced and fell into the lake in a part which had weeds. I quickly turned the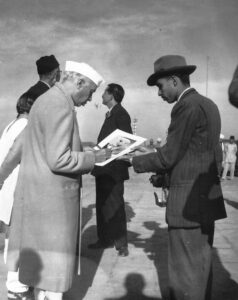 boat to go close to him and then switched off the boat engine. Self-confident and proud man that he was, he refused any assistance to get onto the boat. When I found that he was unable on his own to climb onto the boat, I helped him on. I shudder to think what would have happened if he did not allow me to pull him up. Upon returning to the swimming boat I made myself scarce from embarrassment and possible blame. Soon he realised that I was not around and asked someone to look around for me and to give me a cup of coffee. Later on I got that photograph enlarged to present to him on his next visit to Kashmir. A couple of months later when he returned to Sringar I presented him with that photograph at the Nehru guest house. He laughingly wanted to know if this was the occasion when I "tried to down him". This put me at ease and I admired this quality in him to put the other person at ease even in difficult situations. Today I have immense satisfaction and an invaluable photographic collection of this great man.
"I still recall the day of his passing away, May 27, 1964. At my residence I had James Burke, Time-Life Chief of Bureau in India, over for lunch. We both were shocked and grieved on hearing the news. A week later a special aircraft brought part of his ashes in an urn. With a heavy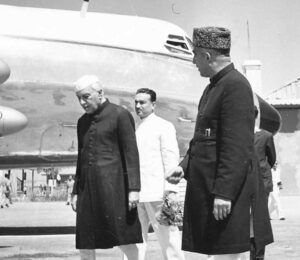 heart I went to the airport when the ashes arrived and later accompanied the motorcade to Shadipur, some 30 miles away from Srinagar, confluence of rivers Sindh and Jhelum. This ended my association with this outstanding human being."
I remember many stories my father used to tell people about Mr Nehru and his human nature and compassion. Two very famous incidents happened and the story behind the events were not widely known.
In this photograph you will notice the newlywed Maharaja Karan Singh and his wife alighting from an aircraft along with Mr Nehru and Sheikh Abdullah. The story goes that as it was well known that the Sadr-i-Riyasat and his Prime Minister were not on good terms with each other; it was highly likely that upon returning from his marriage his bride and the Sadr-i-Riyasat would not be received by Sheikh sahib at the airport. In order to go around the conundrum Mr Nehru decided to visit Kashmir and bring along Maharaja and Maharani in the state aircraft. That was so that Sheikh sahib who was a great friend to Mr Nehru would have no option but to come to the airport to receive them. On this trip Mrs Edwina Mountbatten accompanied them and can be seen in the photograph alighting from the aircraft.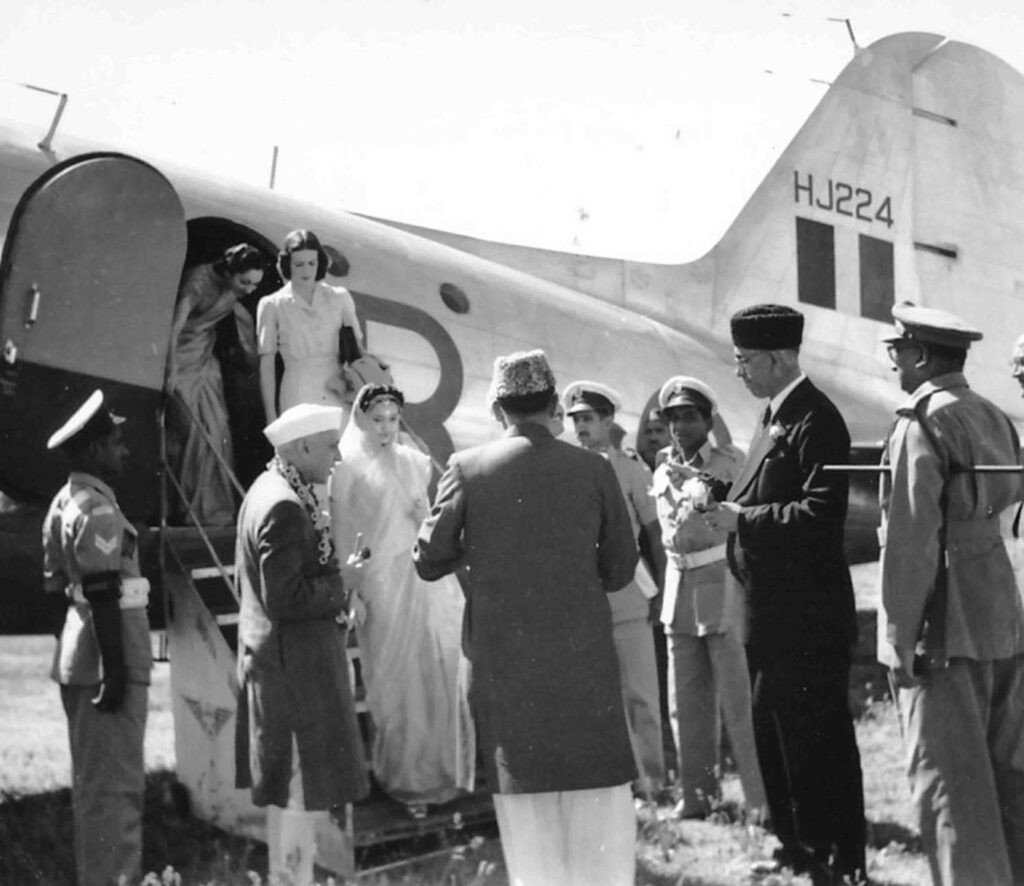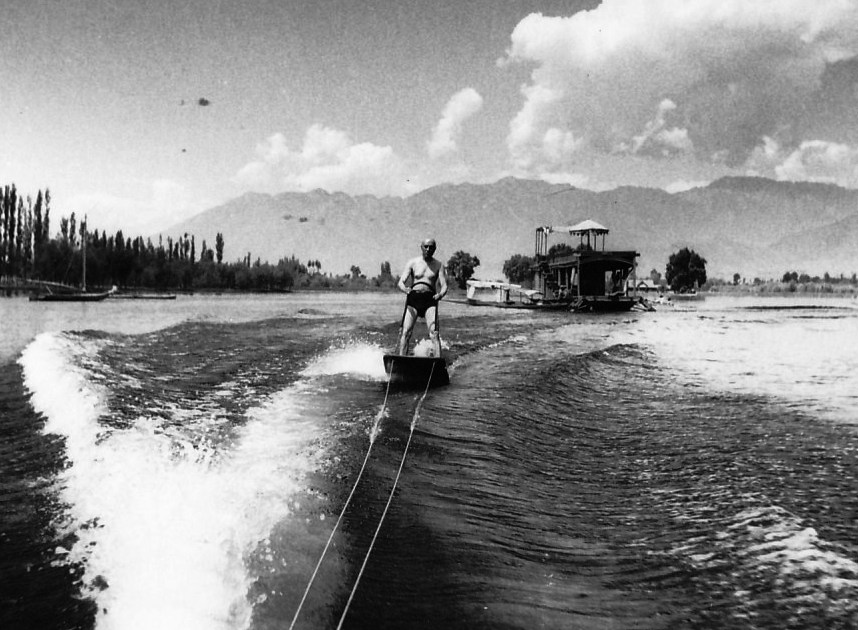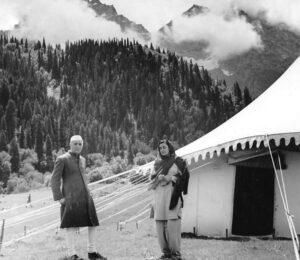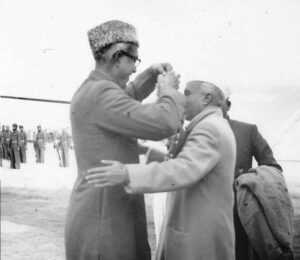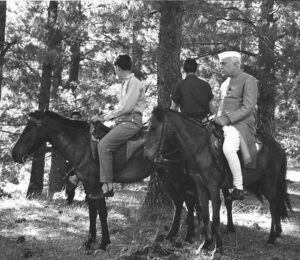 The other story which was actually my father's favourite was the time when he was given permission by Mr Nehru to be on the motor boat which was being used for surfing at the placid waters of Nageen lake. After several rounds of water surfing my father, wanting a better angle for photographing Mr Nehru in action, decided to stand up in the boat thus unbalancing the motor boat itself. In order to correct the balance, the driver took a sharp turn and thus a tired Mr Nehru suddenly flipped and lost his balance and fell into the water with a splash. While the panic-stricken security on the lake banks looked on, the driver immediately turned back to pick up Mr Nehru from the water. A very tired Mr Nehru was practically a deadweight, and the two of them could barely pull him up on the motor boat after a longish struggle. By then the security detail was in panic but were relieved to see him back on the boat. Mr Nehru waved to them and I am sure they must have sighed with relief. However, as soon as the boat reached the bathing boat, my father was corralled by the security staff for questioning. Mr Nehru saw this and told his staff that it was an accident and that the photographer should not be bothered. On Mr Nehru's next visit to Kashmir the next year, my father took this photograph to him to be autographed and Mr Nehru, remembering the incident, jokingly told everyone present that this was the time that he nearly died, much to the embarrassment of my father.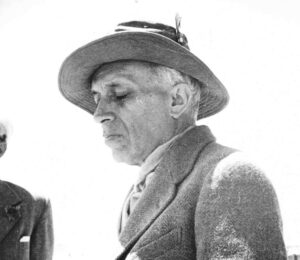 Mr Nehru's human side was very evident from the interactions he used to have at Pahalgam, Gulmarg and Sonamarg with the large Gujjar and Bakarwal community. He was equally at ease with meeting statesman and the illiterate Gujjars and that was the most endearing quality he had!