Few moments of my Life
The Almighty gave me very mesmeric, exciting experiences in my life. I absolutely enjoyed my life in all its even and odds, writes our Seniors Today reader Parthi Kapoor 
My name is Mrs. Parthi Raman Kapoor and I am living in Ludhiana City, Punjab. I am 61 years old.  29th February 1960 is my DOB, so I am still 15 years old…ha..ha….ha
I joined the Income Tax department in 1979 and took VRS after 25 years of service in 2003.  At that time, I was 43 years old and got married to Mr.  Raman Kapoor,a businessman and shifted to Ludhiana from Ahmedabad. At present we are running a hosiery manufacturing unit related to schools and corporate dresses. Since 2003 I have been heading the admin and finance department of our unit. With the Grace of almighty we took our business to a progressive successful level.  My heartiest gratitude towards Almighty that my major duties towards children have been completed smoothly. My daughter Seemal and son Karan got married and now I am Nani. I have  a gifted, brilliant granddaughter. 
In 2019 it was detected that I was having 3rd stage ovarian cancer. I am under treatment till date.
In spite of cancer being a palliative chronic disease, I took this obstacle very positively.  Sitting at home I decided to start singing, my childhood passion. I have been singing for the last 18 years. Another wish in life was to share my life experiences with every one as I thought God Almighty had blessed me in so many ways. Luckily my both wishes have been fulfilled by "Seniors Have Talent" I am really grateful for Seniors Today. 
My Childhood: 
I was born in a Christian family in Ahmedabad and was named Dorothy . Often nicknamed Do—Rathi (दो-रथी) and  do -roti(दो-रोटी). My father was working in P.R.L. and mother in I.S.R.O. at Ahmedabad.  She is the real architect of my sports and career in life.  I had a wonderful childhood on the PRL campus.  Dr. Vikram Sarabhai, the founder of ISRO and PRL promoted sports and cultural activities among all the children in the campus. This benefited me in my entire life.
I started playing Table Tennis at the age of 12 and played in the junior national in the same year 1972. Even at that age two questions always haunted me – why am I here in this world? and what is the purpose of my life? 
 I started searching for the spiritual connection in all the holy books of all the religions. The Bhagvad Geeta gave me comfort and I found my answer in the 18th chapter shloka 18.66.  " Leave everything and come to my fold I will liberate you". I have been following this throughout my life and kept on searching for the right mentor who could guide me in achieving this Goal.
Career and sports/Trekking:  
I was selected as a meritorious sports person for the Table Tennis game and got the job in the Income Tax dept. I cleared the ITO GR B Exams and opted to go into the technical field and joined as   an assistant programmer in 1984. That was the initial period, when IT dept in India started computerization, with the SN 73 system, and PDP 11 machines for challan processing, and after that PAN and TAN allotment. Since that was the initial stage of computerization, we faced many challenges and had a tough time with staff members and the users. 
 I continuously played Table Tennis in All India Civil Services Tournament and All India Inter Institutional Championships  for 24 years and brought medals and Vellore to the Income Tax department. Also I played All India senior National Table Tennis Tournaments and represented Gujarat Team for more than 10 years in the national events.   For 19 years I was selected as IT best sports women for Ahmedabad. In 2002 I was selected to represent Indian team in the World veterans Table Tennis Championship at Luzern, in Switzerland.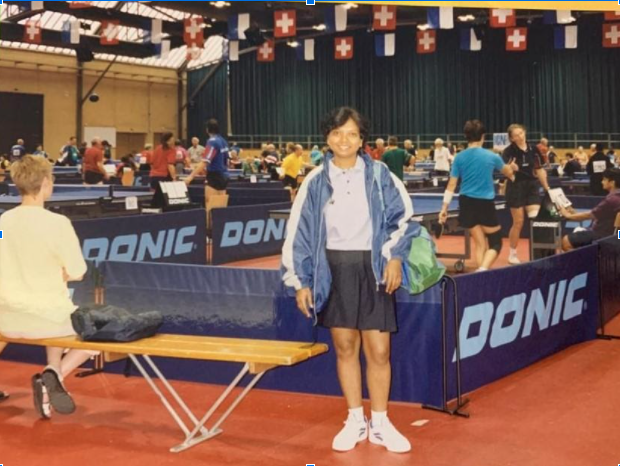 My other strong passion was Trekking and I joined Youth Hostel Association of India (YHAI). And regularly participated in different treks in the Himalayas from the year 1979 to 1992. My adventure experiences made me visit Ladakh, Zhanskar valley,  Kullu Manali  interior trek , Sar pass, Kargil , Drass, Zozila Pass (11 750 ft approx.) Khardungla pass approx. 17500 ft. height. The highlight of my trek was Zhanskar valley with a temperature of -15 degrees in summer. Visiting Rangdum Monastery here I saw the 18th century butter paintings which still fascinate me. In this monastery I met a 110-year-old Lama who talked with me. I offered my prayers of "Om Mani Padme hum" on the prayer wheel. 
In 1990 I did the Gaumukh Tapovan trek. It was an action-packed trek and I lost my way with my guide on the Gaumukh glacier in the snow storm. Here in an ice cave, I happened to see a naga(naked) baba, the cave was curtained only by cobwebs. It was astonishing how one could live there and how cobwebs were formed there. The view from there of the Gigantic Shivalinga top is a breathtaking one. I visited Nandanvan also.
Pilgrimage visiting: 
Lord Shiva has always been my fascinating Deity so I visited most of the Shiva shrines in India. I did my Amarnath yatra in 1982 from Baltal and 1986 from Pahelgam. From Pahalgam side I started my yatra with the "holy chhadi".  The sadhus start their walk in brahma muhurta.  The sadhus climbed very fast and soon I was left far behind and all alone in the jungle. As the wolves scampered around, I sat down on a rock with a stick in hand in the moonlight waiting for the dawn to break and  start my walk again.
 It was my strong wish to go to Kailash Mansarovar (in China) and be with my lord Shiva there. The selection for the yatra in the year 1992 was a very difficult task.  There were 20,000 applicants and only 180 were selected by the External Affairs Ministry in New Delhi. Luckily my name was in the final list.  
The experience of the Kailash Mansarovar yatra is very interesting and unique. On the way we saw the famous ॐ पर्बत(Om mount) on which the snow falls in such a way that ॐ (OM) word is highlighted clearly.  Lipulekh pass is the border of Indo China , and was the most difficult trek . It's height is almost 16000ft.  The group had to cross the pass early in the morning so we had to start at midnight from the base camp Navidang( Kalapani). Because of its height it has minus temperature and the treatment of Chinese officials is very harsh and inhumane with the yatris.  I brought the holy water from Mansarovar  with me and poured it on 12 jyotirlingas in India. I also performed rituals  of "ek ling ji "pouring water from Kashi to Rameshwaram and from Rameshwaram to Kashi.  It took 8 months to complete this.
Spirituality is my strength:  
In spite of so many physical activities in my life, my heart always yearned for a perfect guide who could take me forward on the spiritual path for liberation of my soul.  Again I give reference  to Lord Krishna who told Arjuna, "One needs a Guru to guide you for oneness with the Supreme".
  After a long search I finally met My Guru/Master in Dec. 1996 and joined His mission, for meditation. It resulted in a complete U turn in the right direction for spiritual progress and inner peace. Until the age of 35 years, I was always searching for the Supreme externally.  My Master's teachings completely reversed it. He made me realize that the search for the Almighty is within your own self. You could find Him in the form of Divine Light in your heart. I have since been meditating on my heart. The kingdom of supreme power is everywhere and so within myself also.  God Almighty is very near to me and my search outside is over. Through many subtle experiences My Master made me reveal the mystery of this world and spiritual world. He progressively increased spiritual maturity in me.
Before joining my  Master's, my thinking was "I am  here  for spiritual experience". 
But After Joining Him I realized "I am a spiritual being and having human experience in this world".
Hurdles of my life: 
Marriage for me was out of the question. ( As I was an adherent volunteer for children in schools and Mother Teresa Institutes, helping poor children in every way. ) But family pressure and my mother made me do so. If destiny had it so I wanted to marry a person with at least 2 kids.  Luckily, I met Raman ji who had 2 kids without a mother. I thank the almighty for helping me to find a family exactly as I wanted.   All my 3 family members are very pious and wonderful human beings. To manage a very big house with a family of 4 members and 2 dogs was very difficult for me. Before marriage I knew no cooking, it was a big challenge for me now.  But I learned it very fast. 
My Body got weak
 Till I got married I was a very healthy person.  After 1 year of marriage one day, I picked up a sack of 50 kg of wheat and I got a slipped disc…. from there onwards my health started deteriorating. I overlooked my health as my focus was only on my family, business and Meditation. I had to undergo major surgeries 3 times on my chest. This made me weaker and for 7 to 8 years I had to take antibiotics and painkillers. After that slip disc became a major problem involving L4 and L5 and sciatica, and I became bed ridden.  Allopathy was of no help, after hospitalization for 3 months I came home uncured. Then I tried Ayurveda (Panchkarma) and within 2 weeks I came out of my back problem and am good till date.  
 In between we faced serious financial problems, but we could overcome them with the grace of the Almighty.  Hard work, honesty and prayers pulled us back on track.
 All this stress took a great toll on my health.  
In March 2019 my medical reports showed malignancy in my ovaries, but it was overlooked by  my doctor .  As things started getting worse.  I opted for Ayurveda treatment in Ahmedabad.  Vaidya Acharya  did nadi pariksha for a few seconds and he immediately said something is very wrong just go and get sonography, this to our surprise the report showed 3rd stage of ovarian cyst cancer .  Acharya advised for Allopathy treatment as the disease was in a very advanced stage.  Ayurveda can help  to reduce the side effects of chemotherapy. 
 I Started treatment in Ludhiana in a cancer hospital affiliated to American oncology system. After 6 cycles of chemo I was advised to undergo surgery as it was a major surgery involving a lifetime stool bag.
 I decided to have a 2nd opinion . I planned my surgery in Ahmedabad with the assurance of the surgeon of avoiding a stool bag. But it was an open and shut case surgery, as the infection level was very high in my whole body.  No surgery was done.
After that I had to rest for 6 months. During that time I tried  naturopathy and Ayurveda.  It did not  improve things .  The recurrence came rapidly .   Pain created havoc in my life. I got very weak .  And there was  no option left for me. I had to restart  my chemo, along with target therapy from  Jan 2021. Chemo has devastating effects. I lost 27 kg weight ,complete hair loss, cramps and severe pain in my intestines, black patches on my hands, face and feet.
 I am really thankful to the Almighty for my life partner Raman ji, he came into my life as an angel.  He has done everything to save my life. He was there day and night helping in every possible way. My Son and Daughter in law are abroad and my daughter is married far away in Chennai. So, there is only my husband to take care of me.  To face this type of chronic diseases one needs huge amount of money and great assistance, sewa (service) like my husband is doing. Doctors (Allopathy and Ayurveda) friends and family are a great support to me.  Now I realize how I have neglected myself. I changed my attitude towards myself. I started taking great care of myself. Always keep myself-happy by singing, laughing, Bollywood dancing, yoga, pranayama (for 2 hrs), and meditation.
 Basically, I was always a happy soul, but in different circumstances I changed myself to a serious kind of person. Which my DNA did not like….ha…ha..ha.
Last but not the least in all my suffering, many of the times I went into a trance and my Master gave me OUT OF BODY EXPERIENCES (this is a very intense experience and on a different level so I will write it separately).  My Master gave me this huge knowledge and learning so that I could bear suffering happily. 
Understanding is very simple "अगर सांस् है तो मैं यहाँ हूँ, अगर सांस् नहीं है तो मै वहाँ हूँ (If you are breathing you are here, otherwise there.).  
This learning  ( from the Bhagvad Gita) comes as a echo all the time in my brain;     "जो हुआ अच्छा हुआ, जो हो रहा है अच्छा हो रहा है और जो होगा वो भी अच्छा होगा  "  (Whatever happened, was for the best. Whatever is happening, is for the best. Do not repent the past. Do not worry for the future. The present goes on.)
 – Mrs. Parthi Raman Kapoor, Ludhiana