Ajay Kanoria takes us to the mountains… far from the madding crowds, away from the touristy hill stations, with day-long walks, crisp mornings and fireside nights. Enjoy.
The call of the mountains has been in my DNA. From the time I was a toddler, we used to spend every summer in Pahalgam in Kashmir, wandering freely on our horses and our two legs through the day and occasionally overnight through the peaks and dales surrounding Pahalgam, bathing in the Lidder shivering away to glory, rolling down the snowy mountains on our sleds, backsides and tumbling away, skiing in the cold waters of the beautiful Nageen lakes of Srinagar.  
The cold clear crisp air in the lap of nature with everything green and white, as far as one could see was a breathless sight as we opened our eyes and got out of bed to peek out of the windows.
At some point of time, Kashmir was lost and foreign destinations for holidays beckoned and became the norm. Apart from occasional forays to the mountains and beaches, cities became the destinations of choice. Rivers, mountains, lakes, the sea, walks in the wild, and on horses, were replaced with museums, architecture, restaurants, shopswalks in the parks and strolls in the older parts of cities.
Somehow, the call of the mountains and the wild never left me and I decided to go back to doing what I loved most: walking in the mountains and the wild, albeit by myself. And so, the passion was rekindled.
I found that one could combine visits to small cities, with basic to luxury accommodation and simple to gourmet food with five to eight hours of hiking every day, going up five to 800 meters, with the occasional overnighter in a tent thrown in.
Now, the idea of hiking or trekking, is to do increasingly difficult treks and not be tired at the end of each day, so that one can enjoy the après hike activities. So, what do you do? First, you just start hiking on easy, moderate, or intermediate hikes based on your personal health and stamina. Going on these hikes entices you to do more; your physical condition improves daily. Then, you institute a daily work out plan. I set up a daily programme of a two-hour walk, a 45-minute freehand or Yoga workout and a 70-minute swimming programme. This allowed me to graduate from the moderate to intermediate and then to difficult treks. It is also important to improve your balance, your reaction timing, and knowing how to fall without getting hurt. A few facets that I developed:
Walk at a steady pace – ideally it should be the same pace when you end the hike as the pace at which you started. 

Be surefooted, taking care to see where you put and move your feet on treacherous ground.

Lean slightly forward while going up and slightly back when going down. On a mountain trail hug the mountain as much as possible and always lean into the mountain, rather than away from it.

Keep your eye on the trail, the quality of the ground you are walking on and what is going to face you as you move. Develop the ability to move your head, duck, use your hands to deflect, all without loosing your balance or your footing.

When falling is inevitable, stop trying to stop your fall, and go into a controlled fall, so that you hit the ground as softly as possible, protecting above all your head. Move your hands, legs, muscles and body to create a rolling fall, so that impact on any part of the body is not great and damage is minimized.

Maintain 5-10-feet distance between yourself and the closest companion unless the path is such that you can walk side by side.

Learn how to brace yourself in order to assist others

Have no bravado, know your limits and do not attempt to assist another, putting yourself in jeopardy. The professional accompanying you, is fitter, more knowledgeable and capable to deal with untoward incidents, than you are

Use good equipment – hiking shoes, knapsack, walking poles, eyeglasses, sun cream, and multiple layers of clothing that you can put on and take off.

Keep yourself cool while walking and warm when not.

Keep yourself well-hydrated, eat well – a tad more protein and drink very moderately if at all.

Trekking in the mountains is a serious business. Extremely pleasurable but it is no place to horse around. All mountain paths are treacherous, the more so as you go higher, and on the not – so – often trod routes. You are safe, if you keep your wits about you, follow the advice of the professional you are with, take his assistance when needed while not throwing your weight and desist from attempting a narrow ledge or path where adequate traction is not available.

In your guides, look for people who know their job, are pleasant, have some conversation. Use certified professionals as far as possible.  They are difficult to find in India on solo trips unless you are doing it with a well-organised trekking company. 
What follows is a glimpse of the hiking trips undertaken in August 2018–June 2019, that shows how varied and interesting the mountains can be
The first hiking trip was to the Carpathian Mountains and Transylvania in Romania. After two sightseeing days in Bucharest, Aug 23-24, I left for Villa Oblique, my hotel in the mountain town of Sinaia. (Romanian pronunciation: [siˈnaja]) which is a town and a mountain resort in Prahova County, Romania. It is situated in the historical region of Muntenia. The town was named after the Sinaia Monastery of 1695, around which it was built. The monastery in turn is named after the Biblical Mount Sinai. King Carol I of Romania built his summer home, Peleș Castle, near the town in the late nineteenth century.
Aug 25
After dinner at a local restaurant and much-needed sleep, I woke up as dawn was breaking to take a short stroll around, have breakfast and meet with the rest of the group on this tour. 
This was a small group tour where we hiked from one small town or a village. The luggage was transferred to our next hotel. The routine was to depart around 8 am after breakfast, walk with periods of rest, in a mountain hut (when available), break for a packed lunch, and reach the next hotel by 4/5pm, rest, walk around town, visit a bar or not, have dinner in a nice restaurant and go to bed. We were a group of six, comprising a middle-aged UK matron, an Australian couple, a Romanian girl, the guide and I. It was good to have some non-intrusive company on this first hiking trip.
In the morning, on our first day-long hike, we left after breakfast armed with a packed lunch. At the end of the trek we were picked up by a van and returned safely to our hotel. After a short rest, I walked around the one street town and dined at the lovely Forest restaurant – a place with a distinctive character made more interesting with a glass roof. The food and service were superb.
And so, the adventure continued from one village or town to another a combination of boutique hotels with decent to fine food interesting sights and of course the day long hikes in the beautiful mountains, one with nature.
As all things must end, so did this trip with a return to Mumbai on September 1, after a fabulous eight days 
The second trip from October 17 to 23, 2018 was to one of the regions of the world that I really love: the French Mediterranean. Now, one can be forgiven for thinking that it's all glamour, beaches and parties. But there is another: a more beautiful side to that coastline and that is the foothill of the Alpes Maritime. This was a journey I undertook alone with two guides I found through the Net. It was similar to the Romanian trip… the difference being that I was driving myself. I reached the hotel in Menton the previous night, had a light dinner and then went to sleep.  Next morning armed with a packed lunch, we hiked up 700 meters. The guide could speak little English, so communication was a combination of words and hand movements. On returning to Menton, exhaustion overtook me, and I collapsed outside a pharmacy, but was back on my feet in 45 minutes. The passersby were quite concerned and willing to help, had I needed assistance. Finally, I got to the parking lot and drove to my hotel. After regaining my energy and fortified by rest, I walked around Menton and spent a delightful evening and dinner at Mirazur, the world's best restaurant. After a superb meal, washed down with delicious wine, I returned to my hotel to sleep and ready myself for another adventurous and exciting day.
And so, the trip continued from one beautiful destination to another, luxury boutique hotels and fine dining at night all the way, 500-800 meter high, up and down five to eight hours each day. I wandered in the mountains around Menton, Eze, Saint Paul de Vence, Aix en-Provence ending with Saint Tropez.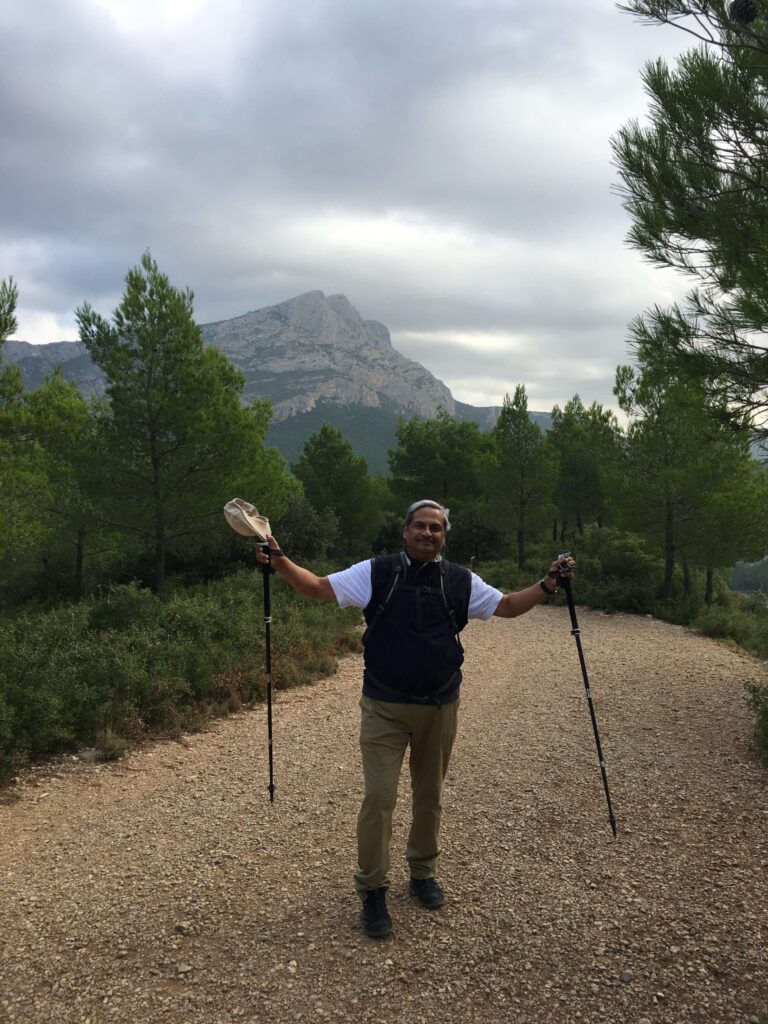 I met Paola, the most professional and erudite guide, I have ever met in Eze. She is a paragon of knowledge, history, geography, culture, et all. She came armed with maps and two or more routes for each trekking destination with different difficulty levels and time required. She was a pleasure to hike with as along with the beauty of the mountains that surrounded you, she regaled you with stories comprising the history and culture of where you were.   
The next trip – November 30 to December 3 – was to the hills above Rishikesh. I stayed at a fabulous hotel – the Atali Ganga. Spread on a hillside in the middle of a forest, Atali Ganga is what is called an active hotel, with individual cottages and rooms with windows on three sides. There are no televisions or room service. Peace and silence reign; and time to commune with oneself. My room had a fabulous view and was the furthest from the common areas – a four-minute climb each way.  We hiked from 7am to 1pm carrying a packed breakfast and would try to be back in time for lunch. After some peaceful time with myself, I would go down to the common area outside the restaurant for drinks and banter around a fireplace with other guests, ending with dinner with lip-smacking local ingredients and style. Then back up the hill to my room to bed, tired yet fulfilled by the day's activity. Wake up at 6am to watch the day coming to life, with the most beautiful vistas all around me was an experience, which will remain forever etched in my memory. Some of the places that I ate were memorable for the sheer deliciousness of the food.
The next morning, we started from the hotel and meandered uphill crossing the Ganges on a footbridge. A lush green enveloped us, and the Ganges was unimaginably pristine and clear. Alone with my guide, I was one with nature. The whistling of wind in my ears, the chirping of birds and the sound of rushing water. I thought of the lines by John Muir: "In every walk with nature, one received far more than he seeks." And I did: tranquility and an unspeakable joy that was always remain with me.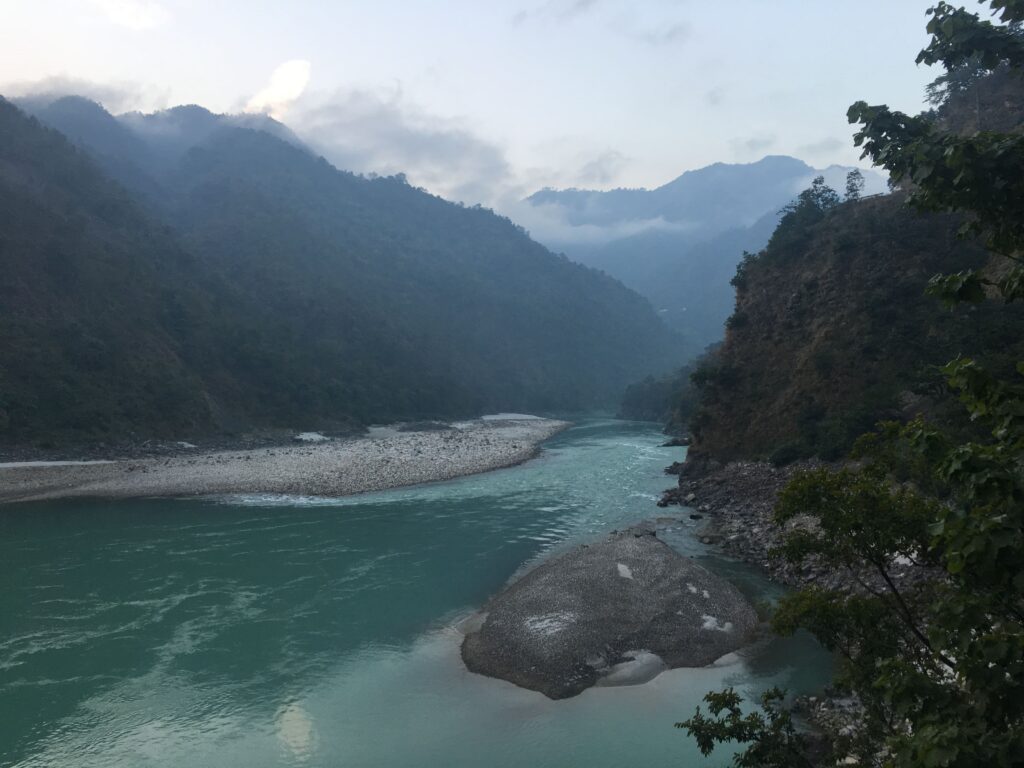 The more I trekked, the better I became at it. Trekking in the mountains is not simply about physical challenges; it makes you mentally stronger- after all, you have a long uphill way ahead of you. It also makes you more alert and focused- the traits that we also need in our everyday lives.
One day we hit the rapids in our two-man Kayak. It is safe and adds another, a different element of adventure – a not to be missed activity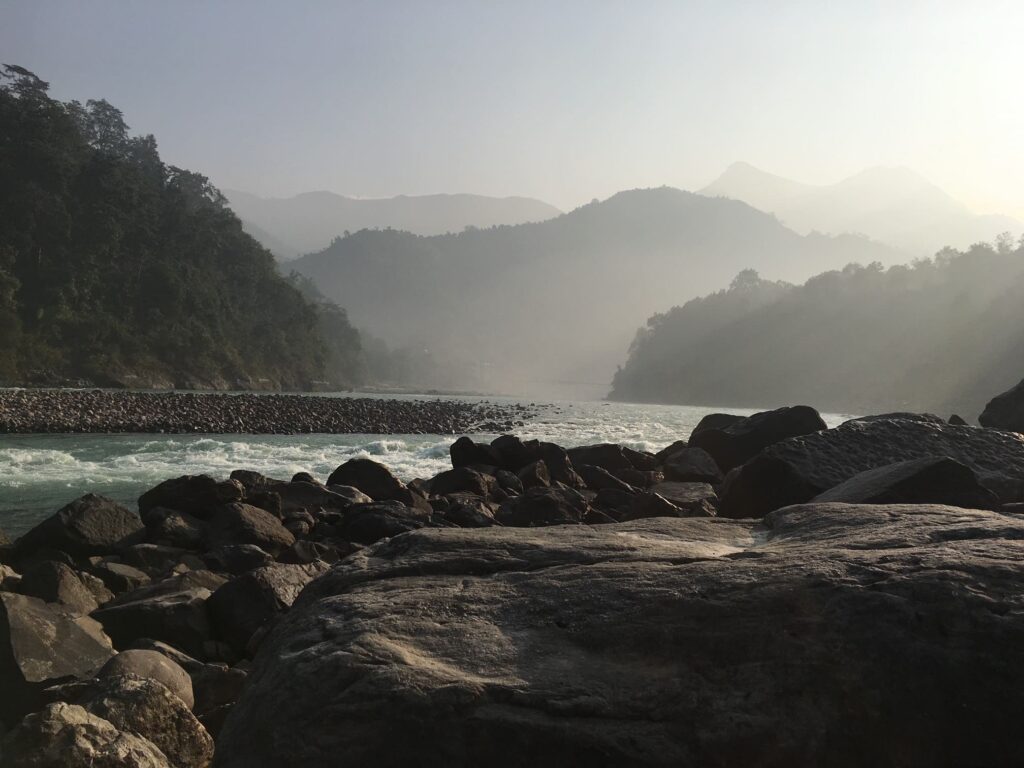 Alas, the day of departure had come. It was a short two-and-half-hour hike around the hills around my hotel. At the Ganges rafting start point, I embarked on a thrilling rafting experience. As I jumped and swam in the Ganga, I viewed life with a different perspective. The cold clean waters added a freshness to my thoughts, and I felt free and renewed.
The next trip – Decemnber 21 to 26 – was with family to Kanatal and a beautiful hotel called The Terraces. My day began with a 6am–12noon hike on the hills and forests around Kanatal, after which I would join the family for lunch and the day's activities with the family. Lunch in the middle of a stream and bonfire gatherings closing with dinner were the norm.
This was followed by a trip from January 6 to 12 to a homestay called the Jilling Terraces and a boutique hotel called the Kumaon in Almora district. The trip got rougher as you had to trek 40 minutes from the road head to the Jilling Terraces which was a property with beautiful views and nice rooms but not warm rooms. I was the only guest there. I followed the usual routine of hikes and walks from 6am to 2pm, followed by lunch and rest. Evening were by the fireplace with a drink in one hand, a book in the other, listening to classical music and old songs. Not finding new hiking places, I moved to The Kumaon, which was a 10-minute walk from the road head. This was like being in the lap of luxury – floor to ceiling glass windows, heated flooring in the bathrooms, super pahadi food and great conversation with the hotel manager and his wife. The day routine of hikes, rest, evenings remained the same. Route – Mumbai-Delhi-Pantnagar or Kathgodam plane/train combination and then on by road.
At the Kumaon, I learned about Munsiyari which was said to be strikingly beautiful, as off the beaten track as you could get and close to the border with China. It was a long trip in early February. To get there – fly to Delhi, stay overnight and take  a flight to Pantnagar the next morning. Drive to The Kumaon, stay overnight and then a full-day drive to Munsiyari, the following day. The road journey was beautiful with great mountain views. On reaching Munsiyari, you were upclose to the Himalayas. It was bitterly cold, the homestay as basic as you could get, and I slept in my sleeping bag, covered with blankets. The hikes around Munsiyari were beautiful, but I could not take the unwelcoming accommodation (the woman managing the homestay did do what she could – so no negatives for her – but the place was just not liveable. Nothing but a direct entry to your room, no lounge, no decent views, a tent in the meadows or the forest would have been better. I hope to return to Munsiyari on a better organised trip.
April 714 Parvati and Tirthan valley Himachal Pradesh
I learnt about Kalga from Shazia, a Pashtun girl I met while exploring the slums of Dharavi. She told me about Kalga, a village in the mountains of the Parvati Valley, in the lap of nature surrounded with an almost 360* circle of mountains. A village, where people came to visit but stayed on and never went back – mesmerised by the beauty and peace, living the simple life. Germans, Englishmen, Israelis, Indians from different parts of India, businessmen, doctors, engineers, scientists, entrepreneurs, et all who had seen various degrees of success in their careers, and who no longer felt they could get anything more from life. The simple pleasures of everyday life in Kalga without worry or stress drew them to this beautiful place.
She told me about Raja Bhaiya, who ran the best guesthouse in Kalga. Raja Bhaiya turned out to be a retired Punjabi armed forces chap who had worked for the UN in Greece and other parts of Europe, parted with his Greek wife and came back to settle in Kalga, married a beautiful Himachali woman and from whom they have a lovely daughter. Raja Bhaiya had taken up the sanitisation programme for the village and due to his efforts, it is probably the cleanest village in Himachal. He is a man for all seasons — driver, handyman, innkeeper, guide, teacher, philosopher and policeman. It is difficult to find a man of such character and drive in a village, but there he was, larger than life.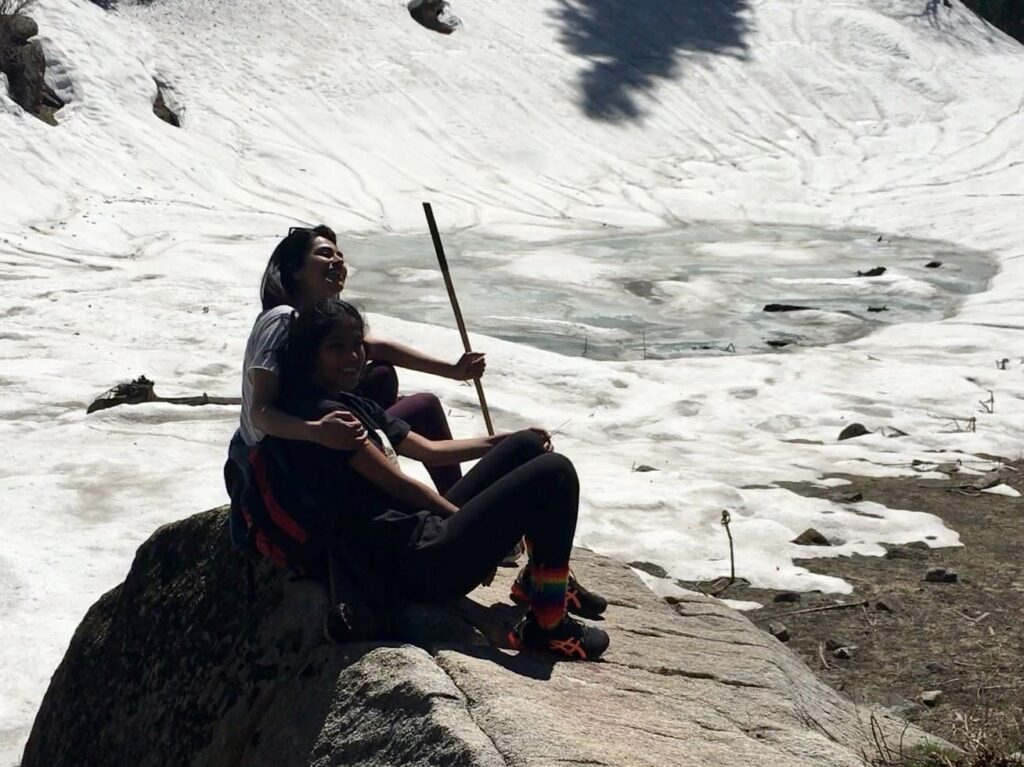 I flew to Kullu airport, where Raja picked the Pashtun girl, another guest and me and drove to the base of Kalga town in his car, shopping for provisions, vegetables, and bedding in Kullu town on the way. We arrived at Barshaini, which is at the base of the hill on which Kalga is situated and hiked the 45-minute trek to Kalga and Raja's guesthouse. Two girls from the village had materialised. They and Raja made light work of carrying up our luggage, bedding and all the purchases made.
Yes, the only way to get to Kalga is to walk. It's a pedestrian village with houses strewn all over the intermediary plateau and the hillside. The guesthouse was all it promised to be, comfortable, warm with running hot water. Meals were in the kitchen, the verandah or Raja's bedroom, which doubled up as a sitting room around a welcoming fire, where one could get out of the many layers of clothes one otherwise needed to wear. Raja, his wife, daughter and I would spend every evening there. The Pashtun girl and her friend joined us sometimes. Her German boyfriend soon arrived, and she disappeared only to be seen on our treks and at breakfast. The other guest had friends in the village and we would meet her occasionally.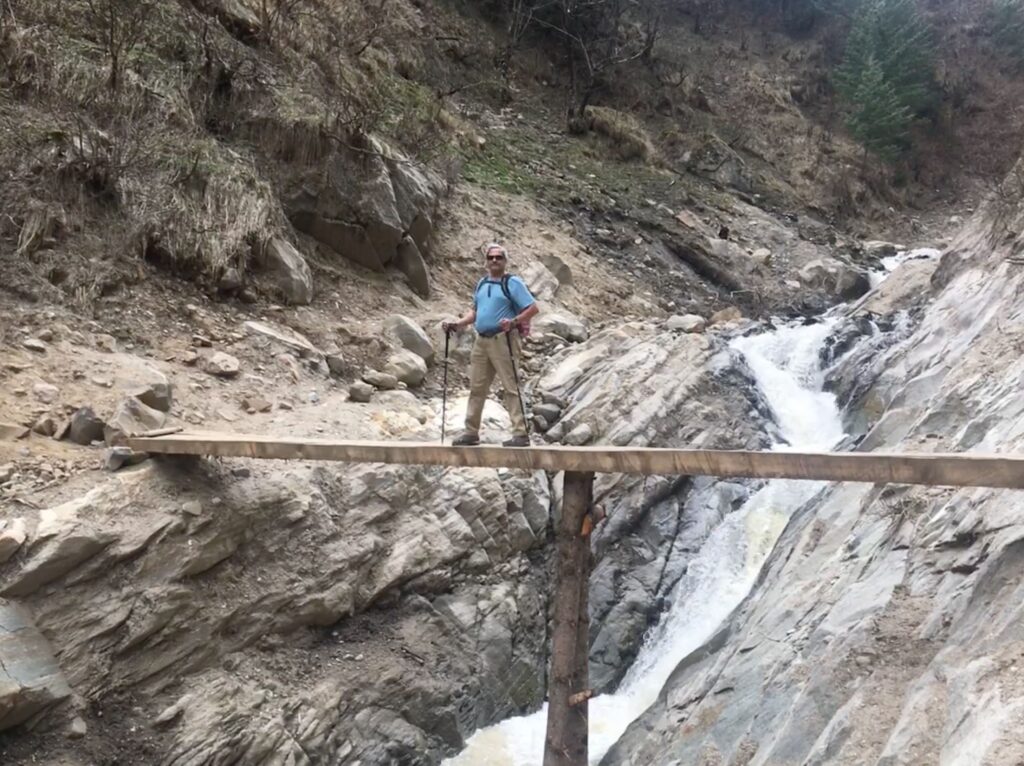 I nearly forgot to say that the cuisine available in Kalga was unreal. Chinese and Italian struggled with dal bati churma, makkai ki roti/ sarson ka saag and Himachali food, all cooked in little homes and the occasional restaurant.
The Parvati Valley is situated in the northern state of Himachal Pradesh, from the confluence of the Parvati River and River Beas, runs east, through a steep-sided valley from the town of Bhuntar, in the Kullu district.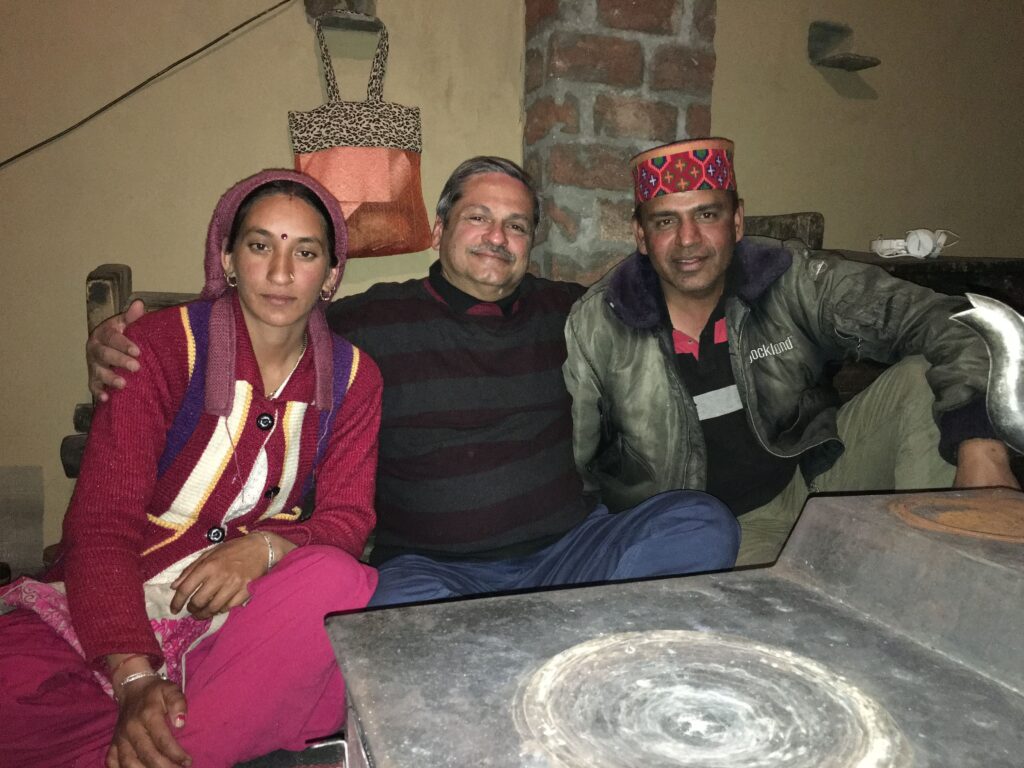 It is a land where myths are alive and touch all aspects of the lives of the people living there. 
It is believed that Shiva, the destroyer, meditated in the mystical valley for about 3000 years. He sat here in the form of a naked ash -meared sanyasi or a naga sadhu. Seasons would come and go, and one day he looked out at this untouched, perfectly sculpted landscape and named it after his consort, Parvati.
Another famous legend says that eons ago, Kartikeya, the younger son of Shiv and Parvati, meditated here for a thousand years. While he was here, Shiv and Parvati occasionally came to see him. Parvati would make kheer for him. A natural spring bubbling with sulhpurous hot water, thus came to be known as Kheerganga.
The greyish colour of the Parvati River is also attributed to the culinary skills of the goddess. 
Each day started with a morning walk, breakfast and then the daylong trek lasting for five to seven hours up the mountain, following one route and coming back down by another one. 
The route to Kheerganga was not fully open, so we made our way ably guided by Raja passing through several snowfields. I am at a loss for words to describe the sheer beauty of nature – her glorious colours of green, rust and white enveloping us. It was wild and magical. Nature is alive and talking to us, the trees telling us stories of yore, the mountains the silent witnesses to everything that the earth has endured, I thought to myself. I wished that I could stay longer amidst this breathtaking beauty.
This was unfortunately not to be. I was shattered when we got to Kheerganga. The beautiful place covered with tents and lodgings built in the most haphazard manner defiled and savaged the natural beauty. Garbage, that is the norm in popular tourist and pilgrimage spots of India was strewn around. I had to shut my eyes and imagine the phenomenal beauty of the place without the depredation of humans.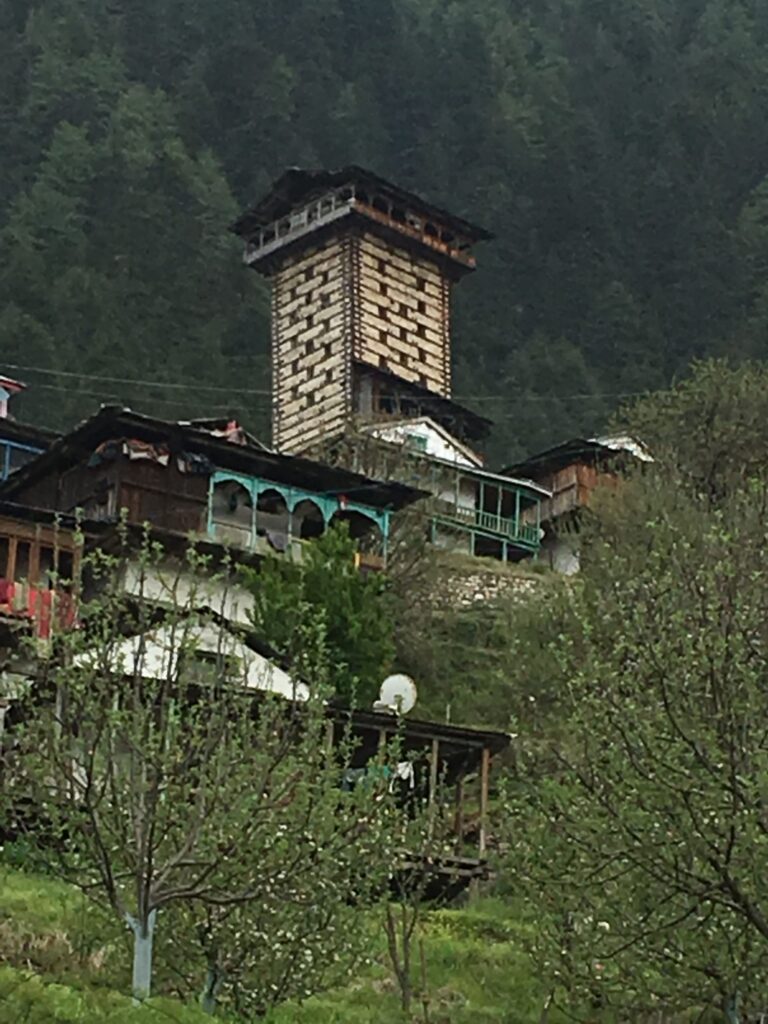 I then stayed for a couple of days at a beautiful house on the river in the Tirthan Valley, near the entrance of the great Himalayan National Park. One had to cross the river seated in a small goods trolley that hangs precariously on a ropeway pulled manually across the river. There were houses along the banks, built, so as to enjoy the views of the river and hills steeply rising from the riverbed on both sides.  The ride was great fun.  Two-and-a-half days of trekking inside the National Park were breathtaking. I wanted to camp and spend the night here sleeping under the stars. This can only be done after getting permits and equipping yourself fully with camping and climbing gear, tents and provisions. Few kilometers inside the park, and all communication with the outside world are lost. You are one with nature and you rely only on yourself and your companions. Fortunately, experienced licensed guides and porters are available to make the expedition safe and comfortable.
The Great Himalayan National Park, a UNESCO world heritage site, located in Kullu district is spread across four valleys – Parvati, Tirthan, Jiwanal and Sainj, each of which offers a wide variety of exotic flora and fauna.  The Himalayan Valley is home to 10% of the world's and 50% of India's endemic plant species.
The Bhagavad Gita, tenth discourse, shloka 2.5 reads 
"Of the immovable things I am the mighty Himalayas".
This is one of the few places where you see the might of the Himalayas in all its grandeur.
All things, like life itself are transient. I left the blissful surroundings and carefree life to drive to Kullu and fly to the routine life back to Mumbai.
The next trip (May 2 -13) was to the hills above the French Med and Provence, this time with my wife, Vandana. With Paula as my guide, the mornings 6 am to 12.30pm were spent hiking in the mountains, followed by a shower, lunch, drive to the next village/town walking around the town or relaxing and then dinner at the hotel or other restaurant.
Starting from Nice the trip covered Flayosc, Lorgues; Coquillade village, Gargas; Chemin des Jeux de Mai, Mane; Crillon le Brave; Rochegude; Avignon; and Marseille. The hikes were – Salernes to the Waterfall; The Grand Luberon and I'Aiguebrun River; Mane to Saint-Michel I'Observatoire; Mont Ventoux from the South Side; Les Dentelles de Montmirail from Gigondas Village; Saint Remy to Les Baux through Les Alpilles; Monts de Vaucluse from Fontaine-de-Vaucluse; and The Calanques de Marseille
On to Norway from June 3 to 12. The pattern of moving to a new destination every day or other day, hiking eight hours a day had fallen into place. The Norway trip was different as the transport was combination of rail, road and sea. The travel, accommodation and guides at each place was organized by a professional tour company tailormade for me. The hikes were unguided, with a personal guide or part of a group as the location warranted. 
Starting from Oslo, I travelled to Skabu, Åndalsnes, Bergen, Ullensvangvegen, Skjeggedal. The highlight of the trip was to an overnight (28-hour) hike to snowbound Trolltunga (Trolls tongue) a narrow sliver of rock at the edge of a cliff protruding far over a 1000 meter + deep valley.
As I pen this on May 1, 2021 with the Covid pandemic raging all over India, homebound in Alibaug, I cannot but reminisce on the wonderful times in the mountains. I yearn to get back to the Himalayas. Fabulous destinations are opening up, infrastructure has improved and homestays abound. Far from the madding crowds, away from the touristy hill stations, in quiet corners of the mountains, with day-long walks, crisp mornings and fireside nights is the way to go. 
On a closing note, I say that the cliché – age is only a number – is true. Pursue your passions and constantly learn and do things you have never done before (if you ate so inclined). Pursue the road less travelled. For me, it's the mountains, countryside and nature. For another it can be the pursuit of knowledge, spirituality, science, agriculture, botany and what have you.