Reading Time: 3 minutes
A Gujarati industrialist recently remarked, 'You Marwaris have lost the Midas touch!' Current public perception certainly seems to corroborate his observation. But have they really lost the Midas touch? My first point of search was data on the Top 50 business houses in the country. In 1964 there were 13 top Marwari families comprising 26% of the highest echelon of business houses. In 1990, the figure increased to 14 families comprising 28%. In 2000, this remained static.
Comparing the number of Marwaris in 2013 that made it to the Forbes list of top IOO Indian billionaires with those in 2022 showed that while there were 29 Marwaris in 2013, in 2022, the number had gone down to 26, but the number of Marwaris in the first 10 had risen from 2 to 4 in the same period. While these figures show the community remaining as relevant as one of the top wealth creators, it was equally obvious they no longer occupied centre stage.
The community's historically pre-Independence dominance continued after 1947, with many Marwari business houses ruling the roost with the likes of the Tatas. Entrepreneurial, as well as astute negotiators, their keen understanding of costs and sense of financial risk management set the stage for their rise in industry as well as in the financial services sector in the post-Independence era.
This dominance continued till liberalisation. Unfortunately, this time around, Marwaris were not in a position to take advantage of the opportunities. With their core talents of money management, understanding of commodity markets and efficient cost controlling methodologies, Marwaris instinctively gravitated only to those industries and businesses which gave them natural leverage and comfort. Their education was also largely to support and enhance this expertise, with most of their youngsters choosing commerce or chartered accountancy for higher studies.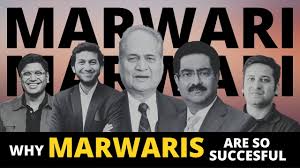 This single-mindedness, while certainly helping them retain their hold on their businesses, did not allow them to expand their vision to other newer sectors, especially technology. As a Marwari friend analysed, 'We were more comfortable with fixed assets and more tangible businesses than those involving R&D, marketing, or tech and innovation. Sadly, on hindsight, we did not even favour education in engineering or chemical sciences.'
FMCG was among the fastest growing sectors, with token Marwari presence of the Emami Group and Varun Beverages. Pharma, one of India's most value creating sectors for decades, had Lupin as the sole Marwari representative in an otherwise large field populated by the likes of Sun, Serum Institute, Torrent, Cipla, etc. Telecom, India's sunrise industry of the 2000s, has seen only Airtel and Reliance emerging in virtually a two-horse race.
The auto sector has Bajaj as the sole Marwari representative. Real estate has the Lodhas being the lone notable Marwari. The chemicals sector does have a decent presence of Marwaris in the Singhals (PI Group), Birlas, Taparias (Supreme Industries) and Bhartias (Jubilant).
Scanning the core manufacturing or financial services sectors, the picture is markedly different. In metals, Jindals, Birlas and Anil Agarwal's Vedanta have near total dominance. Then there are the Ruias (Essar) across steel, oil, shipping, construction, telecommunications and power. In cement, where Birlas, Bangurs, Dalmias, Singhanias are the most prominent players. In the stock markets, Radhakishan Damani looms large, along with the late Rakesh Jhunjhunwala.
A large number of Marwaris moved out of the country, some becoming immensely successful like LN Mittal and S P Lohia. But once again, they found success in the traditional industries of steel and chemicals, respectively.
Marwaris were not very adept at managing government and bureaucracy, in nudging the policy framework. Which is why they are relatively less visible in infrastructure.
Then there may have been complacency. There's that adage — the first generation creates the wealth, the second generation consolidates it, while the third generation squanders it. Marwaris were early movers in the creation scene. By the turn of the 2lSt century, they were well ensconced and rich, and had lost the drive for toil and innovation, preferring pursuits of leisure, art and wolf — not to mention this writer being miltv as charmed for his penchant for food. Several had become capital consumers, rather than wealth creators. Uniquely, the Marwari mindset was discouraging of their women participating in business. Except for a few women like Dipali Goenka of Welspun or Vinati Saraf Mutreja of Vinati Organics, there are hardly any examples of Marwari women at the helm.
But the wheel of fortune is once again turning the Marwari way. Higher quality education, exposure to global management techniques, and better corporate governance has rekindled a new hunger for success among GNMs — GenNext Marwaris. A fresh upsurgence is on the way. India's vibrant startup ecosystem has a healthy representation of Marwari entrepreneurs like Sachin and Binny Bansal (ex-Flipkart), Ritesh Agarwal (OYO), Prateek Maheshwari (Physicswallah), Anupam Mittal (Shaadi.com), Mukesh Bansal (Myntra) and Harsh Jain (Dream 11) among others.
So, my friends, the reports of the demise of the Marwari Midas touch are greatly exaggerated.
This article first appeared in The Economic Times dated October 28, 2023.