This decorative art is eclectic, imaginative, offering something for everyone, writes Vandana Kanoria
Olive green paste drips carefully from the orange stained fingers of a lady in ghungat. The curls and swirls taking a life of their own, form intricate patterns on my palm. In the background, the women are singing Marwari wedding songs on Mehendi loudly and with great gusto, but completely tunelessly. The wedding festivities have begun!
French fries, kachori saag, are fed to us by the loving hands of mothers, as we sit rapt watching our palms become works of art. The air is redolent with the fragrance of mehendi or henna. Mom is in great demand by those assembled, because, with her great artistic flair she can paint even more intricate patterns using a sharpened pencil dipped in the mehendi paste….
Mehendi, perhaps the oldest form of body art in which the artist's own body becomes the "canvas", dates back to the days of prehistoric art associated with a distinctive deep orange-red colour and intricate patterns on the hands, arms, legs, and feet. The exact origins of this ancient art aren't clear. Some argue the first people to use henna were the ancient Egyptians. Studies of mummies dating back to 1200 BC show that henna was used on the hair and nails of the pharaohs. It is also believed that Cleopatra used henna to paint her body.
Others claim India was the place of origin, where mehendi was used even before the Vedic Age. The word 'mehendi' comes from a Sanskrit word, 'mendhika', which refers directly to the henna plant itself. Later Indian texts describe it as a part of Solah Shringar or the16 adornments
It is thought to have evolved from desert communities, who discovered that they could cool themselves by applying paste made from henna plants to their hands and feet. It wasn't long before they started painting decorative patterns. 
For centuries, the tradition of applying mehendi was practised in India, Africa, and the Middle East, where henna is believed to bring love and good fortune, and to protect against evil. 
Mehendi is traditionally applied for wedding ceremonies, during important rites of passage, and in times of joyous celebration. Symbolising fertility and good luck it has been used for artistic, ritual and ceremonial purposes and, as a pre-wedding ritual, it is not just a decorative addition to a bride's wedding look, but has scientific reasons behind its application. Henna, known for its cooling and healing qualities is supposed to calm the bride's nerves. Its medicinal properties were well known in ancient times, when it was applied to the skin for healing headaches, stomach pains, burns and sunburns, wounds, fevers, and even for prevention of hair loss. Henna designs were also painted on pregnant women who could enjoy a few weeks off from housework.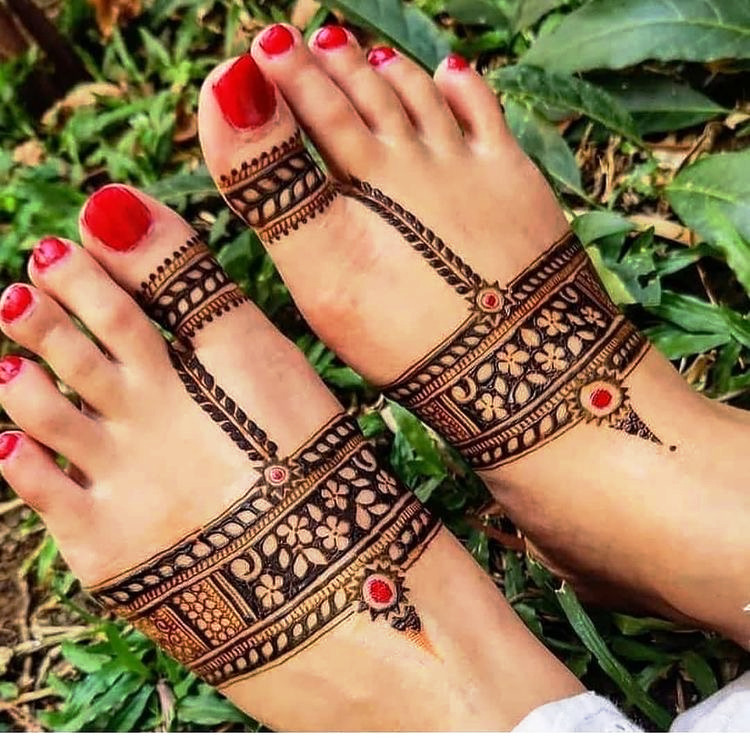 Indian weddings are not a one-day grand affair but a series of joyous celebrations, where friends and family gather, to be transported into a fantasy fun-filled land.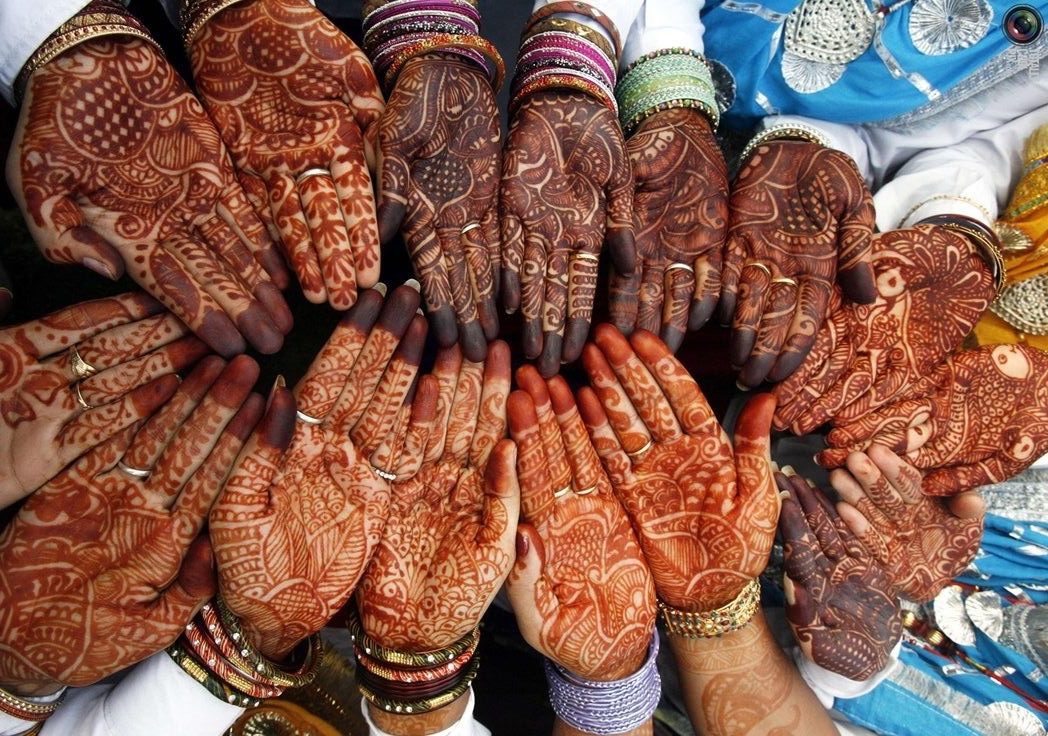 After Ganesh Puja, festivities begin with the mehendi ceremony when, the bride-to-be, her friends and the ladies of the family prepare to adorn their hands and feet with designs. The finest quality organic mehendi organic from Sojat, a town in Rajasthan famous for the cultivation of the henna plant. This decorative art is eclectic, imaginative, offering something for everyone – the traditional, the eccentric and trendy, they are all there to suit every taste. 
From that ingenious invention, the mehendi cone, flow paisleys, lacy flowers, geometric checks and dots; delicate leafy vines trail across palms. The aesthetics of patterning are not only Indian. Bold, geometric African designs and the more delicate and feminine Arabic, where motifs are generally applied to one side of the hand and feet and do not extend to forearms or calves, offer endless design possibilities. Nail art, bindi art are all incorporated into this colourful ritual.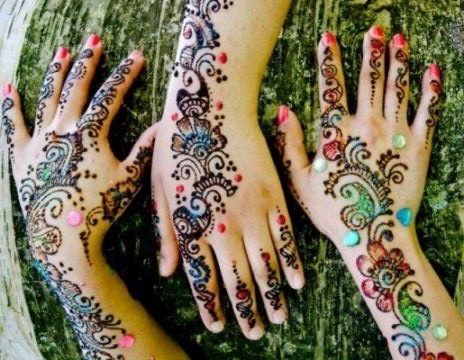 Among the Marwaris, the back of the palm must be adorned to ensure the health and long life of brothers. With this beautiful art, not only the bride, but her whole family shares in the abundance and blessings showered by gods.
The most popular among the latest trends are embellished designs, which use colour, crystals, Swarovski and are dusted over with glitters or metallic dusts- the idea being to adorn the bride's body in imitation of jewellery. Historically, henna was not only a popular among the rich but the poor, who could not afford jewellery, and used it to decorate their bodies as well.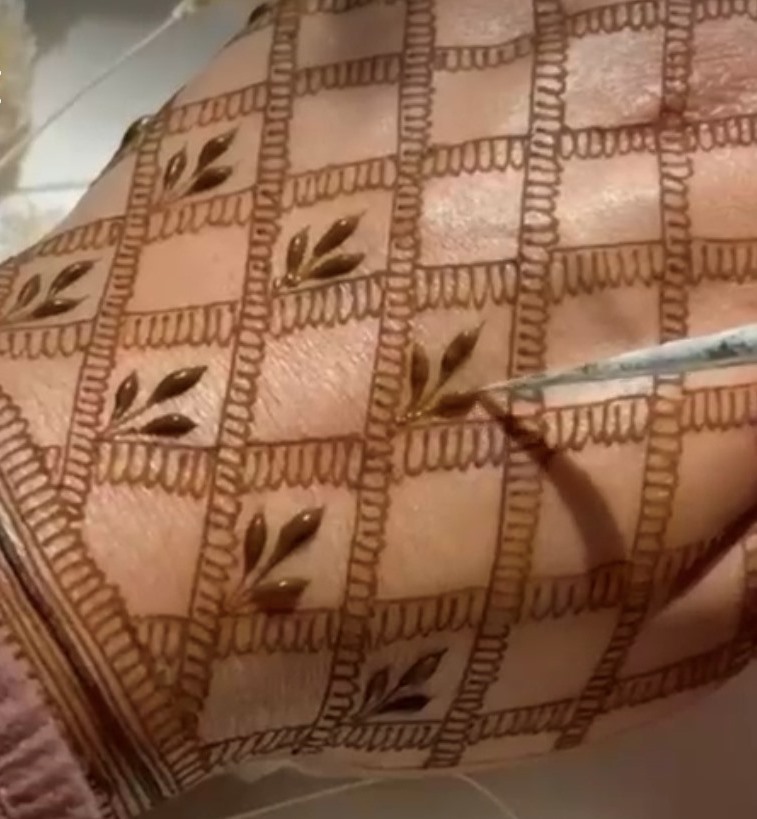 Gone are the days when mothers and female family misranis and joshans – those formidable Brahmin women who presided with great authority over all rituals and modes of celebrations were invited to apply mehendi on the hands- but never the feet. They were too exalted to touch the feet of us mere mortals. In these Instagram and Facebook times, professional mehendi artists who are 'with it' the latest trends are stalked and booked months in advance. After all, every girl wants to look like a princess on her special day and post wow Instagrammable pictures.
Tradition holds that for as long as the mehendi remains on a bride's palms, she is excused from all housework! Perhaps the popular Bollywood taunt "hathon me Mehendi laga rahkhe ho kya? " to an ineffectual and useless villain or hero, has its origins in this custom.
Mehendi and its cultural trajectory has been deeply influenced by television serials and Hindi films and are often celebrated in Bollywood style. Film-makers Karan Johar and Aditya Chopra, purveyors of the big fat Indian wedding whose dreamy, aesthetically pleasing wedding scenes have captured the imagination of young girls, who want similar sequences, clothes and dance steps.
While the age-old belief was that the darker the stain the more loving the mother-in-law will be, today the idea of a mother-in-law's love is replaced with that of the new husband's. Adding the groom's name hidden somewhere in the intricate patterns leads to many minutes and moments of hilarity with the groom searching for his name, either during the ceremony or on their wedding night.
Mehendi celebrations are all about colour, trippy, witty, floral decorations, palate tickling food, music and dance. And some of the most colourful and trendy-traditional clothes. Bandhani and leheriya swirl and twirl in a cascade of hues; gota, mirror work and crystals razzle and dazzle; traditional lehengas shimmer, paired with contemporary crop tops and tinkling bangles. Under a canopy of flowers and drapes the bride sits on piles of cushions, or in a beautifully decorated jhoola, surrounded by her friends. Mothers and aunts, sisters and cousins, come bearing trays with jewellery made of flowers. To the sounds of soulful music she is adorned and bedecked with exquisite floral creations perfuming the air with fragrance.
"Show up in a festive mood, ready to party, sing and dance". The atmosphere is imbued with dholak beats, thumkas and singing of traditional songs withs aunts and mothers tapping the dhol to folk songs that have been a part of traditions forever. Bollywood mehendi songs have a different buzz and jazz up vibe. Banno Rani and Mehendi laga ke rakhna…doli saja ke rakhna, the latest batch of peppy songs, fusion and remixed old Hindi numbers – a mix of fun dance beats, foot tapping music, all add that punch and energy and masti to the ceremony. Some of these songs can also be emotional – a mellow number that talks about her journey from a her life as a little girl, to becoming a bride can make everyone teary eyed. A fun spin is often added to the function with skits and caricaturing of assorted friends and family members leading to much merriment – often amped up with a little competitive, friendly banter or dance-offs, between the bride's side and the groom's to see who emerges a victor. 
Closely allied to mehendi is the art of Alta which can be traced to the mythological depictions of Lord Krishna applying alta on his beloved Radha's feet.
Application of alta is a common adornment ritual followed by the women in West Bengal, particularly during religious festivals like Durga Puja and weddings. Alta is a bright red dye or liquid colour used to adorn palms and feet in simple patterns with a brush, that can be done by anyone and requires no artistic skills.
It is a part of the make-up repertoire of Indian classical dancers of Bharatnatyam, Kuchipudi, Odissi, Kathak, Mohiniyattam and Manipuri. The red hands make the mudras look dramatic and striking. 
Travelling from its Indian home, the art of mehendi has reached the shores of faraway western lands. With henna booths and stores popping up in towns and cities in Europe and America, as well as easy availability of henna kits, these "temporary tattoos" are very popular with everyone. Celebrities, Rihanna, Ariana Grande, and Gigi Hadid, regularly pop up on Instagram, Tumblr, and Twitter, adorned with the intricate, brown-red patterns of mehendi. 
Henna starts life humbly and simply. Beginning as a paste made from the crushed leaves of the henna plant used for cultural and medicinal purposes, it became a symbol of auspiciousness or shagun that every Indian bride applies on her palms to seek blessings of Goddess Lakshmi. From being a decorative art for family wedding celebrations, mehendi has acquired worldwide fame and popularity, entering the hallowed portals of fashion, and decorative art.