Deepa Gahlot looks back on an improbable but fiercely patriotic film, which is now remembered chiefly for its songs
Samadhi (1950)
Those who have not seen Samadhi (1950), or even heard of it, must have at least tapped their feet to the impossibly cheery Gore gore o baanke chhore (the remix if not the original), or listened to distant echoes of the patriotic Kadam Kadam Badhaye Jaa on Independence Day.
Made soon after Independence, when the mood in the country was a mix of upbeat and sombre, Ramesh Saigal paid a tribute to Netaji Subhas Chandra Bose, with this film about the Indian National Army. It is one of the few espionage films made in India (the genre is more popular now), and certainly a rare one with Catholic (possibly Anglo-Indian) leading ladies.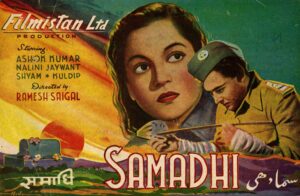 It begins with a variation on Jana gana mana (today, it would have caused riots), and goes to follow Netaji (played by a dead-ringer actor called Colin, who seems to have vanished after this film) to Malaya, where he gives a rousing speech to the Indian community settled there, and then auctions a garland. After some fierce bidding, it is picked up by an earnest Shekhar (Ashok Kumar) for seven lakhs (a fortune at the time), which is all he has, and he also joins the INA. His blind father Ram Prasad (Badri Prasad) is proud of his son, more so when his older son Suresh (Shyam) has broken his patriotic heart by working for the British army. The youngest son Pratap (credited as Sashi Kapoor, but despite the resemblance, the actor could not have been Shashi Kapoor– the age doesn't match) is as deshbhakt as his father.
Predictably, Suresh is sent to Malaya to arrest Shekhar, where he meets his dancer sweetheart Dolly D'Souza (Kuldip Kaur). She hates the Japanese who killed her father for being a British collaborator, and wants revenge. Since Netaji has allied with the Japanese, she plans the decimation of the INA with a mysterious and murderous Boss (Mubarak).
Meanwhile, Shekhar has encountered Dolly's sister Lily (Nalini Jaywant) and fallen for her. After Boss observes his eager expression while watching her dance to Gore gore, he forces Dolly to assign Lily the job of stealing a crucial document from Shekhar. The information contained in it reaches the British and results in major losses for the INA. Boss makes plans to assassinate Netaji during a show by the sisters, but the shooter fails.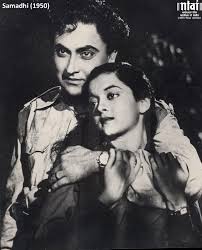 Lily is distraught, but so in love with Shekhar (she calls him "hero") that she cannot break up with him. Again, she is forced to get information from Shekhar, who promises to marry her after he returns from his mission. In typical film fashion, Suresh and Shekhar confront each other on the battlefield, and both are wounded.
The D'Souza sisters are arrested for spying, tried by an INA court and sentenced to death. As penance for his inadvertent role in the massacre of his comrades, Shekhar volunteers to go on a suicide mission to blow up a bridge, that would lead to battle between the British and the INA in Kohima.
He does not know that Netaji has pardoned the sisters and recruited them to his side to spy on the British. Shekhar lands up at the rendezvous point, and who should he find there, but Lily, Dolly, Suresh, still faithful to the 'enemy' side, and the ubiquitous Boss!
Shekhar and Lily succeed in blowing up the bridge, but with guns booming all around them, there is no way of getting out alive; in wounded condition, both crawl over to Indian soil, and die at the place where a samadhi is built to mark their sacrifice.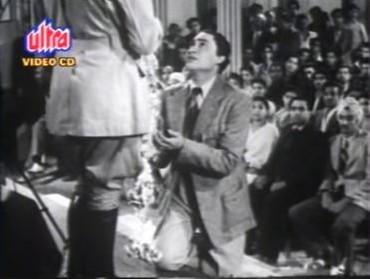 After all these years, the film (dialogue by Qamar Jalalabadi), while too far-fetched to be based on a true story as claimed, is entertaining, its nationalism worn proudly on its sleeve without demonising the British. Ashok Kumar and Nalini Jaywant were allegedly in love when it was being made, and the spark shows. C Ramchandra set Rajendra Krishan's lyrics to melodious music. Ashok Kumar and Nalini Jaywant went on to have long and successful careers. Shyam was killed tragically young a year later, in a horse-riding accident while shooting for Shabistan. Kuldip Kaur died in 1960 of untreated tetanus.