From romcoms to satire, comedy films have made us laugh down the ages. Deepa Gahlot lists 20 of the best
If smiles and laughter can be used to measure happiness, then comedy films can definitely be counted as the top catalysts. Which kind of bad mood cannot be lifted by a funny film?
Here's a list of 20 old favourites… none of the newer ones are counted because Rohit Shetty may be successful, but is not yet in the league of Hrishikesh Mukherjee when it comes to wholesome comedy. Also, there's just one film per director otherwise Mukherjee, Basu Chatterjee and the forgotten Roop K Shorey would have dominated the list. They are all clean, can-be-watched-with-family kind of films, an aspect that seems to be ignored by so many comedy writers and directors. This is a random personal selection, readers could make their own grey-day watch list.
Ek Thi Larki (1949)
In Roop K Shorey's exuberant romcom (made before term was even coined), Meena Shorey is on the run from two blackmailers (IS Johar-Majnu) and joins the company of Ranjeet (Motilal) as a secretary, when she does not know the first thing about typing or shorthand. On a business trip, due to a fib by Meena, she and Ranjeet end up as domestic helps in the home of a rich couple. In the process of dodging the crooks, Meena makes up incredible stories to avoid being caught, but the boss falls in love with her anyway. IS Johar went on to write, direct and act in several movies and his sense of humour remained as sharp as ever.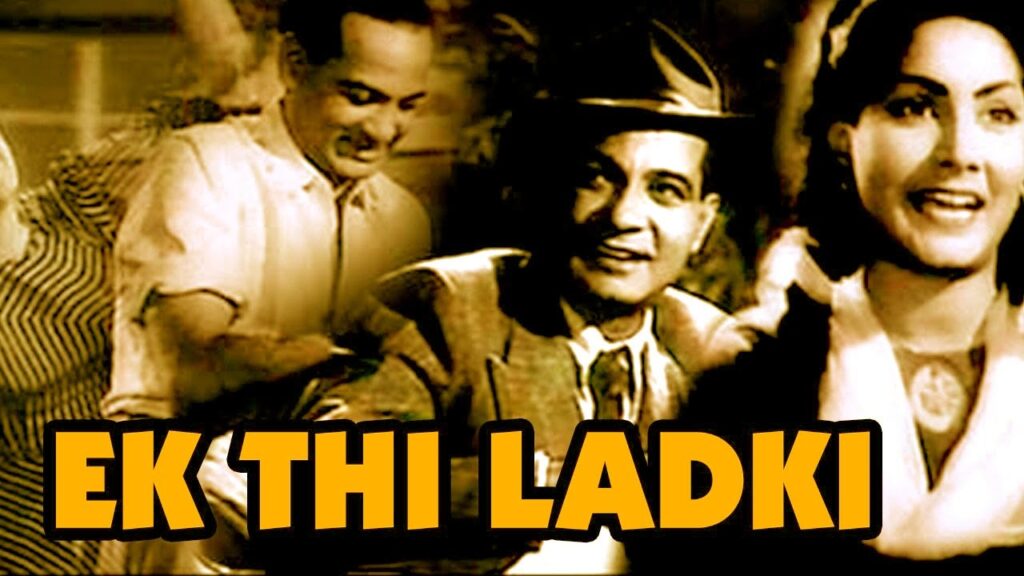 Gateway Of India (1957):
This film was a crime thriller cum comedy, directed by Om Prakash, set over one night; Madhubala played the part of Anju with such infectious energy, she made every scene sparkle. Anju escapes from the clutches of killers after her fortune, and over the course of the night, meets many men (cameos by stars), hoodwinks the bad guys and calls all of them to the Gateway of India on some pretext. She gets the villains arrested and finds true love with a poet (Bharat Bhushan).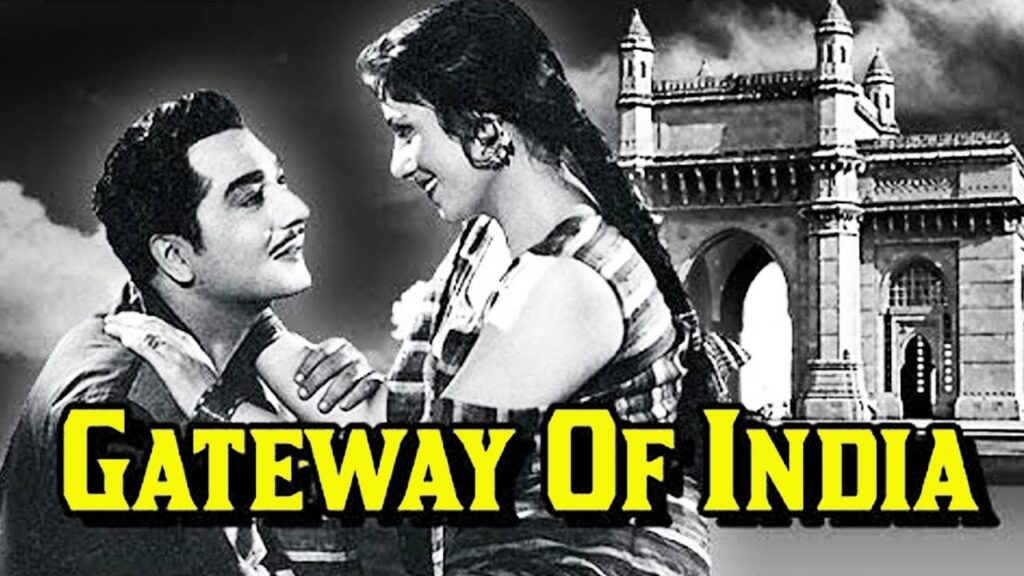 Chalti Ka Naam Gaadi (1958)
The Ganguly brothers Ashok, Anoop, Kishore, play Sharma brothers in Satyen Bose's delightful musical comedy. The eldest Brijmohan hates women and forbids the younger two from getting involved with any female. But Manhohan falls for Renu (Madhubala) and Jagmohan with her friend Sheela (Sahira). Then they discover a secret from Brijmohan's past and have to take on the evil due of KN Singh and Sajjan. With SD Burman's magical score, the movie is worth multiple viewings.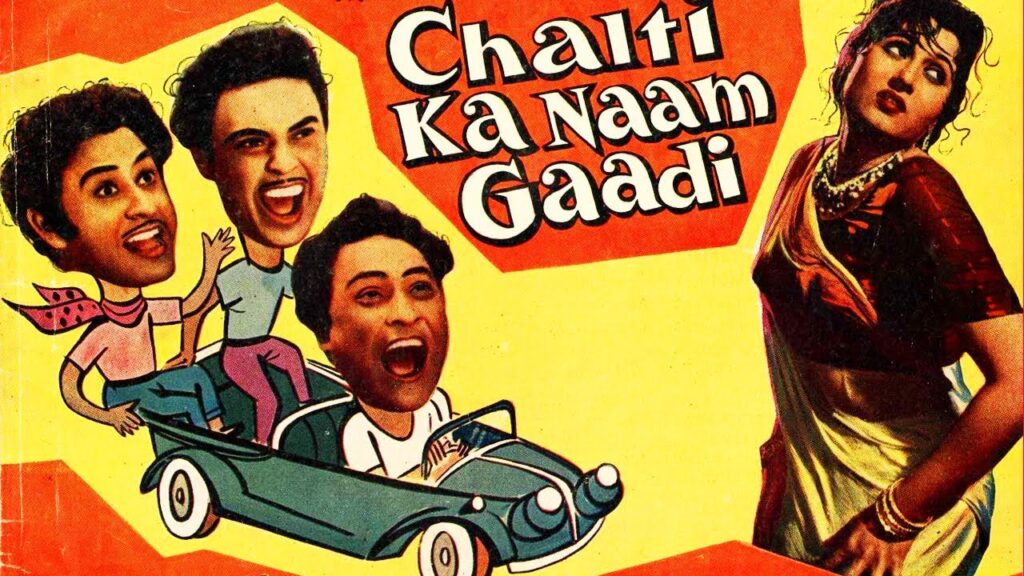 Half Ticket (1962):
Only Kishore Kumar could have pulled off this zany comic caper directed by Kalidas, in which he, Vijay, dresses as a kid so that he can buy a half ticket on the train. On the journey he meets a pretty woman (Madhubala), whom he falls in love with, but she thinks he is a child. Further complications arise when a villain (Pran) hides a diamond in the 'half-pant' of the kid to hoodwink cops, and then pursues Vijay trying to retrieve it.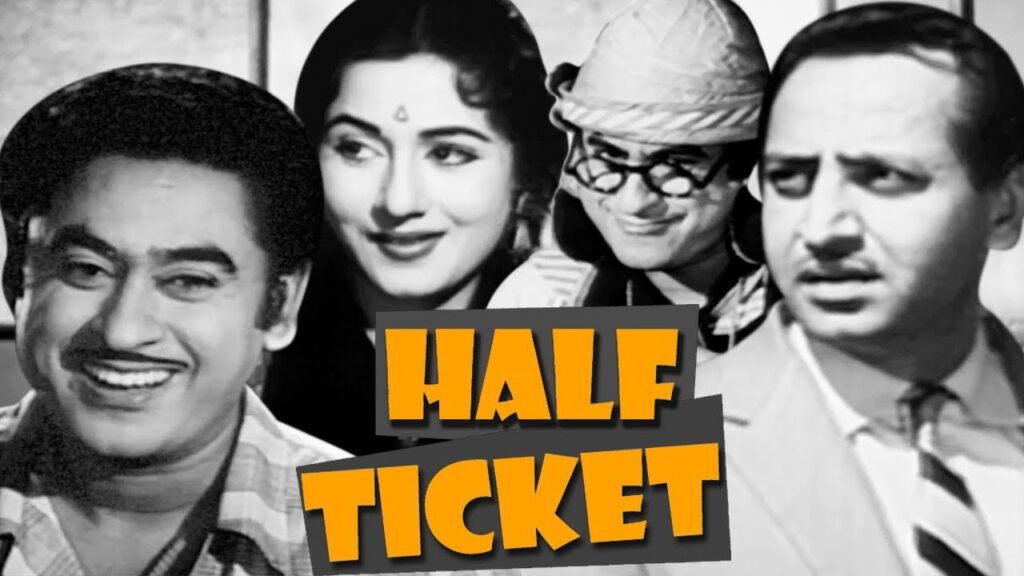 Padosan (1968):
Today this Jyoti Swaroop film would have been whipped for racism, but back then nobody minded Mehmood playing a caricatured bald, lungi-wearing "Madrasi" music teacher, who is in love with his student, the lovely Bindu (Saira Banu). Her neighbour Bhola (Sunil Dutt) falls for her too, but he can't sing. To woo her, he enlists the help of his musician buddy Vidyapati (Kishore Kumar), who sings while Bhola lip synchs. The romantic rivalry was side-splitting, quite rightly putting this film in the list of top-ten Bollywood comedies.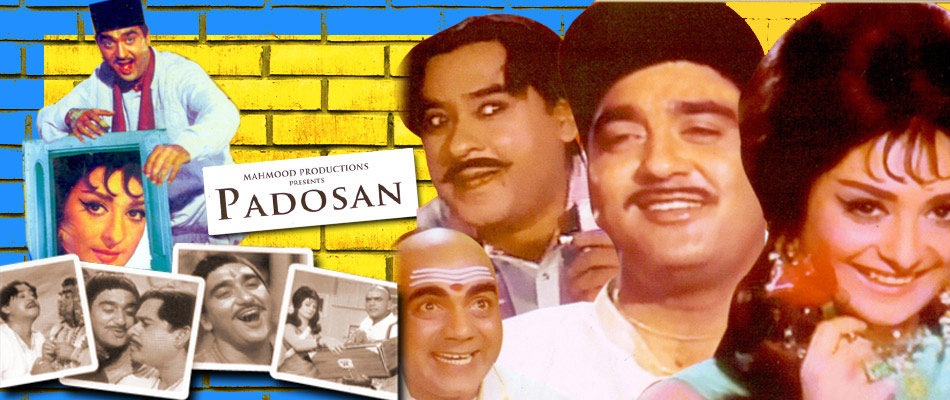 Sadhu Aur Shaitaan (1968):
Memood plays a good-natured taxi-driver, Bajrangi, in the crime-comedy directed by A. Bhimsingh; he does not realise there is a corpse (Pran) in the back of his cab, and wonders why a succession of passengers (cameos by stars) are so spooked. The dead man is the 'shaitaan' who tries to cheat an honest back employee Sadhuram (Om Prakash), and ends up dead by accident, while a terrified Sadhuram goes on the run. It sounds ghoulish, but the film was a laugh riot.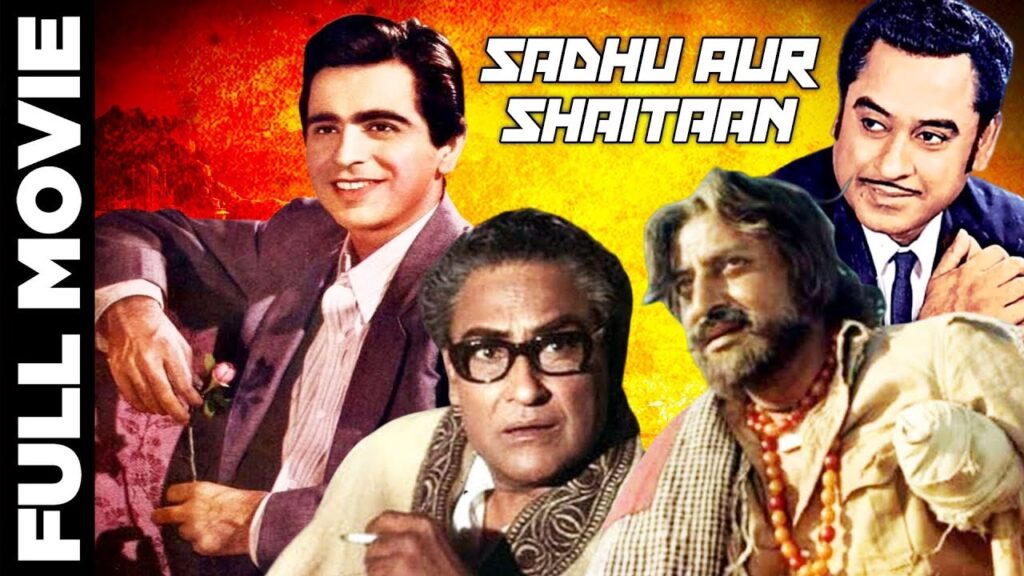 Bombay To Goa (1972):
S Ramanathan gave Amitabh Bachchan one of his early hits, in this road movie in which Mala (Aruna Irani) is conned into escaping an arranged marriage and running off with a lot of money to become an actress; she witnesses a murder, and gets on a Goa-bound bus to escape her pursuer (Shatrughan Sinha). Amidst a bunch of cartoonish co-passengers, including a fat boy who keeps demanding 'pakoras', there is the dashing Ravi, who, unknown to her, is her unseen fiancé, out to protect her. The humour is generated by the nutty passengers, the wisecracking conductor, played by Mehmood and the driver played by his brother Anwar Ali.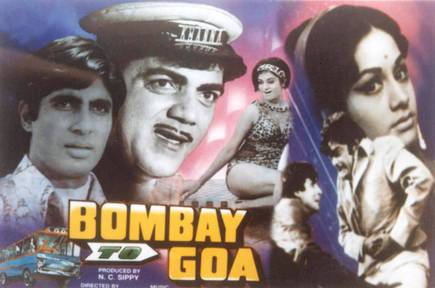 Rafoo Chakkar (1975):
Most actors getting into drag tend to overdo it and make the scenes distasteful, but Rishi Kapoor and Paintal were careful not to go over the top most of the time, in this Narinder Bedi film, a remake of Hollywood movie Some Like It Hot. Dev and Salim witness a murder and to give the killers the slip, disguise themselves as women and join an all-girl band going to Srinagar. Dev falls in love with Ritu (Neetu Singh), but cannot reveal who he is without putting himself in danger. An entertaining mix of comedy, drama and pleasing music.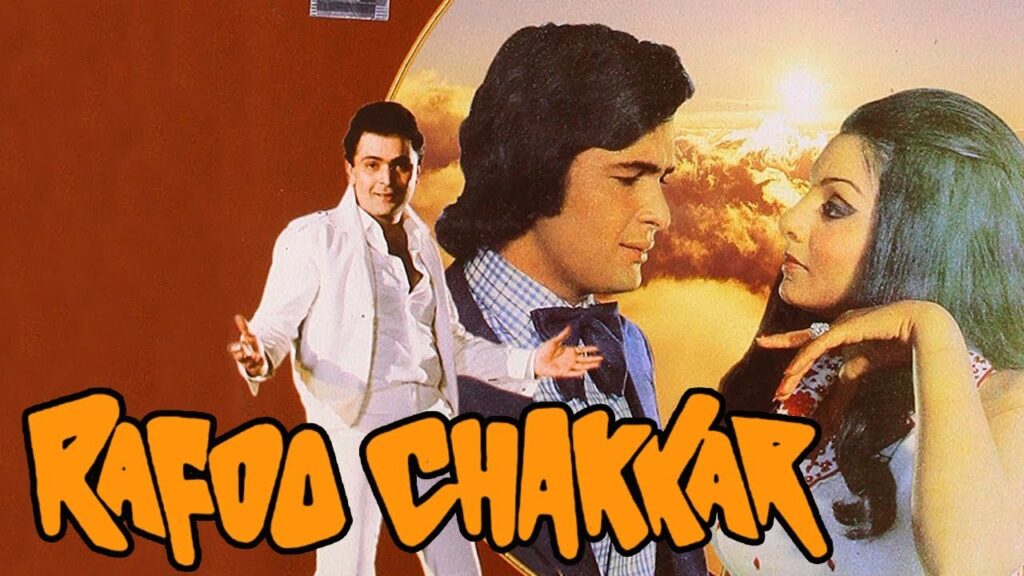 Khatta Meetha (1978):
One of Basu Chatterjee's little gems, in which a Parsi widow (Pearl Padamsee) with two grown-up kids is cajoled by her friends to marry a widower (Ashok Kumar) with three sons. Both of them can't manage their families on their own, and hope the yours-mine-our situation will help. But the children on both sides bug one another, till a common enemy unites them. It was a sweet, gentle comedy, which was the director's forte.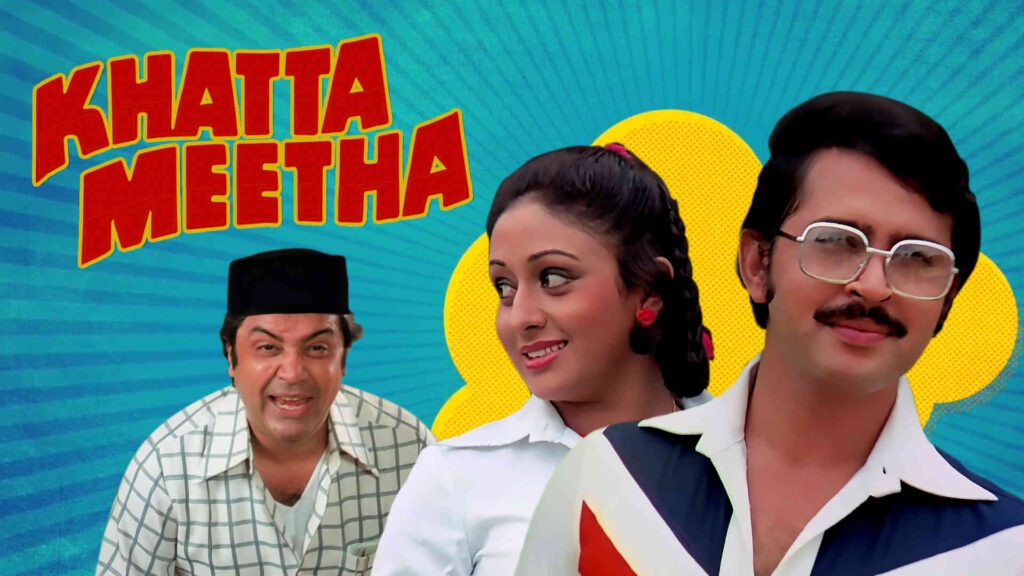 Golmaal (1979):
In Hrishikesh Mukherjee's evergreen comedy a man (Amol Palekar) invents a fictitious twin to save his job when playing truant from work, and then has to convince his boss (Utpal Dutt) that he exists, by skipping between the two characters and creating comic chaos. What complicates his life further, is falling in love with the boss's daughter (Bindiya Goswami).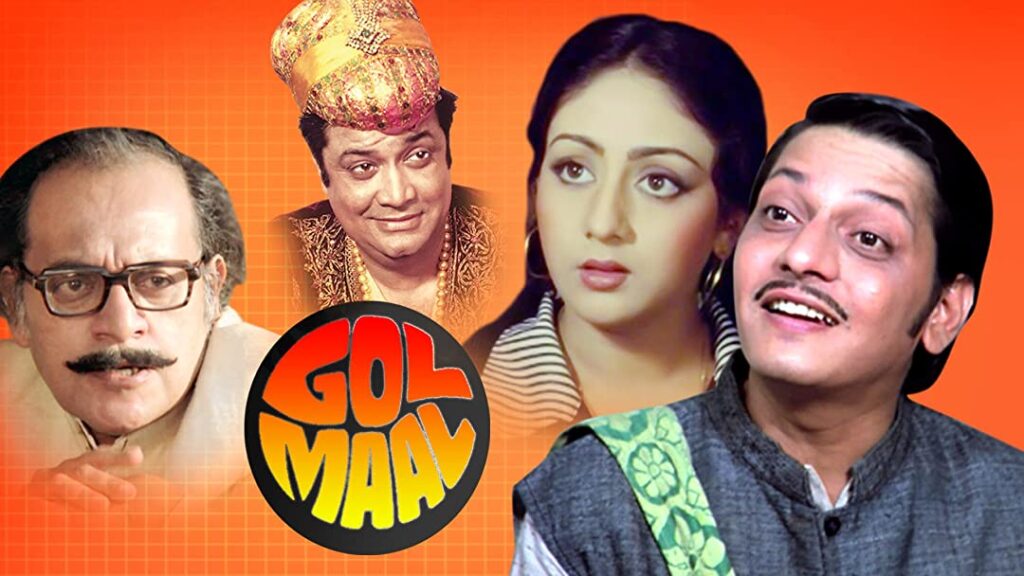 Chashme Buddoor (1981):
Sai Paranjpye directed this wonderful comedy about three roommates all falling for Neha, the girl-next-door (Deepti Naval), who sells Chamko washing power in the neighbourhood. When she chooses the gauche (Farooque Shaikh), the other two (Rakesh Bedi, Ravi Baswani) try all kinds of mean tricks to break them up. Saeed Jaffrey played one of the best roles of his career as the paanwala-cum-confidant. Paranjpye's scenes of the romance were frothy and chuckle worthy, without resorting to slapstick, which is why the David Dhawan remake of this film simply did not have the same magic.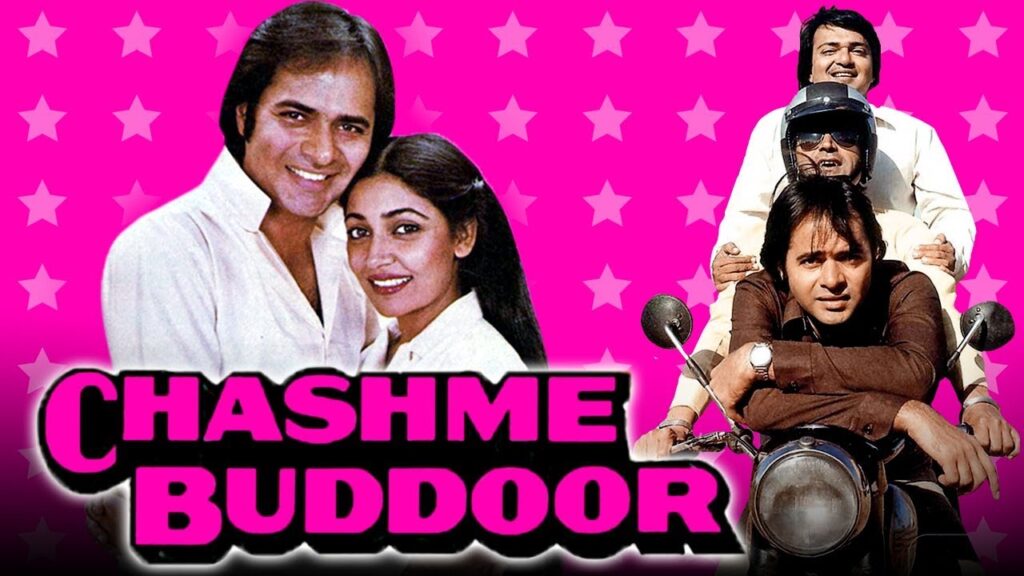 Angoor (1982):
This Comedy of Errors version had been made before by Debu Sen as Do Dooni Char (1968), but Gulzar's Angoor, starring Sanjeev Kumar and Deven Varma as two sets of identical twins, with Moushumi Chatterjee and Deepti Naval as their love interests remains a feat of witty writing and comic timing. One pair of twins let loose in a town could cause enough mistaken-identity confusion, two kick up a storm.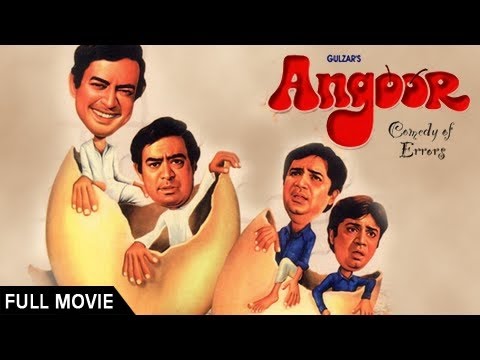 Jaane Bhi Do Yaaro (1983):
Kundan Shah's black comedy is one of the finest satires made in India; it is laugh-out-loud funny, but also bitterly critical of greed and corruption in high places. Many newbie actors and directors, who went on to become stars in their own right, appeared in the film or were part of the crew in the story of two photographers (Naseeruddin Shah-Ravi Baswani) who stumble on a murder. Satish Shah plays the corpse in the funniest cat-and-mouse chases involving the two bumbling photographers and rival builders (Om Puri-Pankaj Kapur). The Mahabharat sequence on stage is movie gold.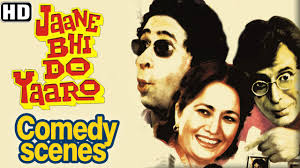 Hum Hai Raahi Pyar Ke (1993):
Mahesh Bhatt directed this madcap comedy (plot from a Hollywood film, Houseboat), in which an uptight Aamir Khan suddenly gets custody of his sister's children—three uncontrollable brats. Juhi Chawla played a runaway heiress, who hides out in their house and after some crazy hijinks gets hired as the governess. The kids (including a young Kunal Khemmu) drive their uncle nuts, but also end up softening him up and sorting out his love life by getting rid of the vampy Maya (Navneet Nishan). Juhi Chawla shone in it—she always had terrific Lucille Ball-like comic timing.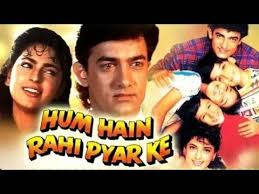 Andaz Apna Apna (1994):
This film directed by Rajkumar Santoshi has turned out to be cult comedy, with its dialogue (the best lines sound improvised on set) and characters like Crime Master Go Go (Shakti Kapoor) growing in popularity years after the film came out. There is the added attraction of seeing Aamir Khan and Salman Khan on screen for the first and probably only time. They play two good-for-nothings Amar and Prem, who dream of getting rich by marrying heiress Raveena (Tandon), who has travelled to Ooty with her secretary Karisma (Kapoor). Both insinuate themselves into her home and fight to attract her attention, unaware that the two have swapped identities, because Raveena wants to find true love. There are kidnappings and mix-ups galore before the guys are finally paired with the girls they love.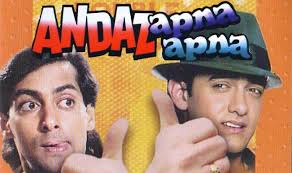 Hero No 1 (1997):
If one David Dhawan-Govinda film is to be picked—and they had a successful partnership– it would probably be Hero No 1, a blend of Bawarchi and Dilwale Dulhania Le Jayenge, in which Govinda has to soften Karisma Kapoor's stern grandfather (Paresh Rawal), by working as a cook in their household. He wins over the whole family and the hand of the girl he loves. The star is so good at comedy because he has absolutely no inhibitions and no fear of looking silly.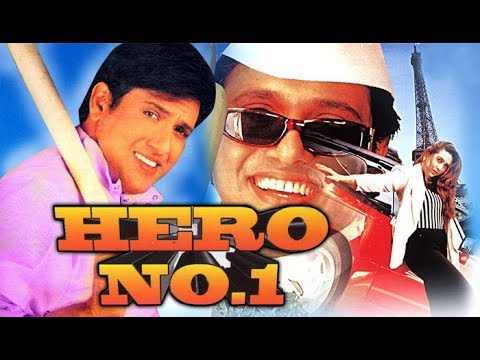 Hera Pheri (2000):
Priyadarshan's film is about two unemployed men (Akshay Kumar-Sunil Shetty) and their alcoholic and near-sighted landlord (Paresh Rawal) who try to solve their financial woes by crashing into a gangster's kidnap-for-ransom plot and get into all kinds of hilarious situations. It all begins with a wrong number due to a misprint in the phone directory, and gets crazier by the minute. Tabu plays an earnest bank employee, the only sane one in the cast. The director has made a spate of comedies, but this one remains at the top of the heap.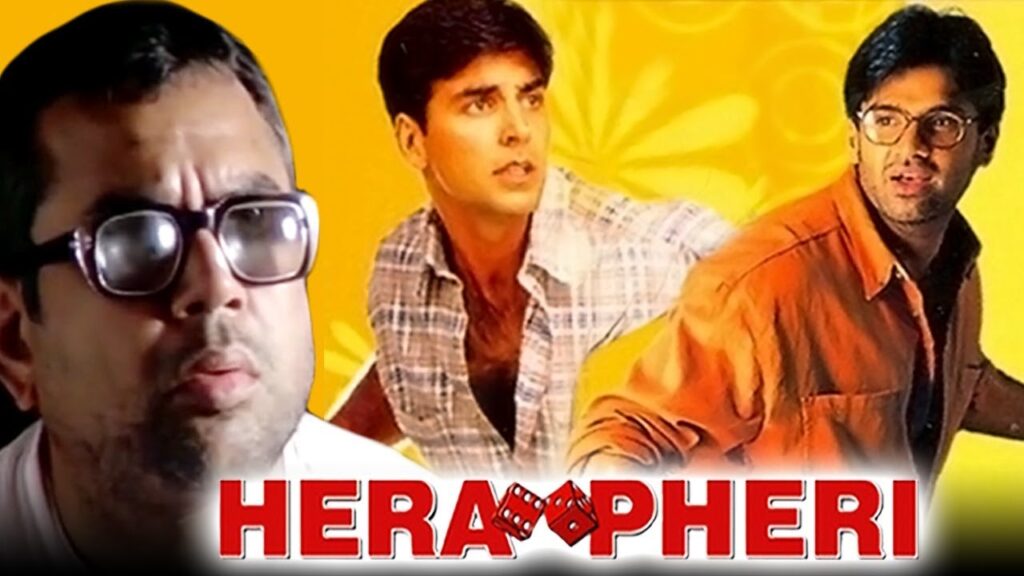 Lage Raho Munna Bhai (2006):
A sequel to Munna Bhai MBBS, also by Rajkumar Hirani, the comic team of Munna the gangster and his sidekick Circuit (Sanjay Dutt-Arshad Warsi) return and use the term Gandhigiri as they go about fighting a evil realtor and doing good, without missing out on the laughs of the first film. Munna romances an RJ (Vidya Balan) pretending to be an expert on Gandhi, and ends up having heart-to-heart chats with the spirit of the Mahatma, that only he can see.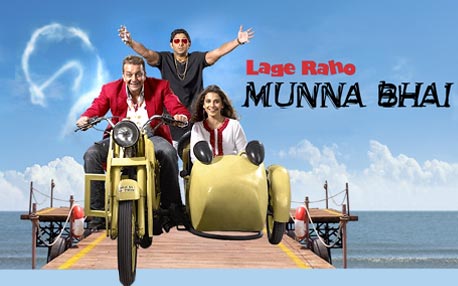 Khosla Ka Ghosla (2006):
A dark comedy for the times, frighteningly true because such scams are known to have happened. In Dibakar Bannerji's film, KK Khosla (Anupam Kher), a middle class man, discovers that a plot he had purchased to build a house has been usurped by a real estate nexus headed Khurana by (Boman Irani). Lawful methods do not work with a man like Khurana, so with the help of a former accomplice (Vinay Pathak), the Khosla family turns the tables on their foe. Justice never looked so satisfying!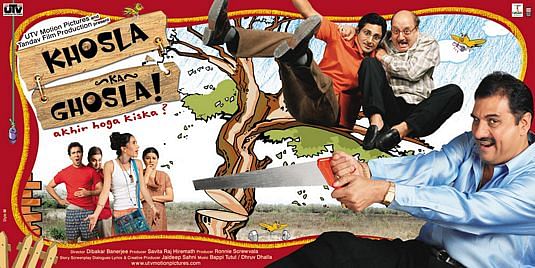 Bheja Fry (2007):
Sagar Ballary's sleeper hit was inspired by a wicked French comedy Le Dinner Des Cons. Rajat Kapoor plays a rich snob, Ranjeet, who throws a dinner party for his friends every week, where they invite one "idiot" whom they can ridicule. Ranjeet decides to get Bharat Bhushan (Vinay Pathak), an income tax inspector and passionate hobby singer for this dinner. He cannot imagine that his evening's entertainment will turn out to be more than he can handle. Bharat's well-meaning attempts to help Ranjeet, who has hurt his back, end in a massive and very funny mess.