We come from a hamlet called Jaswantgargh, around 200 kms south west of Jaipur, almost in the centre of Rajasthan. The population Jaswantgarh is around 9500 people and is a fairly affluent village all things considered. There are over 600 shops there, including 5 to 6 beauty salons (not the city types though). There is a very large migrant population of students. Some of them study in schools & colleges which have been built by our families over the years.
My father one day casually mentioned that the people in the village want to have a blood donation drive on his 89th birthday. They were expecting around 1000 people to donate blood.  
I did not want to miss this opportunity of seeing this & hence reached the day prior on 24th November. I had started to hear some rumours of people of Jaswantgarh living in other towns doing the same thing for the occasion. Little was I prepared for what I witnessed.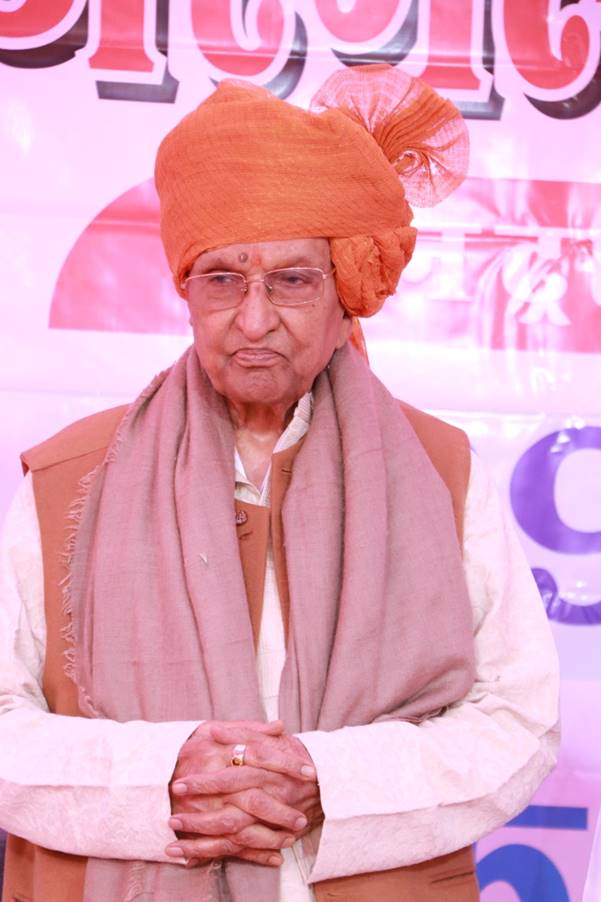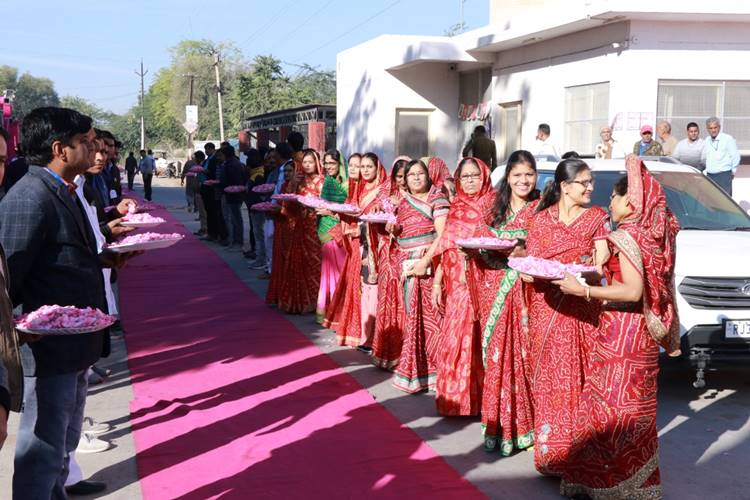 Jaswantgarh is where our family & our foundations have done our bit for the people of the village. The family runs a full-fledged Sanskrit school & college. Over 800 students are studying there. Rerun an ITI providing over 20 employable skills to enhance the employability of this who did not wish to pursue further studies. We recently built a girls college which has over 700 students & can accommodate nearly 1500 students. Already the girls, who just passed out, have started getting employment in large organisations. We expect that we will be at full capacity in 3 to 4 years. When the PM announced the scheme of toilets for every home, the family gave the additional money required to over 400 homes in the village. Till recently all the roads in the village were kaccha roads. Several of the roads have been laid to allow for better commute. Drains have been built, Kunds (for rain water collection have been built in several houses. The foundation is hiring teachers (nearly 1000) to teach at various government schools in Ladnun district & Sanskrit schools in Ajmer and Bikaner division where education was suffering due to lack of adequate teachers which the government is supposed to provide. Various facilities including toilets for girls have been built over the last few year. A mobile computer training bus goes from village to village to impart computer skills to students in various schools. During the pandemic, my father literally stationed himself in the village & donated umpteen equipment for various hospitals in over a 100 km radius. Oxygen m/cs, oxygen concentrators, diagnostic equipment etc.
Also distributed for months rations to everyone in need, also anonymously to those who we knew would not come to ask for it. Nobody went back empty handed.
For all the work done by him over the last several years the villagers decide to honour him.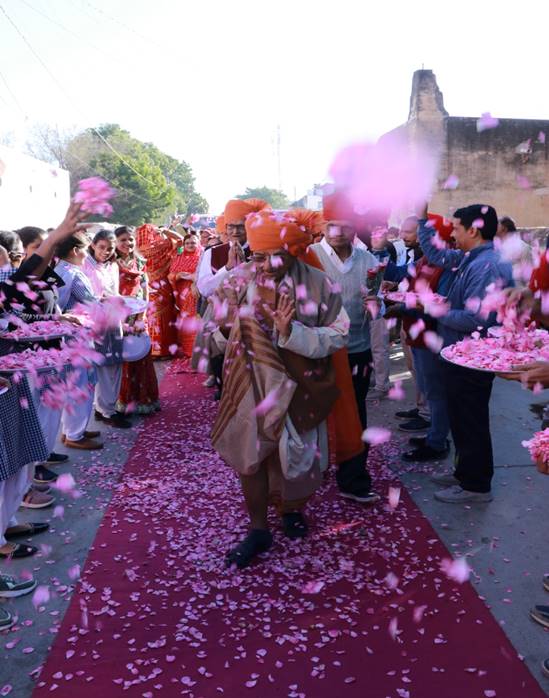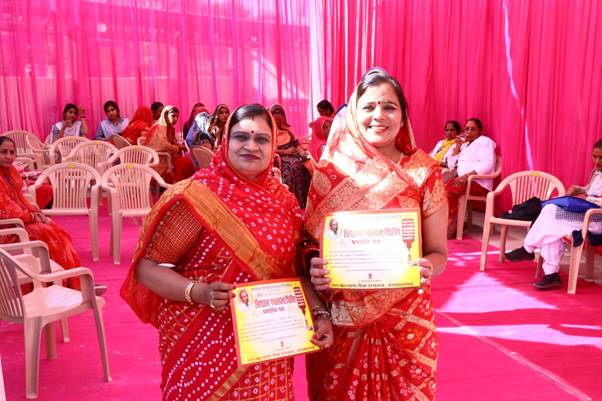 In the cool morning of 25th November we gathered around fifty mts away from the place where the blood donation drive was to take place. As soon as my father reached, we walked on the red carpet laid for him & the entire fifty mts was lined with men and women on either side, showering rose petals on him till the entrance. All of us enjoyed the flower shower, feeling truly overwhelmed. This was just the beginning. As soon as we reached the covered area, there were a string of local associations of the village and neighbouring villages who came to pay tributes to him. He received at least 6 citations.  Apart from this he was bestowed with garlands, flower bouquets by 100s of people. Men and women alike were wanting to get their pictures taken with him, a lot of them wanted to get a picture touching his feet.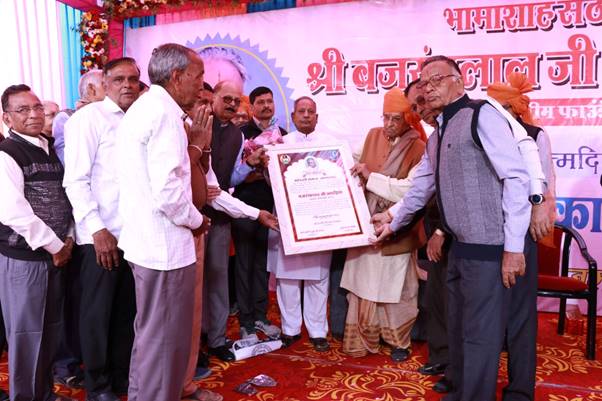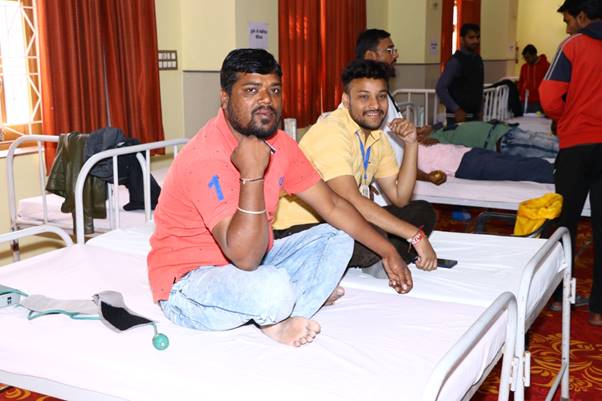 An hour later we proceeded to the girls' college which our family had built. The students gave an amazing dance performance after a very warm welcome.
From there we proceeded to our Sanskrit school & college, where he inaugurated a women only Ved Vidyalay the first one in the state of Rajasthan to bring Vedic knowledge to women True women empowerment. The principal of the Sanskrit school wrote in Sanskrit, 100 Dohas characterising my father. Truly a great tribute.
We went back to the place where the blood was being donated. He sat on the stage for over 2 hours where there was a constant pour of people wanting to wish him, give him bouquets, bestow him with garlands and take pictures with him. I had to almost pull him away for lunch.
Immediately after lunch we wanted him to rest but the never ending phone calls and visitors denied him that very important daily nap. Meanwhile the people of the village had built a tent in the angan of our house where there was a stream of visitors from villages and towns over fifty kms away as well. 
I was truly overwhelmed by the affection showered by so many people. Made me feel very proud of my father. I pray for his long and fruitful life