The all-day Indian Inspired Bistro Fabcafé aims to provide fresh, simple and healthy food flavours that are uncomplicated and clean. All this brouhaha about healthy foods, alternate grains etc etc may make good reading on the menu but not necessarily on the taste quotient.  The proof of the pudding is in the eating, writes Vickram Sethi
What Macy's is to the United States, Marks & Spencer to the United Kingdom, Galleries Lafayette to France, Fabindia is to India. It's a great enterprise.  Their website proudly states that the Fabindia links over 55,000 crafts-based rural producers to modern Indian market. Very True.  They have stores all over India and many of them in the larger cities showcasing a wide range of handicraft products. They need to be applauded for preserving India's rich heritage and contemporising traditional craft, women's garments, kurtas, furnishing and fabrics. The stores are always a delight. My compliments to the owners, but this piece in not about Fabindia but about Fabcafé. The all-day Indian Inspired Bistro. Fabcafe aims to provide fresh, simple and healthy food flavours that are uncomplicated and clean.  Their pitch is:  "Eat Well, Feel Good." The staff sports this on the back of their T- shirts.
I went to the Fabcafé located in Andheri in Mumbai. 
It was a Sunday (March 7), and parking was not a problem. We could park in the compound, you have to go through the store to enter the cafe. There was nobody at the entrance to seat us and we found a table ourselves. We were seated for around 15 mins, and yet no waiter in sight. There were only four tables that were occupied. We reached at 1.30pm, and it was 1.45 pm, yet no one had come to take our order. I almost got up to walk towards the kitchen and see if I could find someone. A young girl came and no apologies for keeping us waiting, we than placed our order one by one. I have listed below all the food that we called for.
It took forever for the food to arrive. A painful 45 minutes before any food reached our table.  (I observed that the waitress needed to have her nails done.)  This was very annoying, I don't know if the delay was deliberate so that we walk back into the stores and hopefully make a purchase. 
We started off with fresh sugarcane juice, a lemon Mint Tea and a Chaas, flavourful and chilled  – a great way to start the meal.
No Guilt Gol Gappas –  Very well-presented crispy Gol Gappas with boiled potatoes and bean sprouts served with three kinds of gol gappa pani – mint, tangy pomegranate and a pineapple-based sweet and sour pani.  We were told that these gol gappas were fried in olive oil, It didn't make any difference, Eventually, the crispiness of the puri and tanginess of the paani made the taste.  I would give it a 6/10. Cost Rs 200
Trio of Grains Papri Chaat (Wheat-free) – The USP of this dish was that the papris were made of Kuttu, Jowar and Bajra… frankly no big deal. You want to eat a Papri  Chaat you should get a Papri Chaat. The yogurt, tamarind sauce and the green chutneys really saved the Papri Chaat.
Healthy alternatives make a sales pitch but are not necessarily tasty.  The chef needs to go to Elco market and try the pani puri and Papri Chaat there.  I would give it a 4/10. Cost Rs. 200
Amritsari Style Fish 'n  Chips : The fish was moist, the ajwain flavour coming through very authentic Amritsari street food taste. The phoolwadi nice and crisp, in place of potato fries was a good surprise. The chutney could have tasted better.  I would give it a 7/10.  Cost Rs. 425
Kathal Basmati Rice Biryani :  A Kathal Biryani is a recent innovation nicely cooked.  The Kathal and the caramelised onion blend into a nice taste add a little saffron and you get a great aroma. In the 60s and 70s, there were a lot of small restaurants that had a board on the outside saying rice plate chalu hai and rice plate is ready. When you ordered a rice plate the waiter would shout across the room ek rice plate daal maar ke or salan maar ke depending what you chose veg or non – veg curry. This biryani was a rice plate with kathal curry scattered on the rice. No aroma of any kind and the rice was not even heated properly. I would give it a 2 /10.   Price Rs. 545
Mattar Paneer Paratha :  The saving grace of the mattar paneer paratha was that it came to the table hot served with a chutneys, achaar and a mint raita. The fact that it was made in jackfruit flour didn't do anything to the paratha the important thing that the Fabcafé must realise is that merely because jackfruit flour and other ingredients are healthy alternatives they are not necessarily tasty. Finally, it is the food that has to be tasty in this case the mint raita and the acchar upped the taste quotient or just about it.  I would give it 4/10. Cost Rs 320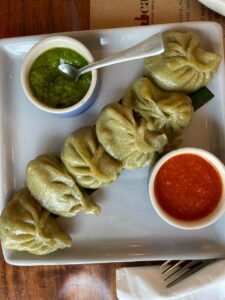 Spinach, Spring Onion and Water Chestnut Momos: The description in the menu said  "Wheat-free Momos wrapped in a dough of Jackfruit Flour and Root Starches, generously filled with Water Chestnuts, Spinach & Spring Onions. Served with our special chives & chilli dips for that extra punch of flavor."  It really didn't matter whether momos was wheat free or not. The fact is that the momos came at the right temperature nicely flavoured the dips complemented the taste.  I would give it a 5/10.  Cost Rs. 300/-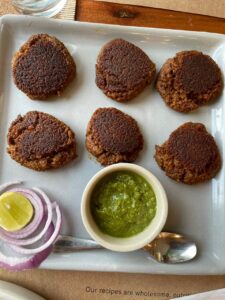 Shikampuri Shammi Kebabs (Mutton) :  The Kebabs were soft melt in the mouth nicely flavoured. I felt the chutney was not fresh. We were told that these were tawa fried in cow's ghee. I can't tell whether cow ghee added to the taste. The kebabs were very spicy the meat and the masala's were over powering.  I would give it a 5/10. Cost Rs 520.
Fruit Payasam –  The Payasam was the worst part of the meal. The seasonal fruit saved it from disaster it was inedible and heavy on the stomach seems like someone had opened a can of condensed milk. I think Fabcafé needs to reconfigure the taste. If I ever went back to Fabcafé, I would give it a miss.  I would give it a 0/10. Cost Rs 280
Mixed Berry n' Cashew Cheese Ice Cream (Vegan) And Coconut Cream n' Caramel Ice Cream (Vegan) :  We ordered a mix berry Ice cream with blueberries, raspberries. The cashew cheese was a misfit. Too creamy. Similarly the coconut cream and caramel did not work.
We reached at Fabcafe at 1.30 pm and left at 4.30 pm.
If someone enters the restaurant there should be a receptionist to greet them and lead them to the table. Within eight minutes an attendant/Steward must approach the table to take the order. After the order is placed with 10 to 12 mins the food should arrive at the table. For us to wait for 45 mins was very annoying, it's a mood spoiler. How would I rate my experience? Okay. Finally, all this brouhaha about healthy foods, alternate grains etc etc…may make good reading on the menu but not necessarily on the taste quotient.  The proof of the pudding is in the eating. 
Fabcafé by Fabindia

If you are looking for a Fabcafe near you, please use our Location page.

Open on all 7 days – Monday – Sunday
Timings – 10 am onwards