Legendary classical vocalist Kishori Amonkar's first disciple, Dr Arun Dravid, looks back on a beautiful connection between teacher and student
I have had the privilege to be the first disciple of the legendary Padmavibhushan late Gaan-Saraswati Kishori Amonkar (whom I shall address as Kishoritai or Tai hereafter). Kishoritai lived an accomplished life as an avant-garde vocalist of the Jaipur-Atrauli gharana of Hindustani classical music during her illustrious 86-year life. What follows are some reminiscences of a devoted disciple, friend and philosopher, a role I had played for about 50 years in her life. Kishoritai was only 12 years older than me, and therefore these three roles inter-mingled rather easily in the long journey of our lives. However, the most prominent role was that of her disciple, and I shall primarily dwell on it in this narration.
My initiation as Kishoritai's disciple happened somewhat accidentally. When I was hardly 12 years old, I had a chance encounter with her when I had visited her mother and Guru, late Padmabhushan Gaan-Tapaswini Mogubai Kurdikar (whom I shall call Mai, as we all used to call her) just to see what the legend looked like, and to pay my respects to her. I was undergoing training under Ustaad Abdul Majid Khansaheb at that time. Mai made me sing for her during that visit, so she was aware of who I was. Many years later, at the age of 17, when I approached Mai to ask if she would take me under her tutelage, she politely declined, but knowing of my preparation in vocal music from five years earlier, she suggested her daughter Kishoritai, not so famous then, to play that role. I readily accepted, and thus was the beginning of what was to be the most scintillating musical relationship for the next five decades!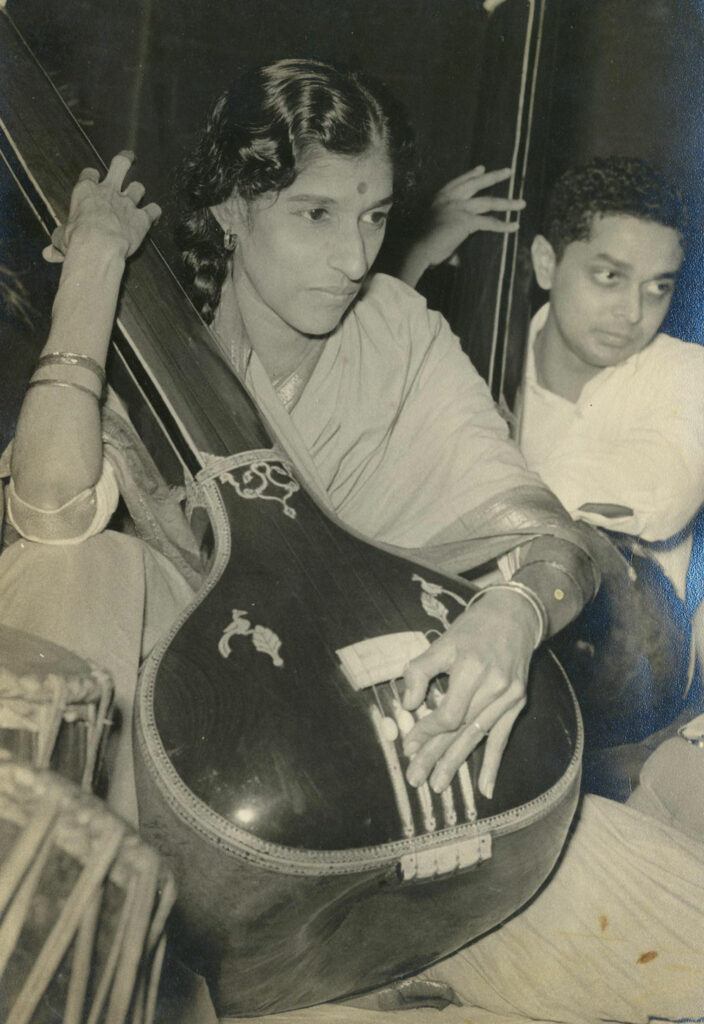 My first year of training began with Raag Bhairav. I had finished First Year at college and was into the intermediate science year. Music practically became my second, equally time-consuming, activity during that time. The lessons were regular, about three to four times a week. Tai started with me for fees of Rs. 50 per month, but in a couple of months, she stopped accepting any fees. Her reasoning was that she herself liked the challenge she faced while teaching me, to stay a step ahead of me, and that enriched her own music. So from then on she never accepted from me a single paisa for all the wealth of music she showered upon me!
In 1962, I stood first at the University, and took the decision to join IIT Bombay at Powai for my B.Tech. in chemical engineering. Since the campus was residential, with rules not allowing students to go home on weekends, this meant an end of my further music training. But Tai gave me a strict ultimatum: Either you come for music lessons every weekend, or terminate your training! I had no option but to seek special permission from the Director of IIT to go home to Mumbai every weekend. He gave me that permission with the condition that it would be withdrawn if I ever lost my first rank in the class. With God's grace I managed studies, and weekends and holidays of full-time music lessons. I not only maintained first rank each year, but won the President of India Gold Medal at the final B.Tech. year, having stood first amongst all branches of engineering. Needless to say, Kishoritai was mighty pleased, and even attended my convocation.
Rigorous routine
I am tempted to write about the music lesson routine during each weekend. After the practicals on Friday afternoon, I would take the bus from the campus to Vikhroli station, and then after a long train journey, reach Tai's home at Gowalia Tank in the evening. I would then have five sessions – One on Friday evening and two each on Saturday and Sunday mornings and evenings. I would then take off for Powai late in the evening on Sunday, reach the hostel sometimes as late as 11 pm after a two mile uphill walk from Vikhroli station, as there would be no bus service at that hour! I would miss dinner, and fill-up on biscuits and water. And the classes would begin on Monday morning. The reason I have mentioned this ordeal each weekend is to emphasize the fire in my belly that drove me to satisfy Kishoritai's strict, rigorous demands of learning the authentic Jaipur Gharana Raagas as fast as possible. Of course, during Diwali and summer holidays, the training would happen each day morning and evening. Thus, I had almost no life left other than music and academic studies. In hindsight, I feel very blessed that I could assimilate the essence of Kishoritai's avant-garde treatment of a large number of complex Raagas of Jaipur Gharana.
Kishoritai was a perfectionist when it came to teaching. It was mostly one-on-one with me, but sometime together with Mrs. Manik Bhide (mother of Vidushi Ashwini Bhide Deshpande). She would normally alternate "Avartans" (cycles) between me and herself. However, when a phrase did not come out right, she would make me repeat it several times until it came to her satisfaction. She was not as patient as her mother (who also taught me many times when Tai was unable to sit for a lesson or was out of Mumbai). If I could not reproduce a given phrase quickly, she would get upset. So there was always pressure to get things right. The Asthai and Antara of any new Raaga had to be learnt precisely. There were no electronic pocket recorders or smart phones. So I found myself vigorously reciting those verses in the bus going home after the lesson, much to the curiosity of fellow passengers!
Much of the world saw Kishoritai as a stern, hard-driving, demanding, and temperamental artist. However, my personal relationship with her as a disciple was very different. There was a very loving, caring and soft side to her persona that co-existed with her demanding and strict teaching style. I remember vividly a touching occasion which I am tempted to share here. Once I had taken ill with high fever at IIT campus and was hospitalized at the IIT hospital in Powai. When I phoned Tai that I would not be able to come for the weekend lessons, she became so worried about me, that she came all the way in a taxi to my hospital, got me discharged under her care, and took me home, covering me with the Pallav of her Sari to shield me from the breeze! Such was her loving and caring side.
Early years
During those early years of my music training, Kishoritai was not the same celebrity as she became in later years. This was to my advantage, as I used to get her undivided attention one-on-one during the entire lesson. Also, since she was living with her mother, my training was indirectly under Mai's keen ear and supervision. I therefore received the beautiful blend of the structural beauty of the Jaipur Gharana Raagas, but also the romantic beauty that was the hallmark of Tai's own temperament. This golden mean did not reach most other disciples of Tai who came 20 years after me, by which time Tai had started to de-emphasise the grammatical or structural rigidity of the Raag and replace it with an emotional touch to the rendering. The most significant feature of her treatment of any Raag was her very special attention to the Shrutis (microtones) of the notes that formed the Raag. For example, The extra flat treatment of Komal Re in Raagas like Marwa and all varieties of Todi, Dha in Bibhas that is neither Komal nor Shuddh, but three quarters of the way from Komal to Shuddh Dha! Similarly, her treatment of Komal Ga and Komal Ni in Kaushi Kanada is an example of the control she had mastered in singing different Shrutis of the same two notes. These two notes have different Shrutis depending on whether one shows the Malkauns component or Darbari Kanada component of Kaushi Kanada. Thus, we, the senior disciples had to strive to master these Shruti differences, and she would get annoyed whenever we could not achieve consistency in singing those Shrutis! Such sessions were always a challenge and source of immense happiness when I satisfied Tai with the right Shrutis.
Since there was only a 12-year difference between my age and Tai's, apart from rigorous one-on-one training, we used to spend hours discussing nuances of Raagas, their specific Shrutis (microtones of main notes), aesthetic treatment of singing the Asthayi Aantaras, tandem relationship between Sur and Taal, and the special way in which words had to be pronounced interlinked with the rhythm, which actually was a specialty of Mai. Tai was so open-minded with me, that she had given me standing instructions to note any occasions on which she made any grammatical error during a performance, and then discuss it with her later at home. I vividly remember such interactions with respect to Raagas like Yaman, Bahaduri Todi, Bageshri, Basant Kedar, Shree, etc. It is interesting to note that during my active decades of training, Kishoritai did not sing much devotional music, but rather sang semi-classical varieties like Thumris and Dadras. I therefore learnt some Thumris from her, but not any Bhajans and Abhangs which she began singing more regularly from the mid-eighties and nineties.
After my initial two decades, I began to find less time to devote to active learning because of my employment. However, as luck would have it, my office was located within a few yards of her house, and I was a frequent visitor to her home after my office. There were many other students by this time, and my active learning had slowed down. Regardless, I found myself more and more in the role of a friend and adviser to her to guide her and solve many ticklish family issues, health issues, and social issues that used to cause her undue stress much of the time. By the nineties, Mai began to show signs of old-age, and much of Tai's attention and energy began to be consumed with Mai's health issues. I shared these challenges much of the time with Tai, and gave her much needed relief and solace.
Lasting tribute
Since Kishoritai did not accept any fees for the wealth of music she gave me for four decades, I always had an uneasy feeling about how I could repay my debt to her. Years passed by, and on April 3, 2017, she suddenly departed for her heavenly abode, leaving countless disciples, family members and music-lovers orphans. After much thought I finally decided to create an award in her memory, called "Gaan-Saraswati Puraskar" as a humble tribute to her. I donated a corpus to Dadar Matunga Cultural Centre in Mumbai to fund Rs. 1 lakh in annual award money plus expenses for administering the award. The award will be given annually to an accomplished Hindustani Classical Vocalist under the age of 50. The process of selection of the awardee and the procedure for applying for it are described at www.gspuraskar.in.