We spoke to a cross-section of senior citizens at the Tata Mumbai Marathon 2020 held on January 19.
Photographs by Dev Kumar
The 17th edition of Tata Mumbai Marathon was flagged off at 5:15 a.m. near the Chhatrapati Shivaji Maharaj Terminus on Sunday, January 19. Around 55,000 people participated, of which 1022 were part of  the 4.2km Senior Citizens Run, a non-timed fun run meant for seniors. The enthusiasm of all the runners – seasoned, amateur, seniors and celebrities – created a fun atmosphere.
We had the opportunity to speak to some of the runners who completed the Senior Citizens Run and their will to remain active was truly the highlight of the day.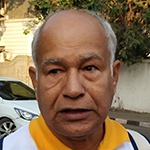 Satish Vivhare, 75. A mining engineer, worked in offshore oil production in the Gulf for 20 years and is now happily retired. He has been a runner since his school days and has immense interest in cricket, volleyball and running. He likes to remain active and social. Satish is a member of Jest Nagrik Sangha Nivadnuk, Panvel. The Sangha is of 45 members currently and they all participate in Mumbai Marathon every year. This year would be Satish's fifth edition and he feels it only gets better each year.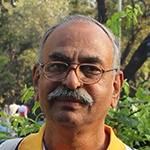 P R Vishweshwaran, 80. The former Chief Manager at the Bank of India, moved to Mumbai from Kerala when he was 20. He spent 40 years in Mumbai working and is now retired in Kerala. Vishweshwaran still enjoys his banking career by working a couple of hours, a few days a week. He enjoys socializing with his colleagues at work and believes in living a healthy lifestyle – a morning routine of swimming, regular exercise and morning walk. In the past, he has run 42kms (Full Marathon) – four times, 21kms (Half Marathon) – three times and for the last two years he has been participating in the senior's category along with his wife. He says "I find visiting temples at my age very boring; my joy lies in running."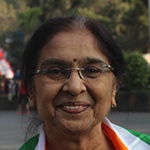 Veena Parekh, 70.  A homemaker whose morning begins at 5 am with her morning walk, sometimes jog and she never misses her yoga. She enjoys walking by herself as she enjoys her own company, while soaking up some Vitamin D. Sometimes she joins the laughter club in the park and socialises with other seniors. She has been participating for last eight years and says this routine keeps her active and happy. Veena says her granddaughter shares the same love for sports as she does. She hopes that her running would inspire her granddaughter to remain active.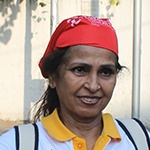 Indu Gyani, 72. A happy mother and a resident of Versova. Indu chooses to be unstoppable, recently she went under a knee replacement surgery. And with the company of her daughter she finished the race with flying colours. She says her friends have been participating for year and that has been her inspiration.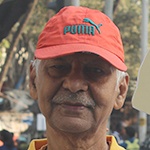 Janak Mehta, 77. A retired senior from Chowpatty. He has been running for 12 years every morning at the Chowpatty beach and likes to commute on his bicycle (calls it his BMW). He says "active or nothing." Every year he looks forward to the marathon for the atmosphere it creates. Marathon brings joy to Janak.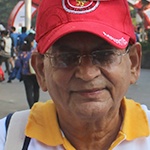 Deepak Seth, 69. A businessman from Versova. Deepak grew up playing a lot of sports and that has remained through his golden years. He has been participating for the last four years. He enjoys his occasional runs by the beach. Deepak believes – taking care of oneself is the best way to remain healthy and fit. He chuckles "in short distance walking, I can beat anybody".
[foogallery id="2914″]