Recently, I received a message from Seniors Today group to share incidents of my life. For a while I really did not know whether I had anything at all to share! 
But it did make me ponder and peep into the past. 
Let me start off with my parents, whom I owe so much for whatever I am today.  My parents had shifted to Delhi, from the then Tanjore Distt – Rice bowl of Tamil Nadu, about almost a century back and like many "Tambrams" of those days, my father too joined the Government service.
In those days, it used to be a sort of mandatory for us to do two things during the long holidays after our HR. Sec board exams – No.1. To appear in IIT Prelims, whether one is capable enough to clear or not, and No. 2. to Join, Type and Shorthand classes. Two extremes.
I wonder if people of this generation have any idea about Pitman's shorthand writing.  I too tried my hand in both, IIT Prelims – which I did not clear – understandably, and Typing & Shorthand for a short time, mainly to spend some quality!!!time gossiping about Bollywood and Cricket.
Finally, I did my Graduation in Commerce and Joined Government services while pursuing my studies from Delhi University in Evening classes. I used to be an auditor for about a decade before joining as a Marketing personal in a cement company, The ACC Ltd., in 1982, and I was cemented in this industry till my retirement as VP – Sales and Marketing in 2014. My job as a marketing personnel gave me ample opportunity to move around many parts of the county and learn about various cultures of this great nation.  
In those days, in most South Indian families, it was an un-written rule to teach Carnatic Music to their daughters.  A music teacher used to come periodically to teach girls. Interestingly, in most cases, the boys too ended up learning, by just listening, as they were not allowed to be a part of the learning process. At least, that is how I learnt music – A Kaan Sen.  
Radios were only for listening to NEWS and strictly no Cinema songs in the house.  I used to request the "bhaiya" living next door, to keep the volume high on Wednesdays and Saturdays so that I could listen to Binaca Geetmala in Radio Cyclone and a Special Jay Mala – program for Fauji Bhai in Vividh Bharati. In fact, sometimes, I used to skip my turn in the Hair cutting saloon, to listen to a song or two, where playing Filmy songs was a norm.
Had quite a successful professional life.  A happy married life, with two sons – both quite successful in their respective careers – one, a Professor and the other, an independent Musician.
Though my profession as a marketing personnel kept me on the move, I tried my best to stay connected with Music in some way or the other. I feel happy in sharing that during my posting in Patna, I had a lot of opportunities to enhance my knowledge in music.  Feel blessed to have been able to be closer with Padma shri Pandit Siyaram Tiwari ji – a leading exponent of Dhrupad-genre of Hindustani classical music. 
At Patna, along with some like minded friends, coming from different walks of life, created a musical platform called "Pallavi", meaning, "Mukhda " in Carnatic Music and New Leaf or advent of Spring in Hindi.  It was formed with the idea of Honoring musicians living in oblivion after contributing to various forms of arts in their prime. We also used to provide the same platform to budding artists in the same programme.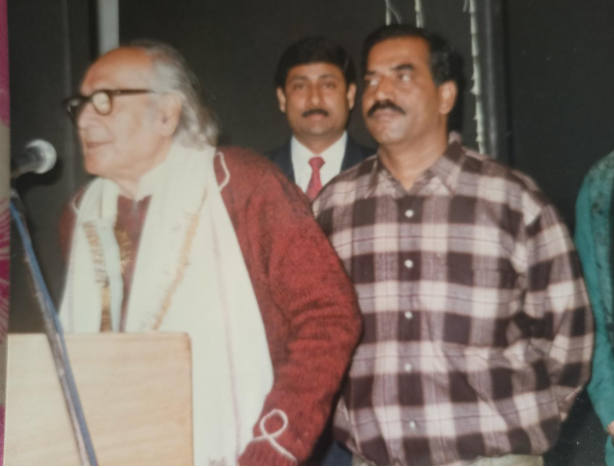 Life also sprang some unpleasant, unhappy moments – the major being losing my mother and the other being losing a chance to share the stage with one of the Greatest Play back singers P Susheela Amma, way back in 1987, due to hospitalization of my brother for a surgery. 
I have no qualms losing this opportunity, as life has given equally happier moments to cherish than such unpleasant ones. 
With advancement in age, added family responsibilities as a parent and professional career becoming a priority, the next 30 odd years passed by running around. Of course, with ups and downs. 
Then came retirement at 60.  I must confess, one good thing that happened at this point in time was the shifting of our base to Bangalore.  Thanks to my wife, Meena Raman, who had already done some spade work on my behalf in finding Bar Bar Rafi Fan club so that I can re-live my passion.  
Another good thing that occurred is coming into contact with Seniors Today Group recently, which has spread a fresh lease of life during COVID times, providing a platform for seniors.
I would like to sign off with one of my favorite Lata Ji, Madan Mohan sahab, and Majrooh ji's song from the 1953 movie Baaghi:
"Hamaare Baad Ab Mehfil mein Afsaane Bayan Yonge,                                                        

Baharein Humko Doondhe gi Na Jaane Hum Kahan Honge" 
But I can surely sign off with another favorite- Rafi Sahab, Naushad Sahab and Shaqeel Sahab's song from Mela:
Hongi yehi baharein, Ulfat ki yaadagaaren                                                                                                    

Bigadegi aur banegi, Duniya yehi rahegi                                                                                                                       

Honge yehi jhamele,                                                                                                                                                        

Ye zindagi ke mele Duniya mein kam na honge Afasos hum na honge 
Cheers.
K V S RAMAN