I would like to share my experience of my taking part in voice of JSG [Jain Social Group], a singing competition and winning second prize as runner up on 16

th October 2016.
I had just celebrated my 70 th birthday in September 2016.
First round was in Mumbai and there were 4 groups —male and female below 25 and above 25 years of age. So I was in a group of females above 25.
In the first round, they selected 5 competitors and we all were asked to sing mukhada of the same song on live music. And here I was selected for semi – final and final rounds which was to be held in Indore.
In semi – final, at Indore, I was one of the four participants selected out of 8 participants from 8 zones. But the main thing I want to share is that the judges [they were 2] gave me a standing ovation when i completed my singing.
Then there was the final round, and out of 4 only 2 were selected as winners and though I got second prize but when i was given prize [trophy and some gifts],the judges who were in final round touched my feet and asked blessings from me that they should  also be able to sing when they get to my age.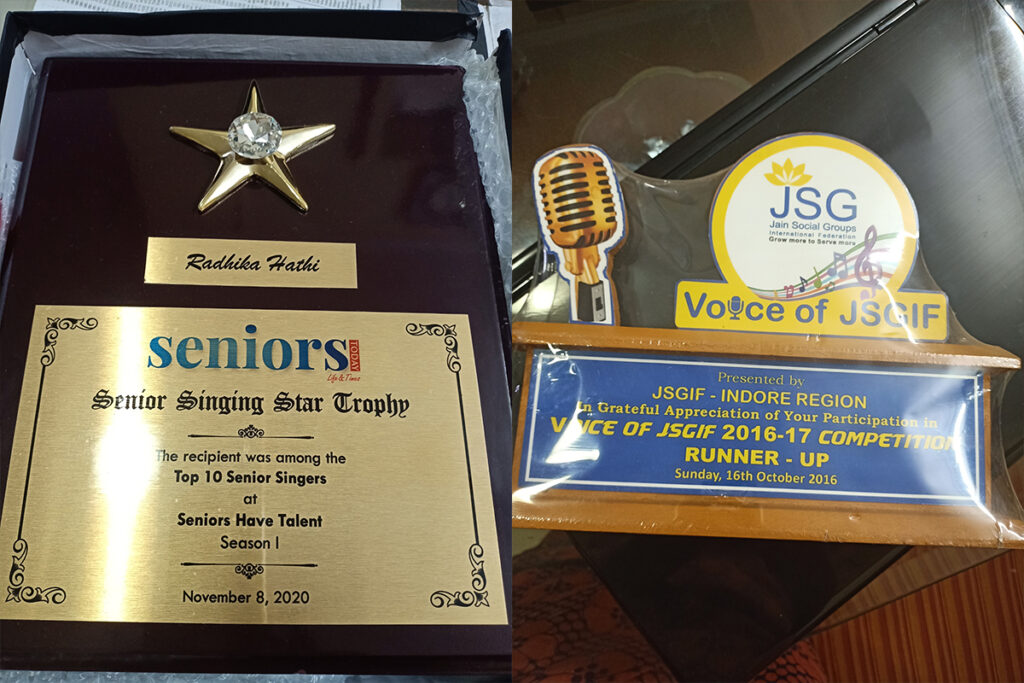 In Mumbai, our Bombay region and our Jain Social Group [Andheri] also felicitated me separately with mementos.
All these memorable moments, I can never forget. And I am happy to share with seniors in Seniors Today readers.
I am also one of the 12 finalists receiving trophies in the first season of the "Seniors Have Talent" competition held by seniors today.