Even 18 years after his death, market maverick-turned-kingpin Harshad Mehta has refused to fade into oblivion, writes Anto T Joseph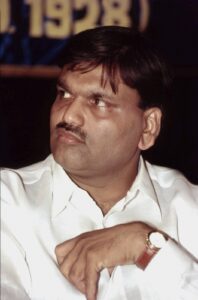 More than a quarter of a century after India's Bombay Stock Exchange was rattled with an Rs5,000-crore Securities Scam, the Big Bull Harshad Mehta, the market maverick-turned-kingpin, has refused to fade into oblivion. Running from one jail to another and one court to another for nearly 9 years, Big Bull died at a young age of 47, on December 31, 2001, still facing a barrage of cases registered against him.
Eighteen years after his death, a special court set up by the government exclusively for the Securities Scam, is still dealing with several civil matters, mostly related to the recovery of money. His brother Ashwin Mehta, who did a degree in law in his mid-50s, is a busy lawyer today practicing in Mumbai High Court as well as Supreme Court. Most of the Mehta family, which included four brothers and one sister, live in Madhulika Apartment in Worli, where Harshad Mehta used to live in his heyday.
Ashwin Mehta, just a year younger than the eldest brother Harshad, fought several court cases single-handedly and paid nearly Rs 1,700 crore to banks to clear his brother's name from the hall of shame. When contacted by Seniors Today, Ashwin refused to comment, saying the family never wanted to get into the limelight.
Another family member also echoed the same sentiment. "Harshad is long gone. During these nine years when he was alive, none of the charges regarding swindling of funds could be proved. After his death, criminal cases were also watered down. Supreme Court passed 10 judgments but shut down many cases. There is no complaint from banks pending now," she claimed.
Interestingly, though lower courts had ordered the sale of Harshad's flats in Madhulika Apartments, the apex court quashed them. The Mehta family stays in nine flats in the same apartment, mostly on one floor.
In February 2019, the income-tax tribunal has also scrapped almost the entire tax demand on Harshad, his wife Jyoti, and brother Ashwin. The I-T Appellate Tribunal (ITAT) deleted more than Rs 2,000 crore of additions made by the tax department on them for the assessment year 1992-93.
Born into a Gujarati Jain family at Paneli Moti in Rajkot, Harshad spent his childhood in Mumbai's suburb of Kandivli, where his father ran a small business. After doing his B.Com from Mumbai's Lala Lajpatrai College, he had spent around eight years trying his hand at various odd jobs, including selling hosiery, cement and insurance products, before stepping into the stock market with a bang.
When the scam was exposed in 1992, several banks were left holding fake Bank Receipts (BRs) worth around Rs 4,000 crore issued by Harshad. He made use of two small and little known banks – the Bank of Karad (BOK) and the Metropolitan Co-operative Bank (MCB), which willingly issued BRs as and when required, for a fee. BR was nothing but a symbol of confirmation that the selling bank has got the money while the buying bank has got the securities. He took the money from banks in return to these fake receipts issued by colluding with bank employees. Banks, which gave money to Harshad, assuming that they were lending against government securities, didn't know what was in store for them. As per the court case, Harshad used these funds to drive up stock prices in the market. His modus operandi involved selling shares for a profit and retiring the BR when it was time for him to return the money. As soon as the scam was exposed, several blue-chip stocks collapsed, pushing thousands of investors and brokers into a financial shock.
To ensure speedy trial in an unending flood of legal cases (at least 72 criminal offences and more than 600 civil action suits against Harshad alone), a Special Court was instituted through a government ordinance on June 6, 1992. Apart from Harshad, the CBI also filed charges against several bankers and high-flying brokers such as AD Narottam, Bhupen Dalal, Hiten Dalal and Naresh Aggarwal, among others.
The man who made colossal profits from the stock market, running into hundreds of crores of rupees, in a short span of time, and made it to various magazine covers with ease, turned a big fraudster overnight. His fall from the grace was so quick, many stock investors and brokers were driven to huge financial losses and even suicides as the scam hit the headlines.
The scam woke up the stock market regulator and the government from a deep slumber. Over the next two decades, they brought in a series of regulations to prevent reoccurrence of such stock meltdowns and erosion in public's confidence, and provide security to millions of stock investors flocking to the market. Nevertheless, stockmarket scams in various hues and magnitude have continued unabated.
Interestingly, there is no scamster in India who would have inspired Bollywood like Harshad. Nearly 27 years after the scam was unearthed, Ajay Devgn has just announced shooting of an Abhishek Bachchan-starrer `The Big Bull', loosely based on Harshad's life, a couple of months ago.
In 2006, another Hindi film, Gafla, made news by winning several international film awards. Directed by Sameer Hanchate. It was clearly inspired by the Securities Scam and Harshad himself. Another Bollywood movie, Aankhein in 1993, made interesting reference to the mega scam too.
Harshad Mehta will continue to haunt the stock market and its stakeholders for many years to come.