Herbs are the tiny but power – packed force behind every Indian meal. Not only are they teeming with health benefits, but they also have a myriad of uses at home
The solutions to our current health crisis are more likely to be found in our homes, and in relying on home food as the most nutritious and healing. Herbs are the tiny but power – packed force behind every Indian meal. Not only are they teeming with health benefits, but they also have a myriad of uses at home.
Cultivating mini veggie and herb patches or a garden if your space permits it, have become the thing to do. If you haven't plucked up the courage or given it a thought, the good news is that not only is growing a herbs garden relatively easy, additionally, they have proved to be a great support in your everyday requirements.
From cooking and eating to using them in a tisane (infusing the leaves in boiling water), or as an oil, these herbs are a true boon to have around the house.
Plants and herbs are an integral part of Ayurveda and Aromatherapy, Unani and other natural and alternative medicine treatments; which are used to treat many illnesses, diseases, including weight management,  pain relief and skin care.
We pick out 5 useful herbs in a 5- part series, that you can grow fairly easily and use every day:
1. Curry Leaves or Curry Patta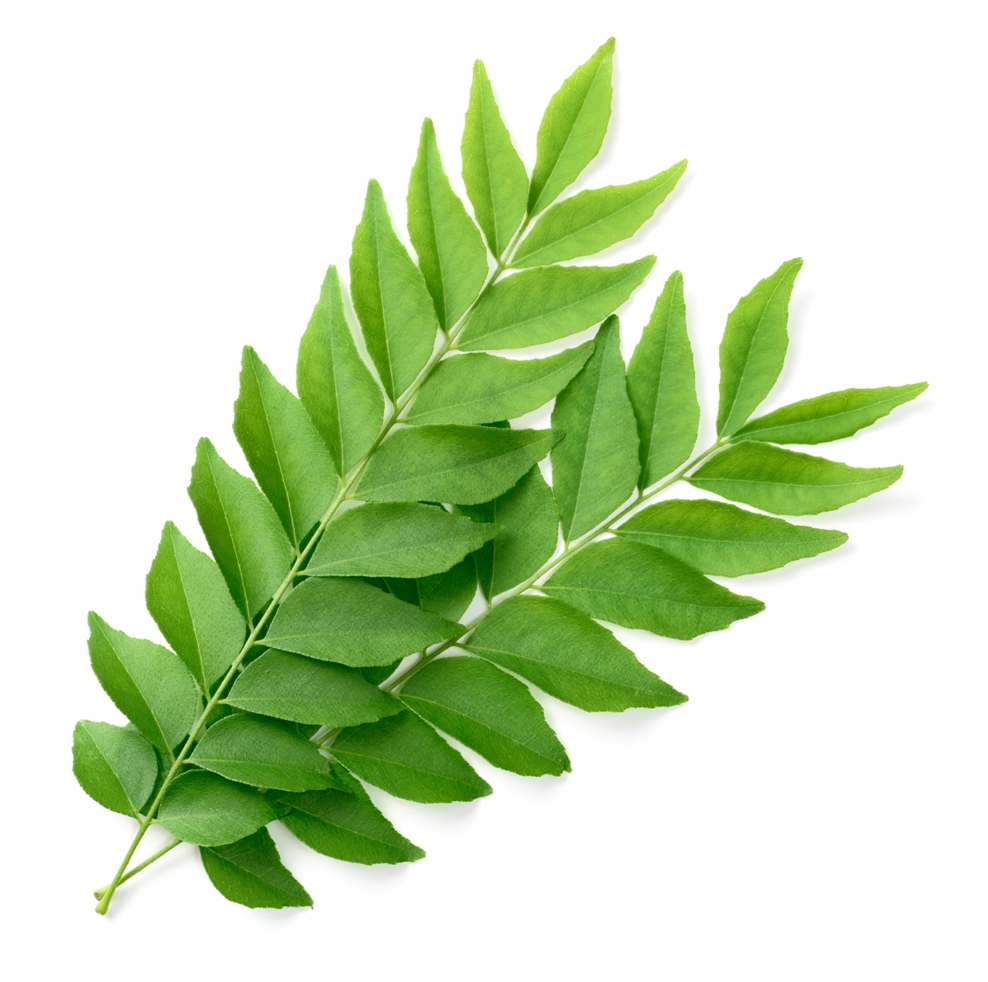 The curry patta (Murraya koenigii) is a small tree whose pungent leaves are used in almost 90% or more of our Indian cuisine.
Every part of the plant: leaves, roots and the bark are largely used for various medicinal applications.
Uses and Benefits : 
– Some powerful health benefits of Curry leaves include being rich in minerals and fiber.  It also helps in boosting immunity, relieving anemia, Diabetes, indigestion problems, cholesterol, and helps maintain healthy liver conditions.
– Curry leaves are a great source for weight loss due to their high fiber content. Chewing on a few fried or dry curry leaves and even adding up some to your food can be proven really useful for people who are on a weight loss program.
– Curry leaves powder or oil massaged into the scalp, can work wonders and ultimately reduce hair loss and slow down greying of hair. Just ask the senior women in Kerala how their hair is so black and healthy!
– The essential oil extracted from the leaves of the curry leaf tree is widely employed in this traditional holistic healing for the treatment of hair and skin problems, diabetes, eye problem, dental problem, diarrhea etc.
– Curry leaves possess numerous disease remedial activities, for instance, different parts of the plant, such as the leaves, roots, and bark, can be prepared as tonics for inducing digestion and flatulence or as antiemetics. 
– After decoction, the leaves become bitter to the taste and are helpful in reducing fever. The juice of the root is given to manage renal pains. The leaves and roots can be given as an analgesic, cure for piles, body heat reducer, and thirst quencher and are also helpful in reducing inflammation and itching. 
– When eaten raw, the green leaves can offer a cure for dysentery, and when they are boiled in milk, the paste has good application prospects for curing poisonous bites and eruptions.
M. Koenigiiis more important due to its huge spectrum of traditional medicinal properties. For centuries, this plant has been used in diverse forms and holds a place of pride in Indian Ayurvedic medicine, known as "krishnanimba". Girinimba or Krishnanimba, entitled after Lord Krishna, the God of Protection in several ancient scriptures.
The curry leaves have Tikta (bitter) and Kashaya (astringent) properties. It is blessed with all the trigunas i.e., Laghu (light), Rukhsha(dry) and Tikshna (sharp). It has Ushna Virya (hot potency) and Katu Vipaka (pungent metabolic property). It aggravates the Pitta doshas (digestion) and pacifies Vata (air) and Kapha (earth and water) doshas.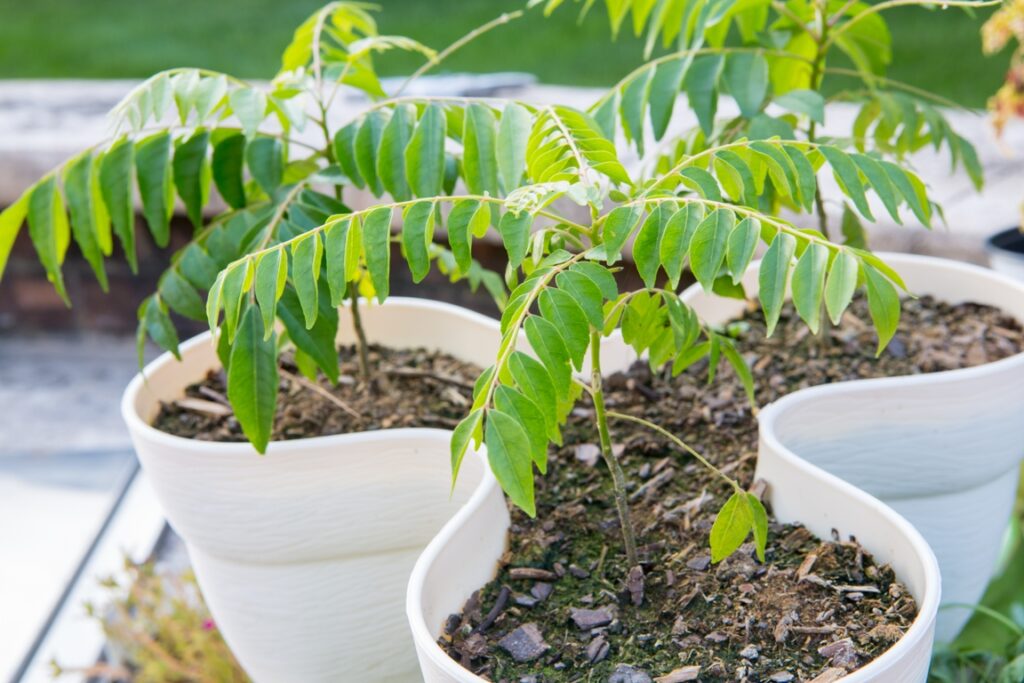 How to Grow it
These plants like a sunny but sheltered spot. They're fairly slow growing, so they're ideal for growing in containers. Grow it in a pot if you live in a cool area and bring it indoors over winter.
The curry patta plant likes a fertile, free-draining soil with lots of humus, so dig in plenty of compost. Apply a balanced fertiliser after the cold months. (more details below).
Tomorrow, we will discover another useful herb. We will also discover the benefits and uses of these 5 herb's oils after this series ends, so stay tuned.
Caution: Because some herbs can interfere with your medication, it is best to consult your doctor before embarking on any herbal remedy.
References:

https://www.ncbi.nlm.nih.gov/pmc/articles/PMC7070712/

https://www.gardeningknowhow.com/edible/herbs/curry/growing-curry-leaf.htm