Photography is as Painstaking as it is fascinating, writes Ajay Podar
Whatever you do, do it with a compelling passion – Ajay Podar
Around 1967 all cameras used film. It was a different era of photography. Photographs were developed through wet processing. At the time my mother owned a German camera called Contax – a basic one with a viewfinder. She passed that on to me as I got older and suggested me to take up photography as a hobby. Thus began the journey of serious photography with a beginner's course at Indo American Society.
I still remember Mr. P. K. M. Pillai. A gentleman who was so dedicated and focused on teaching photography. After the beginner's course, I did six more courses there. The Indo American Society would host small photography competitions where students from the previous batches would also participate. I participated in and won a few prizes. When you are young, these prizes make you feel confident. My interest kept growing from there. Back then the photography I did was not for any professional application. Later on, I did some photography for advertisements where I faced a lot of constructive criticism. And with time I got my bearings and reached a professional benchmark.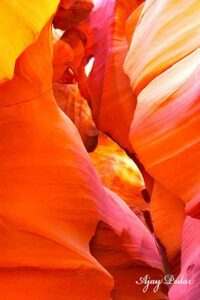 The film is still unique
I learned the professional aspect of photography and began processing film and darkroom printed photos myself until the media changed to digital. Now nearly all the companies manufacturing film and the production of processing films have gone out of business. There are hardly one or two people in the whole world who manufacture film for professional use. However, the kind of work you do with film cameras, you cannot get on digital. The digital format came and I got into that as well. In my experience digital camera works wonders for many other subjects than film. But when it comes to panorama, a film camera is what I use.
Somewhere during the 1980s, my wife and I took a trip to Las Vegas. One day during our vacation in Las Vegas while we were at the shopping mall, we came across this photo gallery. It looked interesting, and we stepped in casually to check it out. It turned out to be exceptional. The gallery was filled with huge landscapes. If you were to stand in front of any photograph you would actually have the feeling of you being there. And that inspired me.
How to go wide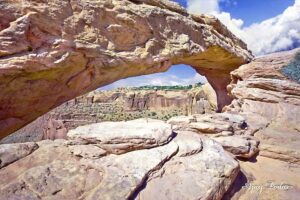 When it comes to capturing wide landscape or panorama, most people use a wide lens on their camera and shoot. The wide-angle lens has a big drawback; the photographs which are supposed to be wide will have skewed edges because this is a natural characteristic. A  professional way would be to get a camera that has a negative which is three to four times wider than a digital image sensor but uses a standard lens. Then the camera sees the way your two eyes see.
The Linhof Technorama 617S does that. But it is a nightmare after you have exposed the film. The film has to be first processed into transparency; since I have the background I do it myself here. And then it has to be converted into a digital format for printing.
Now the reality of all the chocolate-box photographs that you see on the internet may not give you the actual picture of the place.  It is a complicated task; to achieve those beautiful photographs a lot goes behind the scenes to capture them. One needs to carry all the equipment along and they are huge. I always carry my entire digital camera with lens, the Linhof, tripod, you name it. When it comes to lighting, a landscape cannot be captured using artificial lighting you have to rely on the sun.
Once we went to Japan to capture the cherry blossom. All the four days while we were there the cherry blossom bloomed but there was an overcast. It was drizzling. I did not get one picture and came back empty-handed. Apart from the fact that performing a tea ceremony under the cherry blossom tree while drizzling is considered auspicious and it brings luck the entire year.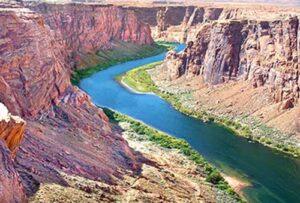 Finding the right time
Utah, Bryce Canyon, Yellowstone National Park, Zion National Park, Slot Canyon Arizona. The rocks there are all filled with certain minerals and under the sun the true beauty shines. So to capture these landscapes the sun has to be at a particular angle.
Vermont in the fall blooms yellow and orange only for 10-12 days in a year. A natural phenomenon, there are no specific dates so you need to have a friend on the other side and keep your tickets ready. That is the only way you can make it on time to capture it.
Sometimes you reach a very wonderful spot and find the perfect lighting but it's on the opposite side. Some places you have to climb down or go up to take the pictures with the digital camera in your hand, you have to find a way to place it because if you hold it and take a picture, your hands will be shaking. It's a nightmare.
For the last 20 years, my wife and I have been traveling around capturing the vistas. We make about three trips a year to different parts of the world just for the passion of photography. The next trip will be in Florence and Paris.