Vijay Taparia recounts how after the death of his wife 11 years ago, it was his in-laws who insisted that he remarries
We first identified that Shashi, my late wife, had Idiopathic lung fibrosis (IPF ) in June 2004. By the time ILD (Interstitial lung disease) is identified 50 per cent of the lung has already fibrosed. It is rare that this is identified earlier.
In May 2007, on a flight from Hong Kong to Bangkok, Shashi suddenly became breathless and needed oxygen. Since then the progression of the disease was very fast-paced and by October in the same year, she was on constant oxygen.
Her pulmonologist suggested to go for a lung transplant, which at that time I thought was a ridiculous idea. However, I was introduced to a senior pulmonologist in Cleveland Clinic, which was one of the leading hospitals for a lung transplant. I met him in Clevelandand he mentioned that the needful could be arranged. Incidentally, the United States offers up to 5 percent of organs to international patients. Most countries do not offer any. In the month of May, I met a senior pulmonologist in London, and from what he said I realized that she had a limited time-frame. It was then that I decided to take Shashi for the lung transplant.
Once in Cleveland, she underwent a series of tests and then was put on awaitlist to receive the organ. While in Cleveland, her oxygen requirements shot up dramatically; she was then admitted to the hospital and her priority on the waitlist shot up to #1. Having a rare blood group, it was both good and bad. Good because she was at the top of the waitlist and bad because her condition had deteriorated, and we did not know when the lung in her blood group would be available. Also, over the last few years, her rib cage had shrunkand the doctors suggested that they would be able to fit in one lung only, in her rib cage as it had shrunk substantially. We met a lady who had had a single lung transplant and had then gone mountain climbing to 12,000 ft. That was very reassuring.
One morning at 6, I got a call that a lung was available. She was taken in to be prepared for the transplant. Unfortunately, a mishap occurred, due to which the transplant could not happen. She finally got a transplant 19 days later. She was on the road to recovery but unfortunately developed an infection to which she succumbed on September 13, 2008. I was devastated, as was the whole family. I was totally distraught and it was indeed very tough carrying her ashes back to India.
My family and friends supported me no end. But I was a broken person. I could barely sleep three hours a day. While I tried to come back to normal life (at least my body did), I was not sure where I was headed. I went for my morning walk but it was like a zombie walking. I missed her, as we went for morning walks together many times. I missed her during our joint yoga sessions. Tea in the morning was not the same without her. She used to invariably monitor my breakfast in toto, breakfast wasn't the same anymore. I went to the office and started working to bring myself back to normalcy. But her memories continued to haunt me during the day.
Back home in the evening, the nights came to haunt me. Eating dinner was a motion to fulfill hunger. I missed her sitting with me eating together. I went to Rishikesh for a few days. One evening, after the aarti, while offering flowers in the Ganga, I felt as if she was asking me to let her go. Her angelic face was begging me to set her free. Physically she had gone but my heart was not willing to accept it. The spark in my eyes and the smile on my lips had vanished. The pain was very visible in my eyes.
I remember going to the sangeet function of a dear friend's daughter. As soon as the loud music started, I felt as if my entire being had a breakdown and the pain had become raw once again. I refrained for more than a couple of years to go near any loud music. I did not want to attend any funeral, as every time I would relive the time when we cremated her. Even attending someone's prayer meet was traumatic.
While I was trying to piece my life together, my daughter Vrinda finally found her to-be-husband and they got married in June 2009. As soon as the wedding was over, my father suggested that I should resettle, but I was not ready. Earlier, my in-laws(I was extremely close to them) had already started pursuing this subject. Every fortnight, my mother-in-law (egged on by my father-in-law) would call me to ask me for a decision. I was just not ready. I was not ready to live with someone else. They kept on egging me to reconsider.
When I went to Kolkata to meet my in-laws in January 2010, I asked how they would feel if I got resettled. My father-in-law said: "Us? We will welcome her like our daughter". I was surprised, but then I started thinking of my loneliness which I had felt over the last 18 months and finally agreed to meet people. But before that my father-in-law convinced my children (my son, daughter-in-law, and daughter)and made them talk to me to convince me about resettling. They spoke to a dear friend's wife who was very close to my wife. They were like soul-sisters. My father-in-law spoke to a friend to convince me. Clearly they were unrelenting on this subject.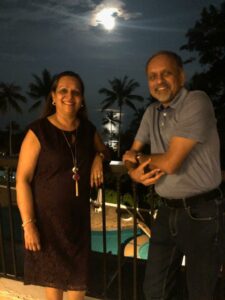 Even after I became mentally prepared, I was very clear that I would not resettle without the explicit consent of my children.
During the next few months, I met a few women, arranged by my friends and family. I had to learn how not to compare these people with Shashi. Finally, in December 2010, I met Urvashi, my present wife. In a few months, I was ready to move on.
In between, my first grandchild was born in May 2010. That was perhaps the beginning of a smile coming back to my face. In October 2010, I lost my mother. The hurt was back. My grandson Viren brought great happiness to me. I smiled much more, but the sadness, however, was still very visible in my eyes.
In April 2011, I finally proposed to Urvashi. My in-laws were the happiest people. As Urvashi's parents were not alive, my father-in-law asked me to ask her brother if it was okay for him (my father-in-law) to do Urvashi's Kanyadaan. That was truly magnanimous. I knew how heartbroken they were when Shashi passed away and not only did they console themselves, they also made every effort to bring happiness to my life.
They did everything for Urvashi as they would for their own daughter. The entire family treats her as a daughter of the family
My father-in-law had four brothers. My father-in-law was the head of their family. A total of 12 people from their side attended the wedding representing the entire family. They were all there to bless Urvashi and me. It was truly overwhelming.
I had often heard stories of people resettling themselves, goaded by their needs or by their family and friends. However, I have yet to come across a family which wanted their son-in-law settled again. Sadly, both my in-laws have since passed away. Over the years, I miss them a lot and think of their magnanimity and kindness, and I will cherish their memories forever.
I am now well-settled with Urvashi, thanks to my in-laws, and I am sure they will bless us forever as will her parents and my mother who could not live to see me settled. While I remember Shashi on various occasions and that does bring tears to my eyes, my smile is back. I hear the birds sing. The sun shines brighterand my five grandchildren bring me immense joy.