This year would mark the 50th anniversary of some memorable Hindi films, like Seeta Aur Geeta, Pakeezah, Dushman, Apna Desh, Bawarchi, Victoria No 203, Jawaani Diwani, Amar Prem, Bombay To Goa, Koshish, Parichay, Piya Ka Ghar, Rampur Ka Laxman, Samaadhi.
The previous year had such landmarks as Anand, Mera Gaon MeraDesh, Hare Rama Hare Krishna, Sharmilee. The Seventies had started with genre-defining or breaking films like JohnyMeraNaam, SachaJhootha, Purab Aur Paschim, Chetna, Mera Naam Joker, and it only got better. The all-time hits like Zanjeer, Bobby, Deewar, Trishul, Sholay were still to come, and Ankur had yet to smash the mainstream Bollywood window.
The Seventies decade was an extraordinarily rich decade for Hindi cinema, a time when several genres co-existed happily.
The Fifties are known as the Golden Age, when in a post-Independence euphoria, a talent pool of writers, poets, filmmakers and actors created aesthetically evolved, socially-conscious cinema.  By the time the Sixties rolled around, Westernisation, Elvis Presley the start of the Flower Power generation showed up in Hindi films in the form of lightweight romantic entertainers.
When the Sixties ended, Hindi films became increasingly entertainment-oriented and so full of mindless masala, that the Seventies saw a whole movement coming up in rebellion—what is now remembered as the Parallel or Art Cinema movement. This was the time when cinema was clearly divided into Art and Commerce and Middle-of-the-the-Road, and each had its followers.
This was also the decade which saw the birth of the first superstar Rajesh Khanna, and his dethroning by Amitabh Bachchan. It is the decade of Hema Malini, Rekha, Rakhee and Zeenat Aman—after them, leading ladies ceased to be divas, and were reduced to playing second fiddle to the macho 'hero,' over the next many years.
It was the decade of the Emergency and stringent censorship, during which the climax of Sholay had to be changed, Gulzar's Aandhi about an ambitious female politician (clearly based on Indira Gandhi) was banned and prints of political satire KissaKursi Ka mysteriously vanished. It was the age of the actioner, the multi-starrer, the emergence of FTII stars who defied glamour, end of the power of the screenwriter, after a brief burst of Salim-Javed stardom. By the time the Seventies ended, Hindi cinema had definitely changed…for the worse. Television and video slowly killed the movie-going habit among middle-class families, so films had to become bigger, noisier and increasingly nonsensical to survive.  It took two particularly bad decades –the Eighties, Nineties and most of the 2000s for a resurgence to take place.
That's why the Seventies are the cusp between the Golden Age and the Modern Age, the bridge between two distinct eras, and hence memorable. Seventies' films cast such a strong influence on Hindi cinema to follow, that tributes—direct and indirect– are still being paid to that decade.
A few milestones of that era studded with gems—commercial, artistic and everything in between:
Aradhana (1969):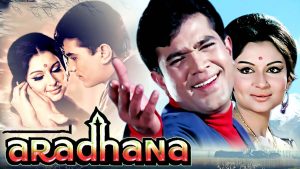 It was just before the Seventies started, that the actor who had been dismissed as 'gorkha-looking' by so many producers made a splash with Aradhana (directed by Shakti Samanta, co-starring Sharmila Tagore). The fabulous SD Burman music, and Rajesh Khanna being given the voice of Kishore Kumar made for a superhit.  When this film was followed by a series of successful films like Bandhan, Ittefaq, Do Raaste, Safar, The Train, Kati Patang, Anand, Haathi Mere Saathi and he has 17 consecutive hits, the word 'superstar' was coined for him, and the first half the Seventies belonged entirely to Rajesh Khanna and he was dethroned a few years later by an Angry Young Man.
JohnyMera Naam (1970):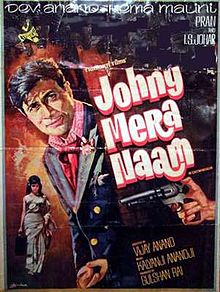 Vijay Anand had a feel for the pulse of the audience, the genius to tell colourful stories with flair and he could picturise songs like no other director in the business. Dev Anand was still going strong, Hema Malini was fresh-faced and stunning, still to make a successful pair with Dharmendra (later her husband). Anand tweaked the lost-and-found formula with scripting brilliance, and had sequences like the fist fight between long-lost brothers (Pran being the other one), during which they recognize each other, and Padma Khanna's strip tease—that were emulated for years.
Hare Rama Hare Krishna (1971):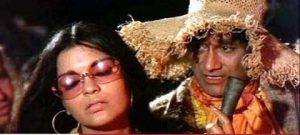 The hippie movement had reached India, drugs, free sex, rock 'n'roll. A new bold 'heroine' Zeenat Aman arrived on the scene and it was the peak of RD Burman, the man whose music symbolized the music of the decade. Arguably Dev Anand's best film as director, it captured a movement of rebel youth trying to break the shackles of a conservative society.
Bobby (1973):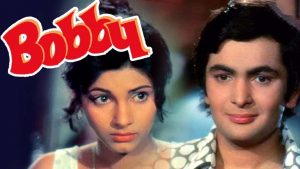 Raj Kapoor, reeling under the debacle of his Mera Naam Joker, made this young love story, with Rishi Kapoor and a gorgeous Dimple Kapadia, in which class and religion do not deter the two lovers, as they struggle to change the hearts and minds of their hostile families. It had the most memorable meet-cute inspired by the director's own life (and meeting with Nargis), in which Bobby opens the door to Raj with her face smeared with flour and he is smitten. Great songs, innocence, rebellion and the leading lady's casual sex appeal rewrote the rules of romance in Bollywood.
Zanjeer (1973):
Prakash Mehra took the Salim-Javed script to several actors, who did not find the sullen hero appealing (what? no songs for him?). It finally landed with Amitabh Bachchan (reportedly on the recommendation of Jaya Bhaduri, later to become his wife), who had proved his acting talent but had not yet found his groove. The Angry Young Man was born, who would take over the superstar tag and come to symbolize a decade of upheaval and unrest in the country.
Ankur (1974):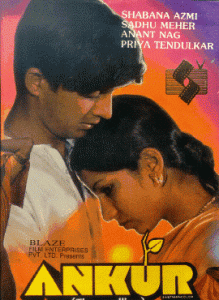 ShyamBenegal's small film about the evils of feudalism, set in a village, starring newcomer Shabana Azmi, who would go on to become an icon, flagged off what came to be known as the art or parallel cinema movement and had its own star system that comprised Naseeruddin Shah, Om Puri, Smita Patil, Deepti Naval and pre-MogamboAmrish Puri among others. Shabana Azmi won her first National Award with this film, and remains the only actress so far to have won it three years in a row.
Deewar (1974):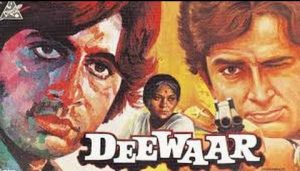 Yash Chopra as director, Salim-Javed as screenwriters with the perception to understand the new urban social order, the rise of the criminal class and the beginnings of the Emergency, a brooding Amitabh Bachchan taking to crime to fight injustice, and the most memorable piece of dialogue in Hindi cinema—Mere Paas Maa Hai, uttered by honest cop, Shashi Kapoor to his wayward brother
Sholay (1975):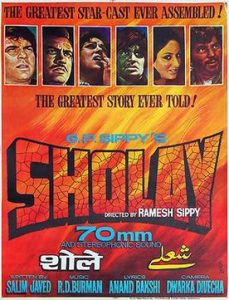 One of the most successful Hindi films of all time, that made stars out of writers Salim-Javed, gave Bollywood the Jai-Veeru (Dharmendra-Amitabh Bachchan) style of male bonding, an unforgettable villain Gabbar Singh played by Amjad Khan with gleeful evil and dialogue that is still quoted nearly half a century later; each character finely-etched, each given a terrific trait, mannerism or line –from the armless Thakur (Sanjeev Kumar), to the villain's henchman (Arre O Samba!, Ab tera kyahogakaliya?), even chatty Basanti's (Hema Malini's) horse (chalDhanno).
Amar Akbar Anthony (1977):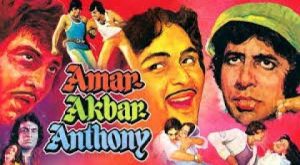 With Manmohan Desai's scattered-family formula film, commercial cinema went totally berserk. Three brothers are separated in childhood and raised by people of three different faiths—hence the title. It had bonkers scenes like the three (Amitabh Bachchan, Vinod Khanna, Rishi Kapoor) brothers giving blood to an old woman (Nirupa Rai) unaware that she is their mother, or the blind mother miraculously getting her sight back after a devotional song, and Anthony's hilarious drunken scene in front of the mirror. Logic out, audience in, and years of preposterous, anything-goes filmmaking that gave commercial cinema a bad name.
Golmaal (1979):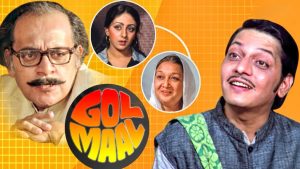 Hrishikesh Mukherjee did not start out making comedies, but ended up directing charming slice-of-life films that had modest budgets and were often successful even without stars. He was the leader of the middle-of-the-road cinema, along with Gulzar, Basu Chatterjee and Sai Paranjpye; and this Amol Palekar-UtpalDutt comedy of errors was this style of cinema at its best—that pleased the audience, yet did not stoop to conquer. For Hrishida fans it is always a toss-up between Golmaal and Chupke-Chupke (cast of stars playing against type) for all time favourite comedy.