He visits my town once a year
He fills my mouth with sweetness and nectar
I spend all my money on him
Who girl, your man?
No. a mango!

 – Amir Khusrow
My friend's mum, who's no more, used to send me multiple varieties of mangoes from March/ April all the way till October.  It was truly fascinating to look forward to each mango variant. My interest was piqued enough for me to notice the various aromas and colours that each variety displayed.  This led me to dive further into the assortments of this well-loved fruit. It turns out that there are thousands of mango cultivars and around 283 varieties in India alone. And about 400 varieties of mangoes in Coral Gables, Florida which is one of the largest depositories of mango plant cultures in the world.
Mangoes are native to India, so it makes sense that India accounts for half of the world mango production. However, other major mango producing countries include China, Thailand, Mexico, Pakistan, Philippines, Indonesia, Brazil, Nigeria and Egypt. The US (Florida), contributes to 10% of the world's production though they have a long and interesting history of mango cultivars.
Mango is so loved universally, that an increasingly upward trend of world mango production (averaging 22 million metric tonnes per year!) has been observed. Mango aficionados can now travel anywhere and at any time of the year, and relish in the juicy sweet deliciousness that the fruit offers.
Here's a look at some of the most known and popular mango cultivars around the world:
Alampur Baneshan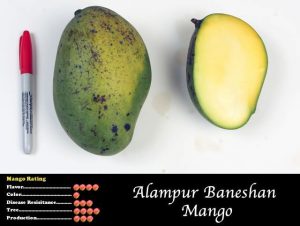 The 'Alampur Beneshan' mango, sometimes spelled Banishan, originates from southern India where it is sometimes known as Seeri. It differs from, but is related ancestrally to, the high-volume commercial cultivar Banganapalli. The ripe fruit has a rich flavour with a hint of cinnamon.
Alphonso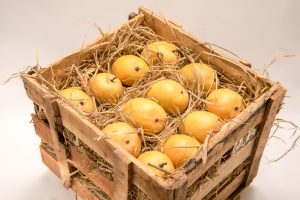 The "King of mangoes" is famed for its very sweet and tasty fibreless pulp. It is rich in vitamin A and C, and cultivated mainly in Devgad and Ratnagiri districts of Maharashtra. The cultivar is named after General Afonso de Albuquerque, the architect of Portuguese colonies in India. Alphonso was introduced as a result of grafting of mango trees which was a common practice by the Portuguese. Call it a bias of belonging to this region, but to me, once you have tasted a true hapus, no other mango matches up to that taste.
Amrapali
The 'Amrapali' mango was introduced in 1971. It was developed as a hybrid variety of Dasheri and Neelum by Dr Pijush Kanti Majumdar. Since then, this mango gained in popularity and has been grown in farms and orchards across India.
Anwar Ratol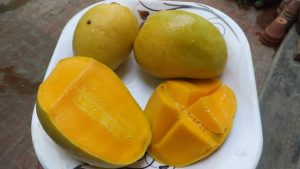 Anwar Ratol is a small sized yellow mango sometimes also referred to as a mini-sized power house!  It is grown in the Punjab and Sindh regions of Pakistan, and near its namesake Rataul village in UP. Insanely sweet in taste with less fibre, this mango is a favourite among many people in North India.
Ataulfo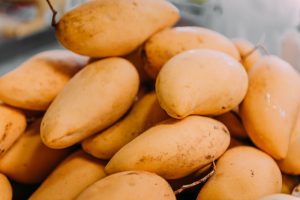 Ataulfo or Honey mangoes are abundant in Mexico, Brazil, Peru, Ecuador.  When fully ripe, the fruit turns deep yellow with small wrinkles and acquires a flattened oblong shape. It has a peachy tropical aroma with smooth, firm flesh without fibres.
Badami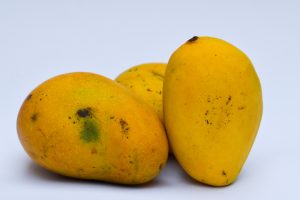 Badami mangoes are also known as the Alphonso of Karnataka state. Characterised by its sweet, succulent and flavoursome characteristics, it appears in markets slightly earlier than the Alphonso mango, due to its more southerly production.  By March, Badami is much anticipated, as it rings in the "official" mango season in India,
Banganapalle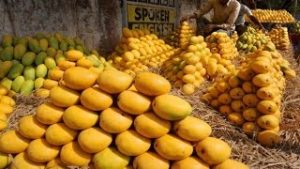 "King of Mangoes", "Pride of India" are just some descriptives used for this variety. People who have tasted the fruit from the princely state of BanaganaPalli (Kurnool, Andhra Pradesh) area will vouch for why it's also worthy of the "King of Mangoes" title. The largest volume of mango cultivar in the world, this medium-large fruit ripens to a golden-yellow exterior and a straw-yellow to golden-yellow interior. Very juicy, slightly acidic and an aroma that never leaves your heart or senses; with little or no fibre and a creamy texture, it is a mango that you will never forget.
Bombay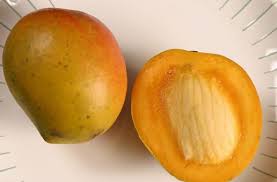 Bombay mango was originally grown from a seed brought to Jamaica by immigrants from India in 19th century. The fruit became popular due to its widely accepted flavour, and Bombay was eventually introduced into the United States via South Florida. Bombay is very popular because of it being so easy to twist from the pit of the mango and able to spoon the flesh out – which is rich, sweet and unique in taste.
Carabao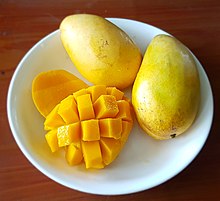 The Carabao mango, also known as the Philippine mango or Manila mango, is a variety of particularly sweet mango from the Phillippines.  Carabao is reputed internationally due to its exotic taste. Carabao was listed as the sweetest mango in the world by the 1995 edition if the Guinness Book of World Records.
Chaunsa
Chaunsa or Chausa is typically known in India as the sucking mango. Originating in Multan, Pakistan, it is deep yellow luscious pulp with little fibre and closer to its ripening, the mango skin will be soft to touch and will appear wrinkly. Hardoi in North India is famous for Chausa mangoes.
Chok Anan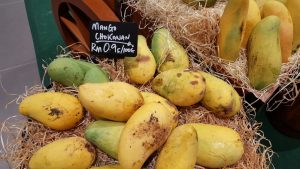 The 'Chok Anan' mango, (sometimes spelled Chocanon,) is a sweet mango grown in Thailand, India, Bangladesh and Pakistan It has an oval shape and tapered tips. The ripe fruit and flesh is light yellow and sweet to taste. Chok Anan is also called a "honey mango" and "miracle mango" because it fruits twice a year.
Dasheri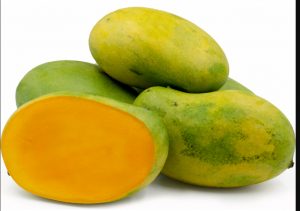 Sweet and aromatic, with a fibreless yellow- orange pulp, Dasheri is a much-loved mango in India. Lucknow is the highest producer of this delicious mango. Dasheri is long and oval-shaped, with yellow-green skin when ripe.
Dudhiya Malda

Grown in Digha, Patna, Bihar, and Siraha, and known for its distinctively sweet, yellowish pulp and thin skin, Dudhiya Malda is indeed a favourite especially in North India, where it is more easily available.
Haden or Hayden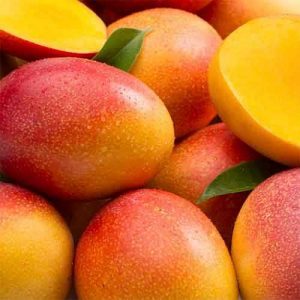 Another fascinating mango story to narrate. This one captures the tale of Haden mangoes. A retired US Captain John J. Haden planted four dozen of Mulgoba seedlings on his property – Coconut Grove, Florida. The tree took eight years to grow. Florence Haden, the wife of the late Captain, became the first person to pluck a mango off the Haden tree. Today, Haden is the most widely produced variety of mango in Florida. Considered among the best varieties of mangoes in the world, Haden has dominant red and hinted yellow hues and it is sweet and sour with a mildly bitter aftertaste.
Gir Kesar
Though a torrential monsoon and devastating cyclonic weather had ruined the Gir Kesar cultivation of 2020-21, its sister mango, Kutchi kesar is untouched and saved and we are grateful.
Gir Kesar, also commonly known as Kesar mangoes are cultivated in the foothills of the Girnar region (Gujarat). These are highly sweet and extra pulpy in consistency.
The Gir Kesar mango story goes like this; According to the research by the botanic team of Junagadh Agriculture University (JAU), the Kesar mangoes were first spotted by Junagadh Wazir Sale Bhai in Vanthali taluka of Junagadh. These varieties were reportedly sent to Mangrol`s Sheikh Jehangir Mia, who after consuming these delicious fruits sowed the seeds in the kernel of his garden. Apparently, he also named the fruit –Saale ki Aambdi. Sometime late many grafts were planted at the Junagadh Laal Dori farm situated on the foothills of the Girnar mountains. And after three years, Junagadh Nawab Babi Mahabat Khanji-III was offered the fruit to taste. He was mesmerised by the way these mangoes looked and tasted.
The nawab liked the taste and named it Kesar, meaning Saffron (circa 1934).
Traditionally the Gir Kesar is loved for its luscious taste and extreme sweetness and finds itself jostling for "queen" status amongst its various counterparts. It is the popular choice for most mango pickles and Gujarati chunda (sweet mango pickle).
Glenn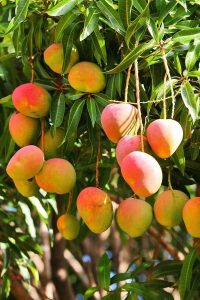 Glenn is a Florida favourite. The tree consistently produces mango and it grows effortlessly. Glenn mango has a mild peachy flavour, which is both sweet and delicious.
Keitt

Mangoes, I discovered, are named after the people who discovered them, with most of them starting as backyard fruit trees. This variety is named for Mrs. J.N. Keitt who planted a seed in her Florida backyard in 1939. Today, this cultivar is grown across the Caribbean, Central and South America, including Mexico, Nicaragua, Guatemala and Puerto Rico. Keitt mangoes stay green even when they're perfectly ripe and have a citrusy aroma whilst being sweet.
Langra
Another interesting mango story goes that about 300 years ago, in Banaras, now Varanasi, an orchard grower who being lame, was called "langda" by his family and friends; he ate a mango and planted a seed, which fruited into a sweet and juicy crop of mangoes. They came to be known as Langra after the man, and voilà, they are a mango lover's delight even till today!
Langra, is medium in size, has an oval shape and is green in colour. The bright lemon-yellow flesh of the Langra is super juicy sugary sweet taste, and is scarcely fibrous. Langra like Keitt, maintains it green colour after it gets ripe. This pulpy mango is cultivated in mid-season in many states including Uttar Pradesh, Bihar, Gujarat, Haryana, Himachal Pradesh, Jharkhand, Madhya Pradesh, Orissa, Punjab, West Bengal and Rajasthan.
Madam Francis
Haitian mango or Madam Francis is known as one among the best varieties of mangoes in the world and finds itself on every New York fruit stand. The mango tastes superbly luscious and a bite of it can be a complete mood-changer! Sweet and strong flavour with some fibres, this Haitian mango is a true delight!
Mallika
The Mallika mango is a hybrid of the Neelam and the Dussehri mangoes but is much larger in size than either of its parent fruits.  Sometimes each mango weighs as much as 700 grams.   Mallika arrives a little later in the mango season.  It is cultivated commercially in Karnataka and Tamil Nadu. The pulp of the orangey-yellow mango is firm and luscious. If the Mallika mango is harvested at the right time and not plucked too soon, its taste is a perfect balance between sweet and sour.
Nam Dok Mai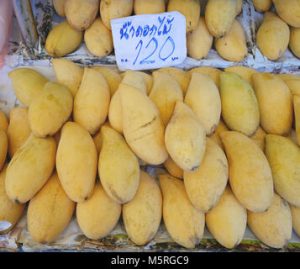 Cultivar of Thailand, Nam Dok Mai immediately stands out among other mangoes because of its shape. The fruit has a unique oval appearance with a pointy end. Inside you will find soft flesh, dark yellow in colour and deliciously sweet in taste. The aroma of the Nam Dok Mai mango is akin to a hot aromatic tropical summer.
Neelam or Neelum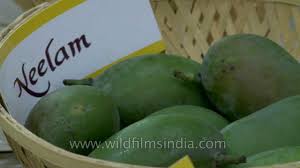 Grown in Andhra region and particularly famous in Hyderabad, Neelam is available throughout the peak of summer. With the general shape of a fat cashew nut, these mangoes are smooth-skinned and bright yellow upon ripening and have no blush. The flesh is deep yellow or orange with no fibre and a rich, aromatic flavour that may be over-powering to the unaccustomed palate.
Panchadara Kalasa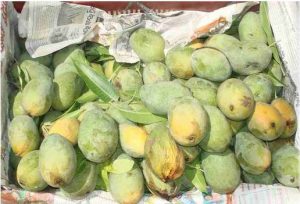 Panchadara Kalasa is a juicy variety and owes its origin to the East Godavari district of Andhra Pradesh. The name is derived from the Telugu words Panchadara, meaning sugar, and kalasa, meaning a pot. Its sugary sweet taste is awaited upon all mango lovers' palates, every summer.
Raspuri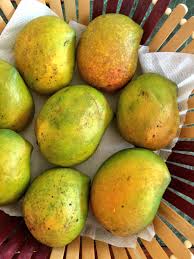 An extremely popular variety in South India a fully ripe Raspuri (Rasa in Kannada means juice) mango harvested at the right time and ripened naturally can beat them all, including the Alphonso, in taste as well as amount of juice per mango. Many people, especially Kannadigas are fiercely proud of this mango and do not even ask for any other variety except Raspuri especially in Bengaluru.
Sein Ta Lone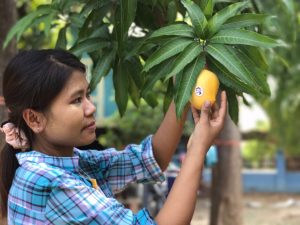 'Sein Ta Lone' translates into Diamond Solitaire mango. These valuable mangoes from Myanmar are most cherished for their non-fibrous and juicy flesh. 15 cm in length and over 2 and a half kilos in weight, the diamond mango looks big and imposing. Diamond mangoes have made its own mark among the best varieties of mangoes in the world.
Sindhri
A large oval-shaped mango, Sindhri stands out among the best varieties of mangoes in the world. It is also frequently referred to as the Queen of mangoes or Honey mango. Leading with flavour and fragrance, many know the Sindh region of Pakistan due to this mango. Traders and growers' credit Sindhri with an excellent shelf life and delightful sweetness. It is also grown in Rahim Yar Khan and Multan regions of Pakistan.
Tommy Atkins
Tommy Atkins is one of the most commonly sold mangoes in the world. Although generally not considered to be the best in terms of sweetness and flavour it is valued for its very long shelf life.
Totapuri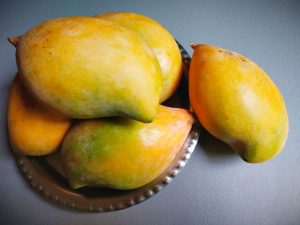 The 'Totapuri' mango, or Ginimoothi, also goes by many names: Bangalore, Collector, Kallamai, Kili Mooku, Gilli, Mukku, and Sandersha. A cultivar of Bengaluru, it is referred to as Ginimoothi Maavina Kayi, while the rest of India calls it Totapuri or Bangalora. It literally translates to 'parrot face' (gini = parrot, muthi = beak). Totapuri mango skin lacks the usual bitter taste of most mango skins or has a very slight bitterness and is consumed with the flesh traditionally.
Valencia Pride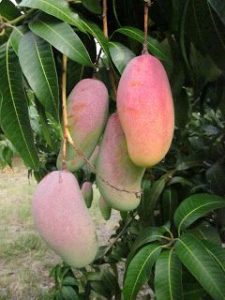 Valencia Pride mango is a Haden seedling selected and named in Florida in 1941. These mangoes have an unrivalled sweet, aromatic and floral flavour. The flesh is sweet, aromatic, firm, and fibreless.
Recent concerns with eating and growing mangoes
While mango is hailed as the king of fruits, there is a chance it may come loaded with toxic chemicals that may do more harm than good. Many fruits are said to be artificially ripened and sold off as natural and fresh. Have you been consuming extra juicy and sweet mangoes lately? Beware, they might be chemically ripened. Artificial ripening of mangoes is on a rise across India, citing the scarcity of the product in the market and its increasing demand by consumers.
Another concern is the high level of pesticides used in farming of the fruit. Exports of many varieties were put to a halt because of the chemical residue found on the skin of the fruit.  Jute fruit protection covers act as a barrier and prevent the pests from destroying the crop and are now being offered to farmers.
Farmers are now resorting to more organic ways of farming and are reportedly happy with the size, colour and sweetness of mangoes. Keep these concerns in mind whilst buying your favourite mango, and opt for the organic or carbide -free variety if you're not convinced of its origin.

What mangoes offer in terms of health
Regardless of the type of mango you buy, mangoes do offer some impressive health benefits.
Micronutrients in abundance
The vitamins, minerals, and antioxidants in mangoes can provide important health benefits. For example, Vitamin K helps your blood clot effectively and helps prevent anaemia. It also plays an important role in helping strengthen your bones.
Mangoes are also rich in the antioxidant Vitamin C, which is important for forming blood vessels and healthy collagen, as well as helping you heal.
In addition, mangoes can provide other health benefits like:
Lower your risk of Cancer
Mangoes are rich in beta- carotene, a pigment responsible for the yellow-orange colour of the fruit. Beta-carotene is an anti-oxidant just one of many found in mangos. The antioxidants in mangos have been shown to fight free radicals, which can cause damage to your cells and potentially lead to cancer.
A happy heart
Mangoes are also helpful for supporting your cardiovascular system. They are a great source of magnesium and potassium, both of which are connected to lower blood pressure and a regular pulse. Furthermore, mangoes are the source of a compound known as mangiferin, which early studies suggest may be able to reduce inflammation of the heart.
Your tummy's friend
Mangoes can help stabilise your digestive system. They offer both amylase compounds and dietary fibre, which can help you avoid constipation. Amylase compounds can help dissolve other foods in your stomach, breaking down difficult starches. Meanwhile, the fibre in mangos can be more effective for relieving constipation than equivalent fibre supplements.
Nutrition
Mangoes are rich in folate (B9) which is used for healthy cell division and DNA duplication. Physicians recommend that people who can become pregnant consume at least 400 mcg of folate daily, because it is critical for avoiding birth defects. Recent studies also point to folate aiding in prevention of dementia.
Mangoes are an excellent source of:
Vitamin A
Vitamin C
Vitamin K
Potassium
Beta-carotene
Folate
Choline
Magnesium
Nutrients per Serving 
One medium-sized ( fist- size) mango contains:
Calories: 202
Protein: 3 grams
Fat:1 gram
Carbohydrates: 50 grams
Fibre: 5 grams
Complete this line and email us at inbox@seniorstoday.in to receive a gift …of mangoes, if you are the lucky winner:

When life gives you mangoes…