It's a fact. Leftover food tastes better and when you get a bit creative in the kitchen, the result is yummy!
Here are two easy recipes that we've tried, and they are delicious. Do you have any snack recipes from leftovers that you can share with us? Email us at: editor@seniorstoday.in
Homestyle Burritos
Really simple version of the TexMex dish, homestyle burritos, are yummy to pack on a trip or for a healthy snack or light bite.
Made from leftover bhaji, chicken, mince, chappati/ roti.
No specific quantity is mentioned below, as it depends on the quantity of leftovers.
Ingredients
Medium to large sized rotis
Leftover cooked sabzi or meat (rajma, cauliflower, mix sabzi, corn, chicken, sausages, potato etc)
1 onion (finely cut lengthwise)
1 green, red or yellow pepper (optional)
Seasoning like pepper, chaat masala, garlic powder
½ cup grated cheese of your choice
Fresh or dry herbs for added flavour (kothmir, basil, fresh garlic etc)
Instructions
Layer one side of the roti with a little leftover sabzi or meat chopped fine (don't overfill as you have to fold it with the stuffing)

Layer with a few onions

Sprinkle peppers (if using)

Add cheese

Add a seasoning of your liking (pepper, chaat masala, garlic powder) 

Fold over and lightly press the edges together

On a tawa or frying pan, spray a little oil and brown the rotis on a low flame till the cheese melts and the roti seals together

The roti should be crunchy on the outside.
Serve with hung curd or sour cream and/ or salsa
A simple way to make hung curd is to drain out all the water by a putting it in a fine cloth and hanging it or tying it so that the excess water from the curd keeps dripping. This will take 30 mins to an hour. Add salt, pepper, herbs of your choice and use as an accompaniment or dip.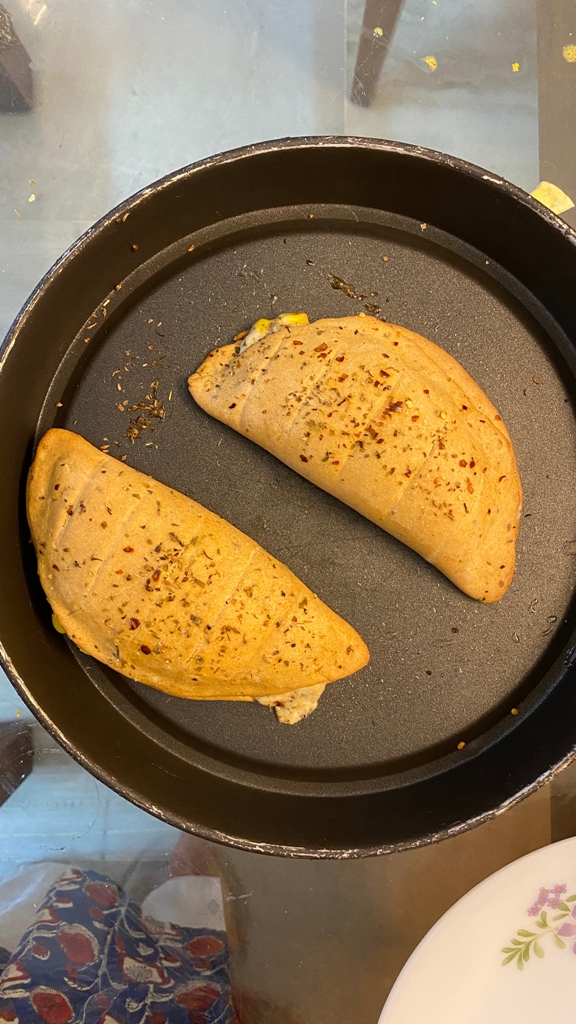 ---
Mazedaar Idli
Made from left over Idlis, this is delicious teatime snack or naashta.
Ingredients
Leftover idli – sliced horizontally, and then cut into four halves 
1 tsp oil
1 garlic crushed clove 
5-10 gm sliced thinly ginger 
1 green chilli finely chopped
1 onion roughly chopped
1 tomato cubed into 6 pieces
1/4 tsp mustard seed
A few curry patta leaves
Instructions
In a pan take 1 tsp oil add mustard seeds, curry patta, crushed garlic, thinly sliced ginger.

Add sliced onion. Cook till golden brown.

Add tomatoes. Cook until soft. Add green chillies.

Add the chopped leftover idli.
Serve hot with green (mint and coriander) chutney.